I am a reformed impulse-buyer. A great deal of the rationale for me starting this blog was in reaction to having less flexibility with my previously high-ish level of disposable income when Little Savvy One and Two made their appearances. I suddenly had to be accountable for my spending in a new way and actually put some thought into where my money was going – tricky when convenience is on your doorstep and a quick click on Amazon or the latest Wowcher deals could get me what I thought I needed. Lending an awesome hand to this new way of life for me though, was the Aldi SpecialBuy UK offers, both online and in-store, which revealed an incredible way of saving money if you're willing to put some thought into it…
What are Aldi Specialbuys and how do the deal events work in-store and online?
The Aldi Specialbuys are quite the unique shopping experience. Rather than having swathes of stock in-store or online constantly, the Aldi Specialbuys are products which are released in 'themes' of activities or hobbies, such as sports, camping, DIY, BBQs, Baby & Toddler and much more. To keep you in the loop with what bargain Specialbuy offers are coming up, there's a new Newsletter released online and instore every week and the Specialbuy shop is updated every Thursday and Sunday where you can buy the products either online or instore that day. But here's the great part – if there's something that you're after and you've noticed it coming up in the newsletter, you are able to reserve it up to a week in advance online for when it is released. This is the part that really helped me out – thinking ahead to what my household actually needs and waiting to see it released as part of the Aldi Specialbuys means that my money is being better planned and spent far more wisely than rushing out to buy a comparable product at a far higher price elsewhere. 

Testing the quality of Aldi Specialbuy products during the DIY deal event.
Here's the thing about the Aldi Specialbuy products – the quality is truly excellent. Yes, you're not going to be buying known brand names that often through the Specialbuy events, but the days of being tied to one supplier have definitely shifted when the quality of the offerings with Aldi is so high. Take the Aldi SpecialBuys DIY event that was recently released – they kindly sent me a Ferrex 18v Cordless Pressure Washer to try out at home which I had been considering investing in for sprucing up the rather tired looking courtyard garden of my new property and for keeping my car clean when it's parked on the street. This was a great bit of kit to use given that I've no outside tap to connect a hose to. The battery life was more than enough to clean the car down and the pressure was just enough to do a great job. It came with an array of nozzles for jobs ranging from pressure washing to general watering. Now, this Aldi Specialbuy is listed on their website at £89.99 – far cheaper than a comparable model on Amazon which is listed for £149.99 and what's even more impressive is that the Aldi product also has a 36-month warranty included.  I also hugely admire the transparency of the reviews on each product page, with Aldi staff responding to any concerns or questions promptly and efficiently. A top all-round bargain!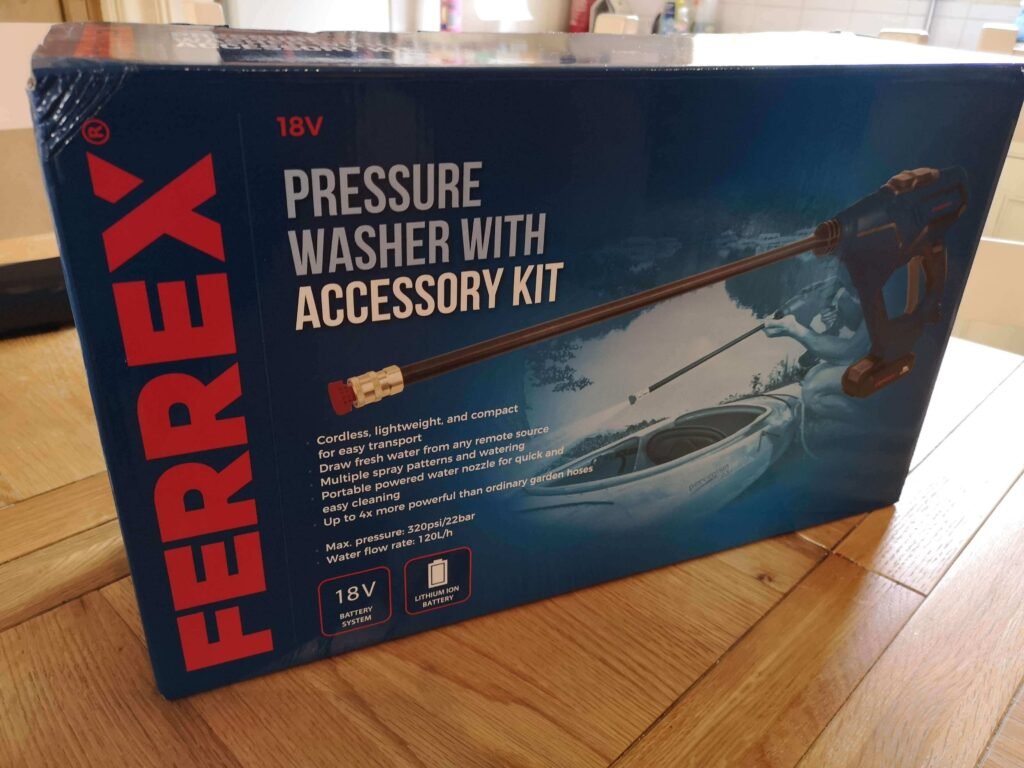 What's the catch with Aldi Specialbuys?
You may be wondering what the catch is then? Well, here's the thing – when the Aldi Specialbuy product is gone, it's gone. This means you do need to be savvy about keeping an eye on the upcoming offers and either reserving and paying online, or heading down to the store on release day sharpish. But the savings more than make up for this, they really do, if you're willing to plan ahead, budget and jump when the opportunity arises. Take a look at the rest of the Aldi DIY Specialbuys page and you'll see what I mean. There's everything from some serious looking power tools to workwear, home security, floor polishers, ladders…the list goes on. 
Essentially, what I am trying to implore you to do, is not reach for blind-convenience or brand names to suit your needs. Shop smarter and look into the Aldi Specialbuy events and products and you will see a whole world of high-quality, reasonably priced products at your fingertips…if you're quick enough to snap them up!
Want to know more? Find out where to access the Specialbuy deals from Aldi near you.
One of the great things about the growing popularity of affordable supermarkets like Aldi in the UK is that more great value offers are becoming available near me. A quick look on the Aldi website revealed an easy to use store locator that provided a great selection of Aldi stores with the nearest 5 to me being located within 14 miles! Handy opening times on the page and a quick link to the latest Specialbuys downloadable leaflet meant that I was ready to pounce on deals at my local store or use the free delivery option on spends of £30+
Disclosure: Whilst no payment was accepted for this article, Aldi kindly provided a Ferrex pressure washer to test out their product quality.