Whether it is stocking up on news essential uniform items for kids, or treating yourself to something at a bargain price, the Sainsbury's TU Clothing sale can be a real feel good winner with families around the UK. The large supermarket giant seems to put on more regular 25% off TU Clothing sales and half-price Sainsbury's clothing sales throughout the year. Sainsbury's, in general, already offer good prices on many TU clothes items in their TU range. However, the discounts and offers available in the Sainsbury's 25% off and Half Price sales often stack with in-store coupons and other offers such as the brand's popular New Nectar Reward Scheme. This makes the sale always worth a look.
Sainsbury's Clothing Sale 2021: When is the next TU Sale on clothes?
These are more frequent every year, but when is the next TU clothing sale 2019 or Sainsbury's Clothing sale 2020? Well, they happen every few months and also seems to kick in at special sale periods such as the recent 25% off Sainsbury's sale on Black Friday that saw great levels of stock clearance.
They also usually coincide with sales at other competing stores like Tesco, Asda and the increasingly popular Next sale. They need to be competitive due to the competing brand link-ups. For example, the link between Tesco's F&F range and Next who seems to now work in partnership. The TU sale always seems to promote fresh, feel good trends which seems to helb the sales figures and regularly feature collaborations with labels like Disney, Marvel and more.
NEXT EXPECTED SAINSBURYS TU CLOTHES SALE DATES 2021
(25% OFF TU or HALF PRICE TU)
Winter Sales: 24th November 2021 and 18th December 2021
Boxing Day Sale:  26th December 2021
Next Sainsbury's Sale 2021: What is included in the TU clothing sale?
The TU discount is usually available on selected Tu clothing. This includes footwear, some accessories and party or seasonal items such as fancy dress. There's the option of using their online service for free click and collect if you spend £15. There's also a TU sale home delivery service for £3 95. However, if you read on you'll find out why going into your nearest Sainsbury's store to buy is often better value.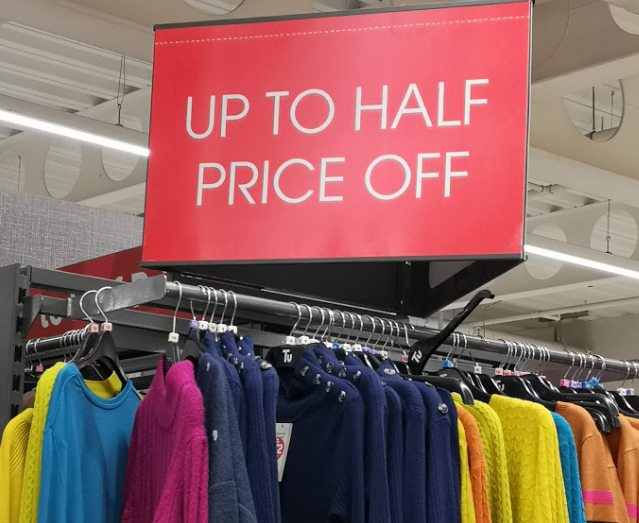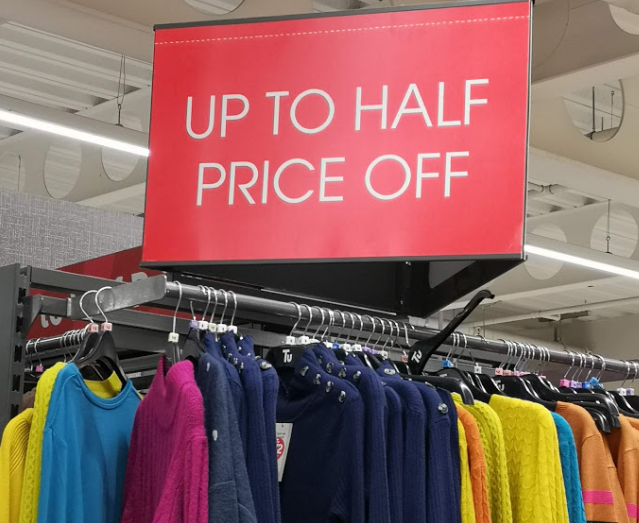 How to get a bargain in the Sainsbury's clothing sale.
There are plenty of tips to help you get a bargain in the next sale. Here are my top tips:
Plan on buying ahead. Consider the seasons to come if buying for children. Think about their upcoming ages and sizes at their next birthday, holiday or seasonal event.
Consider upcoming family occasions. The TU sale sales are a great time to buy suits, waistcoats and posh frocks for weddings and similar events. Coincidentally, if you're looking for occasionwear consider reading my guide on where to buy sale dresses.
Look for the telltale signs that a TU sale is due to launch. Often, there is very little notice until the red banners are up in forecourts and the display lettering goes up in-store. As soon as you notice them up, have a look around the Sainsbury's clothing aisles before other people notice there's a sale on. You snooze, you lose.
Additional tips to feel good when shopping the TU sale
Take advantage of the hand scanners in the store. Occasionally you might be able to find discount prices before the sale is officially started. This happens in some supermarkets where the tills update with sale prices before the official reductions are meant to have started.
Remember to go to Argos. Why? Well, Argos is part of the Sainsbury's brand and you can actually buy the TU clothing via their Argos TU clothes website also
Boost your savings with conditional spend vouchers. These are the till splits available when you normally shop for your groceries in-store. They can give you bonus Nectar points when you shop for clothing, or they may give you money off certain threshold spends, such as £5 off £30 for example. These vouchers will often stack with any discounts on Sainsbury's TU Clothes range.
Finally, keep an eye out for nectar double up vouchers which can on occasion be used on clothing.