Where once-upon-a-time, the thought of an 'afternoon tea' might have conjured up images of starched linens and stifled conversation over a cucumber sandwich and a lukewarm brew, this most traditional of experiences has certainly had a facelift! Afternoon tea in Norwich has never been more fun and we're here to give you the low down on the best experiences for your money.
Norwich is famed for its incredible independent shopping and restaurant culture and if you're looking for somewhere a little more unique to have your afternoon tea, then our Fine City is just the place for you.
A quintessential Norwich location for a decent afternoon tea deal has to be the wonderful Biddy's Tea Room which can be found on Lower Goat Lane in the heart of the city centre. This quirky Victorian-inspired tea house has an incredible 50 blends of tea (and a whole host of other delicious beverages) for you to enjoy alongside their food offering. They are renowned for their afternoon tea which includes three tiers of sandwiches, scones and cake all for the incredible price, at the time of writing, of £17.95. There are also vegetarian and vegan options and a 'Halfternoon Tea' which is designed especially for children and available at a reasonable price.
Another of our favourites here at SavvyDad is the excellent Ber Street Kitchen which can be found, unsurprisingly, on Ber Street in the city centre. This fantastic little café prides itself on menus which are made up of locally sourced seasonal produce and has a gorgeous outdoor courtyard to enjoy when the weather is fine.  They are able to cater for a wide range of dietary requirements and we would absolutely recommend getting in touch with them to book a table for your next afternoon tea in Norwich.
Relatively new to the independent café scene in Norwich is the excellent Alchemista Coffee Potions in the heart of the Norwich Lanes. The folks at Alchemista really know their stuff when it comes to coffee in Norwich, having searched for the perfect blends across the world and their commitment to quality extends into their afternoon tea selections also. Their three-tier selections start at £17.50 and it is essential to book – this place is popular!
Yay! You've found the hidden reindeer! Enter our Christmas competition here.
If you fancy enjoying your afternoon tea in Norwich in truly traditional, opulent surroundings then look no further than the beautiful Assembly House. As well as their general afternoon tea menu, they often run themed menus (such as The Nutcracker Afternoon Tea this festive season) and even have an Afternoon Cheese menu too! Prices range depending on the options chosen, so do have a look at their website to see what is on the go.
Ideal to start a celebration off is a tipsy (or traditional!) afternoon tea at the Lamb Inn, found in Orford Place in the city centre. Indulge in prosecco, cocktails mocktails or hot drinks alongside your sandwiches, cakes and scones and make your afternoon really special in this friendly and welcoming Norwich pub which also has a fantastic outdoor courtyard space that really buzzes in the summertime.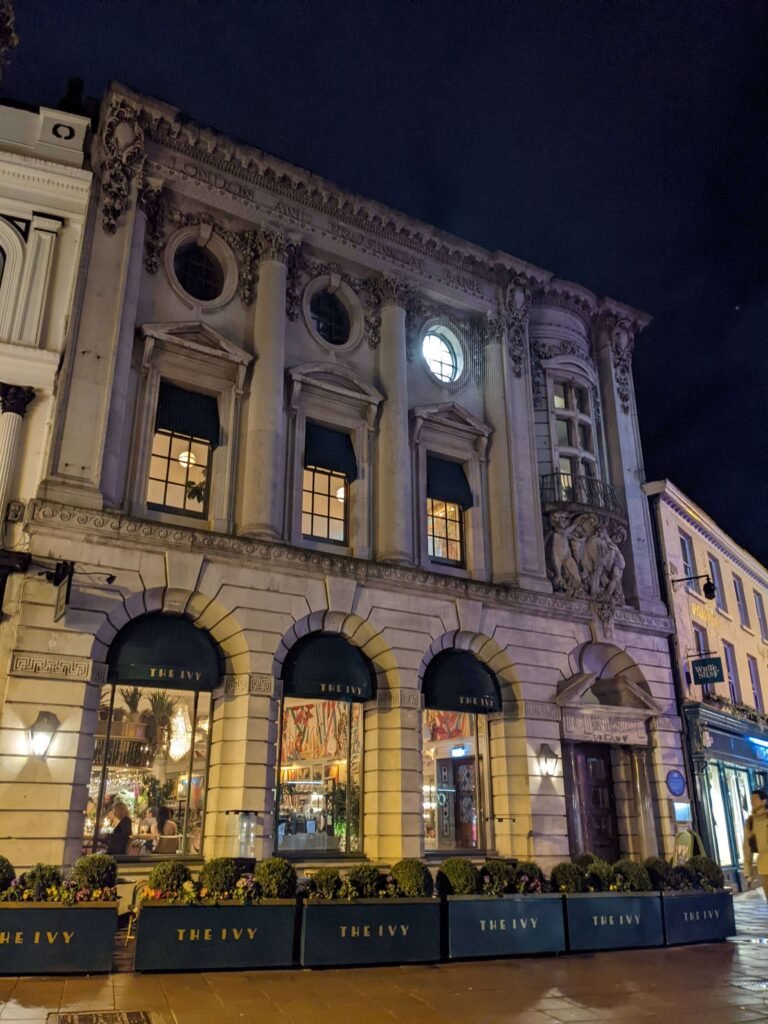 Norwich also has a huge selection of well-known chain venues which offer fantastic afternoon tea options. The Ivy Brasserie holds afternoon tea from 3pm every day with a stunning menu including the full works for £26.95 and cream teas for just £8.95. The interior of this beautiful old building has been so gorgeously done that you immediately feel you're somewhere special and it is the perfect place for a treat or perhaps to celebrate.  If you're really keen to enjoy the glitz of this incredible venue then their Champagne Afternoon Tea at £35.95 is absolutely the way to go.
And finally, if you're after a complete wildcard for afternoon tea in Norwich then look no further than the superb Grosvenor Fish Bar who don't offer the traditional sandwiches, cake and tea but they will cook up a glorious 'High Sea' for you for just £29 for two! This truly unique offering includes tiers of battered squid, cod cheeks, tiger prawns and cod goujon topped with mini clam sliders and chips!  The Grosvenor is extremely popular so we would recommend dropping them a line (that's not a fish pun) to see if you can pre-order or book your table!
We know we are biased being based in the beautiful city of Norwich, but its delights really do keep on giving! If you want an afternoon tea in Norwich experience that will be one to remember, then check out one of these great options – or let us know of any that we have missed so we can get down there and try them out!
How to get discounts and deals on afternoon tea in Norwich
It's also worth keeping a savvy eye out for special offers on group buying discount sites as a way of introducing your family to the afternoon tea experience in Norwich. Sites like Groupon and Buyagift offer special deals for some Norfolk venues from time to time and if you sign up for Buyagift's newsletter, you'll often get a discount code worth up to £10 which stacks on top of these afternoon tea deals. The code is personal, unique and one-use for new newsletter members – again, this is working at the time of writing where readers can net a Harry Ramsden's Afternoon Tea for 2 for only £14.99 when using the stacking newsletter code.