I seem, of late,  to be finding myself partial to a coffee while on the go out and about in Norwich. Now, I sometimes feel I need to justify expenses like a coffee out so using apps like Job Spotter to earn money while I'm roaming the city help dramatically to alleviate the guilt of the spend. Using the free parking in Norwich helps too.
The city has much to offer in the arena of food and drink, with a recent revival of the street atmosphere being bolstered by street food popups and artisan startups. However, with so much choice on offer, I wanted to jot down a list of the best coffee shops Norwich has to offer and where their qualities lie, in either value or service offered.
You don't need to venture to Harrod's for afternoon tea and coffee when there are such fabulous options right on your doorstep. I have shortened the list down to nine of the best coffee options in Norwich and also attempted to ascertain if they offer discounts for those not only using a takeaway service but also using reusable coffee cups. Prices were correct at the time of visiting or requesting pricing information.
Before moving on it's worth mentioning that most coffee outlets will sell reusable cups, however, for functionality, the foldable Pokito Cup is well worth considering. The Pokito Cup often comes up at cheaper prices on some of the hot UK deal sites. Not only is the Pokito cup reusable, but also folds into 3 different sizes – making it easier to lug around the city when not in use.
Cafe 33 Coffee Norwich
Reusable Coffee Cup Discount – Awaiting Confirmation
Americano Cost – £2.05
Situated on Exchange Street just up from the fabulous Wallow wine bar is Cafe 33. Visitors can choose from an extensive range of takeaway beverages and cakes or choose to dine in. I've sampled excellent breakfasts here to help kick start the day and when on the menu their Shakshuka is to die for! When it comes to the coffee, Cafe 33 offers up a premium Segafredo blend or a Cameroon Boyo. The coffee is ground to order at the next location on our list – Expresso.
Expresso Coffee Norwich
Reusable Coffee Cup Discount – Awaiting Confirmation
Americano Cost – £2.25
Quite simply this little gem located near the top of Elm Hill (across from Cinema City) is a relaxing location to people watch and start your day with a paper and brew. I like to sit at the window to enjoy one of the excellent paninis while sipping on your coffee. I highly recommend their beetroot and goat's cheese warmed panini if you find yourself there. Their coffee, for my taste buds, is beautiful and the attention to product quality they have in all their provision explains why their catering services are so highly regarded by locals.
Strangers Coffee Norwich
Reusable Coffee Cup Discount – Awaiting Confirmation
Americano Cost – £2.20 OUT
In my continued meanderings around some of the best coffee shops Norwich has to offer, Strangers Coffee House on Pottergate, near St Gregory's Green is the next treat. I love this area anyway with The Grosvenor Fish Bar and The Birdcage in close proximity to tempt my taste buds. The award-winning Strangers hold its own amongst these longstanding names having now been operating within the fine city's wall for around ten years. It has its own roastery on Dove Street should you wish to maximize your value for money and buy a bag of coffee for home use or stick to the cafe on Pottergate where a variety of beans and blends are freshly ground each day ready to takeaway in your reusable coffee cup. As a side note, Strangers use biodegradable cups too if you're not currently rocking a reusable Pokito Cup.
The Little Red Roaster Coffee Norwich
Reusable Coffee Cup Discount – Buy a reusable e-coffee cup from them and get your first coffee free!
Americano Cost – £2.40 OUT
You are never far away from a Little Red Roaster in Norwich. This cute little chain is so popular, it has three locations in Norwich. The biggest on Grove Road, one on St Andrew's Hill, and a bustling lively market stall presence on Row B within the heart of the city. The market stall is often the easiest to pop past to buy as there's such lovely food on offer from the market rows around the Little Red Roaster's stall.  The Grove Road store will be of particular use to those frequently at the football ground as it is only a short walk from the masses as supporters flock in on the game day. Sadly, however, that branch of The Little Red Roaster is soon to close. They pride themselves on being ethically sourced, they only roast in small batches, and offer up some nice little pastries and cakes to boot!
Urban Jungle Coffee Norwich
Reusable Coffee Cup Discount – No current discount
Americano Cost – £2.75 IN
Possibly controversial on this list as this option is located outside of the city walls. However, Urban Jungle located out to the west of the city offers one of the most unique and relaxing environments to enjoy a cup of coffee. This adapted garden centre offers up an adapted polytunnel to create a truly mesmerising tropical dining area. In the summer you can sit and enjoy a bite to eat from an ever-changing menu while watching carp swim by. And, in the winter months, you can even sup in a glass of wine and be serenaded by carolers. A flexible and beautiful place to while away a few slow moments and appreciate your coffee and your day. This might be one place I would suggest leaving your reusable Pokito coffee cup at home and dining in.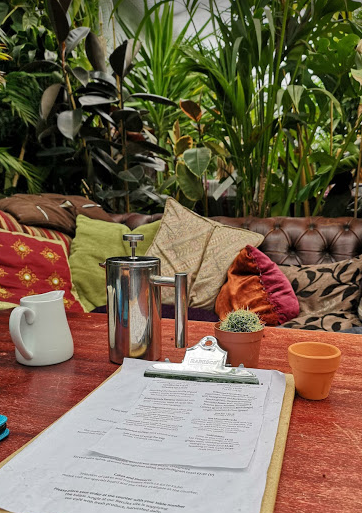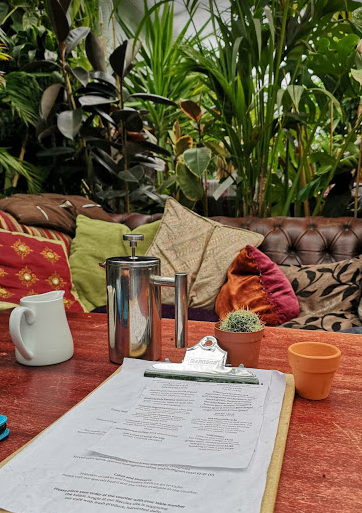 Kofra Coffee Norwich
Reusable Coffee Cup Discount – Awaiting Confirmation
Americano Cost – £2.00
Located in the shadow of the Roman Catholic Cathedral in Norwich. This little independent coffee shop has regulars in daily to imbibe its offerings. A real community feel welcomes you into this coffee shop and the coffee that the barista provides is often, to my palette, excellent. They use ethically sourced, high-quality beans from around the world and are a hidden gem of the city. The company have a second outlet in the Sainsbury Centre for Visual Arts located at the UEA. Truly passionate people who welcome a new face with a reusable coffee cup.
Britons' Arms Coffee Norwich
Reusable Coffee Cup Discount – Awaiting Confirmation
Americano Cost – £2.25 IN
Squirrelled away at the top corner of Norwich's iconic Elm Hill, you'll find the beautiful building housing the Briton's Arms. You'll likely have spotted the building in numerous films and TV, as the historic road is often used for on-location filming. A friendly smile welcomes visitors into a quirky building that twists and turns offering multiple places to sit with your coffee if dining in – which you should do as their cakes are decadent and full of interesting flavours. It is an amazing venue to contemplate while drinking your coffee and if you sneak out of their back door you will emerge into their lush hidden garden oasis full of small secluded tables to catch up with friends and family and admire one of the few thatched building left in our fine city.
Alchemista Coffee Norwich
Reusable Coffee Cup Discount – No current provision for discount, they are currently considering this for the future.
Americano Cost – £2.40
This one's a little different. The growing knowledge of Alchemista's existence means this is fast becoming to "cool" coffee house in the city. They offer not only the standard offerings for a coffee shop but also create 'coffee potions'. These potions are a range of speciality coffees and coffee cocktails designed to enhance your traditional experiences of a coffee house. You can sit within it's uniquely decorated walls on St Gregory's Green and watch the world pass by while sampling their wares. Alchemista is not the cheapest of coffee house experiences, but it is well worth a try, particularly if you have a coffee fan in the family who would be a fan of one of their afternoon teas or coffees. This place will always have something different to try on every visit.
Costa Coffee Norwich & PRET Coffee Norwich
Reusable Coffee Cup Discount – 25p and 50p respectively.
Americano Cost – Costa £2.55 OUT & PRET £2.10 OUT
You can't avoid the larger chains with their multiple branches. Costa is prominent around the cities and towns of Norfolk and whilst it has regularly been the best value it has recently started a questionable change to its coffee offerings. Their Medio was £2.45 and Larger, however, Costa recently not only raised the price of their coffees but also reduced the size of their cups. You'll now get almost a third less coffee for more of your money – That being said they are still the amongst most competitive in costs per fl.oz within the arena of the larger national chains.
Personally, I have a special place reserved for PRET prices, especially if you go for their dead cheap filter coffee which still tastes great on the go. PRET offer the largest reusable coffee cup discount at a whopping 50p off.
Outside of the main chains, you often can't beat the value and quality, surprisingly, of the city's McDonald outlets. While for those venturing further out of the city both The GreenGrocers on Earlham Road and the UEA's own Sport's Park Cafe offer up great coffee for busy people.
Summary of the Best Coffee Shops in Norwich:
Cafe 33 Coffee Norwich – Plenty of space, lovely coffee and an amazing breakfast. TBC Reusable Coffee Cup Discount
Expresso Norwich – Fab quick takeaway for people watching and enjoying a panini. TBC Reusable Coffee Cup Discount
Strangers Coffee Norwich – Roasting fine blends for the past 10 years. TBC Reusable Coffee Cup Discount
Little Red Roaster Norwich – Located in three convenient venues with decent pastries and coffee. TBC Reusable Coffee Cup Discount
Urban Jungle Norwich – For those fancying a trip further afield and something different. No Reusable Coffee Cup Discount
Kofra Coffee Norwich – Friendly coffee with the community at its heart. TBC Reusable Coffee Cup Discount
Briton's Arms Coffee Norwich – Escape to a hidden oasis in the city centre. No Reusable Coffee Cup Discount
Alchemista Coffee Norwich – Steampunk setting, cool coffee cocktails, something different. No Reusable Coffee Cup Discount
Costa Coffee Norwich & Pret Coffee Norwich – Reusable Coffee Cup Discounts 25p and 50p
While enjoying your coffee in Norwich, why not see what other great experiences the city of Norwich has to offer. Great events like the Norwich Big Weekend showcase what's available and offer freebies and events to locals.