Living near the beautiful city of Norwich, I'm ideally located to make use of the growing number of foodie destinations, amazing sights and parks and the huge array of independent shops spread out across the city. I especially love a restful sit at a Norwich Coffee shop while taking stock of the day. However, Norwich is built around the castle in the centre. This city centre is defined and bordered by a long-standing inner ring road and has two main malls Castle Mall Car Park and Intu Chapelfield Car Park. The urban city centre is seeing lots of redevelopment, even though the Anglia Square area is on hold again, but can be an awkward place to find easy parking at a decent price.
Congestion in the roads around Chapelfield Gardens, Riverside and Norwich train station means that finding a decent place to park quickly is harder than ever. Don't get me wrong I still think Norwich has great provision for car parking, but I wanted to write an article that what's a quick one stop read of the main places to park and a few cheap or free alternatives for those popping into the city for a few hours.
I often venture into the city in the evenings just before the end of the normal shopping opening times or early at the weekends. Castle Mall Car Park, St. Andrew's Car Park, John Lewis Car park and Castle Mall Car Park have to be the main choices for easy parking when the city is not too busy. But read on for a few alternatives, depending on your reason for popping into the city and whether you mind a small scenic walk in from cheap or free parking spaces.




Castle Mall Car Park opening times and prices.
Castle Mall Car Park is the long-standing car park for Norwich city centre. It existed long for Chapelfield Car Park and it's associated mall sprung up near St Stephen's. It's always been popular due to its central location and the fact it can be accessed from the attached Vue cinema. Parking at this location is a no-brainer if you're going to the cinema as you receive a discount on your parking. Otherwise, the parking charges for Castle Mall are as follows:
Castle Mall Car Park (Both Entrances) Opening times: 8am to Midnight
1 Hour Parking – £1.50
2 Hours Parking – £2.90
3 Hours Parking – £4.30
4 Hours Parking – £5.60
6 Hours Parking – £8.00
8 Hours Parking – £15.00
Maximum Parking Charge – £20.00
Evening (post 6pm) Rate – £1.50
Note that the cost of the parking in both of the Castle Mall car parks as there are two entrances identical, however, I'd recommend the larger 710 space car park for ease as the smaller 81 space car park get queued up and has a slower turnover rate due to the cinema meaning you can be sat waiting a while when it is busy. The main entrance to the larger Castle Mall Car Park is located off market Avenue just near the old Anglia Television building.




Castle Mall Car Park and Nearby Parking Alternatives
St Andrews Car Park and Intu Chapelfield car park are the main parking alternatives as John Lewis is more expensive unless on the shoppers' tariff and has restricted hours.
St Andrews Car Park on Duke Street (Restricted Heights) Opening times: 8am to Midnight
1 Hour Parking – £1.80
2 Hours Parking – £3.60
3 Hours Parking – £5.40
4 Hours Parking – £5.60
6 Hours Parking + – £6.00
Maximum Parking Charge – £22.00
Evening and Overnight Rate – £3 (from 3pm)
Chapelfield Car Park (Both Entrances) Opening times: 8am to Midnight
1 Hour Parking – £1.50
2 Hours Parking – £3.00
3 Hours Parking – £4.50
4 Hours Parking – £6.0
6 Hours Parking – £8.50
8 Hours Parking – £15.00
Maximum Parking Charge – £20.00
Evening (post 6pm) Rate – £1.50
Other cheap parking near Boots Castle Mall
There are a number of relatively cheap Pay & Display car parks in Norwich in and around the Castle Mall area. These are of most use if you're just needed a couple of hours as the prices can be steeper than other alternatives in the city. Mountergate has an RCP run car park near (68 spaces) the mall which is £1 per hour up to £5.50 for the day, in line with the cheapest around.
Alternatives further away are the Pay & Display on King Street at the Wensum Sports Centre, again £1 per hour (capped a £6 per day or free for members). Just remember to park in their "White Zone" parking spaces. This is only 5 minutes walk from the Vue Cinema and Castle Mall or 6-7 minutes to the Cathedral or Norwich Market.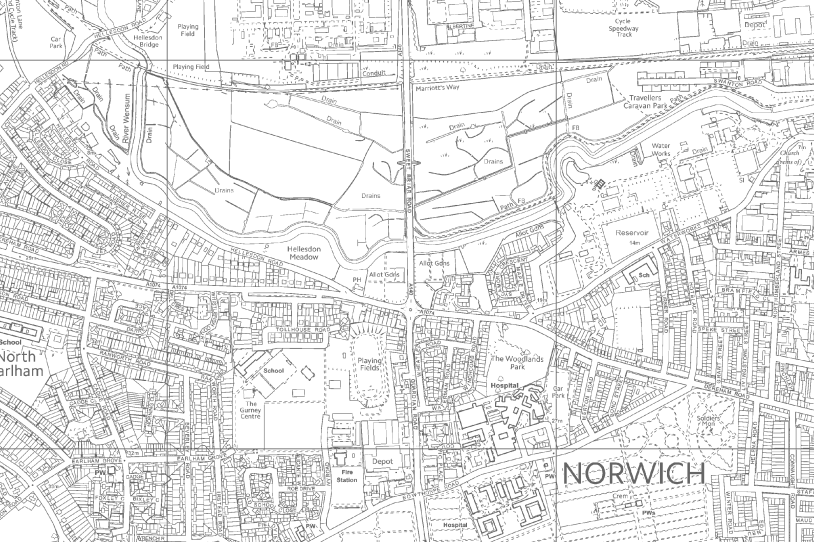 Free Parking Parking Alternatives in Norwich City
Should the above options not suit your needs there's plenty of free short term parking in the Norwich ideal for city centre access. I have always tried my best to make use of these two hour bays as I like a short walk and I've saved hundreds of pounds on parking costs over the years by using them.
Most 2 hour parking bays in the city are time-limited Monday to Saturday from 8:30am to 6:30pm. However, due to their "two hour" nature, this effectively means free parking from 4:01pm since the parking limitation ends at 6pm. Some people can be funny about this usage of bays, but there's plenty of permit holder space and I've never had an issue with parking tickets or complaints when using them.
There are a few 2-hour bays within the vicinity of Vauxhall Street and Oxford Street – Ideal for quick easy access to city centre and Chapelfield Gardens.
Norfolk Street, near the old Jenny Lind Hospital walls and playground, has a number of 2-hour bays around the play park and neighbouring roads. It's a short walk via the underpass near Chapelfield to get into Chapelfield Gardens and the City Centre beyond.
If you're looking to park for the day or longer in order to use the trains, Wellesley Avenue South offers a great place to park your car. There's plenty of quiet streets around this area where you can park without hindering residents and then take a present 10 minute wander past Rosary road cemetery and saunter downhill and along the river to Norwich Station. Much cheaper than parking at the station itself or in Norwich Riverside car park.
There are a few larger store car parks that offer 2 hours free parking and the old Toys R US/TK Maxx car park is one. Ideal for 2 hours should you need access to St. Benedict's and the roads are full. Technically these are customer car parks but on last checking the terms and conditions of the parking did not dictate purchase necessary (double-check on the signage if using this idea).
One of my favourite places to park for free if I know I'm going to spend the day in the City is on the extremities of the city parking restrictions. The closest area to do this allowing a short 10-minute walk in is around Caernarvon Road. To get there, head away from the city centre on Unthank Road, turn down Avenue Road, and look for Caernarvon Road (edge of city restrictions) on your right. You'll see signage at the edge of the roads dictating the this is the end of the city centre parking restriction zone. Similarly, once you are beyond Christchurch Road, restrictions completely end there. Again, it's a 12-minute walk in, ideal for those frugal sorts who don't mind a little jaunt like me.
NOTE: The parking zones can expand and move as redevelopments in Norwich happen so keep an eye on the parking zone map.