It's almost the end of the February half term and I'm currently getting ready to take my young boys out to the local Redwings Horse Sanctuary for a day out. Road trips with kids and days out with the kids in the UK don't have to cost an arm and a leg. So, before the big holidays of the year, what tips do I and other money bloggers from around the UK have for cheap days out with kids, like making use of English Heritage discount deals.
Get involved in hunting for treasure this half term for free
Emma from BeeMoneySavvy.com says: Give Geocaching a go. "Geocaching" is a worldwide treasure hunt using a GPS to find secretly hidden containers called "geocaches". The geocaches usually contain a logbook to let you say, "I found it!" before you re-hide it in exactly the same spot for the next geocacher to find. Visit geocaching.com for more information.
I agree completely with Emma about the usefulness of the GeoCaching passtime in entertaining kids on the cheap. The activity lends itself perfectly to cheap picnics out in places you may usually not go. In fact, in Norfolk where I'm based, I have discovered so many hidden spots and gems that I would not have known about had it not been for this website and app. I use the C:GEO app which is free and link it to my GeoCaching account which is also free for basic membership.
I have found that Geocaching can be a cheap exploit in the countryside in Norfolk. When geocaching in the city I try to make use of the Castle Mall Car Park and other cheap or free alternatives in the city.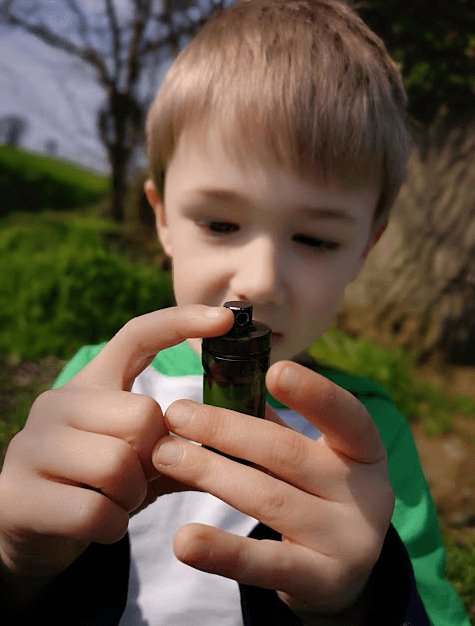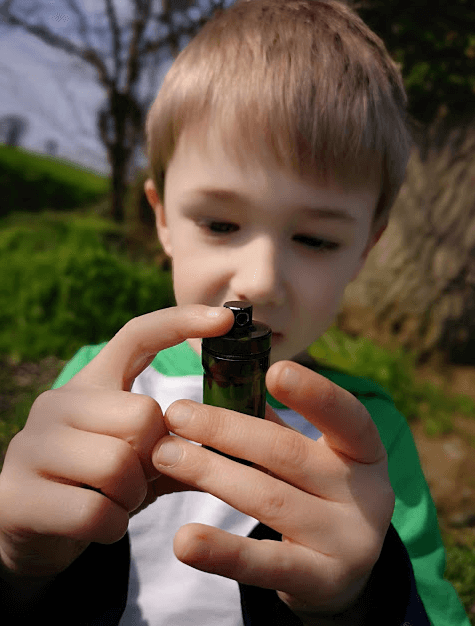 Weather stopping days out with the kids? Get a rainy day box ready
There's nothing worse than having a picnic prepared for a lovely day at the beach and then the weather gets in the way. But there's still plenty to do in doors. Often in my home, the boys are frequently entertained by something as simple as building forts and castles using sofa cushions. However, there's plenty more to do inside on a rainy day…
"If any days are a washout like half term has been for us, we've got a junk modelling box which we pull out. They have a great time doing it, their creations are awesome and it costs us nothing. Or embrace the weather regardless, put the wellies on & go for a woodland walk with loads of puddle jumping. – Joseph from Thriftychap.com"
If it does tip it down with rain then you can also get discounts on access to family films at home by using a Now TV trial:


There's also cheap ways to access your local cinema using multi buy deals from Groupon that frequently appear. For example, like their recent 2 discount Odeon cinema tickets for £10, or 5 for £20 via Groupon represents great value for money over the standard entry prices. There is a 75p booking fee per ticket and online booking only, but when standard adult tickets usually range up to £11 it's a steal!
Similarly, Cineword offer frequent special days like the recent Imax Festival. The Imax festival see Cineworld offering a discounted film price of £3.75 per ticket on UK blockbusters and are valid in 18 locations around the UK.
Check out my other ways to access cheap Odeon cinema tickets or get discounted access using Meerkat Movies.
Visit aquariums, zoos and wildlife parks for cheap or free
Jenny, who blogs over at Accidental Hipster Mum visited The Deep recently on the cheap. She saved up her Tesco Clubcard points to spend on attractions for the holidays. Last time,  she got a ticket for The Deep in Hull and it lasts for a year's admission! (See photo below)
Fiona, who lives and blogs in the south of the UK has found a great perk to her local adventure park for families:
"I live near Crealy Adventure park, Devon and they offer 'return for free within seven days', meaning you pay once and can return as often as you like for the following six days. Perfect if you live nearby or are on holiday in the area. We always take our own food and drink to keep costs down and they are happy for you pop back to your car as often as you like. There is so much to do there you'll definitely have plenty to see if you visit more than once! You do need to visit the customer service kiosk to get your tickets validated but it's well worth it to take advantage of the offer which runs for a good chunk of the year."
Accessing days out with the kids at UK attractions with a Kids Pass or Merlin Pass
I was recently interviewed on the Sun Saver TV show talking about half term offers for days out with the family. One way of accessing cheap deals for families that came up in conversation was KidsPass. Kids Pass is a membership scheme that offers discounted or free access to UK attractions, days out and restaurants.
Currently, Kids Pass offer a 30 day trial for just £1 offering some of the fabulous discounts below (just remember to cancel before your trial expires if you don't use the membership much or are not keen on the venues and discounts offered):
40% off over 420 cinemas around the UK

Free kids meals at places such as Prezzo, Frankie & Bennys, Strada, Giraffe and Brewers Fayre

40% of holidays with Butlins, Haven and Eurocamp.

Money off 37 Aquariums, Zoos and safari parks across the UK.

Up to 57% or theme parks and UK attractions like Drayton Manor, Gullivers Kingdom and Go Ape

Plus loads of other things to do at a discount including bowling, play centres and more.
Get a Merlin discount for major UK attractions this half term
As an alternative, families looking for cheap and free days out might like to consider a Merlin Pass. For just £8.99 per month an Merlin Pass gives access to discounts on over 30 major UK attractions. The main ones featured include:
Chessington World of Adventures.
The Coca-Cola London Eye.
LEGOLAND® Discovery Centre Manchester.
LEGOLAND® Windsor Resort.
Madame Tussauds London.
THORPE PARK Resort.
Alton Towers Resort.
Warwick Castle.
Plus, Merlin states the following if you opt for an annual pass for cheap days out with the kids:
"Before you even get to the attractions, remember that as a Merlin Annual Passholder, you can get up to 20% discount on food, beverage and retail, discounted entry for family & friends, and invites to exclusive Passholder Preview Events."
As always, compare prices. The discounts offered via a Merlin Pass membership vary. Depending on the size and age of your family, the venue you're visiting and the pass option you choose, the value of the Merlin Pass deal will change.
Make the most of free museums in the UK for free days out with the kids
Laura from ThriftyLondoner.com got in touch to let us know about her ideas on accessing free museums with kids during the half term holidays. Laura says:
"There is plenty to do in London for a cheap (or completely free!) family day out. Many of the free museums in London have specific free events for kids during the holidays, including workshops and craft classes.
There are also permanent free exhibitions which are suitable for kids at many of the museums like the Science Museum, Natural History Museum and the V&A Museum of Childhood."
You can also check out Laura's top 100 Free things to do in London.
MissManyPennies.com echoes the advice on making full use of museums in your area. Hayley, from the website, writes:
"We like checking out local museums, so many offer free entry and often have things to do for the kids during school holidays. For example this week we visited family in Reading so went to the Merl Museum. Our girls loved doing the trail to find hidden rats in all the galleries, it was free entry and they each won a lollipop for completing the challenge".
Save vouchers and codes to get cheap family holidays away
Over at the Daily Deals Blog they're looking into cheap caravan holidays for families:
"Every year in January park resorts sends subscribers out an email with a voucher for £30 – £50 off bookings. You can use it as many times as you like and it's usually valid for around two weeks. I book a few weekends away with it for Feb, April and May half terms and have got each weekend for £79 in a caravan for 6 people."
I also think it's worth keeping an eye on the popular discount holiday voucher schemes such as the Sun Holidays for £9.50 offer. You collect 7 individual codes from The Sun and register them on The Sun Savers website. Speaking of which, you'll also get £5 free via PayPal when collecting 28 codes.
Make the most of discounts on English Heritage and National Trust entrance
William from GreatDealsMadeEasy likes to spend time relaxing without the kids, he recommends:
 "With over 400 sites and 11M visitors a year, English Heritage has some of the nation's most treasured and iconic buildings and monuments. This includes Stonehenge, Tintagel Castle, Osborne, Hadrian's Wall and Dover Castle. For only £84 for the year with the code HISTORY10 , you can go to these places for free."
Great tip from William. You can also get 15% off English Heritage with the code EH2020. Bear in mind that these venues can be very expensive for food and drink so pack your own lunches and consider checking out my own tips on how to save over £150 a year on National Trust and English Heritage discount membership.
While talking about discounts, if you have a newborn in the family it's worth checking out Amazon Baby Wish List offers and freebies.
Walk, Walk, Walk and earn while you're out and about
Why not find a local child friendly circular walk for days out with the kids. That's the advice from timeandpence.com:
"It's free and there are lots of things you can do to keep the kids interested. It's important that you make it sound like an adventure, not just a walk. Find interesting places to walk such as beaches, walks where you cross streams or have to step over rocks and logs. Then, make sure you do activities along the way. For example, play eye spy, take a bug catching kit, take binoculars, do some berry picking, let your kids carry the map and navigate. The key is to make it fun for the whole family. Oh and don't forget to take some special treats to eat along the way!"
I would also supplement this advice by saying consider installing apps to make money while you're out. Snatch, for example, is a little like Pokemon Go. My kids love it. The app allows them to catch parcels with occasional free prizes like free films from online streaming provider Chili and even the occasional Now TV pass. Sweatcoin is another app with freebies that you can access by earning points via walking and redeeming the offers. Lastly, if you're out walking in the city, consider earning money by snapping job adverts on the go.
Access days out with the kids in places using discount travel
Charlie let us know about fab deals in the North East of the UK:
"If you live in the North East, there's a whole range of activities you can try this summer. If travelling by Metro, as part of their 40th anniversary, they are offering free travel for upto three kids aged 11 and under. This offer will require a fare paying adult to travel with them, but still offers amazing value for money.

On the topic of Metro, you can travel to some beaches such as South Shields, Tynemouth and Cullercoats. These beaches are dog friendly at certain times of the year (please check council website before traveling). South Shields boasts its own pleasure park and penny arcades. On the north side of the Tyne, beaches here offer a more relaxing tone – perfect for a picnic (or fish & chips!). Other activities could include looking for seashells, fossil hunting and building sandcastles.

During the months of April to September the Newcastle Quayside hosts the Quayside Seaside. Here, an artificial beach is constructed within the confines of the city. Activities include sun loungers, volleyball and a popup fish and chip shop." – Charlie from The Online City
Check your local rail provider, they often have deals for days out with the kids and family.
Check out free half term activities at your local library
Finally, check out your local library this half term. One of the ways Mum On A Budget likes to fill her school holidays is by checking out what's on at their local library – they often run free story time and crafting sessions over the holidays.
I can echo this recommendation as there's often free STEM Lego Clubs and more at the libraries around the area where I live.
Do you have more tips? Get in touch via email or the comments below.