The weather over the last few weeks in the UK has swung from -7 and snow to 12 degrees and rain, not ideal if you're trying to get out and about for exercise with the kids. Thankfully, I have a guest post today that will help to prepare for activities like geocaching and hiking with a baby or toddler in the rain…
UK weather can be unpleasant sometimes and it makes it difficult for dads to do fun adventurous activities with their babies such as hiking. You'll find it's not easy hiking with a baby in the rain that's pouring down and end up staying in with the kids. 
That's why it's important to have the correct gear when you plan to go hiking with your baby. There are items you can buy that will make hiking activities with your child fun again come rain or sunshine. 
There are also lots of tips you can follow that will ensure your hiking trip with your baby is safe, fun and comfortable. If you'd like to learn more about how you can turn a rainy hike into a pleasant adventure then take a look at the tips I've given below.   
Why Hiking in the Rain is Good for Both Dads and their Kids 
Walking in the rain has many health benefits for you and your baby. Even though it may feel unpleasant to walk in rain, the water is high in alkaline so it's good for your skin and hair. You'll also find that after a long period of no rain, you may experience the petrichor effect. 
The petrichor effect is the pleasant fragrance of the first rains after a long dry and warm period. This fragrance has a calming effect so you may find that your little one is a lot less grouchy when you're walking in the rain together. 
Connecting with nature is important for young minds. Walking in the rain with your baby or toddler can teach them to appreciate all the elements of nature. What's more, the air is purer when it rains so you and your baby will breathe in the freshest air on your hike.  
Tips for Hiking with a Baby or a Toddler – In the Rain!
When hiking with a baby in the rain that doesn't look like it's going to clear up any time soon you want to make sure you're both comfortable. Follow these tips so you and your baby can experience a comfortable and pleasant hike when it's raining.
Choosing the Correct Gear 
If you don't have the correct hiking gear your journey is going to be an unpleasant one. Make sure you and your toddler have warm waterproof jackets on as well as gloves and boots. 
Consider wearing comfortable waterproof hiking boots in case there are deep puddles of water you have to cross. If you have a toddler make sure he or she has comfortable boots on that won't cause blisters on the feet. 
You can take an umbrella on your hike but this means you'll have to hold it while you walk which may not be ideal for everyone. So ensure that you and your baby have raincoats on to prevent water from soaking your clothes. Choose raincoats with hoods to prevent rain from wetting your baby's face.  
For Smaller Children Use a Carrier 
If you have a baby that gets tired of walking long distances or doesn't know how to walk yet you'll need a waterproof carrier. You can either get a front carrier or a back carrier for your child. A front carrier may work well if you need to walk with a backpack. 
On the other hand, there are carriers you can get that come with a built-in backpack. It may be safer for you to carry your baby on your back rather than your chest so consider getting a two-in-one product so you don't have to carry too many items. 
The carrier you pick must be comfortable for your baby to sit in and it must have durable straps that you can secure tightly to your body.  
Bring Spare Clothes 
Sometimes when it's pouring with rain it can be difficult to keep your clothes dry even if you have waterproof gear on. Or your little one could fall into a puddle of mud or water. That's why it's important to bring spare clothes with you in a waterproof bag. 
If your child's gloves or pants get wet, you will have spare items in the backpack to ensure your little one is warm and dry at all times throughout your journey. 
Pack Essential Items in a Waterproof Bag 
Babies need essential items such as bottles, diapers and food. Pack all your essential items inside a waterproof backpack so you can enjoy a snack with your baby when you take a break from hiking. 
You may want to bring other essential items with you such as a compass, map and a pocket knife. Make sure everything is packed neatly so that you can access items easily when you need to. 
Safety Comes First 
For extra precautionary measures make sure you pick items that are safe. If you're walking with your child, make sure his or her shoes have traction to prevent your toddler from slipping. You should also consider using trekking poles especially if you're climbing up steep terrain. Don't be afraid to spend a little more on premium quality items for babies and toddlers.
Carriers that you use should have quick-release mechanisms in case of an emergency. The straps of the carrier should be secure at all times to prevent it from falling off. 
Make sure your child is not allergic to any plants or trees. It's also crucial that you bring proper medication with you in case of snake or spider bites. Keep bugs away with a safe repellent to protect you and your baby from possible tick bites. 
Apps for Hiking 
Make sure you have a smartphone that's fully charged so you can use an app for hiking. There are apps that will direct you to safe trails suitable for the whole family. Find trails that aren't too long or dangerous through your app so you can have a fun and safe day out with your baby. 
Products For Hiking with a Baby in the Rain
Hiking with a small baby can be difficult. This is why you need a carrier that not only allows you to carry your child but also all your essential items. The Deuter Kid Comfort Child Carrier and backpack can provide you with just that. 
The carrier has a waterproof hood that will keep your baby dry when you're hiking in the rain. It's a lightweight carrier that has soft backpack style straps that won't chafe your skin. There are compartments at the back and to the side of the carrier where you can keep all your essential items.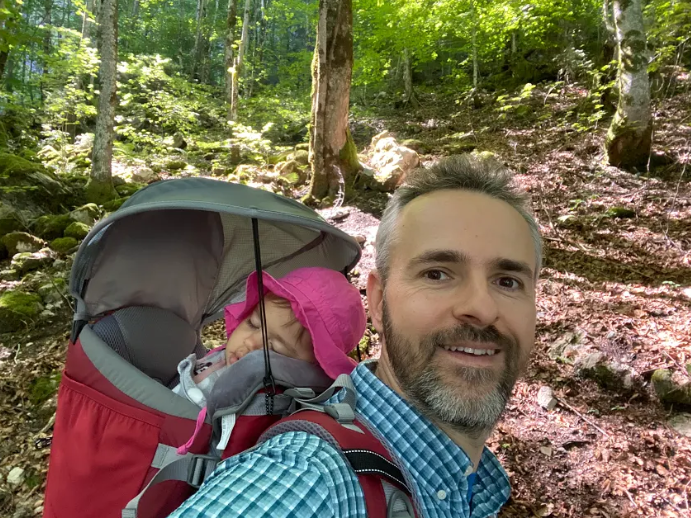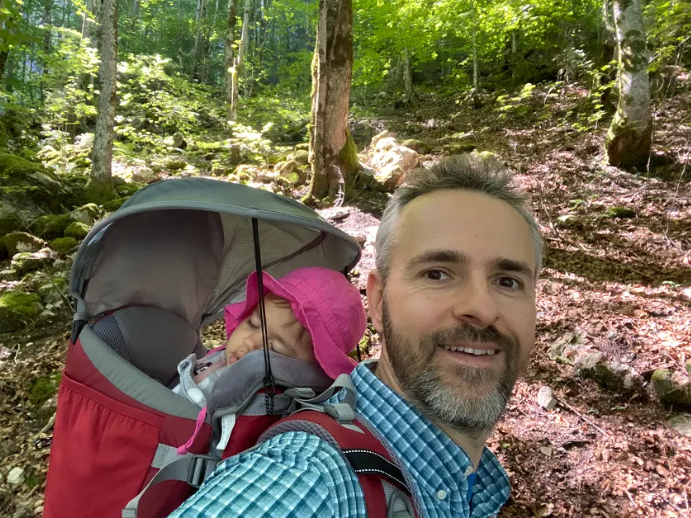 Here's me and my daughter using the Deuter carrier during our hike.


Keeping your baby warm and dry during a hike doesn't have to be difficult. Simply use the Deuter KC raincover deluxe. This is a device that attaches to your baby's carrier. It's an all weatherproof cover that will protect your baby from wind and rain. 
You'll appreciate that this cover is easy to store. Simply fold it up and place it inside a backpack when you don't need it. There are clips on the rim of the device so you can attach the cover to a carrier easily.  


The BundleBean is a versatile weatherproof cover that can be used on carriers as well as strollers. It's lined with soft fleece fabric on the inside to keep your baby warm so it can be used when it rains or when it snows. 
On the outside of the cover is a 100% waterproof shell that will prevent rain from getting into your baby's carrier. There is a hood on the cover that will keep your baby's head warm and dry too. 
The cover is ideal for hikes because it's lightweight and easy to store so you can simply put it in your backpack when you're done using it.  


If you're planning on going for short walks in the park or around a nature reserve then use this clear umbrella to keep you and your little one dry when it rains. This is a lightweight umbrella that's easy to carry thanks to the ergonomic handle. I normally strap it to the side of my carrier backpack so I don't have to carry it in my hand when it's not in use.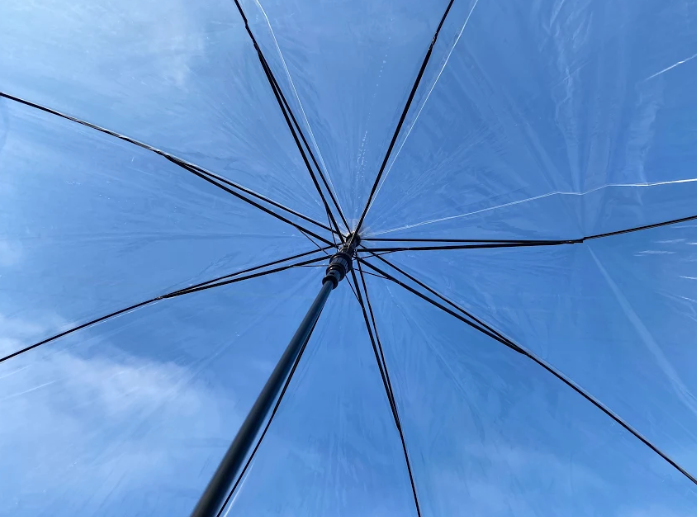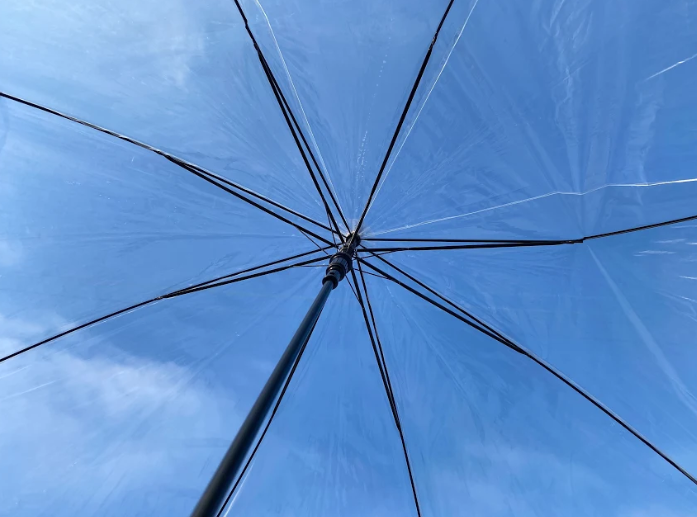 Here you can see me holding this umbrella. I love that it's transparent so you get to enjoy a bit more light than with a conventional umbrella and you can also see the canopy of the trees and the sky.


Hiking With A Baby in The Rain – Final Thoughts
You can turn a cold and rainy hiking expedition into a fun activity that you and your baby will enjoy. As long as you have the correct gear and you are both comfortable and warm the rain won't put a damper on your experience. 
Use hiking in the rain with your baby as an opportunity to teach your child about why it's important that we get rain especially in nature reserves. Even though the rain can be uncomfortable it's actually healthy hiking in it. 
When you get back from your hiking adventure you and your baby will feel more relaxed. Simply get into clean warm clothes and have a cup of hot chocolate with your baby after your adventures.  
When you're done using it you can simply fold it and hook it onto your carrier or stroller. The umbrella is 62 inches so it's able to keep you and your baby dry on your short hike. It's a more affordable option compared to carrier covers but it can't be used for longer walks. 
Disclosure: This is a Guest Post put together in collaboration with ProjectFather.com