I have to say, when it comes to beauty regimes there's very few I stick with. I'd never be bold enough to call myself good-looking, however, if a skincare product can make me look less like an extra from The Walking Dead, I'm happy. There are so many skincare products for women, but this is why I wanted to revisit my experiences of finding of Lumin skin care for men. Is Lumin good and does Lumin work after a number of months via their free trial?
I wanted to see how men's products like Lumin compare. In particular, how good is Lumin skin care's classic maintenance collection which is available as part of a free trial? This saves new users a fortune just to try it out!

Lumin Skin Free Trial and Review – 3 months in and is Lumin good?
I'm truly shocked at how hydrated and plump (a good thing in my case) my face looks. I'm not religiously regular in the application, but the exfoliator and the moisturising balm from Lumin really make a difference.
I also suffer from dry, cracked hands which can be awful in the winter months and by simply using the looming products on my face via my hands as meant that they've improved also. Previously products like Calmurid, Eucerin 10% Urea Body Lotion Dry Skin Relief and O'Keeffe's working hands cream have been the only things that help.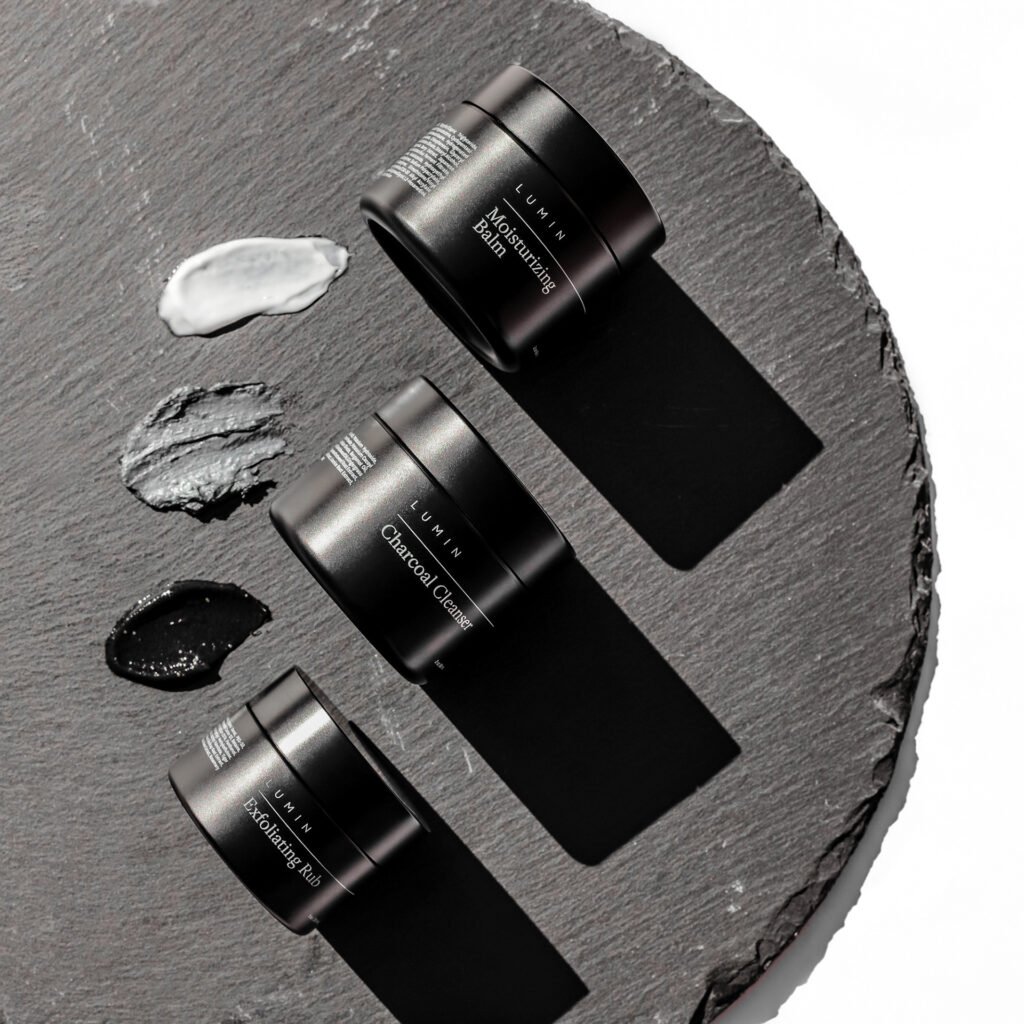 What does the Classic Maintenance Collection from Lumin Skin Care Actually Do and Does It Work?
It's a proven system of products that is commonplace in women's skin care regimes, so why not in men's? A three-step system of exfoliation, cleansing and moisturising treats your skin to a real rejuvenation hit.
The exfoliating rub from Lumin helps to renew tired skin that suffers at the hands of shaving irritation, ingrown hairs, dark spots, clogged pores, or acne scarring by promoting the skin's regeneration by removing dead skin cells and revealing the newest skin possible.
Alongside this, the Lumin Charcoal Cleanser that is contained in the Classic Maintenance Collection helps to unclog your pores of excessive dirt, oils and pollution. An absolute must if you work or exercise in environments where bacteria or pollution can build up through exposure.
I've mentioned earlier that I suffer from dry skin conditions, and the fact is that my use of the Lumin skincare products available in their free trial has massively helped to hydrate my skin overnight and repair some of the damage. It also maintains a level of lively complexion on my skin that is usually of a more lifeless pallor.
The team at Lumin have developed a skincare regime with high-quality premium products skincare products for men who want to look in the mirror and love their skin. In my case, this is true and I have a glow not seen since my younger years. So, in answer to the question "Is Lumin good and does it work?" – The answer is a resounding yes.
Quick Link: Access a Lumin Skin free trial today worth £upto £50 and 20% discount on future products.
Lumin Skin Free Trial and Review – 3 months in.
Since writing my original review around three months ago, Lumin has also listed themselves on the Amazon platform as a brand seller. This means the Classic Men's Maintenance set which I rave about in my aforementioned Lumin skin care free trial review is now available via free delivery for those with the Amazon prime option. Look for the set pictured in the image below to get the same kit I've been using:
Common questions for the Lumin Skincare Trial
Is Lumin really free? – Yes, the Lumin skin care free trial is really free and represents a great opportunity to try our Lumin's amazing range of skincare products without an initial outlay. Obviously, should you wish to continue there's an ongoing cost, but it has done wonders for my skin and I simply cannot recommend it enough. It is not the cheapest skin care out there, but it does work and there's nothing worse than shelling out hard-earning cash on something that doesn't work as I have on products from other brands.
Quick Link: Access a Lumin Skin free trial today worth £38 and 20% discount on future products.
Is Lumin skincare good? – Well, Lumin skincare as a brand has nearly 9,000 UK reviews on Trustpilot. With an average score of around 4.4 out of 5 stars at the time of writing this article, it's fair to say the trending Lumin skin care reviews all over Reddit and social media are right in the fact this really works. The classic maintenance set from Luminskin consists of three individual pots to cleanse, hydrate, and renew skin as part of a regular routine and the set includes a Moisturizing Balm, Exfoliating Rub (go easy on this as it only needs a small amount to work), and a Charcoal Cleanser.
How much does Lumin cost /Is Lumin expensive? – On Amazon, the Lumin Classic Maintenance Set retails at £59 with free delivery if you're a Prime member. You can find out how to get 30 day's free Prime access via this link if you are looking to access this deal.