If you're looking for an easy meal this coming Sunday, why not consider a no-fuss, easy to make,  slow cooker roast pork joint?
Not only will it be absolutely delicious tender and succulent. It will be low maintenance and a sure-fire show stopper alongside some honeyed carrots, crispy roast potatoes, homemade Yorkshire puddings, gravy and a spot of English mustard! Perfect for the nations favourite meal.
One of the important things to recognize is that you'll need very little for this other than a decent joint have a cheap slow cooker. And I really do mean a cheap slow cooker  – doesn't need to be anything special.
Using a slow cooker will save you tons of time meaning you can get this started in the morning go about your business entertaining or reading theTimes on Sunday until 45 minutes before you're ready to serve.  When that 45-minute juncture arrives, sip on a casual glass of well-reviewed supermarket wine, pop in the veg to roast with the crackling and pretending you did it all. Mmm… such a simple Sunday lunch!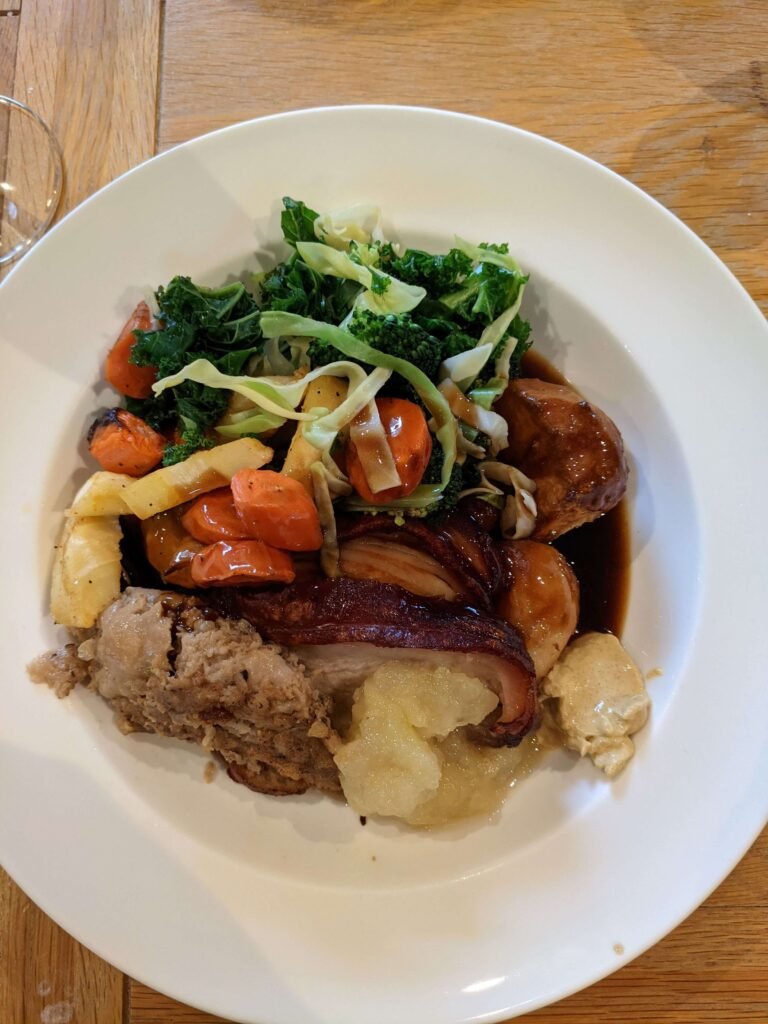 I've had numerous slow cookers over the years and the one I currently have is a £19.99 Morphy Richards Slow cooker which I believe I bought from either Argos or Sainsbury's many years ago.
This really is a no-stress meal, that will impress the inlaws, save time and save money on expensive pay-per-plate pub roasts.
The best thing about a slow cook roast pork joint is you can still get perfect crackling every time. You also get a huge amount of leftovers. Perfect for packing up lunch boxes, making wraps and sandwiches, or just enjoying cold in the evening with a bit of mustard and a TV binge.
So how should you go about using a slow cooker to roast a pork joint?
It's dead simple! One of the best things about it is all you need to do is chuck it in the pan, turn it on and wait for the final results.
For convenience, if you don't already have a slow cooker. I've listed a few of my favourite inexpensive slow cookers below. For transparency, note that some of the product links below may contain affiliate links. This basically means that if you end up buying one, this site gets a small commission.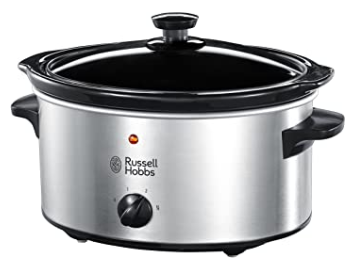 Huge 3.5 litre Amazon Morphy Richards Slow Cooker – Around £24 Also available at Currys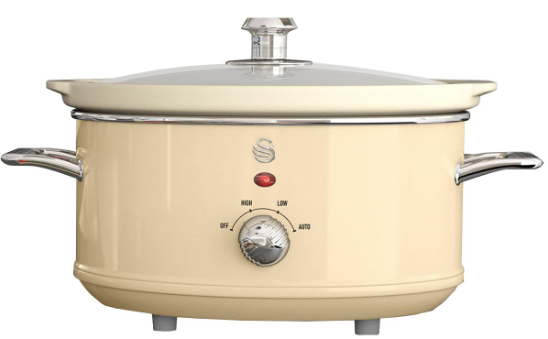 Retro Robert Dyas or Amazon Swan Slow Cooker (Cream / Blue) – RRP £25 but usually on offer around £17
However, before you consider buying one it's worth checking in with friends and family. If they have one stuffed away in their cupboard that they're no longer using, ask if they would mind you liberating it and bringing it back into service.
Do you really get crackling when you slow cook a roast pork joint?
The simple answer is no. But keep that skin on that pork as long as you can. Not only does it help to keep everything inside succulent, but it also stops the awkward task of trimming and removing it beforehand.
Once your joint is suitably cooked in the slow cooker simply remove it from the pan and pull off the skin. 
Shove the tender rendered crackling it into an oven at 200 degrees for 20 to 25 minutes with a sprinkling of salt to really get the best crispy crackling in your life.
You can wrap your pork joint in foil to keep it tender while you finish the crackling off.
Does it matter which type of roast pork joint I get for my slow cooker?
It doesn't really matter where your source your pork joint to roast and slow cook. As long as it's a decent size. It's worth noting though that some supermarket meats can "shrink" more than a fresh butchers' joint.
Simply chuck it in the pan with your choice of accompaniments such as chopped apples, onions, garlic, herbs… heck, even a bit of honey or maple. If going traditional, add enough chicken stock to cover the joint. Alternatively use coke for a slightly sweeter version ideal for a slicing joint for baguettes or sandwiches.
Turn your slow cooker on to its high setting for around 30 minutes and then. After this initial 30 minutes, turn it to low and play the waiting game – usually, 7-8 hours depending on the slow-cooked roast pork joint size.
Always check it is thoroughly cooked when removing.
If you wish to speed up this process you can always cut it into smaller sections, but this will have an effect on the succulent nature of the joint if in any doubt keep it as one and cook it longer, on alow heat.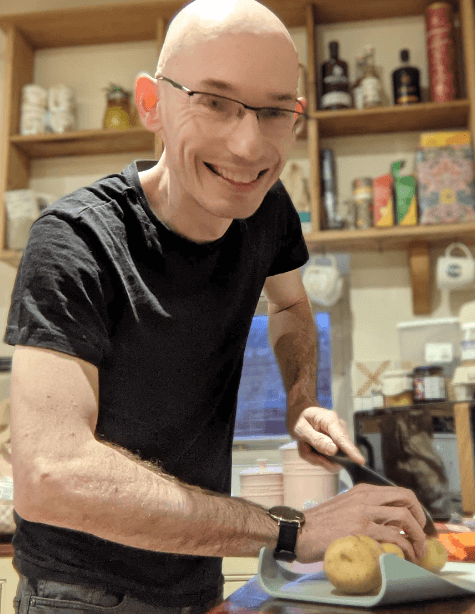 Disclosure: This post contains affiliate links.