It has been a funny old 24 months. The holiday landscape has almost irrevocably changed for us Brits – one minute we were hopping on a £29 flight to anywhere for a quick glimpse of the sun and the next we were intermittently locked down. Even a week in Scarborough felt out of reach. Certainly in my family, we have had to rethink our holiday time entirely during the pandemic and I must admit, even when international travel became relatively accessible again, it wasn't the first thing I was looking forward to doing anymore. We're growing much more content with the delights on our doorstep – good old Blighty has come through for us time and time again! In particular, this got us thinking about the value for money of English Heritage family membership offers, both nationally and in the East of England.
Our Favourite local English Heritage Membership Sites (Norfolk and Suffolk)
We've been discovering the cultural highlights of our home county of Norfolk (and its close sister, Suffolk) more and more in recent months, with the incredible locations in the English Heritage portfolio featuring time and time again. I've always considered the English Heritage sites to be the 'interesting, slightly aloof Aunt' of the more traditional National Trust spots (read our article on how to Save £64 a year on membership). They're the ones with the interesting stories that are slightly off the beaten track and almost always with an overwhelming beauty that stays with you long after the visit.
Access the serene Binham Priory in North Norfolk
A favourite in Norfolk has to be Binham Priory. This is a remarkable place, steeped in the most incredible history and with a serenity about it that only comes from centuries of reflection and reverence. It is a beautiful place to explore in North Norfolk, both from a historical interest perspective, but also as a great way for my children to immerse themselves in a place (whilst running about like the rambunctious lads they are!)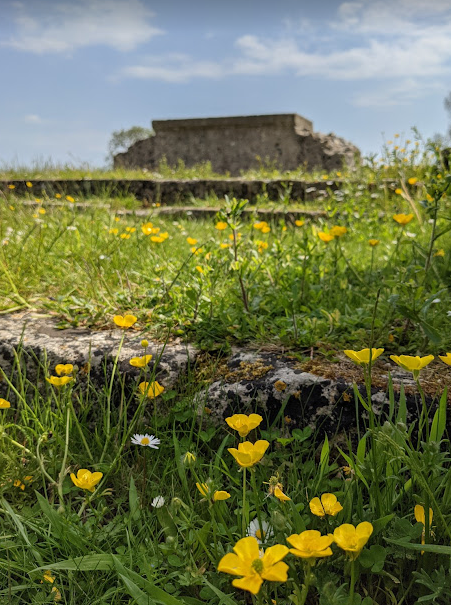 Binham Priory is a great place to access as part of a trip out to the North Norfolk coast and most of the ruins are accessible from the free carpark with only the main priory building being restricted. There's also a small coffee and produce shop off one side of the carpark.  Creake Abbey, another English Heritage site is nearby, as well as the villages of Walsingham and Langham which have worthwhile experiences on offer outside of the English Heritage offers as the Walsingham Shrine and Langham Glass.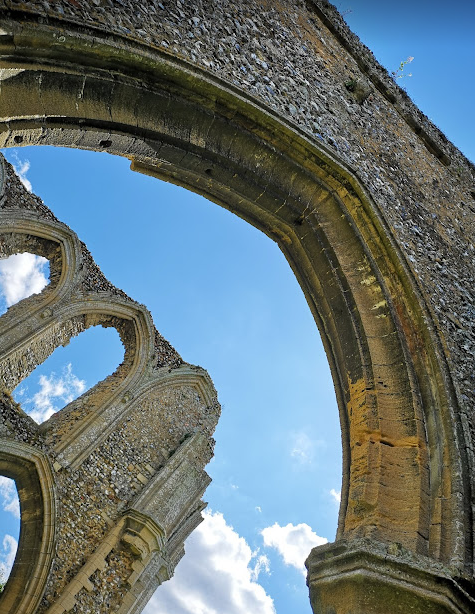 Family English Heritage events and days out at Framlingham Castle
Another favourite of theirs is Framlingham Castle which plays host to a number of events throughout the year, as well as generally being a top place to explore on its own. We've enjoyed days out there which included the superb 'Robin Hood's Fools' event where the children had a go at lots of free activities such as archery and storytelling.
These free inclusive events were well organised, fun, interactive and allowed us as a family to use our time in a proactive way, balancing the calm and manic moments that go with family outings. We choose to take a walk around the upper levels of the castle walls before joining in with some of the events.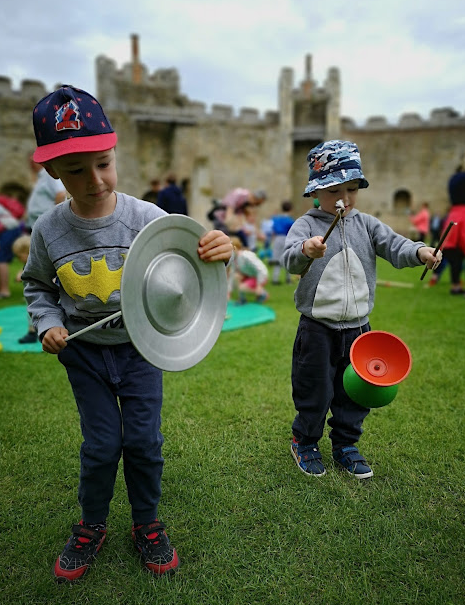 Whilst we packed a basic lunch, we also made use of the cafe on site which had a great range of food and drinks on offer catering to dietary needs and the tastes of a variety of ages. I little chocolate cake and juice and we were fuelled up for a further jaunt around the outer grounds of Framlingham Castle.
It's worth checking out what other events are on offer in Framlingham if planning visit as when we ventured that way there was a travelling fair in the field next to the English Heritage site and local bands playing on the green outside the Castle and nearby pub.
Whilst you can of course buy individual tickets for any of the English Heritage sites you and your family may be planning to visit, the biggest discounts to be found are in their annual membership package offers which we will take a look at next.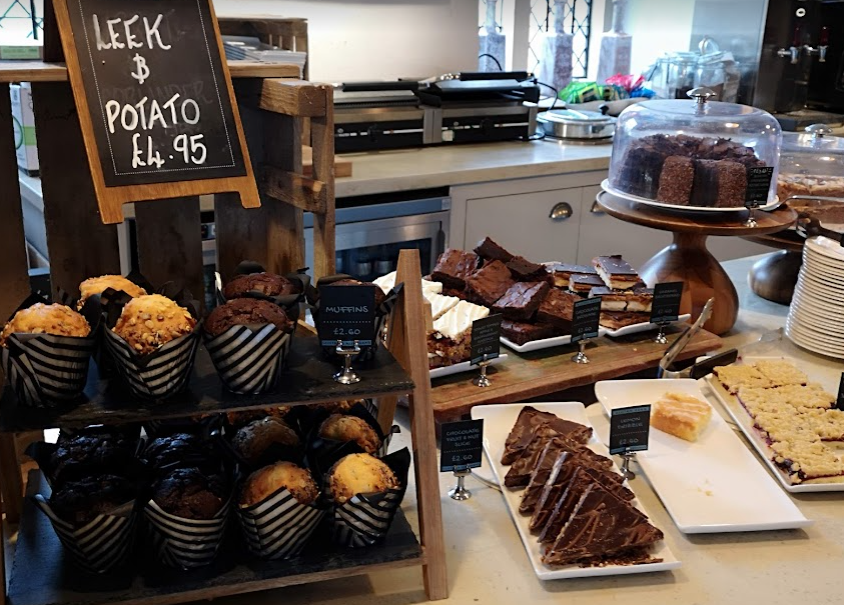 What are the costs and rewards of English Heritage Membership?
A membership to English Heritage offers you unlimited access to over 400 historic places and either free or reduced price entry to hundreds of events run throughout the year. As an added bonus, parking is included in the membership too, where the car park is English Heritage owned. You'll also receive a members handbook and exclusive magazine and access to their Members Reward Scheme where you can take advantage of money-saving deals from more than 60 of their partners.
A family membership for one adult and up to six children is currently priced on the English Heritage website at £64 for a year. Increase the ratio to two adults and 12 children and you're looking at £111 per year. This is incredible value considering that if two adults and three children paid on-the-day for a trip to Framlingham Castle, they would pay £32.50 just for that one visit!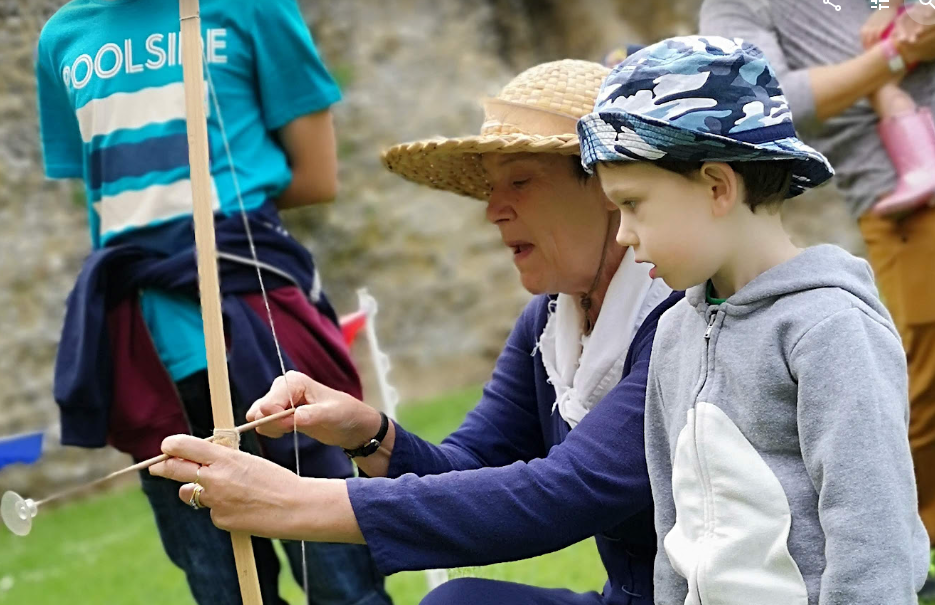 Best Ways to get discounts for English Heritage Membership Offers
As we know, it always pays to dig a little deeper and see what offers are available for memberships. Cashback is always a good one to look into – Quidco is currently offering 4% cashback on all memberships, as well as a 15% discount code for English Heritage Gift and Annual memberships. You can use our affiliate link to get an additional £10 cashback if you open a new Quidco account and occasionally Quidco offer "Quidco Boost" events where additional cashback is applied to minimum spending – worth keeping an eye open for.
Topcashback.co.uk are giving up to 8.4% of your purchase when you shop for an English Heritage membership. If you're signing up in this manner, and wish to support our site, you can join Topcashback via this affiliate link and then head over to the English Heritage Topcashback page to sign up.
Use Groupon or AA to maximise your savings on English Heritage family membership
Groupon is offering a 15% discount on all English Heritage Gift and Annual memberships as well as some other deals to bring down the cost of any shopping you may want to do from English Heritage's online gift store.
If you're already a member of the AA, they are offering a whopping 25% discount on all new English Heritage memberships at the moment – just sign in to your AA account and grab the code as part of your AA member rewards.
CSSC members can also get free English Heritage membership and access to properties, so if you're already a member of this non-profit membership scheme – you could be quids in for English Heritage access. Membership for this scheme though is usually £54 for a standard adult or £48 for those in receipt of a pension, so you'll need to run the numbers to see if it's worth it for your needs.
If you use Tesco Clubcard, you may also have a number of clubcard points that can be used to pay for English Heritage family Membership. At the time of writing this article, 50p worth of clubcard points was worth £1.50 towards membership.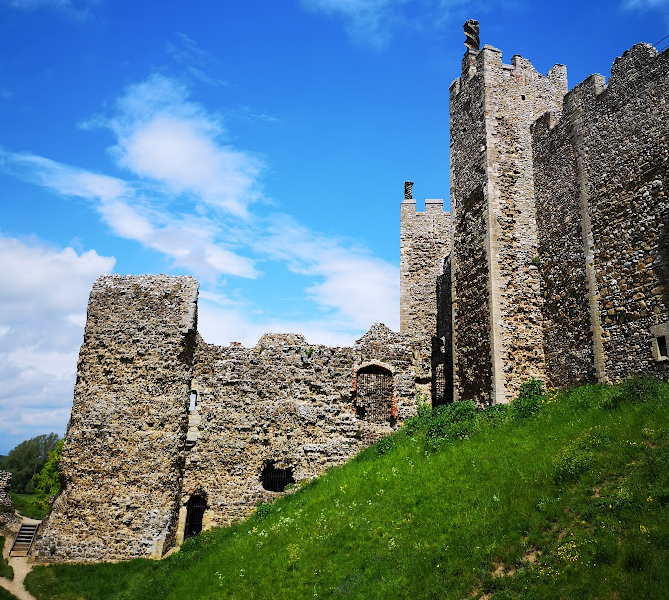 Keeping the costs down even further for your family day out
The other thing to appreciate when it comes to a family day out, is all the extra costs associated with it – travelling costs, eating out…it all adds up!
What has been quite surprising to us is that there is nearly always more on your doorstep than you imagine. Yes, English Heritage covers the 'big hitters' like Stonehenge and Dover Castle, but tucked away in your county will be doubtless some real local gems that you can explore with your family without travelling hours and spending precious cash on fuel.
Make use of the search facility on the English Heritage website to see what is local to your postcode…you might be surprised! The pages also give additional details on whether parking is, or is not, included.
Whilst there are often some outstanding cafes in the English Heritage sites, it can really pay off to pack yourselves a picnic for the day out – using our recommended Stasher bags can really make a difference to the day out as you know you will have packed just what the family actually like and you won't be breaking the bank in the name of a slice of Victoria Sponge!