How to save over £27 per year on National Trust Membership Offers
It's official, National Trust properties are beautiful but hugely expensive for the masses and National Trust Membership Offers are few and far between. This guide, however, will seek to make the wealth of sights, sounds and experiences on offer in the UK more accessible to those on smaller budgets. That's right, use this guide to SAVE £27 PER YEAR and go easier on your credit or debit card (Note: Please scroll to updated costs below Updated 20/3/21)
How can I get a discount that large I hear you utter…? Well, with it being only £173 (350 New Zealand Dollars) for a family of 4 to join the 'New Zealand National Trust' which offer identical access in the UK to National Trust properties. UK Residents can now also join and benefit from the reduced cost. As a bonus you also get access to sites in New Zealand should you ever travel there. However, the main reason for doing this is the agreement they have with the UK to offer FREE access to UK National Trust and English Heritage Sites to members.
Top Offer Link >>Scottish National Trust Membership (Access worldwide sites at a discounted price)
What are the costs for English Heritage membership and New Zealand National Trust?
Separately, for example, the standard National Trust membership offers charge a whopping £111 per year for a family and English Heritage would be an additional £88 per year for a family.
Using New Zealand National Trust Membership Offers means…
(NT £111 + EH £88) = £199 
For New Zealand National Trust Option it's only £173, SAVING £27 per year!!!!
You can also join the above membership schemes as an individual or as a couple and in general, it is a considerably cheaper option especially if you don't use it that often. However, if you read on there are a few things to consider.
First, What is the National Trust?
Helping to preserve over 780 miles of coastline, 284,000 hectares of land, priceless works of art, animal habitats and even heritage pubs, the National Trust is a conservation charity. It was founded in 1895 by individuals seeking to protect our nation's heritage and open spaces. Set up as a preservation society, it purchases land and properties through charitable funding and acts as a guardian to land bequeathed to it, land which due to government agreements can never be sold on.
The National Trust looks after special places throughout England, Wales and Northern Ireland forever, for everyone.
The trust whilst a conservation charity always welcome public access to survive and grow. Many of the older properties have significant upkeep meaning they rely on the support of members, donors and volunteers. Whilst The National Trust have commercialised by charging high prices on food and drink (you can save by packing your own and using reusable stasher bags in th UK), and steep parking prices to those not members, they are still a charity, which is something to consider when looking at access options listed in this article.
What are the Discounts on National Trust Memberships and National Trust Membership Offers?
If you do decide to save up and purchase the National Trust's own UK membership for the family there are currently, at the time of writing, a few sign up deals:
Get a free £5 m&s gift card with your (UK) National Trust membership via The Giftcloud website.
Get a £10 National Trust gift card when you sign up for National Trust membership with the promotional code J19019. This was an offer listed in the Co-Op magazine and is for new customers only, the code should last until March 2019. You can use the code on the UK National Trust website here. In theory, you'll also get the magazines and FREE binoculars if you pay by direct debit…
How to use Scottish National Trust Membership Offers or New Zealand Heritage to reduce membership further
So, now you know the offers available for families directly with the UK National Trust, it's worth noting the alternatives. The main consideration with other options is parking. The NZ National Trust is the cheapest but doesn't include FREE parking, while the Scottish National Trust is the option to take with a cost in the middle that does include parking. Taking that into account, if you choose a couples membership and want to visit a National Trust property approximately 7 times in a year you will be quids in with the New Zealand NT option, even allowing for parking. If you are going to visit more time than that, then you are better off with a Scottish or UK National Trust membership as the parking charges will mount up.
Personally, I'd use the Scottish National Trust option. It's cheaper than the standard UK National Trust prices, but important includes FREE parking, meaning you get the best of both worlds.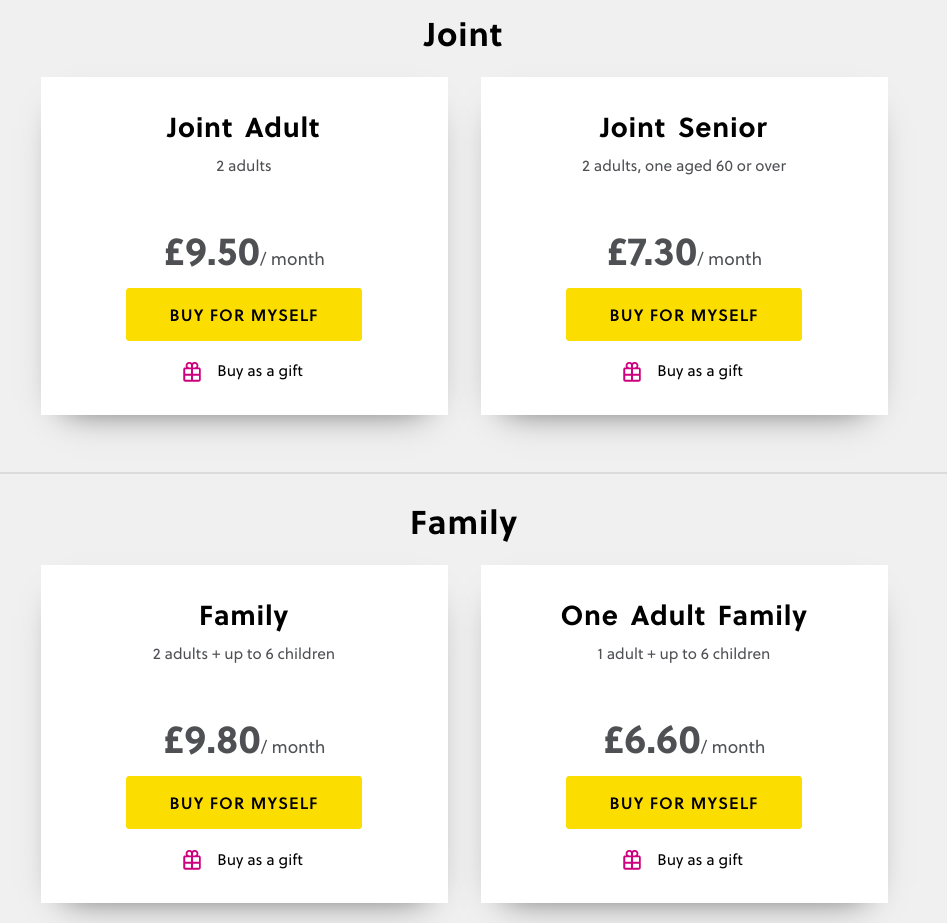 CURRENT NZ & NTS RATES:
NZ $350 / just under £173 for a family membership via the New Zealand NT site.
As a side note, you'll need to opt out of receiving the quarterly member's magazine to avoid being charged an additional £15.
NTS (Scotland) membership is slightly cheaper than the standard UK version (£102 annually / £8.50 per month for family 2 adults and up to 6 kids ). You can see their rates and join on the NTS site.
There is a reciprocal agreement between most of the trusts so you can get free or reduced entry worldwide.
Final Thoughts
NTS and NT are the only two organisations with reciprocal parking arrangements though, as far as I'm aware. Other NT organisations (such as New Zealand National Trust) have reciprocal entry arrangements but you'll likely have to pay to park.
Overall, for most the middle option of National Trust Scotland will win out if you're a regular outdoors type. Otherwise, go for the New Zealand option if you're only like to visit a few times. Be sure to let us know in the comments if you use these options or know of others that may benefit other readers.