Center Parcs is often a popular destination for family holidays and getaways in the UK. But it is not the cheapest of places to stay and enjoy. Particularly for those who have limited budgets or financial constraints. Having worked in the education sector for much of my life, I'm familiar with the draw of families taking pupils on holidays during term time in order to access cheaper costs. But, even for those families taking this option, many still look for alternatives to Center Parcs due to the high prices and rates for accommodation during half terms and school holidays.
Don't get me wrong, I've stayed at Center Parcs many times over the years. It's a fabulous resort, and it is worth the money if you can access cheap term time deals or offers, but there are alternatives to Center Parcs in the UK that many families may wish to consider before hitting the "book now" button.
Before diving deeper into the Center Parcs alternatives, it's important to consider what Center Parcs offers and what families seem to require from a weekend getaway or 'staycation' in the UK. For example, ONS data from last year shows that UK residents made 19.1 million visits abroad in 2021, which was 20% less than the previous year. This may be partially due to travel restrictions, but there is scope for suggesting some Brits chose to stay home and holiday within the UK to save money and stress.
Why are alternatives to Center Parcs important?
Within the UK, there's a whole host of excellent hotels, B&Bs, holiday cottages, and retreats that can cater to your particular interests and needs. Whether it's a cosy, remote, and romantic cottage on the North Norfolk coast or a hotel located near amusement parks, restaurants, and family entertainment.
So, the first thing to consider, is what does a Center Parcs holiday offer you that a DIY package you put together yourself doesn't?
Let's look at the main facilities and conveniences of Center Parcs itself. You're paying for the convenience of lots of options for activities, entertainment, and accommodation on-site with a major brand. There are themed restaurants, takeaways, Aqua Sana spas, treatments, cycle routes, outdoor activities, subtropical swimming paradises, and a range of accommodation sizes and types. However, many options are upsold meaning families can potentially spend a lot more for a premium experience than they might initially think.
In general, longer bookings work out cheaper per night and allow you to fit activities in. And this is our main worry for many booking short breaks – there's lots to do but you're often constricted by bookings unless you're using the free facilities like the swimming pool. If you're well organised (and can relax alongside an itinerary) then Center Parcs may be for you, otherwise consider some of our alternatives below.
Our suggestions for Center Parcs Alternatives
The list below is an example of some of the options families and couples may wish to explore as alternatives to Center Parcs in the UK. Whilst prices change regularly, depending on how peak periods change and budgets change holiday trends, the below options will give you a rough illustration of what is available at the time of writing this article.
You might find that there's a significantly larger number of holiday parks and staycation options in the UK than you were thinking.
We've based our comparison on the quote generated from the individual alternatives to Center Parcs for 7 days (1 week) in the first week of the 2023 August school holidays.
Alternative 1 – Butlins – £967 (Skegness)
Butlins is a well-known, historic UK brand. The company has many locations across the UK and we've based our search for this article on the venue nearest to us in the East of England – Skegness. The reason for choosing Skegness is we often keep an eye on the Sun Holidays Codes from The Sun newspaper that allow readers to collect and book '£9.50' holidays at a range of resorts. Whilst the Sun Codes rarely end up with holidays that cost just £9.50 after fees and extras, Skegness often appears as one of the cheapest in the search options as an alternative to Center Parcs.
Butlins offers a range of accommodation types, just like Center Parcs, and also has nightly live entertainment, bowling alleys, pools, restaurants, and even fairgrounds. Also, just like Center Parcs, it pays to consider booking a slightly more expensive self-catering form of accommodation to save money on dining costs – unless you wish to eat out regularly.
Dogs are sadly not permitted on site, this is something that Center Parcs does offer (in some rooms) when compared to the alternatives.
Center Parcs – £2078
For the same period as the alternative holiday resorts mentioned in this article, a 2 bedroom lodge in Elveden Forest in Suffolk would set a family of 4 (2 adults and 2 children) back £2078 for the first week in August 2023. There is plenty of included free facilities and the subtropical swimming paradise is, without doubt, among the best on offer in the UK, but that's still over double the price of Butlins.

Alternative 2 – Haven – £862
Haven is the next on the list. They have a huge number of parks around the UK and most are based on the touring and static caravan style of holiday. We've based our costs on those associated with The Wild Duck park in Norfolk. For the £862 you'll get a family of four into a bronze-level caravan for an entire week. If you're taking a pooch along, you can knock the price down to £790 for a pet-friendly van. Most sites have pools, entertainment on site and cashless arcades but most families will want to supplement this with venues, facilities and activities off-site if you're there for the week.
Alternative 3 – Parkdean – £659
Parkdean resorts vary significantly by site. Depending on the venue you choose, the accommodation options may differ from those featured in this article. Sunnydale in Lincolnshire offered the cheapest option at £659 for their base caravan. Their newest, most spacious was £809. Pools and limited entertainment options are available on-site, but yet again, supplementing these might be needed to entertain a family for a week. This is why carefully considering what you want to get out of your time away is important. Is it cheap family time, or premium-priced experiences on your accommodation doorstep? If you're after the latter, Center Parcs offer that for around three times the price of a week at Parkdean resorts.
Alternative 4 – Chessington – £1155
Chessington World of Adventures is not your typical resort. But we feel it's worth popping it into our list of alternatives to Center Parcs if you're looking for ways to entertain the kids in the school holidays. We've used the basic themed resort rooms and found the free pool access more than suitable for a young family.
The breakfasts, in our experience, are amazing! We stayed in the Safari Hotel on the resort, but families can also opt for the cheaper explorers glamping site and still access an inclusive breakfast.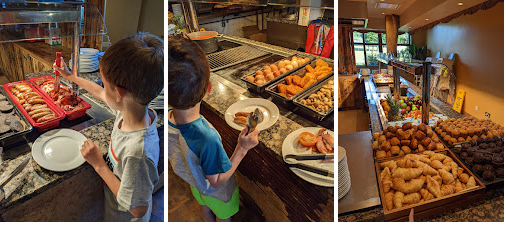 You'll also get access to the amusement park for one day and will be located near to London for all manner of additional free activities, like the British Science Museum – for example. Alternatively, families can take the off-resort option for £755 with breakfast and park tickets included. This is based on the same school holiday dates, but only 6 days accommodation length.
Alternative 5 – The DIY getaway £729 (Heacham AirBnB)
Let's be honest, when giving a gift to someone, the truly special gifts are personal, related to their interests, and memorable. This n be applied to the concept of booking a family getaway or staycation in the UK. If you're looking to book way in advance, get your accommodation in first. Search by the kind of features you like (ie. Coastal getaways) and then compare AirBNBs, Hotels, and pub accommodations.
We stayed in Heacham, on the North Norfolk Coast, in a beautiful shabby chic chalet for only £80 per night that we found on AirBnB. It was located near the beach for rock pooling, there were gift shops and restaurants nearby and local amusement parks. It suited us for peace and quiet after active days – something families potentially won't get at the larger park resorts. It's also worth if you're looking to holiday in the UK more, into membership offers for The National Trust. These will offer inclusive access to many venues that will keep the family entertained.
The AirBnB super hosts are worth looking out for and you can plan an itinerary around trips out and cheap nights in with fish and chips! For the same period in the Summer holidays next year, a week with the host we stayed with will set you back £729
Yes, you'll have to travel to some things. But Center Parcs is over a grand more, so making the choices that are right for your holiday wishes and budget needs is important when considering alternatives to Center Parcs.