If you know someone about to pop a new sprog, it's well worth pointing them in the direction of this page to learn about the Amazon Baby Wish List and the FREE gifts and codes available. Of course, the chances are, if you're reading this page, that you're the expectant mum or dad to be. Whatever the baby situation, the set up of an Amazon Baby Wish List is a simple task that can save you money when looking for hot UK deals and net you some decent freebies in the process.
What is the Amazon Baby Wish List?
The baby wishlist service from Amazon is a great little tool to enable you to keep track of items you may require for a newborn. Maybe you're thinking about what you need to set up a nursery? Or the clothing you might wish to use? Whatever the items are, you can easily add them to an Amazon Baby Wish List. Once you've registered and set up the wishlist, all you need to do is click on the "add to Amazon baby wishlist" button, directly from the product listing page on Amazon.
Not only can the wishlist service help you to keep track of things you may need, but it can also be used to share with friends and family who may wish to help out or buy gifts for the new arrival. You don't need any experience in how to set up an Amazon wishlist as the process is really straight forward and needs minimal details. Plus, on top of this, it's completely FREE!!
How can I get an Amazon Baby Wish list Free Gift?
Simples. At any given time Amazon is offering a free item to those who set up a wishlist and spend their first £20. In general, there will be a choice of free gifts to choose from when you spend £20 and use a special gift code listed on the site via the link below

At the time of writing this article (Feb 2021), the welcome gift for the Amazon Baby Wishlist service is a Tommee Tippee nappy bin. This is worth around £13.99 on its own, so it's well worth registering of the wishlist service when buying other baby items, even if you don't intend to use it much. The free gift code needed does occasionally change, but in general, the Amazon wishlist code of "GIFT" should work.
It is worth noting that your "qualifying order" of £20 or more has to be items other than nappies and baby food for this to work.
How to get up to 20% extra off wishlist items
Amazon also offers increasing discounts on wishlist items depending on the amount you're spending. As a rough illustration, here's how the discount stacks up:
For a baby product spend of £200, you get 10% off (with the Amazon code WISHLIST10)
For a baby product spend of £500, you get 15% off (with the Amazon code WISHLIST15)
For a baby product spend of £800, you get 20% off (with Amazon code WISHLIST20)
Whilst these seem like expensive thresholds, it's certainly worth keeping them in mind, particularly if kitting out a nursery with changing stations, cribs, cot beds and bedding. If spending £200 you'd save £20 off your items, or a whopping £160 off £800 spends!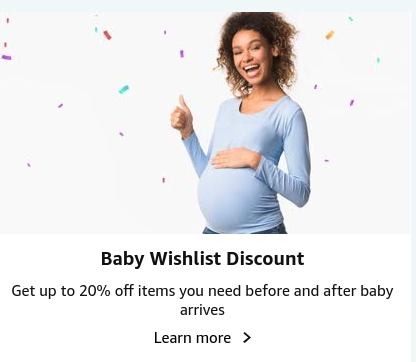 How to Boost your Amazon Baby Wishlist with extra discounts and codes.
Occasionally Amazon offers extra incentives to customers using the baby wishlist service. Right now, until 11th February 2021, readers can also get an additional saving of £5 off £25 on selected Amazon baby products. You'll need to use the code BABYTHANKS21.
How to claim money off with your discount code
Add a qualifying item(s) from the Amazon baby page with a combined value of £25 or more to your Amazon basket.

Once you have chosen your baby items, click the "Proceed to Checkout" button.

Finally, at the checkout, enter the promotional code BABYTHANKS21 in the "Gift Cards and Promotional Codes" box. 

If this is all done, you should see the offer applied to your order and the £5 taken off.