Children's Sleeping: Our Scenario and why we tried a Gro Clock
Children's sleeping can be a huge issue for parents. The best way, we could think of, to show just how effective this Gro Clock sleep trainer can be is to summarise our situation and say how it worked for us. Hopefully then others, who have the same child sleep issues, will be able to decide if the unit is something to try for them also. You can find our full review here
We thought we had it nailed with, Little Savvy, our first-born. He was sleeping in ever more lengthy patterns at night by the end of his first 6 months. Then, by 9 months, he had moved to his nursery and was consistently sleeping through from 7pm to around 5:30/6am. The next year and a half passed, with the same pattern, even with house moves and sleep overs at the grandparents. But then, with the arrival of our second child, and the moving of bedroom and upgrading of bed, he started waking more during the night.
Things really changed after a week's holiday away where he obviously got over-excited and didn't want to go to bed in the evenings. On our return home, he was waking 3-6 times each night. He'd settle again quickly, but then wake again and again asking for random things. To be clear, he was controlled but finding new "ways" to get us to go in to see him. Now we could have left him to see if he re-settled, in fact sometimes we did, but overall the fact that he'd wake the newborn if he carried on meant we had to try and re-settle him.
Months passed, we became more tired, and we started to worry he was developing a habit. It's tricky to know where to turn for advice on children's sleeping.  So we decided to switch tactics and try something ourselves, this is what we did, and IT WORKED!
Our Little Savvy, now 3 years old, has always loved magical things. So we bought the Gro Clock and a wooden treasure chest, the reason for the chest will be become apparent.
The Gro Clock in use
The Gro Clock arrived and was plugged in and up an running within minutes. Setup was reasonably easy, with a menu that can be rotated through to alter real-time and desired wake time. A chirpy, smiling sun greeted us and Little Savvy loved it from the start.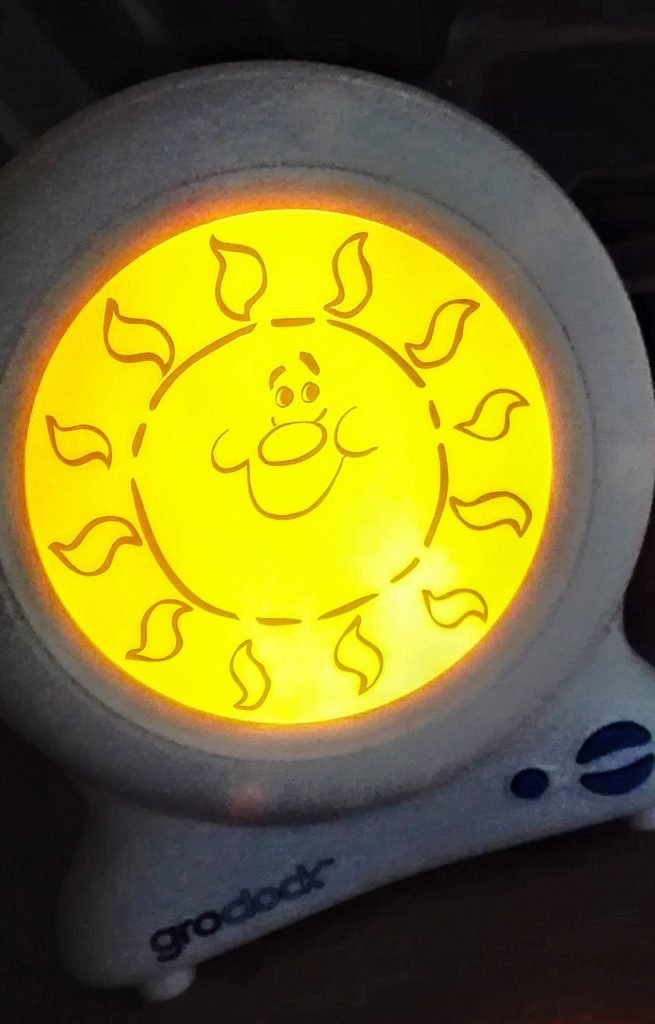 "It's got a smiley face Daddy! – The child friendly imagery and lighting was a hit from the start. We can see how this, in theory, can support children's sleeping experiences and habits".
We placed it high up and out of reach, while the power lead could have been longer, it was sufficient length where it was secluded behind a tall chest of drawers. We set the wake time for 7am.
Now back to the wooden chest; we got the wooden treasure chest as a reward chest. We told little savvy a magical story about fairies visiting little children when they had been good during the day and tried to sleep all night. We said that we'd heard that maybe they would leave notes or rewards for good behaviour and sleeping. But, if Little Savvy disturbed them visiting during the night, they'd be scared off and not visit. We were going for a tooth fairy style of story.
We told him that he had to try and stay in his bed until the sun appeared on the clock the next morning.
He settled down, we read a story and did our normal routine, then as he laid down I pressed the manual button to start the night session. We mentioned that the stars would vanish slowly and when the last one went it was time to get up. We closed the door and left…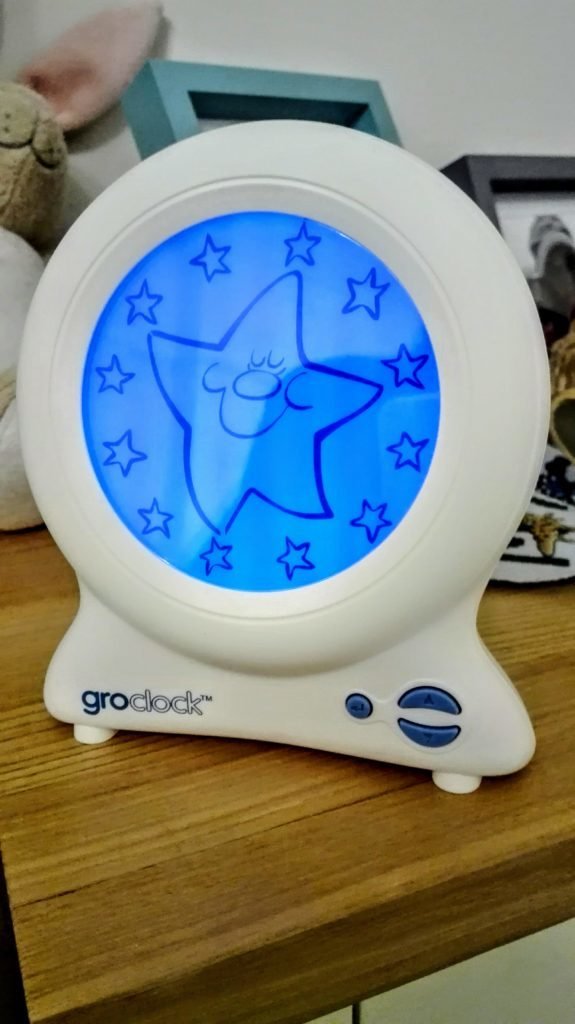 30 minutes passed, we watched on our video monitor, Little Savvy had a mini venture out off bed a few time to inspect the blue glowing stars on the Gro Clock. He got back in bed, settled, and SLEPT! Now he woke at just after 6 am, but he played quietly for a few minutes in his room before declaring loudly to the house "It's morning! Did the pirates come?"
We'd left a little note (to read out to him) in the chest and as soon as we opened his door he ran to the chest. Nights passed with ever improving sessions. He would still wake, but more importantly, resettle himself. After 2 weeks, we had our night sleeper back, the norm is now 7pm to 6am with little issue. We did use the treasure chest too (with notes and little rewards), so it's hard to tell if the clock alone would have done it but we no longer need the "sleep pirates", as Little Savvy calls them, to visit every night. In fact he still sleeps well and forgets the chest some mornings. He regularly gets up quietly when there's one star left on the clock.
Final Thoughts on the Gro Clock
Any down sides to the clock? We'll, two minor ideas for future models:
1) The clock has no back up power, so if there's a power cut, you'll need to keep your fingers crossed.
2) An automatic start would be useful as we have on occasion forgotten to start the night mode and had to sneak in later to set it.
Overall, we cannot really fault the Gro Clock. It's inexpensive, has good build quality and ultimately, in our case… works! It usually retails around £19 (See here)