Most people are concerned about the fines or driving bans they may be subject to following a motoring offence; however, there are a number of other ways that penalty points can impact a driver's life, such as through hiked insurance costs or the loss of work. These impacts are typically less obvious or immediate but can build up to cause stress and financial costs later down the line.
It is essential that drivers understand the different driving offences and the points associated with them so they can take steps to avoid incurring penalties and costs. In the following guide, the motoring law experts at JMW Solicitors will outline these in this guest post by Hojol Uddin, partner and head of driving offences at JMW Solicitors. 
How do penalty points impact lives?
Penalty points can have a major impact on the lives of drivers, especially if an individual's driver's licence ends up suspended or revoked. Individuals who have had their licence suspended or revoked can struggle to maintain or obtain employment, leading to financial difficulties and loss of income.
Receiving penalty points on your driver's licence can have serious implications when it comes to the cost of insurance premiums. This is because insurance companies could increase their costs for drivers who have been prosecuted for motoring offences. As such, individuals with penalty points may find themselves paying much more than those who do not have any violations or suspensions on their licence.
Furthermore, having penalty points on your record could lead to more serious consequences if you are being prosecuted for another offence. For example, subsequent drink driving offences can lead to drastically extended driving bans and prison sentences when another offence is committed.
Losing the ability to drive can also have effects on your freedom and social life. You may not be able to drive to see your friends or family, and may have to rely on public transport which can lead to costs building up or difficulty travelling due to strikes or unreliability. 
What are the different types of motoring offences?
Motoring law is complex and has evolved over many decades meaning the impact of penalty points has also changed. This evoloution can make it difficult to understand every type of offence and any new rules that are introduced; however, when changes to UK motoring law are introduced, the government will attempt to alert drivers through email, social media and their website – being subscribed to any of these will help you to stay up-to-date. Additionally, the government will publish a new edition of the Highway Code – which can be found online here – before the new laws are implemented.
Here, we run through the different types of motoring offences that lead to penalty points:
Careless driving and dangerous driving
Careless driving is a form of negligent and reckless driving that may endanger the lives of drivers, pedestrians, and other people on the road. Careless driving is an umbrella term that covers various motoring offences – just a few examples include:
Speeding

Ignoring red lights

Tailgating

Using a mobile phone while driving
If you are convicted of careless driving, you may face substantial fines, points or disqualification. Penalties for careless driving can vary depending on the circumstances of your offence. A police officer may pull you over directly after your negligent behaviour and issue a fixed penalty notice that details a fine and a number of points that will be added to your licence. Alternatively, you may receive a court summons through the post, requiring you to attend a court date detailed within.
The maximum penalty for a careless driving offence is an unlimited fine, three to nine penalty points or disqualification from driving. Prison sentences are typically only issued in severe cases, most commonly due to death by careless driving.
Driving without the necessary documents
There are various document offences that carry different penalties. To drive in compliance with UK motoring law, you must hold the following documents:
A driving licence

An MOT certificate

Road tax documents

An insurance certificate
Each must be valid, registered in your name and up-to-date. Failure to meet any of these requirements can result in a variety of penalties.
If you lack a driving licence, you may receive a maximum penalty of a £1,000 fine and, in some circumstances, penalty points. Driving without an MOT certificate can lead to a fine of up to £1,000.
Lacking insurance carries a much higher maximum penalty, with a fine of up to £5,000, six to eight penalty points and a driving ban of up to one year.
Driving without road tax documentation, or driving without road tax will typically lead to a fine of £1,000. These offences are common due to drivers misunderstanding their road tax obligations and paying the wrong rate.
To avoid committing any document offences, make sure you understand what you need before you drive anywhere, as failing to do so can lead to you paying more than you would have otherwise. 
Savvy Dad side-thought: Consider a driving document and MOT tracker like Caura to avoid driving fines.
Drink and drug driving and their impact on penalty points.
Drink and drug driving offences are considered to be absolute offences in the UK, meaning they carry serious penalties and are difficult to dispute if the police have solid evidence. Driving under the influence does not incur penalty points, but will instead lead to a minimum ban of 12 or 36 months if there is a similar previous conviction.
If you are pulled over by the police and they suspect you of driving under the influence of a substance, you will be asked to take a breath or swab test at the roadside, or a breath, blood or urine test at the police station. If you are found to be over the legal alcohol limit, you will be arrested and prosecuted. If you are found to be under the influence of an illegal drug, you may expect to be prosecuted in the same way. However, you may be surprised to find out that you can be prosecuted for taking legal prescription drugs, which also have a legal limit and can have a significant effect on your ability to drive safely.
The standard penalties for drink or drug driving include an unlimited fine and a 12-month ban. However, you may receive further penalties depending on the circumstances of your offence and how you responded to it. These may include:
Six months in prison

A community order

A 36-month disqualification

An extended retest
Failure to report or stop after an accident
If you are involved in a road accident, including witnessing one, you are required by law to stop, report the accident and provide as much information about it as possible to the police. If you do not at least provide information as soon as reasonably practicable and within 24 hours, you may be prosecuted for failing to report an accident.
The maximum penalties that may be imposed for failing to report an accident include:
An unlimited fine

Five to ten penalty points

A disqualification

Six months in prison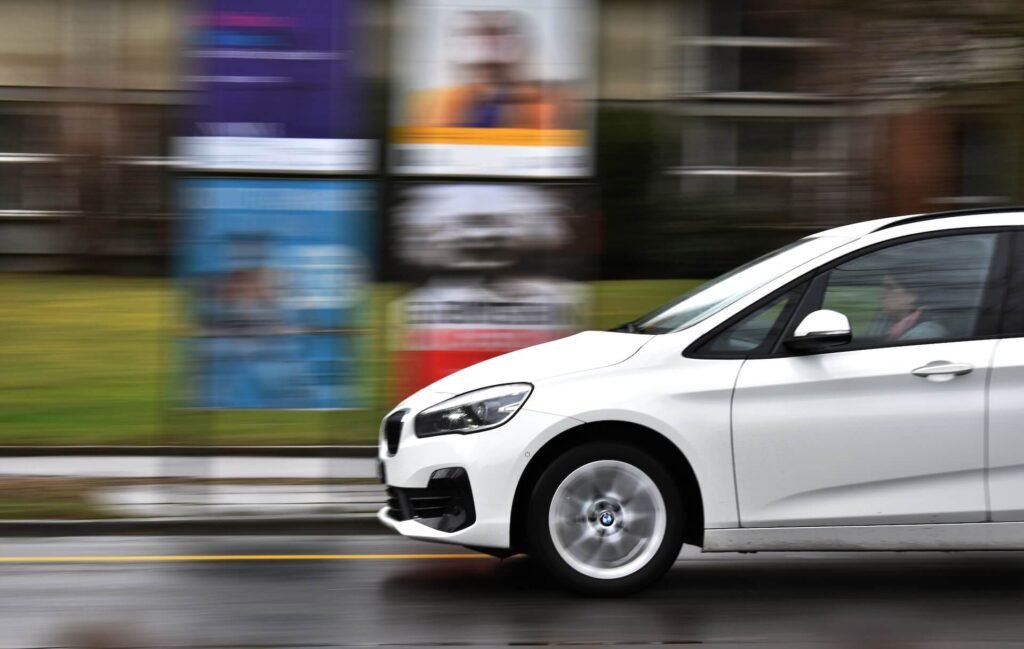 Speeding
Speeding is one of the most common motoring offences and carries some serious penalties, such as a £1,000 fine, which may be increased to £2,500 if the offence took place on a motorway. Additionally, three to six penalty points may be added to the driver's licence. 
Speeding offences regularly occur due to how easily it can be committed by accident – whether due to misunderstanding the speed limit or being caught off-guard by a speed camera. Speeding can also be associated with other offences, such as drink driving or careless driving, making those penalties even more severe. To avoid speeding penalties, make sure you keep an eye out for any changes to the speed limit as you are entering new areas, and do not take risks.
Using mobile phones or other electronic devices
With the increase in the frequency of mobile phones and devices used for navigation in cars, convictions for using mobile phones have also increased. This is partially due to the increase in strictness of the laws surrounding their use.
The penalties for using a mobile device while driving can vary depending on the circumstances, but typically include a fine and six penalty points.
To avoid committing an offence due to using a mobile device while driving, make sure you pull into a spot safe for parking while indicating clearly and switching your engine off.
By considering the above points and staying up-to-date on any new laws that are introduced, you stand the best chance of avoiding prosecution for motoring offences and suffering the impact of penalty points.