Today we're looking at the Job Spotter app. Why? Well, it's getting more and more difficult to clearly see deals in the supermarkets. particularly with big supermarket chains like Asda withdrawing their comparison promises like in the case of the Asda Price Promise and the Tesco Price Promise. So with that in mind, it's a push to see shopping as anything other than something that drains the money from my bank account. However, there are a few ways to recoup that expenditure and return home from the shops feeling less, well, drained.
You could use cashback apps like Shopmium or ease up on the money leaving your card or wallet by sourcing the best coupons around to use in supermarkets. Today, however, I'm going to introduce you to a savvy money-saving app that not only builds credit for you but also makes profitable use of the time walking between shops when out and about in the city or town.
Making money while window shopping.
I tried this app out a few months ago and was particularly impressed by its flexibility, ease of use and the low amount of time it takes to earn with its use. The app in question, as mentioned above is Job Spotter. Available on both Android and iOs, this small app is so straight forward that I'm not sure why it's not mentioned more.
The main concept is simple. Indeed, the job site, who owns the app use the platform to get information on job availability around the country. It gives them live information and verified data to let the users of indeed.co.uk see what's available. All they ask you, as an app user, to do, is snap pictures using your smartphone. In return for this incredibly simple task, you'll be awarded points that can be redeemed for Amazon credit.
I'm always using Amazon, so this makes perfect sense to save me regularly spending real cash on the Amazon website. If I build up an Amazon credit pot, it protects my "real-life" funds. While you're browsing the shops, restaurants or any place you might randomly be, just make sure to keep an eye out.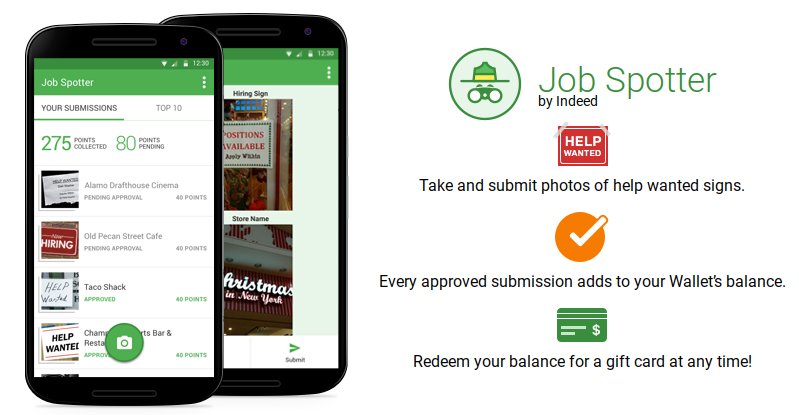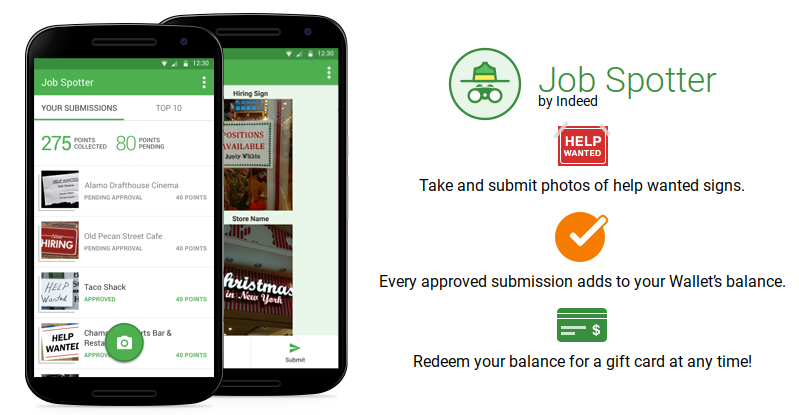 Is the Job Spotter app worth it?
Well, I tried it out while I had a little wasted time as I crossed my local city of Norwich. I was surprised, in all honesty, to find how many adverts there were as I traipsed the streets. They were everywhere! in just an hour while walking between shops I'd be visiting anyway, I spotted over ten signs with the text saying "help wanted", "vacancies" or "recruiting" in store windows.
The simple, well worded, instructions in the app asked me to snap a clear picture of the recruitment poster or sign. Next, I was prompted to snap a picture of the storefront, clearly showing the store's trading name, with no people in front. Finally, I hit submit and waited.
I kept doing this during my hour wander and before I'd reached my car ready to drive home, the app had approved the photos of the adverts. More popular, larger chains were apparently worth a lesser amount of credit. While the smaller more independent traders netted the larger amounts.
TIP: You can't get your friends to send you photos, or save your own to upload later. They have to be sent live from the app.
How much can you make?
In theory, there's meant to be a maximum amount you can get per store pic, around £1.50. However, I got anything from 36p worth to £2.26 per store on my last trip. Although there may be a slight difference between points and pennies.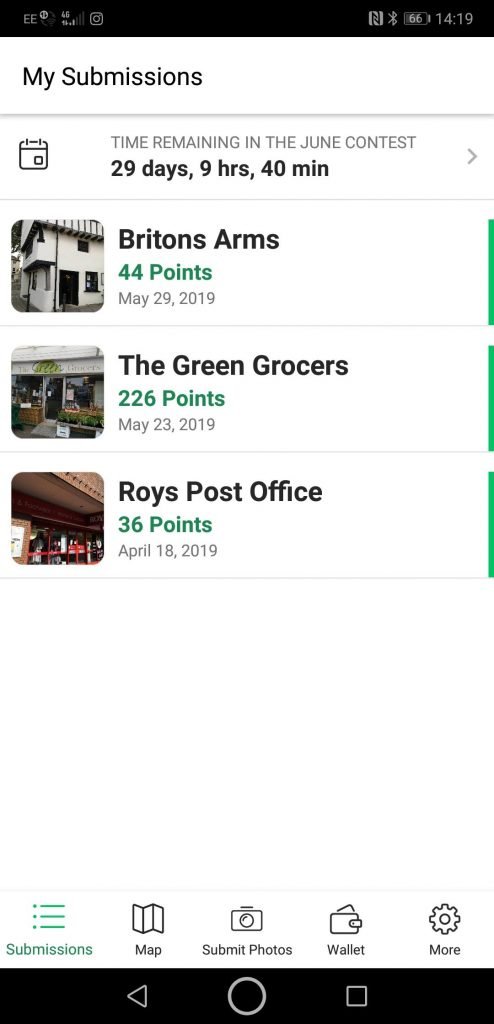 I've noticed hotel chains, barber shops/salons and, ironically, a recruitment store generated larger amounts. In isolation, one submission won't change your life. But do it every time you're walking the streets and you'll be surprised! Just imagine how much Amazon credit you'll build up for the next time you bulk buy nappies or cat food!
You can "cash out" your points as Amazon credit whenever you like as there's no minimum amount. No minimum is a great feature I wish more apps used rather than making users wait, so well done Job Spotter! It is also worth noting most withdrawals for me have been processed within a few hours or so. Super speedy.
An added bonus is the app will let you know if you can go back and snap the ad again at a later time to update it. As you'll know where it is, you'll be even quicker this time. Resubmitting jobs can give you less credit the following time as they're not as unique. Just click the map in the app to see those ones you can revisit. Overall, I'm really impressed with this simple app. I'll likely keep using alongside my favourite supermarket cashback app, Shopmium. Definitely worth it as a profitable use of time.