It's hard to get poetic about a ready meal. But that's what I'm going to do today. Over the last few years, my family have increasingly relied on Wiltshire Farm Foods in terms of providing home-delivered meals for my elderly nan. This is nothing whatsoever to do with the heartwarming Wiltshire Farm Foods adverts on TV with the delightful Ronnie Corbett some years ago. Whilst these ads are compelling, I've never been one to buy a product or service based on advertising. 
However, the last few years of experience with this brand in terms of providing healthy, tasty meals for my beloved nan have given a great insight into how a brand really can make a poignant and long-lasting impact on the daily lives of a family. If you'll permit me, I'd love to share with you exactly why you should consider using Wiltshire Farm Foods if you're looking for a caring brand to provide quality meals for the elderly members of your family – or in fact anyone in your life who needs a hand.
Why I'm ranting about meals for the elderly…
First of all, I'd like to share with you that my dear beloved nan passed away in late 2020. This isn't however a sad article. It's a celebration. A chance to reflect on a wonderful woman and the things that made her happy. I never really knew my grandad or great grandad well, they passed away when I was young. Most memories of the generations in my family above my parents are formed by my grandmother and great grandmother who lived together after their respective husbands passed away. They spent their days happily together, living as if sisters, and affectionately became known to the family and Big Nan and Baby Nan.
As a small child, I used to love visiting them at weekends when not in school.  My brother and I would treasure the overnight stays we had with them. When visiting, we would get the chance to journey to the city on the bus with Baby Nan, indulge in chips from the market, visit the toy shop and then sink into the most amazing night's sleep in a feathered mattress pre-heated with a Silent Night heated blanket. As a kid, for these reasons, a weekend visit to Baby Nan's was absolutely bloody marvelous!
As the years passed, I acquired the age where sleeping in your nan's bed was less of a norm. Nevertheless, I still valued every moment I spent with her, joining in preparing meals, celebrations and digging up veg in her back garden. Age, being the cruel demon it is, took Big Nan from us in the 90's leaving Baby Nan on her own. Now…this is not a sorrowful story…far from it. Baby Nan was a fabulously happy, strong and independent pocket rocket. She would always welcome family into her home, dishing out the biscuits and asking us about our lives. Heart issues meant escapades outside the house started to lessen and that's when we first discovered the delights of Wiltshire Farm Foods.
When cooking was no longer an easy option.
Baby Nan loved her food. No, I'd go further, she ruddy loved it. Part of this enjoyment, I believe, was the enjoyment of taste, having lost her sense of smell after an explosion in the war where a bomb fell on her doorstep. She was a fan, primarily, of cheesecake. But you cannot survive alone on this delectable treat – a more healthy option is needed. As Baby Nan found it trickier to move and a degree of dementia set in, my family had to begin looking into reliable carers to take some of the strain and also meals for the elderly.
Obviously, these meals had to be healthy and well balanced nutritionally, but they also needed to taste good. And quite frankly, a lot of ready meals taste like flavourless cardboard. This was not the case when it came to our family trying out Wiltshire Farm Foods. My mother took on the ordering for my nan and this was simple and straightforward. The website was a doddle to use and the fact that it was flexible with no contract and no subscription made Wiltshire Farm Foods an obvious choice to try.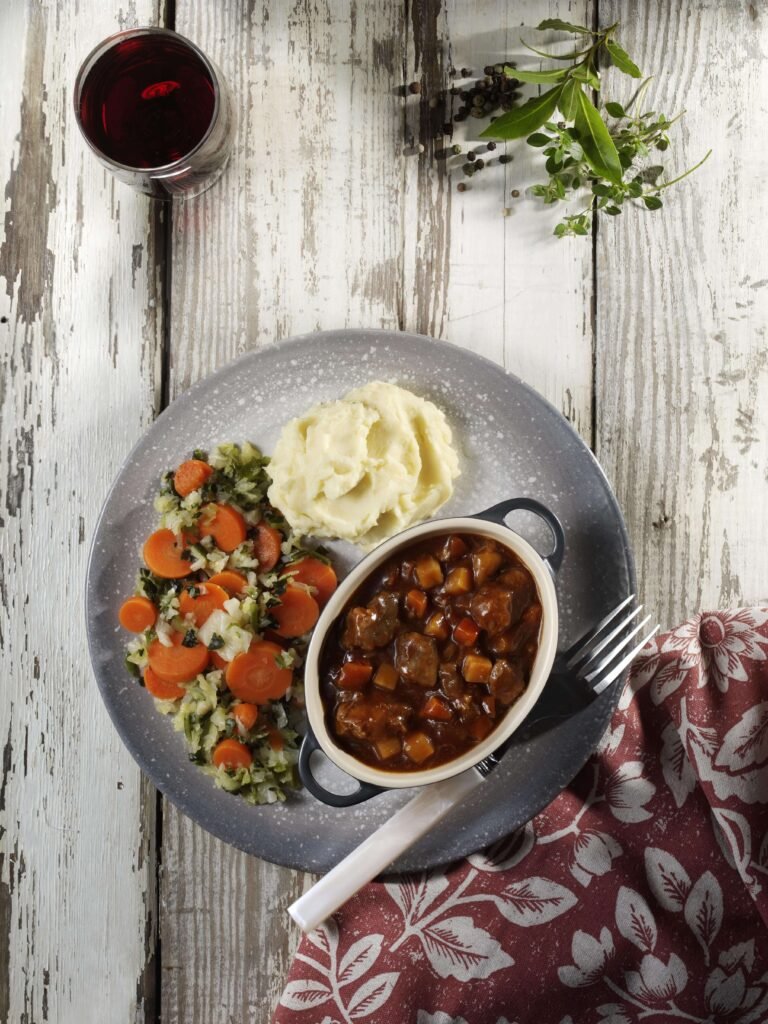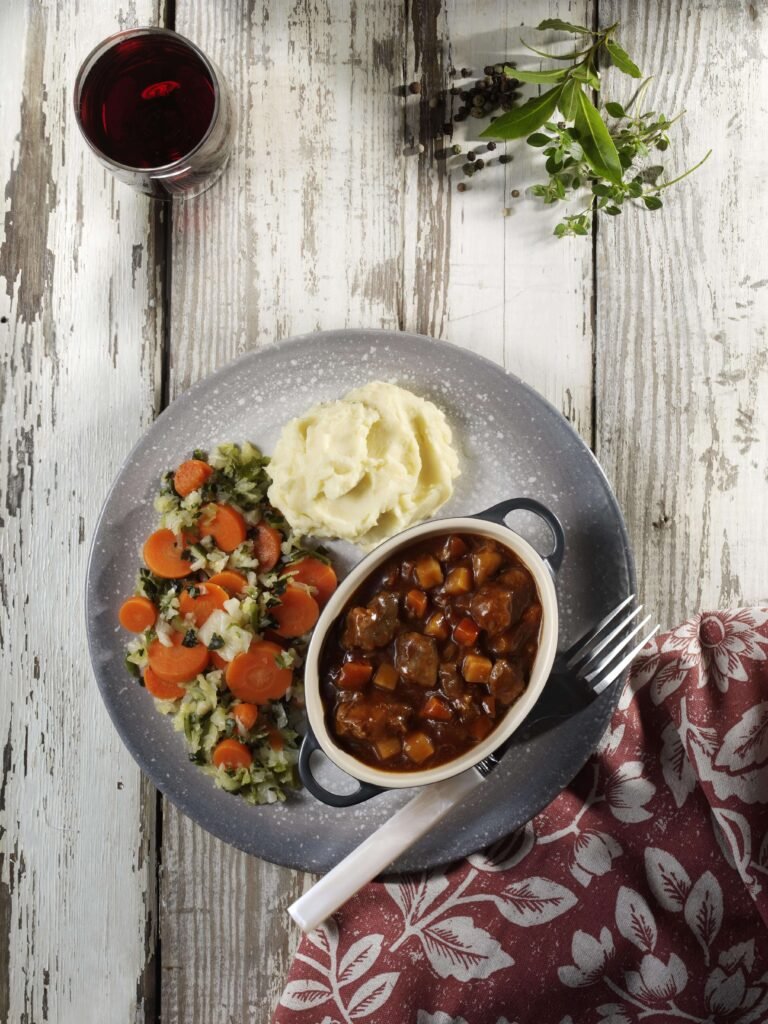 My nan loved her food, so why was Wiltshire Farm Foods right for her?
Wiltshire Farm Foods provide a range of nutritious, balanced meals for the elderly delivered directly to their home. This made it ideal for both my family and my Nan's carers to be able to support her independence in continuing to live at home. Baby Nan would make her own drinks and reheat some meals, but more often than not she would look forward to her family or carers arriving around meal times and enjoy the banter and chat during the prep of a meal. Wiltshire Farm Foods helped immensely with this by not only catering to dietary needs but also allowing for a variety of appetites via their clever meal size options.
This is where I'd really like to explain why Wiltshire Farm Foods are more than just a brand and why you may wish to consider using them.. They're a caring, well thought out, personal service that have conducted themselves with integrity, working hand in hand with the needs of our family. Having identified a need for home delivered meals to supplement my nan's needs. My mother stumbled across Wiltshire Farm Foods. 
The ordering process is simple with only the sheer volume of meals on offer slowing down the ordering process. If you're like me, I'd much rather have this large offering of over 300 unique dishes to choose from than a limited choice as tastes and appetites vary between individuals. You're virtually guaranteed to find something to get those taste buds going, even for the pickiest of palettes. There's everything from traditional favourites and world cuisine, through to specially cooked extra tender, gluten free and vegetarian meals to cater for a range of needs and dietary requirements. 
What do the reviews say about Wiltshire Farm Foods as a supplier of home delivered meals?
Like any savvy buyer, I and my family looked into reviews from previous customers and there are thousands of hugely positive Wiltshire Farm Foods reviews on Trustpilot. This is backed up by hordes more positive comments on the social media platforms like Reddit and Instagram where Wiltshire Farm Foods reviews speak highly of the quality, convenience and value of their meals. These reviews are not just experiences of those ordering home delivered meals for the elderly, not at all. In fact, the audience of Wiltshire Farm Foods seems to range far and wide.
In the case of our family, we ordered the home delivered meals easily online. However, ordering is also available over the phone and in terms of support they've always been great at answering queries if we've had any. Another handy feature is the ability to pay by cash or cheque on delivery.
One of the features of the Wiltshire Farm Food service that is hugely useful is the beautifully illustrated and well thought out ordering brochure. Not only is this ideal for sharing with elderly relatives where the use of a computer screen may be problematic, it's also perfectly straightforward to order from using the quick reference codes in the brochure.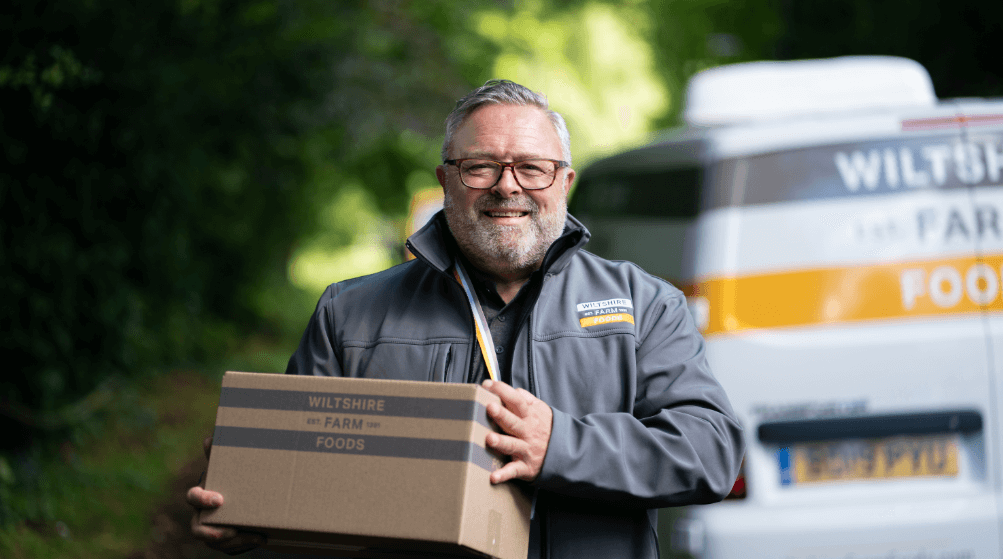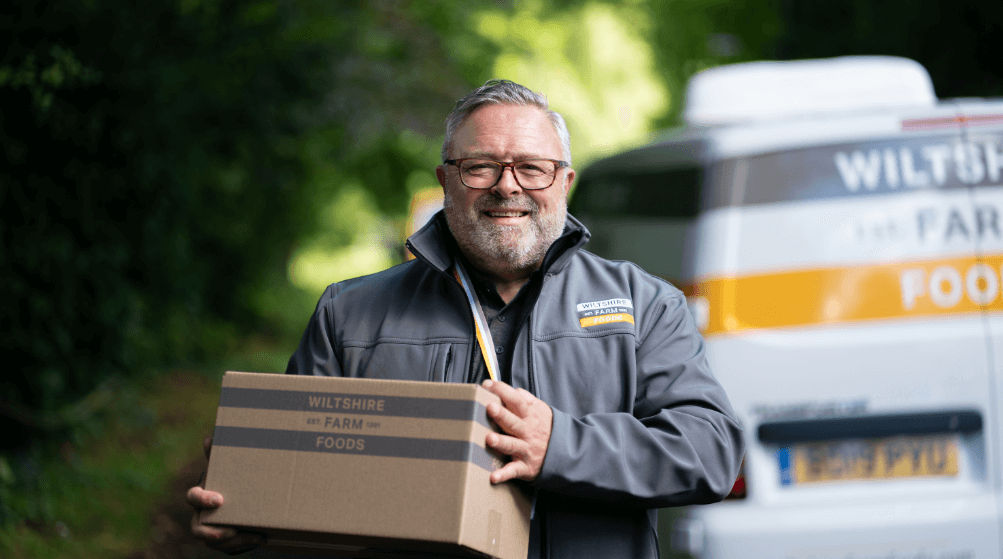 Wiltshire Farm Foods truly are a company that deliver as promised. We had deliveries (at no additional cost) direct to my nan's home, courtesy of a regular friendly face who was professional and consistent in making our family feel valued. He was polite, explaining the deliveries and even engaged in conversation that added to a feeling of it being a personal service where our custom was valued. I can see why they've been going for 30 years as a company. Despite the arrival of the Covid-19 pandemic in the UK, the driver still continued to offer a polite doorstep delivery service from a distance, remaining at the property until the delivery was safely taken in by a carer or family member.
We found that it was most convenient to our needs to have a chest freezer at my nan's property for storage of freezer meals. However, the delivery team will often offer, in pre-covid times, to place the meals directly in the freezer. Infact even now they will still enter a home on request to do this wearing PPE if someone who needs an extra helping hand if they aren't able to manage it themselves. They're used to the size of the packaging so can easily perform a bit of freezer Jenga in order to fit the meals in to a standard freezer. For reference, Wiltshire Farm Foods suggest that a standard freezer drawer should take around 7 main meals and 7 desserts.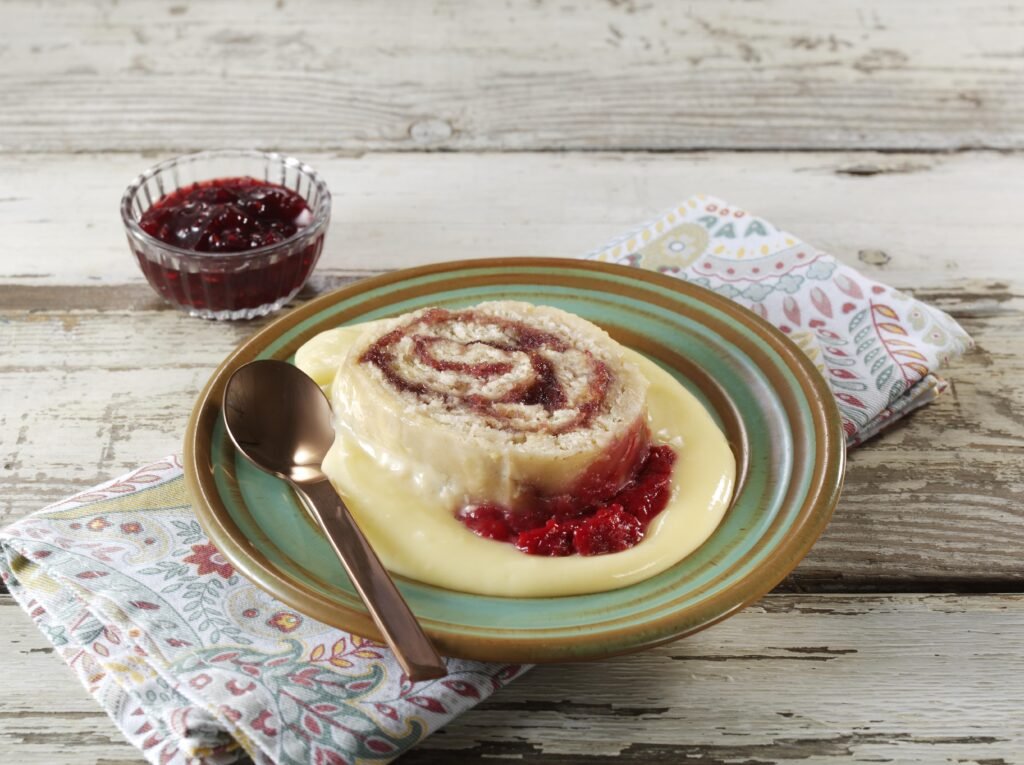 So… What's on offer and how do you cook their meals?
As mentioned earlier, there's over 300 meals on offer from Wiltshire Farm Foods brochure or website. Each one of the meals delivered features a transparent film lid and large, clear labelling and instructions detailing how to cook Wiltshire Farm Foods meals. Most of the meals are ready in 8-12 minutes when cooked in the microwave or around 35 minutes in the oven. Again, the clear labelling will say what is most suitable for the meal being prepared. All allergens are clearly marked in bold as well on the top label. There is absolutely no defrosting needed for the meals which aids simplicity of preparation. The only exception to this is the range of cold desserts which in general take a few hours to defrost.
I can see why Wiltshire Farm Foods won the Queen's Award for Enterprise a few years back. Quality products, made by experienced chefs, delivered by a friendly face, all backed up by a satisfaction guarantee and a freephone customer support number. While it's been a tricky few years for my family, my mother in particular, when supporting my nan in maintaining the independence she loved, it has been amazing to see how many caring professionals have been available to support this and Wiltshire Farm Foods have been part of the amazing team of services surrounding our family for a good few years. 
I simply cannot thank them enough for making our experiences with them part of the loving memories we have when we think about Baby Nan's life and love of decent meals. I highly recommend that if you're reading this article and trying to support elderly family members who are showing signs of being less able in the kitchen, or in search of decent affordable food delivered in a professional manner, that you look no further that Wiltshire Farm Foods. Top brand, top food, one happy nan!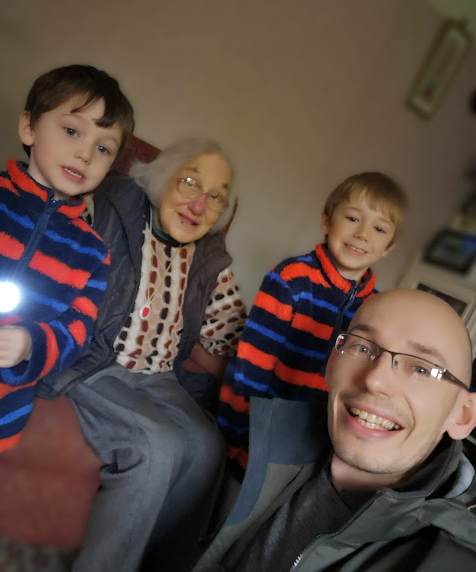 MEALS FOR THE ELDERLY ARTICLE DISCLOSURE: This is a sponsored post, views are my own. All proceeds are going to charity in memory of my nan.