Philips uGrow Smart Baby Monitor – How smart can your money buy?
I was keen to review the Philips uGrow smart baby monitor after it's launch as I wanted to see how it compared to others. In particular, I wanted to compare to the budget and mid-value monitors we have had over the past 3 years to this new "smart" monitor.
We've used baby monitors constantly over the past 3 years. This is due to Little Savvy being 3 years old and Baby Savvy being 10 months. I've tried everything from movement sensors and audio monitors to video monitors and night vision IP based smart monitors. For this review I'll be mainly looking at the features and build of the new Philips uGrow Smart Monitor, but I will throughout compare to the other devices I've used for reference. I'll also try and give a feel of whether the Philips uGrow Smart Monitor is good "value for money", particularly as it's certainly not cheap.
 
What does the Philips uGrow Smart Monitor do in theory?
The blurb for this product suggests that it will do all the tasks you'd expect a basic monitor to do. It will give you a audio link to your child, complete with visuals in HD resolution. The Philips uGrow also monitors the room temperature, something becoming pretty much standard in today's market. It boasts on the instructions a range of lullabies and the ability to sooth your child via a speaker link. In addition to the norms, it will monitor optimum humidity and allow you to access monitoring from outside the home via the IP based setup of the monitor and software.
How well does it work in reality?
In reality, I'm unsure how often you would need the IP based monitoring. In theory you could monitor your child from the other side of the globe, but why would you? Presumably you trust the person looking after your child if you're out or away for some reason, so this feature is strange in purpose. For couples where one partner is away working, maybe it could be pleasing to see your child sleeping. Maybe, it could be useful if you have a large house or thick walls where a standard monitor's signal wouldn't reach in terms of strength. Or perhaps you have a pet you wish to monitor while away from the house? All valid uses for this monitor type and it's smart function.
 
How easy is it to setup?
Upon un-boxing, I found very little. This is pleasing in one sense, surely setup should be quick and easy with so few parts? And, in fairness, the setup was indeed quick and smooth. You simply plug in the power adapter to the camera and power up while installing the Philips uGrow app on your mobile phone or tablet. Yes, that's right, there's no handset to monitor on. You simply use your existing tablet or mobile device.
The biggest issue I had was clearing space on my full mobile for the install. But once sorted and installed, it booted up quickly and I registered some basic user information on my handset. Next I was presented with a QR code on my mobile screen with I held up to the monitor to finish setup and share wifi link details etc.
That was it! Setup took all of 5 minutes, if that.
 
How easy and reliable is it to use?
Now, I'd setup quickly in our lounge and all was fine. But then I needed to transfer to the nursery. Upon moving upstairs I placed the monitor in the desired location and aimed it roughly at the cot bed. Note, that the monitor has no function for panning or moving remotely so you'll need to set it up before your little one is sleeping.
I left the room and ventured back downstairs to my handset. I was greeted by intermittent imagery, before it froze and I was left with a still image, but full audio. "Not a good start" I thought to myself but, I discovered the reason for this. The monitor is prone to interference and, in my haste to setup the monitor, I'd left our current Motorola camera in place also. Removing the Motorola instantly cleared things up, but this is worth noting if you have other devices that may interfere.
From then on it was fine, I could monitor the temperature and humidity trends overnight and set alarms or alerts for particular events like crying or low temperatures. Impressively, the monitor showed how running a bath upstairs made the humidity spike for an hour. This might be a useful feature in certain damp or hard to ventilate homes.
 
Are there any pros or cons?
Well that clarity of image is amazing compared to most other monitors. However, you'll need your handset free and this can be inconvenient if you need it for other tasks. Also, the chances are, you'll want to use the monitor and charge your phone simultaneously. This might take it's toll on you phones charging abilities depending on make and battery. The build is flawless and the app reasonably stable, with just a few crashes in a week of testing.
Interference was a big issue but once placed appropriately it was fine and the IR night vision started to kick in more reliably. I also liked the hue-based night light option which meant we could bathe the nursery in a soothing glow. If you've used the Philips Hue system of ambient lighting, you'll probably appreciate this function too.
How does is rate compared to other monitors?
Ultimately it does everything it boasts very well. My only gripe is the lack of motorization. If you're going to view remotely, the odds are you'll want to possibly move the camera view. The only way of doing this is in person. This doesn't impact on how impressed I was, it was still a superb piece of kit. But I feel the price tag I've seen on this unit at most places is a little steep. Compared to our Motorola MBP36 monitors, of which we have two, it wins hands down on clarity, build and tools. But we love the comfort of a remotely movable camera, so there's a tips for future development if redesigned.
For general reference, I have included a photo of the Philips uGrow monitor so you can see how it compares in size and profile to the Motorola. You can see it's slim and it also comes with a bracket for mounting upon a wall if needed.
For value, it does compare well considering the features it has. Our budget BT and Angel Care monitors were audio only but did the job in a £60-£70 bracket. Our remotely movable Motorola had reasonable video added in for a £90-£100 price tag. The Philips uGrow retails in general for £120-£140. Now, for the added HD visuals and sensors isn't unrealistic.
Prices at time of writing
At the time of writing the approximate prices for the monitors discussed are:
Angelcare AC401 Movement and Sound monitor £69
Motorola MBP36s Motorized  IR Video Monitor £89
Philips uGrow £120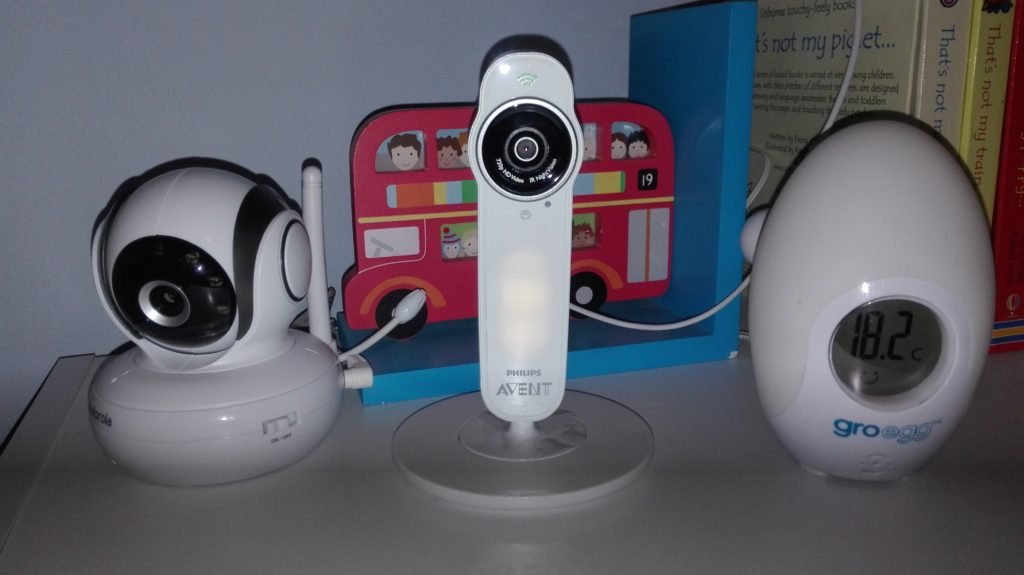 Considering how easy it is to use and setup, I was really impressed. The security involved with transmitting images and data seems as robust as it can be in this day and age. Which is reassuring in the sense you're effectively broadcasting your child's image to another computer and back to your handset.
The app is going to be the main tipping point going forwards into the future. If the app isn't updated regularly, or if it has compatibility issues with some devices in the future it will heavily affect the devices usage.
Disclosure: Philips provided the uGrow for review to us, however the views and opinions in this review are my own unbiased opinions. SPONSORED in the form of product sample. You can check out our other reviews here