Roku Express vs Amazon Fire TV vs Kodi Build Android Box
With Sky now suggesting they are moving into the digital streaming stick game and more and more satellite dishes sitting disused on houses across the nation, what's the best value way to access TV both live and on demand? This was just the question I was asking myself when my family moved to a new home with just one standard TV aerial point. The Roku Express, Amazon Fire TV, or the Kodi enhanced Android box… What was best for me?
We had one high gain digital aerial, linked to a junction box in the loft and then down into the living room. Now, this was fine, but being a one-level property with a large footprint meant options for other rooms needed to be considered in terms of cost. Yes, we could add additional lengths of coaxial cabling from the junction box, but lengths aren't actually that inexpensive, plus the drilling work, ducting and mounting to neat things up would be unsightly and add cost.
I decided, therefore, to opt for the digital streaming options available today to make the most of my newly activated PlusNet Fibre broadband. Knowing that I wanted something to access live TV, even without an aerial. I also wanted to pull in some of the other services I already had, like Amazon Prime Video and the occasional NOW tv deal. Finally, I wanted the ability to cast video and other media to the device and connected TV. Over the past two months, I've tried out three different options and I've listed the pros and cons of each below to help you, the reader, make a more informed choice if attempting to do the same.
Roku Express Streaming Stick
We're fans in our home of the old "cancel to get offered a better deal" technique when it comes to subscription services. Our old NOWtv boxes were perfect for this and accessing promo offers repeatedly for NOWtv/Sky's entertainment and movie packs. However, the NOWtv smart boxes quickly became laggy. Eventually, even updates were no longer supported for them. The NOWtv boxes were essentially stripped down and locked Roku boxes.
Now whilst the boxes were no longer supported and all on-demand apps stopped working, the design of the user experience was sound. So, in looking for a quick and cheap alternative as our new bedroom TV option, we opted to try the newly released Roku Express streaming box.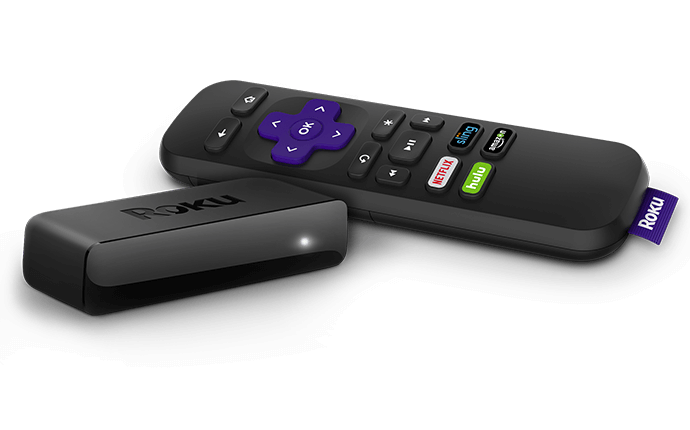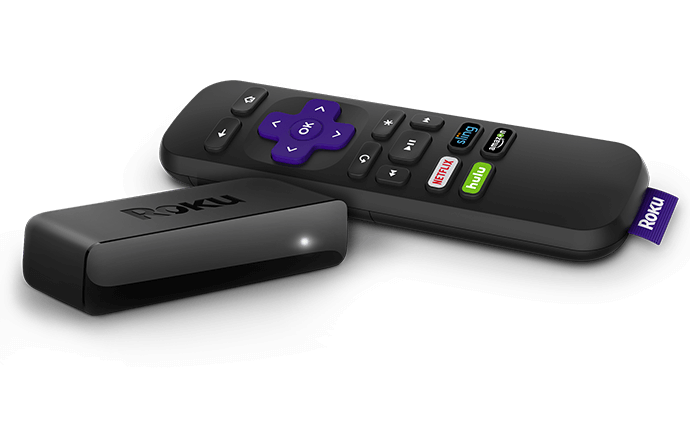 Out of the box, it's remarkably small, half the size of the remote. It can be powered by the TV USB or from the power adapter supplied. It's not really a box, or indeed a stick, and it does require the remote to "see" it. However, in testing, we found that control pressed registered even while facing away from the set and with the Roku Express partially hidden away behind the TV.
Setting up was simple. Plug in, turn on, input your wifi passcode and fine tune. Once you've set up a Roku account you can add whatever apps and channels you like; this is what the NOWtv boxes stripped out. The Roku Express offers a great multi-service option allowing me to access my Amazon Prime Video, iPlayer and the Freeview "live" TV app TVPlayer, Netflix and Google Play also make an appearance.
Speed-wise there's no lag on the interface, HD is fine for the bedroom and second TV sets (not 4k) and the Wifi range is amazing, perfect for our home's single storey footprint. Whilst it's not the most powerful Roku model available in the market, and the remote doesn't feature the cool headphone outlet for private viewing, it does everything it should for the £30 price tag it seems to carry most places right now.
EXPECTED ROKU EXPRESS PRICE: £30 at Tesco
4K Android Smart Box with Kodi Installation.
Whether you type in "streaming stick" or "tv box" into eBay or Amazon, the chances are you'll get a list of results featuring mainly non-branded Chinese manufactured android boxes. Now, there's nothing whatsoever wrong with Asian tech, in fact, most main brand models are Asian tech underneath. But the support and quality of the non-brand items can vary hugely.
I tried a few 4K smart android boxes fitting this description. Most looked reasonable in terms of build, but the functionality varied wildly. The model I tested for longest without throwing at a wall sounded great on paper, but after a while, the cracks showed. Memory started struggling, the wifi connectivity kept dropping and nearly all apps I wanted were downloadable but not supported in operation. iPlayer crashed, Youtube failed to install, others I gave up on because of the speed of remote operation.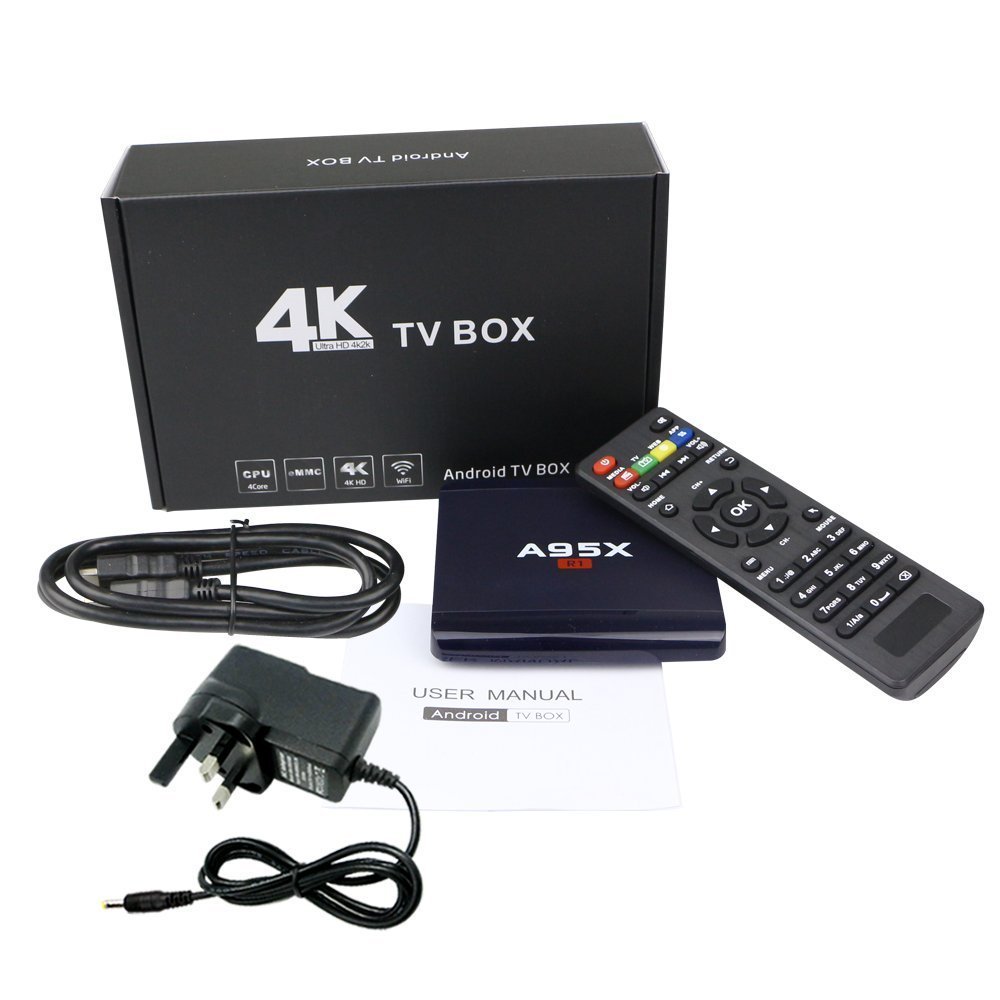 The USB ports meant at least I could plug in a wireless dongle to add a better remote. Sadly, however, this didn't help to make me smile. Whilst Kodi loaded, most add-ons pushed the boxes to its limits and my VPN caused multiple disconnects on this unit too.
EXPECTED 4K KODI ANDROID MEDIA BOX PRICE Amazon/eBay £20-£60
Amazon Fire TV
Amazon is renowned for their unit build quality; it shows here. I've tried both of the last two generations of Fire TV's, and whilst the newest is lighter and smaller, the previous generation is still preferred. Not only for the fact you can pick one up second hand cheaper, but also because the connectivity and build seemed better for me.
Obviously, I can access my Amazon Prime Video here and the main UK channels via their own apps or the TVP app for "live" access in the absence of the TV aerial. Kodi is possible to install and runs well, but setting up a VPN on the Fire TV sticks and boxes is awkward and most of the time you'll need to set this up via your router rather than the box.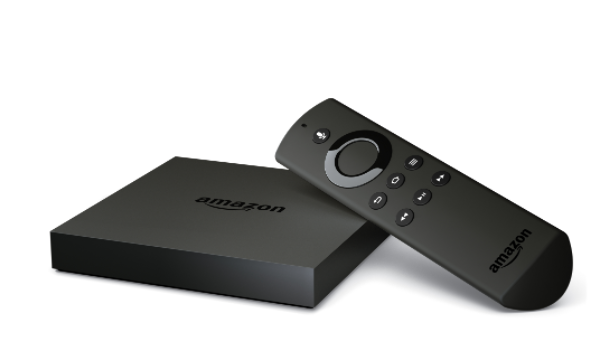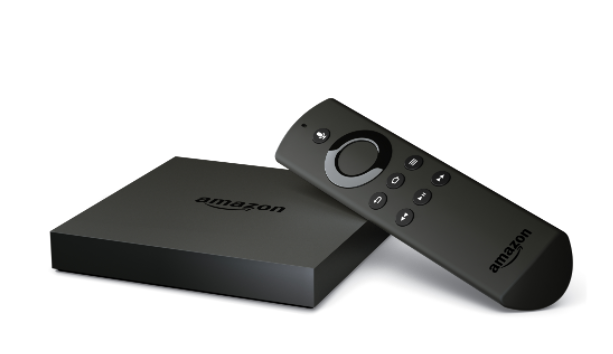 Amazon is also actively pushing it's hierarchy apps and services so Youtube, as an app, has now been axed in terms of support. Don't fret however as you can still use the Silk or Firefox browser apps to directly open Youtube in a similar way. I loved the speed and premium feel of the Amazon Fire TV and chose to keep it as one of our main TV options for now. I've added a Fire TV gaming remote and used the Gamefly video streaming app to streamline my video gaming options also whilst budgeting for the purchase of an NVidia Shield as my main media hub option.
EXPECTED AMAZON FIRE TV PRICE £70 (Previous Gen £50-£60 on eBay)
Overall, I must confess for a small budget, general TV use, I'd go for the Roku Express. However, for a fully functional premium feel, the Amazon Fire TV is my tip. Particularly if it's in your main viewing room. Once I can justify the spend (or win one in a competition) I'll test out the NVidia Shield or New Xbox.
Can I turn my Roku into a Kodi Streaming Box? ie – Can you get Kodi on Roku?
Whilst it is possible to get kodi on a Roku device. It is not necessarily the most straightforward or the liable thing to do. However, for those of you that wish to have a go here is an outline of how to do it.
To get this to work you have to understand that kodi is not a device. It is a media streaming service that was renamed from the original name of Xbox media centre (or XBMC). Kodi has been popular for years those wishing to customise their own home entertainment setup or develop their own digital library. With the Xbox media centre software being open source there are lots of different developers. This in turn means that there are lots of different versions. Some of these are well-developed and others are buggy as hell.
Due to the fact Kodi can be a little bit temperamental and awkward to set up, it never made it to the mainstream cord-cutter crowd. If you're not used to following DIY videos or tinkering around with things it might be best to stick to comparing Roku and Amazon devices.
If you already have a smartphone, install the app "Plex". Even on a smartphone or tablet, you should be able to see roughly what Kodi does as Plex is similar. You'll have to remember that Kodi is not a streaming hardware unit. Instead the Kodi streaming box offers you the chance to stream from your own hard drives in your home. This is ideal for people with digital collections and historically was popular with those who had torrented or downloaded material.
Kodi is free to use but the software doesn't natively work with the Roku OS. The only way to turn your Roku into a Kodi Streaming Box is to use a screen-mirroring service. Handily, the Roku has some casting options built into its available apps but they're far from perfect. Trying to put Kodi on to an Amazon Fire TV device would cause similar issues and require "side-loading" APK files – something not for the novice user.