Ah 2021…you were memorable. How can a year simultaneously feel like it went past in a blink of an eye, but also dragged on for an eternity?! A mystery. Onwards to 2022 though and, like many of you are probably thinking too, it's time to make some New Year resolutions!
Over much of 2021, my family and I started to make some changes to what products we use in our household, just little tweaks here and there to try and make our footprint on earth that little bit cleaner and lighter. We've decided to keep this going this new year and even make the conscious decision to not replace any convenience products (that are potentially harmful to our environment) when we run out and instead actively seek out sustainable, long-term replacements that are more eco-friendly, whilst still being kind on the wallet.
But where to start? Yes, we have had some good success with some products we have trialled over the past few months, but it became clear to me that looking for a subscription service for eco-friendly products that acted as a 'one-stop-shop' for the majority of our household cleaning needs to arrive happily through our door would really minimise the effort needed to keep this one New Year's Resolution alive throughout 2022!
Enter smol, who badge themselves as 'the UK's most loved eco-cleaning brand' and cite over 15,000 five-star reviews on feefo as proof. That's quite a lot of happy customers!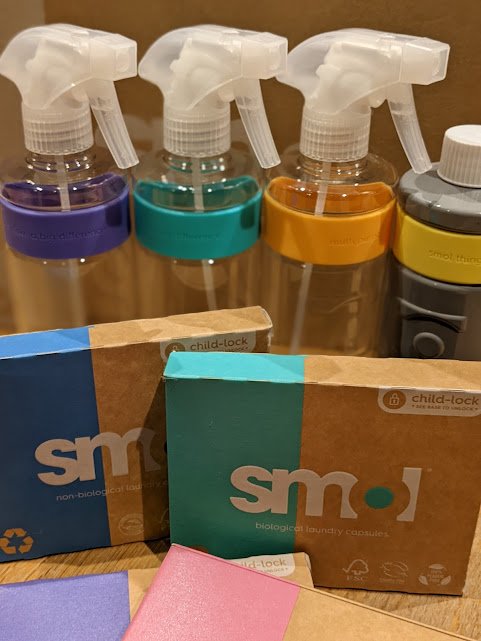 smol launched in 2018 and offer a whole host of household cleaning products (including laundry capsules, dishwasher tablets and cleaning sprays) that offer powerful performance with an eco-friendly design and fair price-point. You'd be hard-pressed to find someone who doesn't acknowledge the growing plastic crisis threatening our planet and smol are on the case, designing a world-first in 2020 – entirely plastic-free packaging for their laundry capsules and dishwashing tablets. Couple this with their commitment to offering 100% recycled plastic bottles for fabric conditioner (that can be returned to smol for a refill – revolutionary!) and you know we are dealing with a company whose moral stance clearly translates into the final product.
We found the best way to experience the smol product line before committing to their subscription services was to try out their smol starter kit which includes everything you will need to transform your cleaning regime all for just £25. Included in the bundle is:
      Three bottles and a mixed pack of dissolvable capsules for the three surface sprays smol offer – glass, bathroom and multi-purpose.

      Bio and Non-Bio laundry capsules

      Bottle of fabric conditioner (100% recyclable plastic and refillable on return to smol)

      Dishwasher tablets
Let's take a look at each of the products in turn.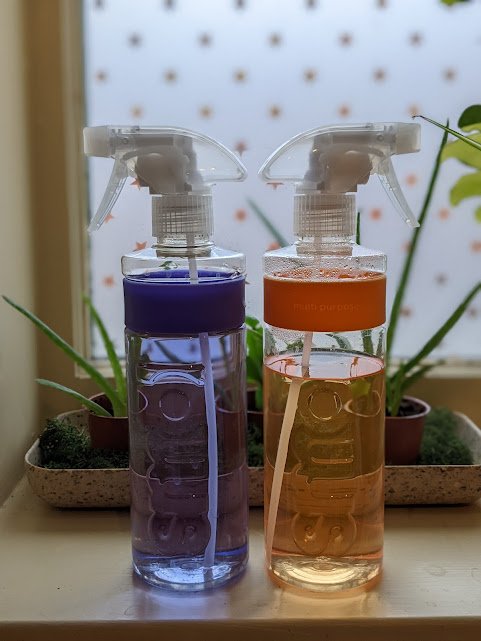 Surface Sprays
smol's main selling point for their surface sprays is that the bottle you buy on your first purchase becomes the last one you will ever need. They have created effective concentrated surface cleaner tablets that dissolve in ordinary tap water inside the bottle, meaning you can create refills at home whenever you run out. Their cleaning spray range has three types – for surfaces in the bathroom, glass surfaces and a multi-purpose spray which we have been using predominantly in the kitchen.
Set up of each bottle is simple – they are colour coded to correspond with the correct tablet and the bands are handily embossed so you can remember which is which. Dissolving the tablets in water was a breeze; they didn't take long at all and we were soon up and running, cleaning everything in sight.
We found the multi-surface spray to be the most useful to our household. It cleans every-day spills with ease and leaves a very subtle and gentle fragrance. When tested out on more stubborn stains, we left it to sit for a few minutes before wiping and not a trace of grime was left behind. Pretty impressive stuff considering how quickly we would have reached for chemical-laden products from the supermarket to do that job in the past.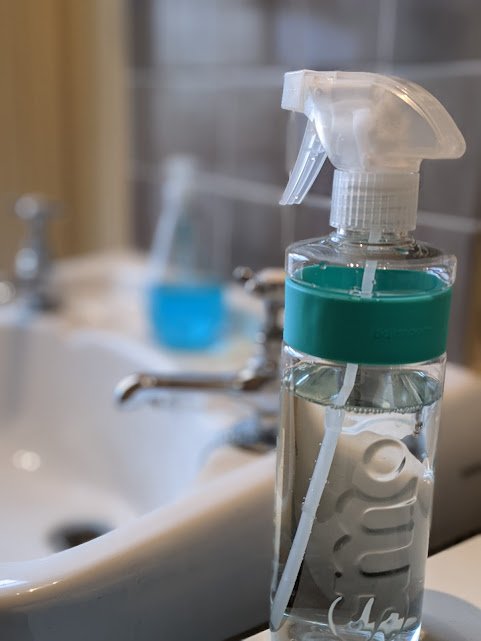 The bathroom spray was equally as effective with a light and inoffensive fragrance, but we must say that as with the majority of glass cleaning products, the fragrance of smol's glass cleaner is not the most inviting! Still though, it cleaned mirrors and windows with ease and any residual smell cleared very quickly once dried.
A thoroughly impressive trio of surface sprays that additionally look pretty funky on the shelves! They can either be bought as part of the larger smol starter kit (with the dishwasher and laundry products), or as a starter set on their own for just £10.  After you create an account to activate the starter kit, you will see a number of options appear for you to choose the frequency and content of refill tablets so you can tailor the product to what you and your household need the most.
Laundry Capsules and Fabric Conditioner
The first thing to remark about these capsules is the truly innovative plastic-free packaging they come it. The capsules arrive in slim cardboard boxes that, granted, look pretty unremarkable on first inspection. But built into them is the cleverest of little mechanisms – a child-lock! I can't lie, this system of tabs brought much entertainment to the adults in the house as well as providing that added bit of reassurance that the chemicals contained inside are safely out of the reach of little fingers.  
We've been trialling both the bio and non-bio capsules over the Christmas period and can report that the results are excellent. Even heavily stained tablecloths and napkins came up clean and soft, particularly when coupled with a few pumps of the smol fabric conditioner which is a revelation in that it can be sent back to smol for a refill as part of the subscription service, or the plastic bottle can go straight in to your home recycling bin. Great stuff. 
smol Dishwasher tablets
If ever there was a time to try out new dishwasher tablets, it was over the Christmas holidays. As with the laundry capsules, the dishwasher tablets are packaged in cardboard and individually wrapped in a dissolvable coating which means no unnecessary plastic waste. These tablets really packed a punch and did a sparkling job of the dishes and glassware, comparable to the results we've seen with more broadly-known high-street brands. smol assert that you don't even need salt or rinse-aid any more when using these tablets – we've not tested that out as yet as our machine was full of both, but we will be sure to do so when the empty lights come on again. 
Free Trial and Subscription Service
I really can't recommend the laundry capsules and the dishwashing tablets enough, but if you're on the fence, smol offer a nine tablet/capsule free trial (£1 for postage) when you sign up to their regular delivery service of either the laundry and dishwasher products (or both, if you end up loving them as much as we did!) Take the handy quiz about product choice and usage before being presented with a delivery schedule to suit your needs – costs are more than comparable with high street brands, with a 24 capsule pack of laundry capsules averaging out at just £4.50. 
You can even increase, pause or cancel your subscription at any time depending on your household needs. The smol service is really revolutionary in terms of making sustained eco-friendly changes to your home this year…it takes all the fuss out of searching for that right product each trip to the supermarket if you know they are already winging their way to you!
Disclosure: This is a sponsored post. Savvy Dad was provided with samples for review and may earn commission via affiliate links on this page.