Okay, first of all, this is not financial advice. What you're about to read about is my interest in the early development of a crypto, Play-to-Earn (P2E) and Metaverse token by the name of MicroPets, or $PETS. This article will give readers some context for the project, while hopefully serving as a useful insight into my experiences in the crypto investing arena so far. Disclosure: I am, at the time of writing, a holder of the MicroPets $PETS token and associated 3D and 2D NFTS and an avid player of their free runner game.
In recent months I've been learning more and more about the world of crypto. Studying varying tokenomics on projects and investigating staking and farming opportunities. Developing an understanding of the pros and cons of wallets, exchanges and crypto trading platforms and generally learning more about all manner of crypto-related terms associated with the industry.
In 2021, I made a lucky decision when investing in the meme coin, Shiba Inu, at the right time. I've also made even more lucky token swaps that were risky to stay green when the markets crashed hand in hand with the recent retracements of Bitcoin and equities markets in the US at the start of 2022. This has left me biding my time to jump back in on a few long-term possibilities like Fantom (FTM), Star Atlas (ATLAS), Gala (GALA), Empire Token (EMPIRE) and Loopring (LRC). However, there's one project I've not held back with, and this is MircoPets (PETS). Why? In, short an enthusiastic and proactive development team, great communities, an idea and concept I love, and real long term potential.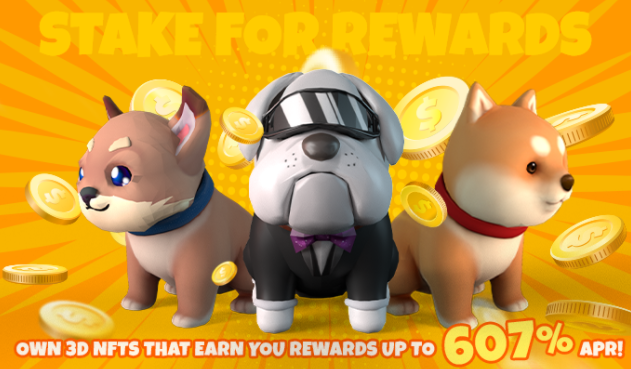 What is the MicroPets Crypto Token?
Simply speaking, MicroPets started by offering one native token, PETS. This has only been running for a few months and has adapted over the initial months of the project to continue being viable over the long term. The MicroPets project aims to support earning potential for long term holders via P2E (Play to Earn) and staking or farming opportunities.
Holders of the PETS token who invest by trading BNB Smart Chain for PETS have the option to buy beautifully designed 3D NFTs on the Micropets DAPP and stake these for a ROI via a varied APR depending on the rarity of the Micropet NFT. Think of it a little like Pokemon with cute pets, except they can earn you additional tokens.

The team behind the Micropets project quickly realised that the token would be sold into the ground if the rates stayed too high so they adapted quickly to put in place a truly inspirational and transparent plan. Keeping their community in the loop throughout, the team which is now fully doxxed and publicly named, adapted the way it works to do a few amazing things:
Established staking pools that reward in BNB and don't overly allow for the native token to be sold into the ground by paper hands and manipulation. These pools adapt to ensure the token remains stable and allows the team to reward as the market cap increases.
Released beautifully designed 3D NFTs in sets/seasons which have a set number available in order to maintain rarity and scarcity.
Constantly delivered on a clear roadmap for development including updates and adaptations that are always on time and discussed in regular AMAs on Telegram, Discord and Instagram Live.
Built education and knowledge into their GitHub, AMAs and FAQs at every opportunity in order to allow new holders to buy in, learn, and stay long term.
Worked with top-rated studios and developers to create the P2E runner game (went live 25th April 2022) and amazing teaser trailers for the upcoming Metaverse for Micropets known as Petrolpolis ($TROP).
All of these features give confidence to investors and it's only a matter of time, in my opinion until more whales start to buy into this project in a more long term manner.
How does The MicroPets runner game work in terms of Play to Earn?
Once released, players can begin to use the runner game to play and earn. All players will get a free MicroPet to play with. However, the unique sales technique of the game means that only Mircopets NFTs that have been "bought" can sell or trade-in their game earnings. In other words, the free NFT users can get a taste of the game but will need to buy an NFT themselves in order to cash in on their winnings and prizes within the game.
This clever sales funnel allows the MicroPets team to provide a unique way of educating new holders and incentivising a "green wall" of token buy-ins to help the project long term. In fact, the Micro Pets GitHub is so well set out I don't believe there's anyone you know that couldn't learn how to actively get involved in learning about MicroPets or the wider crypto markets via this project.
As mentioned earlier, the rarer your 3D MicroPets NFT, the great the APR when staked, but also the greater your earning potential in the P2E runner game and future Petroplois metaverse. Simply linking your best 3D MicroPets NFT to your gamer profile allows you to earn big and start getting the most out of the project.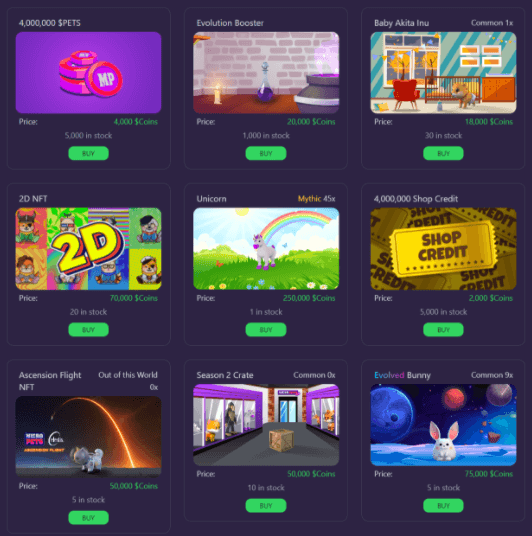 How does the MicroPets runner game link to investing in the PETS crypto token?
There's an active marketplace via the MicroPets DAPP and website where holders can buy and sell varying rarities of 3D NFT. These take three forms, Baby Pets, Adult Pets and Evolved 'Adult Pets'. Babies, as you might expect are the cheapest to buy, but offer a good entry point for new players. Baby Pets have the lowest return on investment for staking. At the time of writing this, you can pick up a baby pet for around £20 to stake to earn and link to the MicroPets Runner app to earn money while playing!
Holders can also merge 10 babies to make an adult as they acquire more tokens. Adults are effectively 10x the 'size' of babies and can be staked to earn not only PETS tokens, but also BNB via the evolved pool "if" you merge two adult NFTs together to form an evolved adult NFT.
Every investor will likely have a different technique. Some will trade babies actively to turn a small profit on the marketplace, some will simply buy and hold the native token, and some will look to use compound interest. The latter option is how I've chosen to approach this project.
Alongside all of this, rewards earned in the P2E game can be traded for raffle entries and used in the game shop to further increase your holding in MicroPets. For example, the raffle gives the potential to win rare NFTs that can then be utilised or sold for profit or you can buy them directly with rewards in the in-game shop.
How does compounding help to boost the value alongside the P2E runner game and future metaverse?
Compounding, simply put, is taking profits or proceeds and reinvesting them in a continual cycle of growth. For example, the interest earnt from staking via my evolved 3D MicroPets NFTs, could just be sold for BNB and cashed out, but reinvesting them with no token-related taxes allows me to acquire more NFTs and more earning potential. In fact, this can not only increase an investor's "slice of the pie", but also protect to a degree from a fall in the native token's price. How? Well, the value of the earned interest can be more than the drop in token value. That being said, imagine how investments can snowball up in value if the native token also rises in market cap!
Overall, I'm really buzzing about the potential of this project. Could it fail? Yes, of course. It's an investment I'm making, knowing the risk and I'm not a financial advisor or crypto expert. However, the transparency of the team and the quality of what they're producing has impressed me enough to have been a holder since late 2021 and I have no intention of leaving the growing community and project anytime soon.
*Disclosure: This article is for entertainment and educational purposes only. I am not a financial advisor and you should always do your own research and consult a qualified financial advisor before making big decisions with your money as capital may be at risk. This post may contain links to external sites and affiliates, I may also have holdings in this token. Savvy Dad accepts no responsibility for how you use these external sites and services (see Site Terms and Privacy Policy).