Yes, you heard correctly. There really are offers for free stocks, shares and crypto out there literally worth thousands! This article will lay out some of the offers and rewards available for those wanting to kick start their retail investing portfolios with some much welcomed free finances. Whilst they vary in terms of simplicity and terms and conditions, they can all really add value to your investment portfolio.
It's important to note that I've personally tried out the majority of these offers myself and the process in itself has helped me learn more about trading accounts, retail investing and the pros and cons of each company and its free offers.
A large amount of free cryptocurrency, share and stock offers available to UK investors will initially offer you holdings that are random. By this, I mean the free shares or crypto you receive when signing up to a platform may be completely random and not of your choosing. This is no hardship though, as the vast majority can instantly be traded for your preferred investments.
For example, if you're taking on a free crypto offer and receive $10 (just over £7.20) in a small altcoin such as XYO, ALGO, FET, CLV, XLM or COMP, these can all be converted to more popular proven cryptocurrencies like Ethereum (ETH), Bitcoin (Coin), Cardano (ADA), Shiba Inu (SHIBA) and Solana (SOL).
I am not a financial advisor and you should make your own investment decisions based on your own due diligence and research, but for reference and transparency, I hold a long view portfolio in SOL, QNT, ETH, ALGO and ADA and may receive a referral commission if you sign up to some of the offers on this page. Rather handily, there's a good chance with most offers that you too can refer friends and family once up and running to get even more free stocks, shares and crypto in your investment portfolios.
How To Get Free US stocks with STAKE and trade them from the UK – Promo Offer Upto $150 (£108)
Stake is an amazing new fintech offering with a very modern feeling user interface. You can manage and trade US stocks on both your smartphone via the STAKE app or directly via the company's website and a secure account. At the time of writing this article, STAKE is offering a free stock worth up to £150 (£108.42). When you invest, your capital is at risk.
In order to be eligible for the free stock you'll need to join via this sign up page and create an account. If funded within a day you'll get the free stock added to your account. As mentioned earlier, this can be traded instantly for preferred stocks or sold to withdraw to another portfolio.
Whilst I didn't make use of the free share offer, I have used and reviewed the STAKE stock trading app in my other articles and found that its US-based platform was useful to avoid foreign exchange fees when dealing with UK funds to US markets, something which can impact on costs if using UK platforms like Freetrade (mentioned later).
>> Get your free STAKE stock worth up to $150 / £142 here << When you invest, your capital is at risk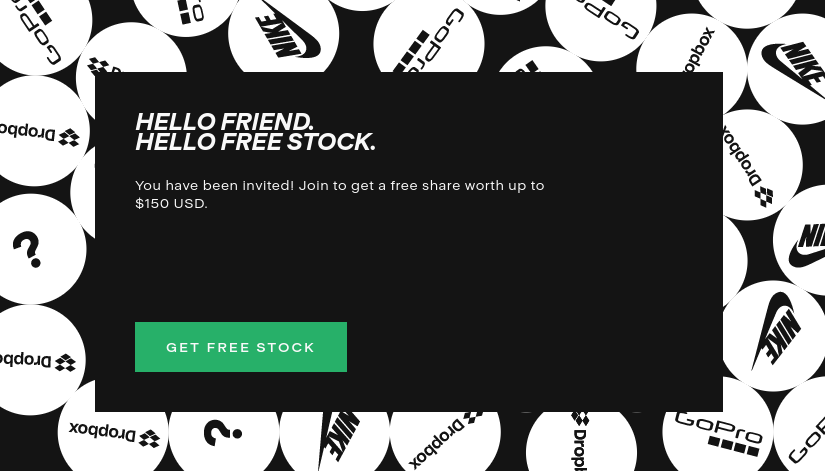 How to get free stock with the STAKE platform
Whilst you can trade on a mobile device and on a PC, Mac, Chromebook, the actual sign up process can only be completed via this link on smartphone. STAKE are looking into updating this to allow signup on both mobile and desktop devices.
Once you've navigated to the promo offer link. You should be prompted to install the STAKE stick trading app via your mobile device's appstore. It is available on both Android and iOS.
STAKE has one of the simplest sign-up processes I've seen, so a few security checks and ID requirements should see you up and running in a matter of minutes.
Important requirement – In order to get your free stock you must fund your account with at least £50. There's a minimum £2 fee for foreign exchange when funding, but you pay no brokerage of FX fees on trades from funds once in the account. You must use the link above and accept their terms, conditions and marketing.
Once you've done this your free stock worth up to $150 will be processed within 24 hours.
Important restrictions – If you wish to sell the stock straight away, you can, but funds generated can only be withdrawn after 30 days.
How to get free shares with Freetrade worth up to £200
Freetrade is the UK -based share trading app I've used the longest and still use today. There's a FX fee to pay to trades on US stocks, but otherwise, the prices are reasonable and on UK shares you will usually only pay minimal stamp duty to trade. I make use of their Freetrade Plus option (which gives access to a wider array of stocks and shares) and hold a Stocks and Share ISA with them to make my investing more efficient if investments go well.
It goes without saying it is worth having a decent bank account or card provider in order to access these free sign up offers and a good UI makes the process a lot simpler. I most recently have used Starling in the UK for funding accounts and had no problems in signing up to free crypto, stock and share promo offers. The Curve card account and app is another worth considering.
The Freetrade app has been updated recently to give more regular price updates. This is an important update as my experiences have been frustrating in the past when waiting for a stock or share price to update in the app to set a stop loss or trigger order. This has now been remedied, there's less risk of missing an entry of exit value you have your eye on.
>> Get your FREE Freetrade share worth up to £200 / $277 here <<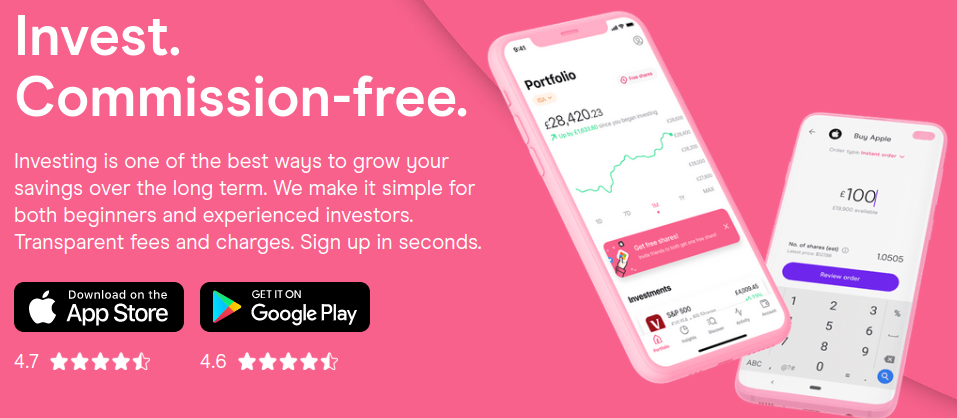 When I signed up for this offer, I received a Dropbox share worth roughly $30 / £22. I promptly sold this and invested in my preferred choice. At the time, I moved funds into the Churchill Capital IV merger with Lucid Motors which became the LCID ticker. Selling just after the merger completion news would have netted a good return.
How to get free share with Freetrade in the UK
Use the links of images above to follow our referrals to the sign up offer promo pages and accept marketing emails. All you'll need to do initially is fill in your contact details before downloading the app from your preferred platform via the link.
For residential tax purposes, you'll need to fill in a tax status form to trade on US stocks and markets. It's remarkably easy to fill in. As I mentioned earlier, setting up a Stocks and Share ISA via Freetrade is easy and I highly recommend you do this if you're thinking of investing larger amounts of money in the future.
You will need to fund your account with at least £1 within 30 days of opening the account in order to trade and trigger the free stock or share.
In a similar manner to the STAKE offer above, you'll need to wait 30 days if you wish to cash out funds from the sale of your free share worth up to £200 / $277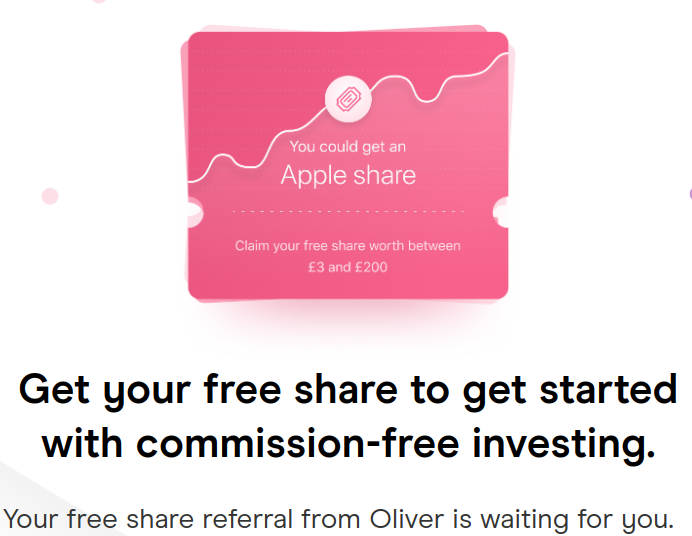 How to get up to £50 worth of stocks and share using InvestEngine
InvestEngine is a new style of 'Robo investor', presenting you with a managed investment account. Right now you can get a £50 welcome bonus using our links below and you can also then make use of their referral scheme allowing you to get £25 extra for each friend you get starting with the investment platform. If you have a large group of friends or a good social following online, there's a good chance a few people you know are looking to invest just like you and referring them will net you both a cool £25 extra.
InvestEngine helps individual investors to build and manage a positive investment portfolio. Investors can choose whether to use their managed ETFs, or go rogue and make use of the DIY investment accounts.
The DIY Portfolios available with Investengine are commission-free and their Managed Portfolios have a management fee of just 0.25% (ETF costs also apply). Both of these account styles are available as a Personal Account or ISA and you can read more about my thoughts and those of InvestEngine's founder, Simon Crookall, over in my article on
tips for better investing.
>> Get your FREE £50 welcome bonus here <<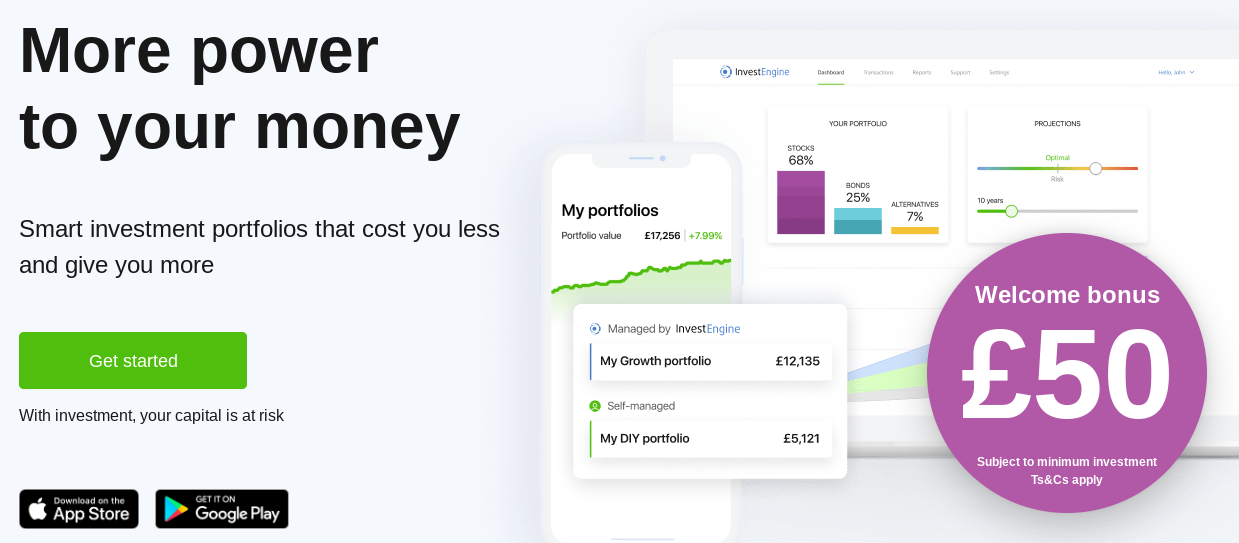 How to get your £50 promo welcome bonus from InvestEngine
Sign up to your account via this link
InvestEngine will look to fund accounts with a £50 welcome bonus within 2 working days of "new users" adding £100 worth of funds to their accounts.
A minimum account funding of £100 is needed to start using the platform
Note that InvestEngine change their welcome bonus amounts regularly, so please check the details on the links when you register as they may have increased or decreased the amount after this article was published.
How to get FREE Bitcoin worth £5 crypto with Coinbase plus up to £27 extra by answering a few questions
Coinbase is one of the biggest, secure, well-established crypto trading platforms available. New users can regularly get free crypto by signing up via referral links and up to £27 extra ($37) via the "Earn and Learn" pages. These pages are where new altcoins are given away in return for completing
very easy
quizzes that unlock instantly credited crypto into your Cinbase account. The great thing is, at the time of writing, if you get the questions in the quiz wrong, you'll still get the free cryptocurrency.
Once you get the free coins, they can be instantly converted and traded for your preferred crypto in order to form a more personalised portfolio. For example, many investors prefer to invest in the more popular Bitcoin, Ethereum, Cardano, Shiba Inu or Solana.
To find out about the altcoins you can currently learn about and earn for completing really short minute-long quizzes,
check out this page.
>> You can get your free crypto from the Coinbase Learn and Earn scheme here <<
I personally use Coinbase and the platform offers a refer a friend scheme that generates a link like this. Using this facility will allow users of the platform to gift new users £7.21 / $10 and bank the same themselves where at least £72.10 or $100 worth of crypto is traded.
How to get free crypto with Coinbase
Use a referral link to sign up and fund an account.
Trade at least £72.10 or $100 within 180 days of account opening in order to unlock an extra £7.10 ($10) credited to your account
Complete all of the available "Earn and Learn" quizzes on the Coinbase platform at the time of your registration. Note that these vary regularly, so at some point, you may be able to get more or less free crypto into your account.
Final Thoughts
There are many more promo offers and sign up freebies available that I will add to this list shortly. Using these offers could help an investor to save over the long term for their retirement fund as a passive investment. It is important to note that all markets incorporating crypto, stocks and share can increase in value as well as decrease, so some investors may choose to cash out the freebies as soon as possible and pop the profits earned into a savings account.
Whatever approach you take I highly encourage you to make use of professional financial advisors and keep good records if investing larger amounts over the long term for your own accounting purposes.
Note: This article is not financial advice and I am NOT a financial advisor.
"Cryptocurrency is not regulated by the UK Financial Conduct Authority and is not subject to protection under the UK Financial Services Compensation Scheme or within the scope of jurisdiction of the UK Financial Ombudsman Service. Investing in cryptocurrency comes with risk and cryptocurrency may gain in value, or lose some or all value. Capital gains tax may be applicable to profits from cryptocurrency sales