Living in the UK, it can be hard to make ends meet right now. The cost of living is high and wages often don't reflect that. This is why it's important to start thinking about your finances and how you can best save money. One way of doing this is by using budgeting and money-saving apps. These apps can help you to keep track of your spending, find ways to save money and even invest your money wisely. In this article, we will be discussing fi of the best budgeting apps in the UK and what they can do for you!
We're going to look at each fintech budgeting app in terms of their cost to use, whether it is possible to directly link your bank accounts and if it is possible to make additional money via referral codes and 'share with a friend' style offers.
Best Budgeting & Money Saving Apps Number 1: Plum
Plum is a great budgeting app for those who are looking to save money. It works by linking directly to your bank account and tracking your spending. When it notices a surplus in your account, it will automatically set aside that money into a savings account for you. It's a great way to save money without even thinking about it!

Click here to get Plum on Google Play or iOs.
One of the great things about saving with Plum is you can set the AI to work in different modes, such as "Beast Mode" which will automatically put away as much money as possible into savings, or "Chill Mode" which is more relaxed. Plum is clever enough to recognise when you're spending less and so it will automatically adjust how much it's saving for you. Similarly, if you've had some extra expenditure in a given month Plum will adapt and not save as much that month.
We trialled the Plum money saving app during the summer and found that it safely popped just over £200 into a saving pot for us and we didn't notice it missing from our current accounts. In terms of cost, Plum is free to use. Although, you can choose to upgrade to paid plans that give you higher interest rates on your savings or give you access to investment options like a Stocks and Shares ISA.
Plum is extremely easy to connect to your bank account via open banking and only requires read-only access, meaning your money is always safe. You can also add multiple bank accounts if you want Plum to keep an eye on all of your spending.
In terms of a user interface, the apps show you a "health score" which is a visual way of Plum monitoring your spending and saving habits. It also gives you the option to round up your spare change to the nearest pound and save that too!
On top of all of this, Plum also has great incentives like many other money-saving apps to refer friends with a £40 bonus for you when three join.

This is an example Plum "refer a friend" page, when signing up you'll get around a month to refer friends to earn extra credit
Best Budgeting App Number Two: Revolut
If you're looking for an app that does more than just budgeting, then Revolut is a great option. It's an app that aims to help you manage your money better by giving you insights into your spending, helping you budget and even allowing you to invest your money.
You can set limits on your spending, both in terms of a daily limit and also a monthly limit. This is great for helping you to stay within your budget. You can also see exactly where you're spending your money with Revolut's "Spending Insights" feature. This shows you a pie chart of where your money is going each month, which is really helpful for budgeting purposes.
You can get Revolut here.
One of the great things about Revolut is that you can hold multiple currencies within the app. This is really handy if you're planning a trip abroad or if you need to make an international payment. You can also get a virtual or physical debit card from Revolut, which is useful if you're looking to cut down on your spending.
In terms of cost, Revolut has a free plan which is great for budgeting purposes. However, if you're looking to use some of the more premium features then there are various levels of membership that are available right up to the "Metal" account which costs £12.99 per month and offers cashback on use too. This comes complete with a Metal card which is arguably one of the best on the market, offering cashback and other rewards for using it.
The app also offers a great referral scheme where you can earn £50 for every friend that signs up and uses the app. Not only that, but your friends will get £50 too and help them start their money-saving journey.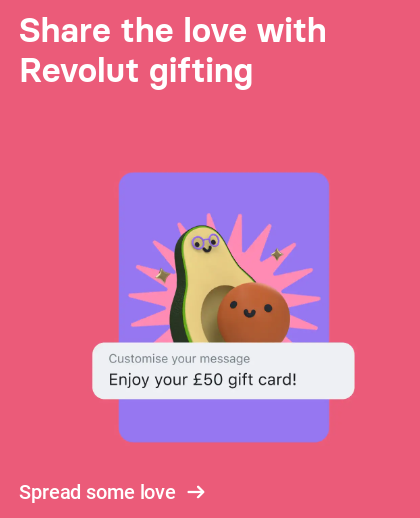 You can even use the app to go from cash to crypto and gold and silver investments, but as with any "investment," your capital may be at risk when taking these options. In terms of budgeting, Revolut allows you to set budgets for different areas of your spending and then track your progress against those budgets. It's one of the top money saving apps when it comes to keeping on top of your finances and making sure you're sticking to your budget.
Best Budgeting App Number Three: Snoop (Free Amazon Rewards)
If you're looking for an app that's going to help you save money, then Snoop is a great option (Grab the app here). It's an automated saving and investment app that works by rounding up your spare change from everyday purchases and investing it into a portfolio of ETFs.
It works in a very similar way to Plum, in that it also allows you to intelligently overhaul your existing spending and bills by actively comparing the market for you. Snoop allow users to compare broadband, mobile, TV, energy, car insurance, energy and other services in minutes to see if they could be getting a better deal.
It's easy to connect the app by linking it to your bank account, although it took around four minutes to progress to completion in-app for us, and then it will start rounding up your spare change from everyday transactions. The app supports over 50 bank account types in the UK. You can also choose to make manual top-ups into your Snoop account if you want to save more money.
Snoop essentially saves you money by:
Helping stop subscriptions you don't use
Finding cashback and rewards
Automatically switching your energy bills to the cheapest deal
Comparing prices on over 100,000 products
Finding vouchers and codes for places it notices you shop at
One of the great things about Snoop, other than we love the little money-saving mascot in their app, is that it is free. This is a great way to see if the app is right for you before committing to anything else like the Snoop Plus which is a paid subscription that gives you access to more features. Snoop Plus at the time of writing is £3.99 per month or £31.99 annually. It gives access to these extra features compared to the standard free Snoop membership:
– Track billing cycles
– Create unlimited spending and billing alerts
– Create custom categories for billing and saving
– human support from the Snoop team seven days a week.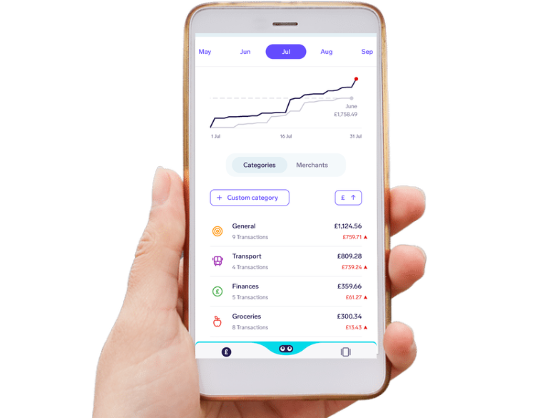 In all honesty, we think it's worth trying the free option for a while first to see how you get on and then deciding whether the extra features of Snoop Plus are worth paying for. We love the "Spend Analysis" section of the app because it clearly gave us comparisons between our monthly cycle and the previous one, helping to motivate us when we were doing well. The merchant page also helpfully confirmed to me that I was spending less in the pub than most months previously, so maybe Snoop is good for the beer belly too!
Occasionally, in-app, there is a promotion in the "Your Money" section that gives access to 7 days free of the Snoop Plus premium account – a free way of sampling the next tier up in saving and budgeting via their money saving apps.
Just like our first two apps Plum and Revolut, Snoop also has a refer-a-friend scheme, it gives a £5 Amazon voucher for every friend that you refer to Snoop. Note, this is up to the maximum of 5 friends, so £25 Amazon in vouchers total.
You can get Snoop for free via our referral link here.
Best Budgeting App Number Four: Cleo
Cleo is an AI chatbot that helps manage your finances via Facebook Messenger or Slack. It's a great way to have fun while you're saving money as it's interactive and engaging.
Cleo works by connecting to your bank account via a secure read-only connection and then giving you insights into your spending, helping you to make better financial decisions. It will also give you advice on how to save money, such as suggesting that you switch to a cheaper energy tariff if it notices you're paying too much.
You can also use Cleo to check your bank balance, set budgets and track your spending. It's a great way to stay on top of your finances without having to log into multiple different apps or websites.
Get the Cleo money saving app here
Cleo has a free version which gives you access to all the features we've mentioned above. There is also a Cleo Plus subscription which costs £39 per year or £59 for two years. This gives you access to:
– A human financial advisor that you can chat to via the app
– Personalised recommendations on how to improve your finances
– Goal setting and tracking
– Cashback and rewards
– Extended support hours
We think the free version of Cleo is a great way to get started with budgeting and saving money. Cleo's "roast me" feature in the chat section is a humorous way to self-shame yourself for spending too much at McDonald's over the last month, as the app with tell you off and point out that maybe you didn't need to be going there as regualrly! However, if you find yourself using the app regularly and want access to more features, then the Cleo Plus subscription is definitely worth considering. As an aside, their Cleo blog also has some sound side hustles and money hacks to help you save more in life.
Best Budgeting App Number Five: Starling
Starling is not exactly an in-depth budgeting app like some of those mentioned above, but Starling gets a special mention from us here at Savvy Dad HQ because of its focus on helping you save money. We have a number of different financial apps and accounts and Starling has to be one of the slickest and most straightforward banking apps around. So much so that we've used Starling as one of our main accounts for a number of years now. You can check out the Starling app here.
Starling is essentially a mobile-only bank that has no monthly fees, foreign transaction fees or ATM charges. It also offers a great interest rate on savings (currently up to 0.05%). Starling also has a "round-up" feature which rounds up your purchases to the nearest pound, just like the Plum money management app mentioned earlier in this article.
The great thing about Starling is how everything has been well planned to bring into fruition a slick app that is pleasing to use for saving and day-to-day money account purposes, all backed up with useful account options and features.
For example, Starling offers both personal and joint accounts, as well as a "Euro account" if you're making regular trips to Europe or need to make Euro transactions. You can also set up multiple "pots" within your Starling account to help you save for different things (e.g. holidays, Christmas, car repairs).
The Starling app allows you to analyse your spending, set budgets and track your progress over time. You can also send and receive payments instantly with other Starling customers using the app's "Payments" feature. There's an overdraft facility option and, once you've got on top of your finances via the app's insight features, you can set up "Goals" to help you save for specific things.
Starling has a refer-a-friend scheme where, if you sign up to Starling using a referral code (like this one), you'll get a tree planted for free. So there's some extra motivation to use Starling as one of your go-to money saving apps!
So, which is the best money-saving and budgeting app to have in the UK?
Well, there you have it. Our run-down of the best budgeting apps in the UK to help you save money as we move into 2023. All of the apps mentioned have their own individual strengths and weaknesses, but we think Plum is our overall favourite. Particularly when used alongside a flexible well-thought out digital banking account like the one provided by Starling.
What do you think? Have we missed any essential money-saving apps off of our list? Let us know in the comments below.
*Disclosure: This article is for entertainment and educational purposes only. I am not a financial advisor and you should always do your own research and consult a qualified financial advisor before making big decisions with your money as capital may be at risk. This post contains links to external sites and affiliates, Savvy Dad accepts no responsibility for how you use these external sites and services (see Site Terms and Privacy Policy). Remember, with all investments your capital may be at risk.