Why stay with Gousto?
If you're looking for a food delivery service that can help you budget and meal plan better, Gousto.co.uk is a great option. With a variety of membership options, Gousto can help households of all sizes save on their weekly food shop. The price of a Gousto box is £35 per week for 4 meals for 2 people or £50 per week for 4 meals for 4 people, much cheaper than the average UK food shop of £60 per week. This is made even better with an array of new Gousto offers listed further down this page which will give you 65% off on top!
In this article, we're going to look at some of the features of their service, the different meal planning options, the types of mouth-watering recipes available and discuss how a service like this can be a good way into learning to build a budget meal plan and enjoy cooking again!
Gousto.co.uk is a food delivery service that sends you all the ingredients you need to cook delicious meals, portioned out and measured so there's no waste. You can choose from a variety of recipes on their website each week, including meat-free, vegan and vegetarian options. All of the recipes are easy to learn, meaning that whether you choose to continue using Gousto, or use their recipes via supermarket-sourced ingredients instead, you'll have a repertoire of savvy, budget dishes to serve up for your family or friends. Example recipes include:
– Spicy Sausage pasta bake
– Tomato and Courgette Risotto
– Chicken Tikka Masala
– Vegan Aubergine Curry
How introduction offers from Gousto can help with meal planning and the joy of cooking.
Not only are the recipes delicious and varied, but they can also be cooked in around 30 minutes – perfect for busy weeknights! Often the portions are big enough to have leftovers the next day for work and as you learn how to adjust portion sizes, you'll find you can design your own variations that match your food budgeting needs.
If you're not sure what to cook next week, Gousto's app makes it easy to change your menu and find new recipe inspiration. You can also add and remove dietary requirements as needed, which is perfect if you have friends or family coming over with different food preferences.
You can also use the website and app to deal with any issues you have with the service such as if a food item or ingredient has been damaged in delivery. The chat service is helpful and when we've had issues they've sorted it quickly with partial refunds to allow us to source replacement ingredients quickly and without fuss. You can also easily change your delivery day or update your payment details.
How does Gousto compare to other similar services in the UK like Hello Fresh and The Mindful Chef we here you ask? Well, Gousto is one of the most flexible in terms of food preferences and dietary requirements. They are also cheaper than The Mindful Chef, with boxes costing from £3 to 6£ per person as opposed to £6 to £9 with The Mindful Chef.
Gousto is slightly more expensive than Hello Fresh, but this is because Gousto seems to offer more food per box on average. We've tried Hello Fresh previously, and whilst we enjoyed their service, the meals were not as varied and not as inspiring. Gousto is definitely our favourite at Savvy Dad HQ, particularly with the new customer offers and codes we'll mention below.
If you want to learn more about how to meal plan on a budget and save on food waste, check out our other blog post here on wasting less. In it, we go into detail about how to cook with a frugal and savvy brain that will help you save money each week. We also touch on the topic of batch cooking and how make-ahead meals can help you save time and money on food.
If you're looking for a food delivery service that can help you meal plan on a budget, we recommend Gousto.co.uk. With delicious recipes, easy-to-follow instructions and the ability to cater for different dietary needs, Gousto can help you enjoy cooking again!
Plus, with our exclusive discount code, you can get 65% Off Your First Box + 25% Off All Boxes For 2 Months – Use the code GAFFIL65252M if asked or visit our link to the offer here.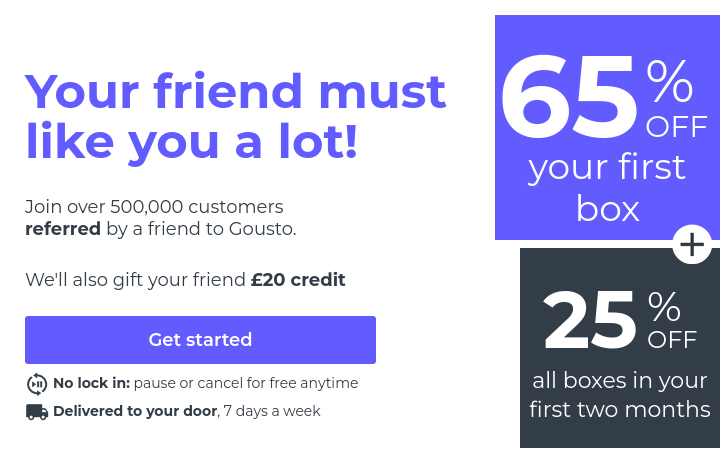 This works out brilliantly if you like the service because you can refer your own family and friends to get £20 extra credit. Please feel free to add referral codes in the comments section below to net yourselves potential extra £20 credits. All we ask is that you consider liking or sharing this article with friends.
Gousto has really brought joy back into cooking for me. I've learnt new things and grown in culinary confidence and my family (including the kids) have greatly enjoyed cooking up the recipes. I strongly believe that the Gousto meal planning service, and food delivery services like it, are the future of frugal and budget cooking in the UK. So what are you waiting for? Give Gousto a try today!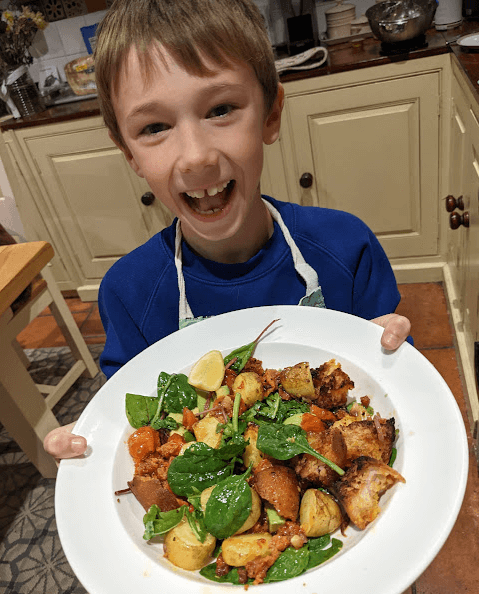 This post contains affiliate links, which means we may receive a small commission if you click a link and purchase something that we have recommended. While clicking these links won't cost you any extra money, they will help us keep this site up and running! Please check out our disclosure policy for more details. Thank you for your support!