For PC gamers, there's no greater feeling than getting your hands on the latest blockbuster title. However, with hardware requirements becoming more and more demanding, not everyone can afford to keep up with the Joneses when organising their tech and power setup. That's where GeForce Now comes in – by streaming games from the cloud, you can play the latest titles on even modest hardware. And what's more, you can often get these games at a fraction of their regular price by using discount steam key sites like CDKeys. In this article, we'll show you how it all works. Stay tuned!
GeForce Now is a cloud gaming service developed by Nvidia. It allows gamers to play the latest games on any device with an internet connection, without the need for high-end hardware. All you need is a compatible controller and a broadband connection of at least 25Mbps. Check out our methods for haggling high speed broadband on the cheap if you need help getting started with a decent connection.
One of the great things about GeForce Now is that you can use it to play games you already own. Simply link your Steam, Epic Games, and Origin accounts, and any games you have in your library will be available to stream. What's more, you can use discount steam key sites like CDKeys to buy new games at a fraction of their regular price. This effectively gives you a high-performance gaming rig alongside the newest games, all on a realistic savvy budget.
To get started, head over to the GeForce Now website and sign up for an account. Once you're logged in, click on the "Add Games" button and link your Steam, Epic Games, or Origin account. You can also browse the games library and add games manually.
Once you've added all the games you want to play, it's time to start redeeming steam keys. For this, we recommend using a site like CDKeys. Simply browse the selection of games on offer and add the ones you want to your favourites or watchlist. Keep track of how much they're going for on the main Steam or Epic sites and the smaller marketplaces like Eneba, but when you'll likely find them for the best prices on CDKey and I can personally say that my experiences of using CDKeys to buy and redeem Steam keys online have been seamless. When you're happy with the savings or discounts you've found, head to the checkout then read on to see the easiest way to redeem a steam key online without the use of the client.
How to Redeem a Steam Key or Code online
There are a few different ways to redeem steam keys, but the easiest is to use a site like Steam Key Box. Simply enter your code into the box and hit "Redeem". Your game will then be added to your Steam library, ready to play. Valve, the parent company for Steam, have also added an online page for gamers to activate or redeem key and codes directly on their website. The steps are as follows:
Visit the Steam Key Activation page.
Log into your Steam account (create one if you don't have one already).
Enter the steam key code you've just bought from CDKeys.
Follow the on-screen instructions to finish redeeming your key and once it's added to your steam account you can access it instantly via GeForce Now and start playing your game!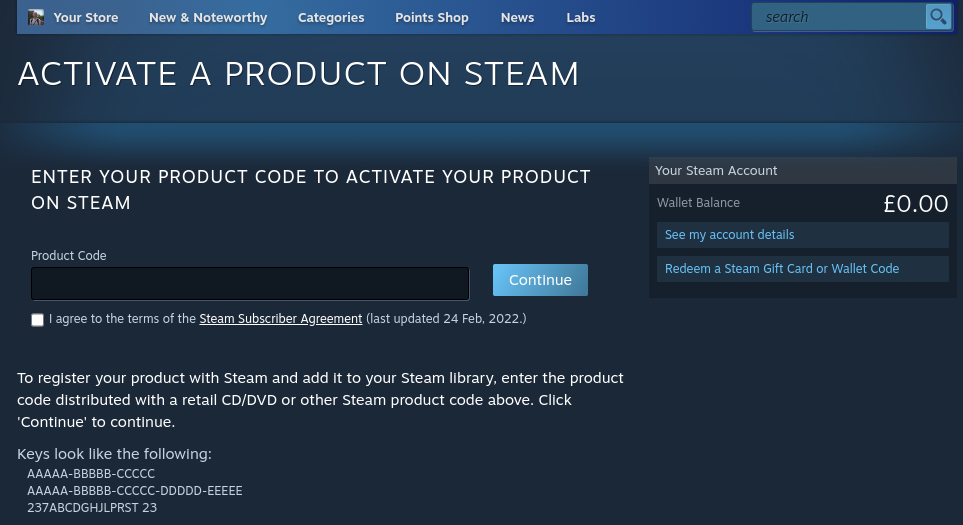 Some of the top games on the GeForce Now gaming service that have appeared this year are Cyberpunk 2077, Assassin's Creed Valhalla, and Watch Dogs: Legion. If you're looking for some of the best games to play on a budget, we highly recommend checking out CDKeys. You can often find these titles at a fraction of their regular price, making them an excellent value gaming option.
Using an Nvidia Shield TV Pro to save money instead of a flawed, overpriced console.
So, you know that Geforce Now gives excellent value access for a high-performance gaming service and that CDKeys can be used to fill your Geforce Now game library with top gaming titles at a fraction of the RRPs, but what hardware to use?
Well, game consoles like the latest Sony Playstation PS5 and Microsoft Xbox not only cost a fortune but are plagued by supply issues and hardware problems. Savvy gamers can skip this hurdle by using an Nvidia Shield TV Pro Game Streaming Device for a fraction of the cost of buying a device you'll need to upgrade anyway.
The Nvidia Shield TV Pro is a compact set-top box measuring in at just 210x170x25mm. It's got all the power of a high-end gaming PC stuffed into a tiny package and comes with an excellent selection of ports. These include three USB Type-A ports, one HDMI port, an Ethernet jack, and a MicroSD card slot. The only thing it's missing is an optical audio output, but this isn't a huge issue as you can use the HDMI port to connect your TV or sound system.
You can of course buy an Nvidia Shield TV Pro direct from Nvidia, Currys or Amazon at new prices (approx £170). However, I used a second-hand site with a 24 month warranty to get mine for a reasonable £115 around a year ago and it's still running the latest games with RTX on thanks to the Geforce Now service being cloud-based and not reliant on hardware. I bought an extra controller from CeX, mainly due to the fact they have the 24-month warranty.
Savvy Side Idea: Amazon Fire TV devices are another cheap way into gaming via a cloud-based service called Blacknut Gaming. Well worth a look for gaming families with younger children due to their game libraries. You can read more about the Amazon Fire TV here.
Using CDKeys with Gefore Now and Steam Keys to save money
To summarise, using a combination of Geforce Now and CDKeys gives you excellent value gaming. You can get the latest titles at huge discounts by buying steam keys from CDKeys and then redeeming them online. The Nvidia Shield TV Pro is an excellent way to access the service and with a bit of patience, you can snag one for a bargain price. So what are you waiting for? Time to get gaming!
How does using CDKeys save gamers money?
I've mentioned CDKeys lots, so what exactly is the website and how does it work to save gamers money?
CDKeys is a digital game key retailer based out of the United Kingdom. The website sells game keys for popular video games, with prices up to 90% off the retail price. CDKeys works with authentic gaming companies and distributors to get fully-licensed game keys at a fraction of the cost.
This means that gamers can save a ton of money on their favourite video games. For example, in the UK, a new release like "Call of Duty: Modern Warfare" would normally cost £54.99. On CDKeys, it's being sold for £29.39 – a discount of 47%.
CDKeys also frequently offers discounts on gaming memberships and subscription services like Xbox Live and PlayStation Plus. For example, a 12-month Xbox Live Gold subscription normally costs £39.99. On CDKeys, it's being sold for £29.99 – a discount of 25%.
This makes CDKeys an essential website for any gamer looking to save money on their hobby. So if you're looking for cheap video games, be sure to check out CDKeys.com!