More and more TV and broadband deals are aimed at getting new customers these days, rather than retaining existing customers with offers. Sky TV and broadband offers and deals seem to be similar with great deals on offer to new customers looking for bundles and packages but not for existing customers. So, how can consumers take this up with customer services to negotiate Sky deals for existing customers in the UK?
How to get Sky Deals for existing customers.
This short guide below sets out a number of techniques and tips you can try with customer services in order to get the best existing deals bundles and packages for sky tv and broadband in the UK. Remember, whenever you talk to customer services, be polite, kind and do a little research beforehand. This will give you more power to sit back and let them work on the phone when negotiating a better deal, offer, packages or bundle for Sky TV or broadband.
NOTE: Above all, it's important to Login to you Sky TV and broadband account and to check your package, bundles and addons in use. You may also find additional offers and deals unique to your account there which may already be of interest. Check your Sky TV login first.
The "Downgrade" channel technique.
Take stock of the television channels you have been using with Sky. Where a large number of channels have not been used during your contract, let customer services know that they weren't needed. As they didn't add value to your Sky TV package even though you are paying for them, use these as a reason to negotiate your existing customer bundle cost. You never know, but by doing this you might get additional content thrown in for your current prices such as Netflix or Disney Plus bundles.
Use Sky's rolling term deals from NOWtv to illustrate premium costs for existing customers.
Sky channels are also available via the NOW TV platform. Because NOW TV platform works on a rolling monthly basis for charges, this can often represent better value for access to bundles and deals when using Sky TV, particularly if you're looking to use SKy Movies or Sky sports channels on an infrequent basis. When in conversation with Sky customer services or retentions, mention how the NOW TV  platform is better value for you and see if they will reduce your bundles and deals more in line with these costs.
Consider NOWtv Non-contract options like that below…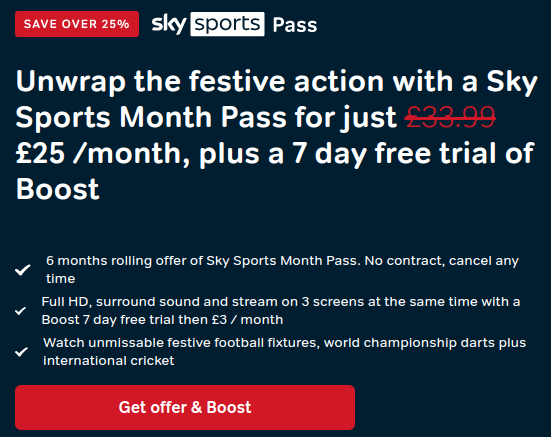 Furloughed?
Existing Sky customers are rumoured to be able to get their subscriptions temporarily reduced to £5 per month if in receipt of government support
and
they've been furloughed. Contact Sky via your account / live chat if you can't get through on the phone. Details of
Sky's Covid 19 response
can be found on the company's website. Please comment if you have success with this. This downgrades to the Basic Pack and allows your Sky Q device to still use products like Disney plus and Netflix if you have them.
Haggle for better existing customer Sky TV bundles by highlighting "Free To Air" options to start the bargaining from lower levels.
Using high-quality Humax devices to record FTA (free to air) channels via an aerial or satellite represents good value for most households. This will give you most functionality that exists with the sky Q boxes without the monthly cost after the initial outlay. If you don't already have the latest SkyQ box, the 1TB is £199 to existing customers, but FREE to new customers!! Point out this loyal customer injustice and haggle this into your Sky bundle or deal by comparing what you can record FREE using a Humax device from PC World or Amazon. Again, point out that you're a loyal paying customer and you want to same offers (or better) than new Sky tv and broadband customers. After all, if new customers are getting a free Sky Q box, why don't existing customers get one too?
Use Existing Customer Sky Price Promises or Money Back Guarantees to haggle.
Sky is always promoting and boasting about the great TV and broadband deals available to existing customers that renew contracts, however, these seem hard to find. Get Sky on the phone via 0333 7591 018 or via its online chat service and point out that their website actively promotes great deals, offers and bundles for existing customers renewing.
Use this alongside their broadband money-back guarantees to point out any lag, time outs, dropped lines, or even the lack of content that interests you to negotiate further.
Negotiate the best existing customer deals, bundles and offers for TV and broadband via the customer retentions department
The best deals are always saved for the retentions department. These are the guys and gals that have the most flexibility to offer deals and you'll get through to them via 0333 759 2787 and mention you're thinking of leaving Sky due to lack of value, content or existing customer deals.
I've included a few tips below for dealing with the retentions teams at Sky TV, but above all else, don't be afraid to say no and walk away if they're not playing ball. Either mention you'll think about the offers and deals discussed and call to speak to another customer representative another day or cancel part of your sky tv and broadband bundle that is not good value and await offers. Some customers have reported having offers and deals listed in their online Sky accounts and Sky Q offers pages via their box within minutes of cancelling a bundle or addon. Check out your accounts to see if sky AI automatically gives you some of these offers when cancelling parts of your deal.
Try using some of these phrases and ideas to sway the Sky customer services teams into offering existing customers better deals. Here's some to get you started:
Let them do the talking, they need to persuade you to stay.

Was Sky broadband part of your deal? keep a record of the proposed broadband speeds when you order, and note if the performance of your line if it's downgraded or nowhere near the estimated line speed you were quoted, use this as a reason to contact Sky customer services and ask for discounts and refunds.

Have the costs of competitors offering TV services to hand to compare and haggle.

If it's not going well, say you're not sure it's good value and you'll think about it or hang up and call back for a different customer service member who might be more cooperative.

Mention the new customer offers – insist on the freebies and perks they get.

Start with the little wins – for example, point out that channels should really be HD by default these days, get them to throw in the HD upgrade for free.
Savvy Side Offer: Yorkshire based broadband provider, Plus Net have some great sign up deals right now. Check out the Plus Net broadband deals and offers. Or go direct to the Plus Net offer page