If you're a Sky customer in the UK, there's a chance with the nature of the UK communication infrastructure in the UK that you may have experienced some issues with their services over the years. From price increases to substandard service, it's easy to become frustrated with your provider. And what about those long-term customers who never seem to get the same special deals as the new customers?
Well, don't worry, because Sky has a range of ways for you to get in touch and voice your concerns or find answers to your queries. Whether you prefer to pick up the phone, chat online, send an email, or send a letter in the post, Sky is likely to have a method to allow you to get in touch.
A word to the wise, before you jump straight into making a complaint, let me give you some advice. Try to give Sky customer services a chance to correct or fix mistakes. It's easy to get upset and want to escalate things right away, but my personal experience has been that their phone support is decent and it's worth giving those in the call centres at Sky a chance to make it right. It can save you a lot of time and stress.
How to contact Sky via phone to complain or ask questions
Let's start with the options for a good old-fashioned phone call to speak to a human being. If you prefer to talk things through with a real person rather than an AI chatbot, like those used to handle complaints at Evri , Sky's customer service line is open 7 days a week, from 8am to 10pm. Just call 0344 241 4141 or 0800 151 2747. Alternatively use the website Say No To 0870 to find potential additional numbers that you might be able to contact Sky on.
If you're able to access the Sky community or FAQ pages of the Sky website, that might be the alternative place to look for common queries, answers and solutions. Or head to the contact Sky pages on their website where, in theory, there are sections with instructions on how to contact Sky for issues with Sky TV, Billing and payments, Accounts and subscriptions, broadband, mobile, Sky Go & Talk, and Yahoo Mail.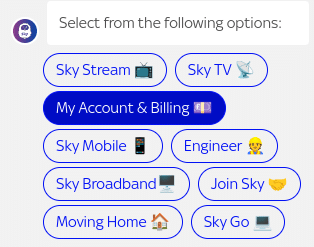 Contact Sky via online chat
Failing that, you might prefer the online contact and chat options. Simply visit the Sky website, and click on the chat icon in the bottom right-hand corner. Referred to as "Sky's Virtual Assistant", the AI Chatbot is actually a good example of AI used well. You'll be presented with a number of options (presumably their most accessed options for their customers seeking help) and be able to simply click through to the relevant sub-selection of options.
When we tested this recently, we were presented with options for those needing help with (or complaining about) moving home, Sky Stream, Go, Mobile, Broadband, Bills/Accounts and booking an Engineer. Existing customers can enter their details on a secure link with their SKy IDs in order to get more personalised help or assistance.
Can I write to Sky to complain of get help?
If you prefer to put things in good old-fashioned writing, you can send a suitable email to Sky's customer services team. Either head yourself over to the Sky website and follow the links to the "contact us" section for the latest email addresses, or use the following we have found at the time of writing this article:
The main email for Sky is mysky@bskyb.com. However, you could also try CRSupport@bskyb.com
If there is still no joy after using the above methods, it may be worth considering a polite email to the CEO office of Sky. At the time I wrote this article, Dana Strong was Sky's CEO and her email address listed publicly online was dana.strong@skygroup.com.
It's worth noting that you should be aware that this won't go directly to the CEO in most cases. Instead, there's a chance the secretaries or PAs of the CEO will triage the emails to see what's worth forwarding on. As a last ditch to get something sorted with a company like Sky, a polite and well-worded email may get results when other contact methods have failed.
Be precise and clear in what you're asking and what solution you're seeking.
Can I send a letter to Sky with a concern or complaint?
Yes, if you're a fan of good snail mail and a physical opportunity for a complaint to land on someone's desk to sort out, you can send a letter to Sky via the address below:
Customer Complaints, Sky Subscriber Services Ltd, PO Box 43, Livingston, EH54 7DD
Remember, whether you prefer to talk things through on the phone, chat online, send an email, or send a letter in the post, Sky has generally got a decent option available. So, before you jump straight to the point of making a complaint, give Sky customer services a chance to make things right and if you're trying to get a better deal on your service try reading our haggling with Sky guide or consider Sky alternatives like NOW. And remember, a little bit of patience and understanding can go a long way!