Having just moved into a new property, I was eager to get my TV up and running, The best, most simple way to do this quickly was via a Sky Now TV deals. Or as it's called these days after rebranding, NOW. I've used offers, trials and deals on Now TV cards over a number of years and after trying various different options, I have to say they offer great value. Especially at the end of a usage period where you can get discounts for staying with them if you have the know-how. 
At my new property, I decided to go with Sky TV and Broadband as the option for our home. I knew I wanted to have HD channels and I knew I wish to have the basic selection of viewing options. I wasn't too fussed about having Sky Sports all of the time. I didn't need Sky movies all of the time either. But I did want them to be accessible.
Now even though there have been some recent price rises associated with Sky TV and NOW,  there are a few offers still available. There are some great ways to get access to the big channels such as Sky Atlantic, Sky 1, Fox and more at a discount if you read on.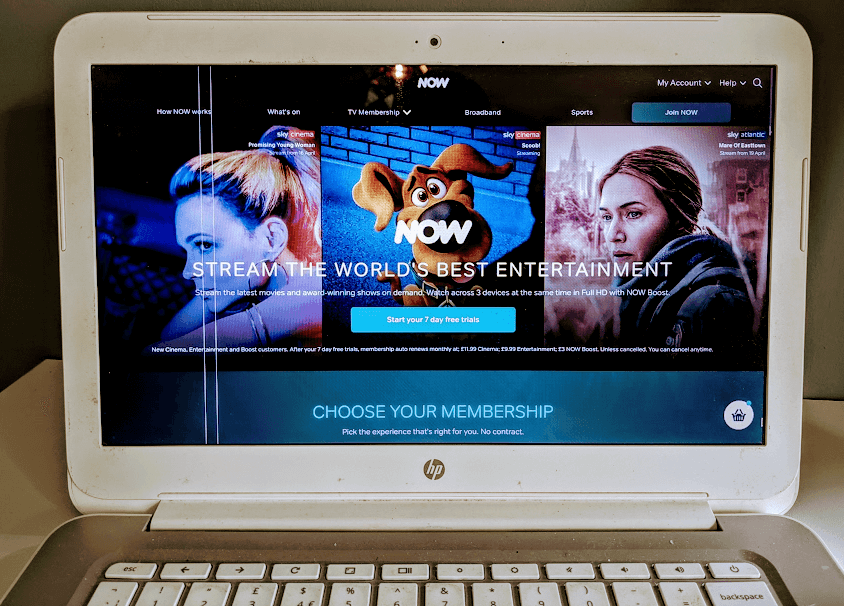 What is the deal with the rebranding of Now TV to NOW?
Now TV is basically a way of accessing on-demand HD streaming via a compatible device. It works in a way similar to Netflix, Kodi, Hulu, iPlayer and a vast range of other streaming channels that are available via a VPN. The best thing about Now TV packages, deals and offers, is they will give you access to Sky channels
The main reason for doing this, rather than just buying a Sky contract, is sky TV and broadband deals do appear but they tend to favour new customers. Whilst existing Sky TV customers can get deals by haggling, pointing out value for money, and leaving it to the last minute to deal with the sky retentions department, it's much better to look at cheaper more manageable options. These options might be a 7 day Now TV deal trial and even bulk discount deals on now TV access.
You're also not tied into lengthy contracts as a customer. Whilst there may be ways of getting out of sky TV contracts when prices change, overall you are locked in for a set period. Now TV deals and passes tend to last for block periods of one month, three months, or six months. You can add them or cancel them whenever you wish you in some cases stacking or saving up offer codes for when you wish to redeem them.
Now, I've written about the value of Sky for existing customers in other articles. I point out that when people are negotiating, they need to make a channel audit. Actually sit down and list which TV programs they watch and the channels they use regularly. If customers aren't watching something, then why should they pay for it? This can be the main problem with traditional Sky TV contracts -so many channels but nothing you actually watch!
Now TV deal passes give you the option to add in access when you need it. Access to the movie, sports and entertainments channels available on Sky at the time when you want them. This might be at times such as during the holidays when the kids might be at home more. Or at Christmas time when the festive specials and blockbuster films are on. 
Another added bonus is you don't need to have multiscreen. You can have numerous codes and accounts for Now TV that can be used on different devices throughout your home. You can even use them at different locations, something that's trickier to do with SkyTV. 
What new NOW TV deals and offers are available in 2023 for existing customers?
Well, as mentioned earlier, new customers always get better deals. Which is strange, because you would think a retention department would be eager to keep existing customers? 
If you've not tried Now TV before, look out for new customer offers.
It may be that you're in your local supermarkets such as Asda, Sainsbury's or Tesco. Often they will have Now TV sticks bundled with promotional offer code cards that give cheap access to the NOW service. They're often reduced to clear when models go out of favour or stock needs to be shifted (particularly in Asda).
I've purchased a good number of these. Not for the actual Now TV streaming stick, but for the card which is purchased at a discount compared to those online.
Savvy buyers can boost savings further by looking at buying Now TV sticks and Now TV deal passes via retailers that offer some form of cashback like services on Quidco, their Topcashback login or even Boom25.
As I've mentioned Quidco, it's worth noting that you can get a £10 bonus when you first sign up and make a purchase. It does mention that there's a minimum spend of around £5 pound to qualify for this bonus. But if you're looking to buy any Now TV pass anyway, this would qualify as you're over the minimum threshold for spending.
> You can join Quidco via this link for £10 sign up bonus 
TopCashBack does something very similar. However, the threshold for a qualifying spend is £10. You get £5 cashback when you spend this £10. This might be an option for new customers looking to initially access Now TV cinema, Now TV sports or Now TV entertainment passes if you searched around and you can't locate any short term offers at a good price in your supermarkets nearby.
>You can Join TopCashBack for your bonus here
I mentioned earlier that these offers are only for new to Now TV subscribers. If you currently have an account, you won't necessarily be able to stack these on top as an existing customer. If you do sign up to an account, it's worth noting that as soon as you've added your code or added your payment details you can actually cancel the upcoming payments for future months. This means that you will have access to the service for the paid period but have no risk of being charged additionally by forgetting to cancel.
How to access Now TV deals via a free trial
This is one of the most simple ways of doing it. It's the money-saving method I've used in the past. You can get a free 7-day trial for any of the options below from the Now TV streaming platform:

As mentioned earlier, remember to click that cancellation button as soon as you've signed up. You can leave it till later and sometimes this will prompt the system to offer you a discount for continuation. If you're going to try this, I recommend trying to cancel your account outside of the normal opening hours for a business. This sometimes brings up an option where a bot will automatically offer a discount, whereas a human (during the day) may automatically decline or not.
Now TV deals and offers for existing customers in 2023
I've written previously about special deals for existing customers for Sky and how there are not many of them about (with the company favouring new customers). I've mentioned the supermarket deals earlier in this post also and this remains the best way for existing customers to be able to pimp their account on Now TV. 
Simply go along to your local supermarket and check out the prices available for Now TV smart sticks. It may be a simple stick but within the box there will be some kind of bundled promotional pass. This bundled pass contains a special promotion trial code.
These codes can be preloaded to your account. In some cases (although it doesn't seem to work in 2022) they can be stacked meaning that three individual one-month cards, for example, could be stacked onto your existing Now TV account to give you three months worth of access. In more recent days accounts may only allow one code to be active at a time. In which case you'll have to keep the cards to one side ready to activate when you can. No real hardship if you've bought them when on sale or at a discount and NOW TV isn't likely to go bust.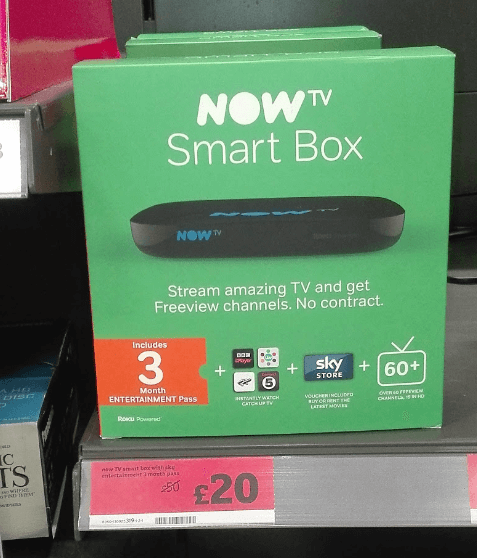 Now TV stick box and pass offers
If you don't need the Now TV streaming stick inside – don't worry! It can often be cheaper for you to buy them bundled in with the Now TV promo codes than it is to buy them separately. In some cases, I've been known to buy a Now TV smart streaming stick, use the code, and then sell on the box for cheap on eBay to take even more off the price.
This is made even more simple in recent days as there's only one piece of hardware available – the Now TV stick. Previously there were laggy boxes on offer too. You can also use the stick to watch other operators' platforms such as Netflix, iPlayer, ITV player etc. But there are better streaming devices available like the Roku Express or HD.
The Now TV offer options tend to be: 
3 months of Sky entertainment included, 
2 months of Sky Cinema included, 
1 month of Sky Sports included,
or the epic bundle of 1 month of Sky Cinema, 1 month of Sky Entertainment, plsu a 1 day of Sky Sports Pass.
These bundles vary throughout the year. It's not always the case that this is cheapest, however, the best prices run at around 15 to 20 pounds. Usually, I would source them from either Asda, PC world, Amazon and occasionally Argos. Sainsbury's also have the occasional deal.
1 month Sky Cinema, 1 month Entertainment, Plus 1 Day Sports Now TV bundle offer for £29.99
If you're looking to buy a one-day Sports Pass, which are usually around £10 anyway on their own, this represents a good deal. It's usually £29.99, but occasionally it can be on offer at Amazon and similar outlets.
You can try checking out Amazon or Currys today to see if they have it on offer. If they do have an offer, they tend to reduce it to around the £20 mark. This makes it even better value. Particularly for the costly Sports 1 day access.
>> Buy a NOW TV smart streaming stick at Amazon <<
Sell your Now TV streaming stick to get money back.
Selling the stick makes sense. You might not need the actual now TV smart stick. This might be because you already have a better device to stream on. Why not learn how to sell on Gumtree and stick it on there? Facebook Marketplace or eBay are options too. Or take it along to your local CashConverter or CEX you'll get around five to ten pounds for it depending on the model.
Try using gift card offers to access now TV deals
This can be a popular way to save. Consider the supermarket saving schemes. This is where you can buy, for example, a £50 gift card and get £5 pound extra to spend. This works in a similar way. Over the past few months, I've spotted some significantly low prices on Amazon on NOW TV stick AND gift cards. These can stack with offers like "buy an Amazon gift card and we'll give you £5 amazon credit" type deals at Amazon. Well worth considering to cut extra off the cost.
If you do spot them during the Argos clearance sale it's well worth checking by postcode to see if they have them available as they don't have them in every store. It's also worth waiting for the Argos periods where the offer vouchers back for spends and getting a few NOW tv sticks to trigger this offer.
Cancel now TV at the right time to get additional discounts as an existing customer
I've alluded to this earlier, but if you wait until the last moment to cancel you can do this trick online. If you do this outside of the normal business hours you will be prompted for the reason you are cancelling. I've tinkered about with the options and, in general, if you select the option that says "it's too expensive"  you'll most likely be offered a discount to stay.
If it's better than the cost you would get for using one of the options mentioned earlier in this article – use it. It's a lot less hassle and cheaper. It may also be that you'll be offered it for a limited amount of time, such as one, two, three or even six months. Whatever you do, make sure you make a note of the end date for this. You need to do this as they will ramp it back up to full price as soon as you pass that date.
What are the main types of now TV pass for access to Sky TV deal?
Sky Sports NOW TV Pass
The Sky Sports pass will give you access to all 11 Sky Sports channels. This will include:
Sky Sports main event 

Sky Sports Premier League 

Sky Sports Golf 

Sky Sports football 

Sky Sports cricket 

Sky Sports F1 

Sky Sports racing 

Sky Sports Arena 

Sky Sports Action 

Sky Sports Mix and… 

Sky Sports News
The Sky Entertainment pass via NOW TV deal
This past gives you access to all of the big sky TV channels including the use of Sky Atlantic, Sky 1, Fox Network, and many, many more. It's one of the most popular options because it gives you access to big shows like Game Thrones, Gangs of London, Devils, Intelligence, The Nevers and more.
It's the only way you can get Sky Atlantic via now TV if you don't have a full Sky TV as an existing customer. The channels include those below, along with a host of back catalogue box sets to binge-watch:
Sky 1 

Sky Atlantic 

Sky Arts 

Sky Witness 

Sky Crime 

Sky Comedy

Fox Network 

Comedy Central 

MTV 

Sci-fi 

Discovery 

Gold 

Challenge TV

Nat Geo Wild
Sky Cinema Pass – What's included as part of a NOW TV deal?
The Sky Cinema Pass simply gives you access to all of the films you might see on Netflix and Amazon along with traditional historical classics that might usually be charged for on other platforms. There are also some more recent movie releases in general on the Sky movies and cinema platform compared to Netflix, Apple+ and similar. Sky Cinema tends to be the platform where movies are released in between cinema, other platforms and DVD.
NOW TV Kids Pass/Bundles
The NOW TV Sky Kids Pass gives you access to six channels including: 
Boomerang 

Cartoonito 

Cartoon Network 

Nickelodeon 

Nick Jr and… 

Nicktoons 
I mentioned at the beginning of this article that I wanted to pay for HD TV in order to watch in a full 1080 HD. Viewers will need to pay for the now TV HD boost for this. This is 3 quid per month. It also lets you watch an additional number of screens at the same time. It will upgrade all of your passes for a single price, so if you apply this and you currently have the sports and cinema packages, all of them will be upgraded.
Now TV Deals – How much is a now TV pass in 2023?
At the time of writing, these are the current prices for NOW TV Sky TV passes:
The entertainment pass costs £9.99 per month 

The sky cinema pass costs £11.99 per month 

The Sky Sports day pass costs £9.99 for 24 hours or the Sky Sports costs £12.99 a week

The monthly pass for Sky Sports costs 33.99 a month in a NOW tv deal

Sky Sports Mobile Pass costs £5.99 a month but has limitations. 

The Now TV HD boost costs £3.00 per month, but is applied across all platforms that you currently have.

There is also the sky kids pass which is £3.99 a month 
You'll need a reasonably stable internet connection to stream the programs available on NOW TV. If you have an existing piece of hardware that streams software like iPlayer, ITV player, or 4oD, then you should be fine with now TV. Lots of smart TVs already have the hardware built-in, but you can look into the best streaming devices for your TV In my other articles. Generally speaking, they don't have to cost too much and we'll start around 10 to 15 pounds and give access to other services like Disney+
 I highly recommend that you see what is available to you in terms of the Roku TV devices. I believe these are solid pieces of streaming kit and hardware. They offer access to many platforms including Amazon Prime video, Apple TV, Netflix, and of course NOW TV and thought that Sky TV. Alternatively, you can stream on devices such as a Chromebox or Kodi Box which can be bought for around 50 pounds online. When all is said and done, Sky is a really expensive luxury and a NOW tv deal can really make the difference in terms of savings.