Nearly everybody has used Amazon at some point in their consumer life. Whether it's to buy the latest Amazon device, source your household shopping, or using the discounts in Subscribe and Save. There's plenty of reasons why earning and obtaining free Amazon gift cards is useful in cutting down the costs of your shopping online.
It's therefore remarkably useful to know that Amazon gift cards are one of the easiest to find discounted or free online.
You can source them online as cashback with popular shopping sites like Quidco or Boom25, or via completing surveys and playing games with sites like Swagbucks. Plus, there are loads of extra ways to earn or get free Amazon gift cards that I'll go into in this article.
Why Collect Amazon Gift Cards for Free?
Collecting cards and gift credit for Amazon carefully throughout the year can be great for helping towards those more expensive times of the year like Christmas and birthdays. It can also make good sense as a kind of extra insurance policy for items that may be near the end of their life like home appliances. Saving up these free Amazon giftcards can help towards the cost of replacements if things become faulty or you don't have a decent warranty.
Top ways to earn and obtain FREE Amazon gift cards.
The list below is in no particular order and will be added to over the years. Some methods are easier and quicker than others. However, using them together, you can soon start to stack up the value of your gift card balance. The offers and methods below all work in slightly different ways and may change at any point so if something does or doesn't work, please be sure to let me know in the comments below.
Quicdo – Using this cashback site to generate credit.
I've been using Quidco for years. In fact, I started using Quidco way before I started my social media pages and this website. Over the years I've successfully had nearly £2000 worth of cashback validated. This really helps to claw back money into a bank account and make funds go further. On top of cashback generated, you can opt to be paid in Amazon gift cards for free and get an extra bonus amount for opting to be paid in this way.
During the course of the year, there are numerous ways to boost this Quidco cashback. One of these is the regular 'treasure hunts' that Quidco run. If you find hidden characters and treasures while navigating the Quidco site, you'll get prizes quite easily (including extra cashback bonuses and credits).
Quidco also regularly offer bonus events when purchasing goods and services in certain areas. For example, I've recently seen £15 bonuses when buying motor insurance and breakdown covers.

Finally, you can also refer friends and colleagues to sign up to Quidco using the referral page in your account. Your friends will get a free fiver and you'll get a cool £25 to put towards cashing out as Amazon gift cards again.
You can generate credit via Quidco at tons of popular sites like eBay, Amazon, Groupon, Wowcher and more.
You can get started with Quidco here.
Use Amazon themselves to boost your gift card balances.
Amazon regularly run offers to keep business ticking over. These can be perfect to cash in on and build your free Amazon gift card balances. Recently, I received an email offering £7 credit if I used their Amazon Photo app. A quick download of the app and upload of a random cat photo and within days I'd been emailed the credit email.
You can also get extra gift card credit in your account by buying bulk gift cards if you're planning a larger purchase via Amazon anyway. Often this means if you keep an eye on the gift voucher pages on the Amazon website you'll find they're regularly offering Prime members deals like an "extra £5 when you buy £50 worth of gift cards", or "£10 when you buy £100"
Swagbucks – Using this cashback site to generate credit.
Bonus £3 when signing up today via this link. Swagbucks gives you credit (or coins) that can be cashed out as free Amazon gift cards for completing tasks, searching the web and playing games.
At the time of writing, you can easily generate account credit by registering and using the "discover" feature as often as you can. You'll also get free credit on your birthday if you've entered the details correctly.
Playing games that can be downloaded on your mobile like King of Avalon or Rise of Kingdoms will give you big bonuses once you get to a certain level in the game. Handy if you're killing time in waiting rooms and wanting to generate extra credit while you wait.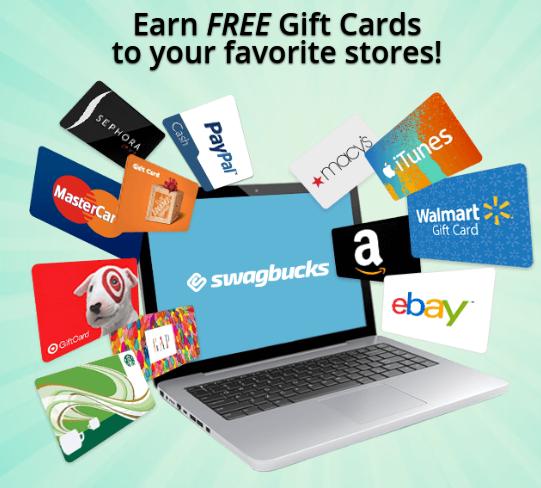 You can also use the app as a receipt scanner to get extra Swagbucks and instal the Swagbucks browser to net more. Essentially, you can get convertible Swagbucks for just about anything. So far I've not seen offers for selling one's soul, but you can refer friends too.
As mentioned, all these juicy hard-earned Swagbucks can be redeemed as free Amazon gift cards.
Another easy Swagbucks offer is getting a FREE Experian credit report via their site. This nets you 700 Swagbucks.
1,300 Swagbucks is worth £10 Free Amazon Gift cards.
Use the Amazon Trade-in scheme for extra gift card balance.
I've written about how the Amazon Trade In scheme work previously. It's a handy way of updating your tech at home which gets you some extra Amazon balance love too.
If you happen to find cheap devices at car boots or bric a brac sales, if can even be worth buying them just to get the discounts on newer devices via trade in and grab the extra free Amazon gift cards.
£10 FREE Amazon Giftcards within 2 weeks with MobileXpression
I'd understand if readers are dubious about this option as MobileXpression is a market research company that will give you gift card credit in exchange for allowing a piece of their software to monitor your mobile activity for a while. I've used this in the past with no ill effects and the process was simple and had no impact on my browsing, apps or mobile.
That being said, using MobileXpression will be a personal choice for most on whether they prefer to have third parties monitoring their mobile's habits or not. If you're happy to, it can net you £10 worth of cards in a number of days.
Essentially, MobileXpression will monitor the apps you use and install. It will let market research companies know what's popular and what's not, generating the company income which users can cash in on in the form of Amazon gift cards.
Bonus deals from VoucherCodes.co.uk
Vouchercodes.co.uk offer vouchers, coupon codes and discounts via their affiliate marketing platform. What this means for the users of their website is deals on the cheap. Occasionally there can be bonus offers incorporating free Amazon giftcards, just like those mentioned in the Quidco section above. Typically these offers are short-lived, so you'll need to be quick. They usually amount to £5 or £10 bonus Amazon gift cards when taking on certain offers.
Supermarket stacking of gift card deals.
More and more high street stores are stocking physical Amazon giftcards. This includes supermarkets like Tesco, Asda, Sainsbury's and stores like WHSmith. This si useful to know because depending on the store policies you can often cash in points from membership schemes like Clubcard Points, Nectar Point and more to make the most of gift card deals.
Recently, some Tesco gift card sections had £50 Tesco gift cards that had a free £5 Tesco gift card attached. These could be used on your Tesco shopping anyway so if you were planning a £50 shop you could pay with the £50 gift card and then use the 'free' £5 gift card to purchase a £5 Amazon one and add it to your online gift card balance.
Note that voucher and gift card purchasing terms in physical stores like supermarkets change regularly, so it may be worth asking staff if you spot offers like this.