New on the scene in the UK is the Amazon Trade in scheme. But what is Amazon Trade in and how does it work? Well, I recently started, like many others around the UK, receiving marketing emails to the email addresses associated with my Amazon account. The offered me a chance to trade in my old iPhone or Amazon tech in order to get discounts on newer upgraded versions with better reliability and more functionality. Is the Amazon Trade In scheme worth it for your gadget? Will you get a decent price for your tech and more importantly what discounts do you get on newer models on sale from Amazon?
What is Amazon Trade in and how does it work?
The Amazon trade in scheme allows owners of older Amazon tech and gadgets to trade them in via an appraisal system for Amazon.co.uk gift card credit and discounts on the newest generations of their smart tech. The Amazon trade in system works on most generations of devices. This is ideal if you're looking to upgrade your devices to support creating a yoga of fitness room at home.
Amazon Kindle Keyboard e-reader (3rd and 4th generations)
Amazon Kindle (4th and 5th generations e-readers)
Amazon Kindle Paperwhite e-reader (4th, 5th, 6th, 7th and 8th generation)
Some Kindle Oasis and Voyage e-reader models.
Kindle Fire, Kindle Fire HD, Kindle Fire HDX and Kids – most tablet generations.
Amazon Fire TV or Amazon Fire TV Stick media streaming devices.
1st, 2nd and 3rd generation Echo devices and Echo Dot, Show and Plus models.
Amazon Blink and Ring Video home security and video door bells.

How to trade in your device using the Amazon trade in scheme
All devices processed through the scheme offer immediate discounts on the newest device models and FREE delivery. All items sent in can be tracked as part of the trade in process via the Amazon trade in account pages. Amazon states that once your item has been received, they will then appraise the condition (just like We Buy Any Car). Customers should then receive an e-mail notification within 2 days letting them know if the device has been rejected or accepted. The trade in value will then be applied to your gift card balance. Whilst you can also trade in mobile phones and games consoles via the Amazon Trade in scheme, you will not get discounts on new products – just the Amazon Gift card of a value related to your trade-in price and appraisal.
How to check your Trade In Amazon Gift Card Balance
First, log in to your Amazon account. If you're not logged in, click on the "Hello, Sign In" button at the top of the page. Otherwise, if you see your name, you're already logged in.
Once logged in you should automatically be on your account page, if not, navigate to it using the menus at the top of the page.
Next, click on gift cards and then "view giftcards or account activity".
You should then see your balance listed. There's also a redeem button here if you have other giftcards to add.
If all else fails, try following this link directly to the redeem and balance checking page.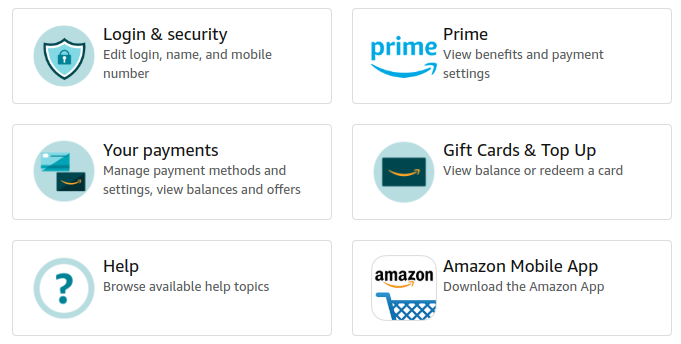 What are the steps in the trade-in process?
Getting started – First, you'll need to give the system the answers to a series of simple questions relating to the model or generation of your Amazon device, Echo, Fire TV or Dot etc. You'll also need to enter the details of the condition of the item being traded-in.
Versions, condition and colour – Colours and condition aren't too important if you want to just get shot of an old device as even non-working models can be traded in. But be honest about the condition in order to not come undone during the appraisal process and leave end up with a smaller amount of trade-in credit than you were hoping for.
Package it up! – Once you've entered the details, simply package it up (after resetting/unlocking the device where possible) and print the delivery label ready for you to send it off for trade-in for free. Amazon state they will let you know in around 7 days that the item has been verified their end.
Reap the rewards – As long as the device was as stated, your Amazon.co.uk gift card and at least 20% discount will be applied to your account ready to spend. These discounts should, in theory, automatically appear at checkout when you now go on to shop for your newer device and tech.
Bonus 99p Credit – If you're trading in a streaming device or media stick, you will also get a bonus £0.99 Amazon.co.uk gift card. This credit can be applied when streaming films or buying apps via Amazon.
Extra 5% Bonus discount – 1st, 2nd and 3rd generation Echo devices and Echo Dot, Show and Plus models also get an extra 5% discount applied (above the 20% for most other categories of Amazon smart tech) when buying the newest generation device. This must be where Amazon make the most and therefore they can afford to push the discount higher.
Is trading in your Echo, Kindle or Fire device with Amazon worth it?
In all honesty, if your device is working, you way get more cash directly from high street trade-ins from places such as CEX. You may even get better deals from MusicMagpie or similar companies online. However, if you're looking to upgrade to newer Amazon tech, none of these other options will give you the 20-25% discount on the upgrade. So, check your trade-in prices and if you get more via Amazon, go for it. The process seems straight forwards and if you have any positive or negative views and comments on the scheme, let others know in the comments below.