Have you ever ordered something online to be delivered by Evri (the new name for Hermes) only to find out later that you didn't receive it? Or maybe you've been waiting weeks for a package to arrive after ordering it? In both cases, you're probably going to be pretty upset when you finally realise that you haven't received the item you ordered because it has been lost, damaged or left in a bizarre place by Evri. But before the rage hits you, let's look into the possible ways you can check out what's gone wrong, and then (if needed) complain and contact Evri.
It's worth noting that we get a lot of emails and comments about complaining to companies. In the case of Evri complaints, it is well worth reading the comments at the bottom of this article to see the real-life experiences of others.
Why is Hermes now Evri?
This is important to know because it will give you insight into why there may be issues with your Evri delivery. If you order from some stores or services, you may have an option of choosing between services like the Post Office, DPD, Yodel, and "Hermes" which is now known as Evri. We recently sold some items to make a little extra cash via the popular trading app Vinted and Evri is one of the options for shipping and receiving items and parcels.
In theory, depending on the service, you'll get all the benefits of being able to track your parcel on their website or app. You'll also be able to see if your package was delivered within the time frame you specified and often see a photo of where any parcels have been delivered to be Evri.
When the company was known as Hermes, it did not have the best reviews. Comments often stated that they were slow at delivering parcels and would often leave them in strange places, particularly around London. This led to many complaints and people getting angry with Hermes. Evri/Hermes isn't the only company to get a lot of complaints, Currys PC World gets a lot also, but it's important to treat your experiences with each company you use as unique in order to allow them the opportunity to learn from mistakes.
However, the vitriol on social media seems to speak volumes right now, particularly as it's not easy to actually speak to a live person or human being at Evri – it's usually their chatbot "Holly"..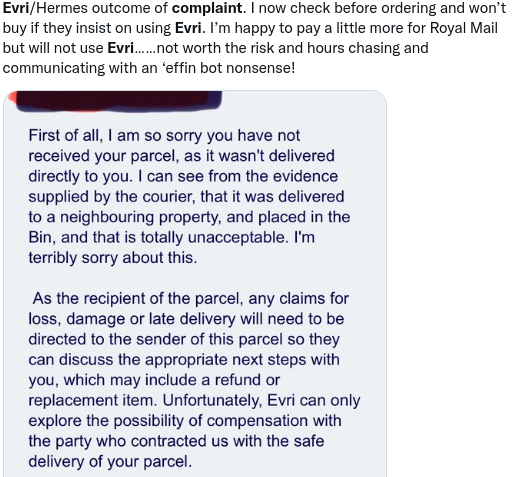 Hermes seems to have rebranded in order to improve its reputation, but the jury is out on whether this is working with some social media accounts joking that the new name is apt with "Evri parcel going missing".
That being said, even if it's still not perfect, there are some signs with some social media reviews that it does seem to be much better than it used to be. This doesn't mean that you should expect everything to go smoothly and it's not always easy to speak to a person at Evri due to their set up. In fact, it's quite likely that you could experience problems with your delivery as the nature of getting a parcel safely from A to B has lots of factors. It could be that the sender of the package did not prepare the parcel well, maybe the item was unsuitable for transport, or maybe there is a chance of human errors with the buyer, courier or seller that have meant a simple miscommunication in the process.
So, if you've used the service to send or receive parcels and had an issue, how can you contact Evri or complain to get things sorted?
How to contact Evri (Hermes)
The first thing you need to do is make sure you are registered with Evri so that you can access your account and view your orders. It was March 2022 that they changed their name, so many online pages and guides may point you in the wrong direction if they've not been updated. Once you've done that, you can log in using your username and password.
If you want to report a missing or damaged parcel, you can either email or call 0800 988 8888 as one of their listed numbers. The number is free to call and you won't be charged anything. This site allows you to search for any parcel that has been reported missing or damaged.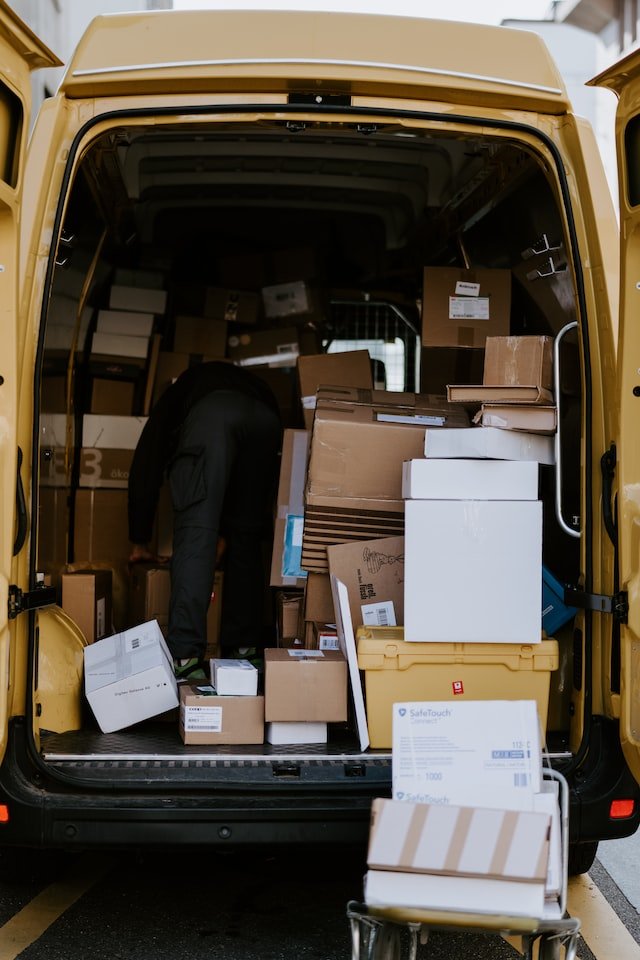 Which brands use Evri for deliveries?
Plenty of the big names in the UK still use Evri for their parcels. This is something to be aware of when considering which merchants to use to buy goods. Some of the big brands that use Evri in the UK include Amazon, John Lewis, ASOS, BooHoo, Vinted, and more. I recently bought some shirts from ASOS in the sale and when I saw that Evri was set to deliver them, I did panic. However, I have to say that in my case they arrived clean, promptly and with a smile on the delivery driver's face.
It is still particularly important to note, if you're needing to return items to stores like Amazon, that they either give credit once the Evri parcel has been scanned or refunds within a few working days when the item is received back in good condition. If the item is damaged, it's easy to see how you might get stuck dealing with both Evri and Amazon to sort it out.
In our experience, Amazon live chat is best as you can get through quickly to a live human being via chat and usually get things resolved in a satisfactory way. If you get a less-than-helpful customer service rep, disconnect from the Amazon chat and try a char connection and a new human being. Amazon usually sorts things well though in fairness – just be aware that too many refunds and issues can get your account closed/limited. Evri does not have a live link to an actual human being, making things more difficult.
What do I do if my Evri parcel is not delivered?
It's possible that the Evri courier will deliver the package to the wrong address. You'll know that this happened because the tracking information will show up on your phone. There's a chance that good old-fashioned detective work might solve the problem first so if there's photo evidence on the tracking of where the Evri courier left the package, then you may be able to identify neighbours' bins, doorsteps, and such.
Failing that, there should be a GPS location on the parcel drop itself. If you don't find this (and you're the sender) then you can always ask the recipient to check obvious places first before going further with a complaint or trying to contact Evri.
In the event that the parcel never arrives at all, you can try calling them on another of their listed numbers 0800 988 8887 or head on over to their support page
Depending on the options that you click on, you could end up talking to a human support advisor at Evri or an automated system. Either way, you'll have to provide some details about the order including the tracking code and the delivery date.
Once you've given them the relevant info, they'll tell you what time the parcel was expected to arrive. If it didn't arrive by then, they'll let you know why. They'll often give you the option to cancel the order or leave it to be delivered later.
If you choose to cancel the order, you'll receive a refund and the tracking code will no longer appear on your tracker app. If you decide to leave it until later, you'll have to wait until the next day to track it again.
You can also get in touch via email or phone. Some readers have suggested seeking out the business emails of the leaders and senior team if you're having major issues. After all, you're their customer so they should care that things are being dealt with correctly. If you have explored all avenues and had no success (or worse, no reply) then you may wish to drop those in charge an email to see if they can help out. You can find many CEO email addresses at Ceoemail.com and while you may not get a reply, there's a chance it will pass by them and get action in some way
Can I complain to Evri on social media?
Evri states that they will not engage with customer queries on social media, but a good rant can often get some companies to shift to sorting problems more quickly. If you do choose to contact Evri via their socials, we've listed them below.
Facebook: https://www.facebook.com/evridelivery
Instagram: https://www.instagram.com/evridelivery/
Yes, it's tempting, like many have previously, to vent on their public Facebook and Instagram streams, but try a polite DM with reference numbers at first to test the waters.
Can I get a refund from Evri?
There are two ways to request a refund from Evri. The first is to call them on the numbers listed above or on their site and ask for a refund. The second is to go to their website and fill in a form requesting a refund.
Can I contact Evri via Live Chat?
Users of the Evri service can contact them via live chat on their site. This is available 24 hours a day, 7 days a week. You can check out their online live chat hub here https://international.evri.com/newhelpcentre/livechat It covers UK to UK and Internation Hermes and Evri parcels. If you need to chat directly with them, there should be a link for "live chat" that pops up after using their FAQ sections.
Hopefully, these numbers and contact pages will help you solve your delivery issues with Evri quickly, but feel free to add to the comments section below if you have positive or negative experiences with the Evri service. We will attempt to Include below a few generic useful answers to questions commonly asked in our comments about contacting Evri (Hermes), as they appear.
Are Evri still making tracking mistakes to add to delivery delays?
Even with the extra pressure on the Evri delivery system and distribution network due to Royal Mail strikes, Evri seems, as a company, to be falling short on the general quality of their network service. Reports on BBC news have highlighted parcels being sorted outside in the elements due to no space inside their processing warehouses. These handling methods could lead to rainwater and moisture not only affecting the parcel contents (leading to damaged parcels being delivered with Evri), but also to address and distribution labels resulting in tracking mistakes and errors. This will obviously impact on the number of customers trying to contact Evri via livechat, phone or CEO email.
How to package parcels well to lessen the risk of issues with Evri's service.
To package parcels well for posting in the UK with Hermes (Evri), follow these steps below to ensure that they have the best chance of arriving safely at their destinations:
Choose the right box, envelope or mailing bag for your parcel. Make sure it is strong and sturdy so that it is able to withstand the rigours of the Evri courier system. As there have been news reports recently about Evri struggling to have space inside their buildings and warehouses to process parcels, some packages have been seen to be sorted and left outside at times – this means weatherproof packaging is best in case they get wet.
Protect your items well with Evri. Wrap them in bubble wrap or packing paper and place them in the middle of the packaging, away from the edges and corners. This will help to cushion them against impacts, drops and mishandling by the courier service. It's always worth taking a photo of how you packaged the item properly to back up complaining via live chat or the phone if the parcel doesn't arrive.
Secure the parcel well. Use strong parcel tape ideally. Failing that, use duct tape or a similar strong tape to seal the parcel before passing it on to the Evri or Royal Mail courier service. Make sure to reinforce the corners and edges, as these are the most likely to be damaged during transit.
Clearly address the parcel with a permanent pen. Write the destination address legibly and clearly on the front of the box. You can also include a return address in case the parcel is unable to be delivered. We highly suggest you use a Sharpie-style pen to label the parcel and potentially consider writing the address in capitals to ensure the address is clear for Evri staff not to mishandle or misdeliver.
Check postage weights and return methods. If you're sending parcels and packages via Evri yourself, make sure you've weighed and labelled them as directed in the emails and instructions. You can purchase Evri postage online and via their app. If you're returning an item from a store that uses Evri as their courier, for example ASOS, be sure you've read the individual company's returns policies and conditions. You're doing this to check if there's a responsible party if things go wrong and whether you're needing to contact the merchant or the courier.
In theory, by following these steps, you can help to ensure that your Evri parcels are delivered safely and on time to their intended destinations. However, there is a chance that even by attempting all of these methods above, you may still find you have issues and find it tricky to speak to an actual human or person at Evri (Hermes). There is one last thing to do in this circumstance – our Evri customer service number trick.
How to use a secret trick to speak to an actual human or person at Evri.
We discovered a little trick/hack/workaround that helps to get you through to a line in order speak to a real-life human or person at Evri. There's a chance that this method may stop working at any time as Evri tend to change their customer service numbers and preferred "methods of contact" all the time, but it's well worth a final try before exploring whether you can claim from your card provider or PayPal for losses depending on your payment method.
How to speak directly to a person at Evri
Call 0330 808 5456
From the automated options, request to track a parcel.
When prompted to track a parcel, enter the number (or choose from a list) of those that have been 'successfully' delivered – You do this as requesting tracking for the open "missing" parcel will just trigger the auto-replies from the chatbot. Using a successfully delivered tracking code will confuse them and get you through to a human being.
Once in touch with the human / person at Evri, give them the tracking number for the 'missing' parcel and hopefully they'll be able to assist or process a claim.
You can also go through the help centre pages and choose from the help centre pages the following:
I'm awaiting delivery > You asked me to contact you – don't worry if they haven't. Again you're just glitching the system to get what you need.
The chatbot, Holly should allow you to submit the relevant information which may be processed in a way that the local delivery hub looks into your case.