As the temperatures rise and the summer days stretch out before us, my boys (and myself) will no doubt be looking to fill at least a few days with some new and popular gaming titles. It's the perfect time to dive into an exciting new title and whether you're a seasoned gamer or just starting your journey, gaming via Steam Key and PC code sales offers convenience, flexibility, and a vast library of games to explore. This article will guide you on how to save on cloud gaming this summer, with a special focus on using a Kinguin discount code in their Summer Sale that can help you make the most of your gaming experience.
Kinguin's Summer Sale and Discount Code:
Kinguin.net, a trusted online marketplace for gamers, has kicked off its highly anticipated Summer Sale. This well-timed event brings a multitude of fantastic deals and discounts on a wide range of games, allowing you to save on some of their most popular titles. By using the discount code SUM12MER, you can enjoy an additional 12% off on eligible purchases. It's the perfect opportunity to grab some of the hottest titles at a fraction of their original cost.
Right now, gamers seeking huge discounts on Kinguin.net can dive into the captivating worlds of Mount and Blade 2, Six Days in Fallujah, No Man's Sky, and Grand Theft Auto 5 while keeping their wallets happy thanks to juicy discounts!
Use the Summer Sale Kinguin Discount code here.
What is Kinguin and how does their Summer Sale work to save gamers money?
Well-established over the last few years, Kinguin.net has become one of the go-to online marketplaces for gamers. It offers a digital service with a marketplace of sellers that can help maximise savings while immersing players in an incredible lineup of highly acclaimed games. Let's take a closer look at some of the top titles, featured in the Kinguin.net Summer Sale, that have received rave reviews from gaming enthusiasts and critics alike:
Mount and Blade 2: Bannerlord
Gamers can embark on an epic medieval adventure in Mount and Blade 2: Bannerlord. This highly immersive RPG allows you to forge your own path in a dynamic sandbox world, where you can engage in intense battles, lead armies, and build kingdoms. Take advantage of Kinguin's Summer Sale and apply the discount code SUM12MER to experience the thrill of this highly anticipated title while saving money.
Six Days in Fallujah
Not one for the younger players, but a well-reviewed title nevertheless. Immerse yourself in the harrowing events of the Iraq War with Six Days in Fallujah. Developed by the well-known gaming studio, Highwire Games, this realistic tactical shooter aims to provide an authentic and thought-provoking experience based on real-life events. Gamers can make the most of Kinguin's Summer sale to get an additional 12% off the already discounted title. So, take this opportunity to explore an intense and emotional journey on the cheap with the code SUM12MER.
No Man's Sky
I'm a huge fan of open-world exploration and until I dive head first into Starfield later this year, No Man's Sky has offered a nearly limitless galaxy of planets to explore and master. You too can embark on an endless (and affordable) exploration across a procedurally generated universe in No Man's Sky. Developed by Hello Games, this space exploration game offers breathtaking visuals, a vast sandbox environment, and endless opportunities for discovery. Take advantage of the Kinguin Summer Sale and the discount code SUM12MER to embark on your cosmic adventure at a discounted price – just £15.38 (at the time of writing and using the discount code).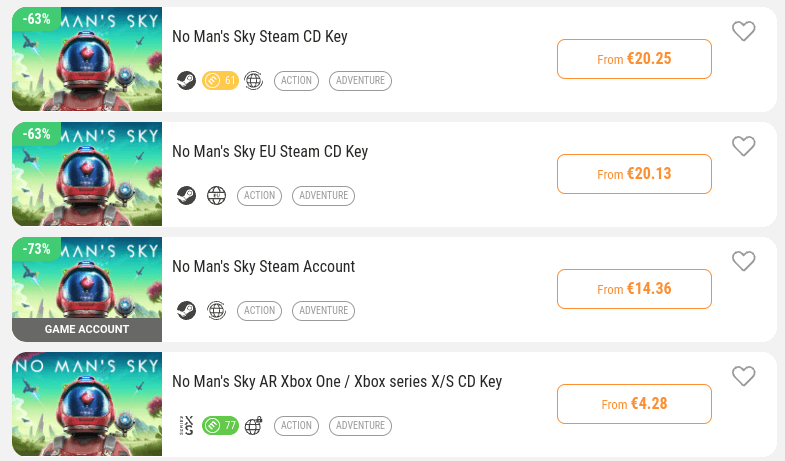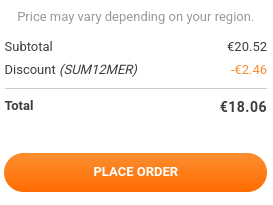 Grand Theft Auto 5
Our final gaming title in the Summer Sale recommendations is GTA5. Now, without breaking the bank, you too can experience the notorious underworld of Los Santos in Grand Theft Auto 5. Rockstar Games' masterpiece offers an immersive, colourful experience where you can engage in thrilling missions, build criminal empires, and wreak havoc across the city. Make the most of the Kinguin Summer Sale and discount code to dive into this critically acclaimed title and unleash your inner chaos.
Why I'd use a Kinguin discount code this summer to nab a bargain!
With over 48,000 reviews on Trustpilot, and averaging 4.4 out of 5, it's clear that Kinguin is well respected as a reputable seller of discounts for the digital gamer. Whether you're looking to use these titles directly on a PC, or via affordable cloud gaming, Kinguin represents a great way in – particularly with their sales and discount codes.
This summer, seize the opportunity to save big on cloud gaming with Kinguin's Summer Sale and the exclusive discount code SUM12MER. Whether you're drawn to the medieval battles of Mount and Blade 2: Bannerlord, the gripping realism of Six Days in Fallujah, the limitless exploration of No Man's Sky, or the criminal escapades of Grand Theft Auto 5, Kinguin has you covered.
Until 1st September 2023, Visit Kinguin.net and use the code SUM12MER to immerse yourself in these captivating gaming experiences while enjoying the thrill of summer savings. It's time to level up your gaming library without straining your budget! Plus, if you vote on your favourite game in the sale, there's a chance you'll get 14% off the title if it's the most popular in the vote.
Savvy Side Read: Now could be the best time to look into your existing broadband deals to support decent cloud gaming. Why not check out how to make sure you're getting the best prices and packages as an existing customer with your provider?