Over the past year, due to lockdown, I found that my shopping habits varied in terms of where I'm buying products from and wine has been no different. Whether it's buying supermarket wine, using wine subscription boxes or simply looking at supermarket wine reviews, I found there's a wine deal to be had no matter what your budget and taste. With this in mind, I've outlined below some of my favourites that I consider the best supermarket wines. These are from a range of retailers along with offers and deals for acquiring them.
Best Supermarket Wine Reviews – M&S wine clearance
Marks and Spencer offer a range of different M&S wine offers in-store depending on the size you can often get some great deals. because M&S under traditional supermarket they don't tend to have offers for 25% off six bottles of wine like some other retailers. however, they tend to have quite a good selection of French and Italian wines including some top-shelf bottles which often reduced down on a weekly or monthly basis.
M&S are also great, at the time of writing this, for some cheap plonk. Introduced at the start of lockdown, it isn't going to set the world on fire but the £5 red and white range from M&S are great value on an M&S wine offer clearance price. Ideal for the occasional glass, even though it's nothing special. Currently, if you can find stock, there is:
M&S Ripe & Fruity White –  £3 per bottle
On clearance at £3 per bottle. It may be marked up as more, but seems to scan through at the £3 point. It's the bottle with a black and orange label and is a Spanish, medium-sweet wine at 10%. It won't set the world on fire, but as a basic supermarket wine, it reviews better and is slightly more palatable than…
M&S 'Fruity & Intense' Italian Red – £2.68 per bottle
This 'intense' red is ideal as a cooking wine at only £2.68 per bottle. Again, just like the M&S 'Ripe & Fruity' wine, it's marked up in most stores right now as a £5 bottle – but scans at less! In all honesty, it's a pleasant, fruity, drinking wine, but don't expect much pop as it's certainly not as intense as the name suggests. You'll find it in your M&S wine offers section with a red label on the bottle. The M&S Fruity & Intense Red is an Italian number which is one of a growing number of well priced vegan wines on offer in M&S.
Why not see how the M&S Supermarket Dry Amontillado Sherry stacks up as one of the best supermarket wines at £1.79 per bottle!
On a side note… If you like your sherry all year round and not just for Christmas, there's a basic £8 Dry Amontillado Sherry reduced to just £1.79 in some M&S wine offer sections. This should be available nationwide, but I expect it's only while they clear the stock and it might be marked up full price, so ask a staff member to price check it for you. The bottle has a cream-coloured oval label which should help you spot this great value sherry.
Aldi Supermarket Wine Offers and Reviews.
I'll be completely honest with you, it's only the last few years or so that have seen me include stores like Aldi and Lidl in my considerations when choosing a supermarket. I'm not quite sure why it's taken me this long to realise the great value supermarket deals at Aldi. The discount supermarket chain has taken an increasing market share and shown that waging a consumer price war against the likes of Sainsbury's, Asda, Waitrose and Tesco don't have to come at the expense of quality. In all truth, I'd say the quality of Aldi wines and meats is on par, if not better than the other chains. When it comes to UK supermarket wine reviews, Aldi stacks up well and even has it's own Aldi Wine Tasting Club that opens up applications for free wine testing throughout the year.
Aldi Argentinian Malbec is one of the best supermarket wines – £5.79 per bottle
Aldi has always had surprisingly affordable wines that actually taste great too! I've long been a fan of their Aldi Argentinian Malbecs and whilst they've changed the bottle a few times, the same great taste remains. You could go for the French Aldi Malbec-Syrah (currently £4.49 per bottle), which is cheap and reviews well as a UK supermarket wine. But personally, I'd shell out slightly more for the newest incarnation of the Aldi Argentinian Malbec. It's well rounded and is now part of Aldi's vegan range of great value wines too.
If you're going to go for a full-bodied red, in my opinion, you simply have to go for an Argentinian Malbec. These tend to be beautifully rounded with a taste and texture that coats the tongue completely. It's a warming wine, perfect for drinking slowly alongside a game of cards or a simple charcuterie board to discuss the day's events over.
You can, of course, source an Argentinian Malbec from a number of places, but I highly recommend the Aldi version or Sainsbury's also do a lovely vegan Caminada Malbec at a reasonable £5.25 per bottle price. The Caminada Vegan Argentine Malbec is slightly 'smokier' in taste making it ideal for an accompaniment to meats or a steaming pot of slow cooker chilli con carne.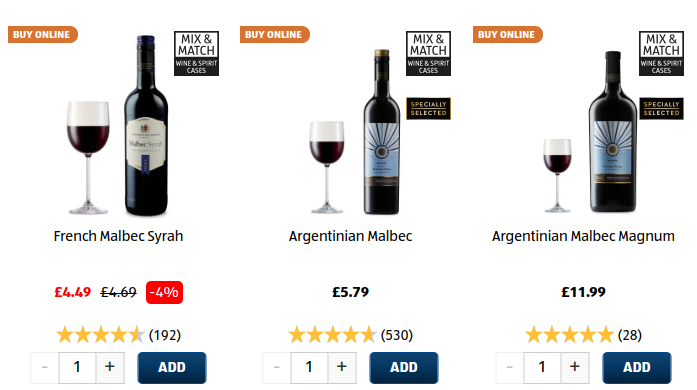 Aldi Organic Prosecco.
Not only is this prosecco from Aldi organic and vegan, but it's also the most delicious white fizz I've ever sampled. It is beautifully presented in a short bottle and is ideal for the occasional celebration or gifting. Even at its regular price, it won't break the bank, coming in at around £6.99 – £7.99 bottle. It's one of a number of great vegan wines from Aldi.
It is a delightful prosecco. Very fizzy on the tongue and tastes tremendously authentic – not synthetic as you sometimes get with the cheap bottles of supermarket prosecco. This is not to say that they are synthetic, but you can get that often plastic-eating with a cheap prosecco but not with this one tastes very very light really drinkable and very very very tasty thank you very much.
Best supermarket wines and subscription box deals.
Sainsbury's Taste the Difference Languedoc.
I'm a fan of Sainsbury's Taste The Difference wines as these can often be bought via nectar points and stack on a good Sainbury wine offer. One of my favourites tends to be the Languedoc which is again a full-bodied red perfect for sampling alongside a red meat dish such as a steak or alongside a carb-fest of a pasta dish. It usually retails around £7.50, but again keep your eye out for offers on the new Nectar app and for stacking 25% off 6 bottle supermarket wine deals. I've bought the Languedoc a few times now using my Nectar card and each week I get a 200 Nectar point offer reloaded within the app, so it's well worth using the app.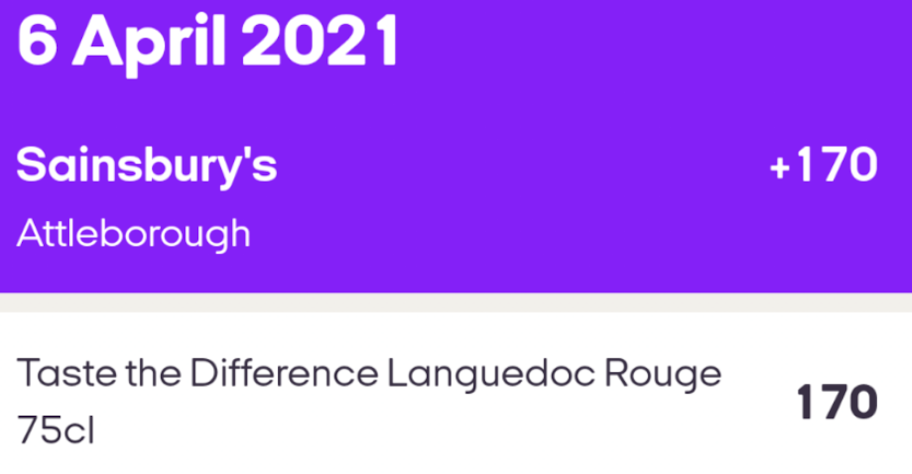 Asda Extra Special Cremant de Loire
I'll be honest, I had not tried this white before some lovely friends brought a bottle round to share over a slimming world chicken tikka masala. It's simply amazing as an alternative to prosecco or champagne and the Asda Extra Special Cremant de Loire represents great value for money as a budget supermarket sparkling wine. Like all sparkling wines, this Cremant de Loire is ideal for toasting, sipping, and letting the bubbles go to your head over good conversation with friends. It's usually available for around £8 per bottle and if you can't find the Organic Aldi Prosecco mentioned earlier in this article, this is the next best thing.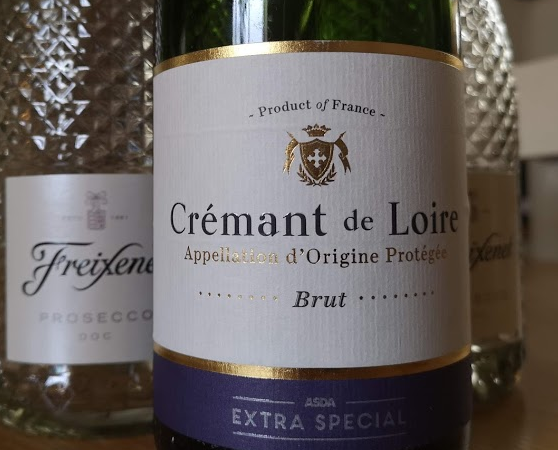 Georges Duboeuf Fleurie
It's deliciously textured and tasty on the palate without being overbearing or overpowering.  I've tried a few different vintages of this and found them all to be delightful. The Georges DuBoeuf Fleurie is usually cheapest in Sainsbury's, particularly if you've noticed a stacking supermarket wine deal or offer. However, you can also use the Wines Direct price comparison tool to find other suppliers and Amazon occasionally has stock for a limited amount of time at around £10 per bottle. It is a hugely versatile wine and it would lend itself to many dishes. For myself, I would mainly consider it alongside a meaty pasta.
Virgin wine subscription box offers
I'm never quite sure whether to use wine subscription companies because a couple of them I reached out to ask questions never replied to my emails. However, Virgin Wines was one of the companies that replied to my questions and emails and when I looked up the Virgin wine offers and deals available there is an array of different options.
I recently bought a new Slate Grey Swan microwave and part of the package included a voucher for a discount on a Virgin Wines subscription box. When accessing Virgin Wines via a discount code or voucher it makes them an affordable introduction into the world of wine subscription. Using the code, SWAN50 I was able to get £50 off my Virgin Wines Discovery Club 12 bottle box. In particular, I loved the 16 Little Black Pigs Shiraz (Usually around £10) and The Black Pig Sauvignon Blanc 2020 (around £12-£13).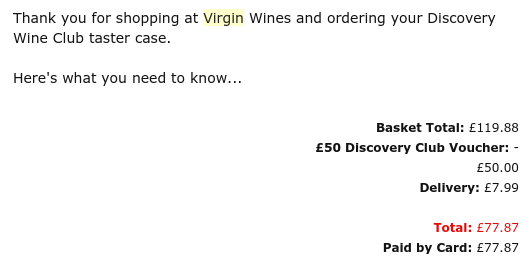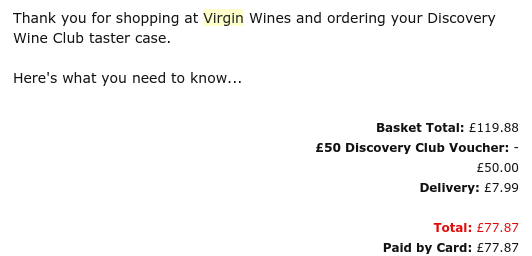 There was a range of great wines within this pack and it gave me a chance to try something different to the norm. I would always suggest if you're looking to try using subscription boxes, making use of introduction offers and vouchers first to see which ones you like. Also, remember to cancel at the end of your trial month and try and other wine subscription companies before deciding if you wish to continue with any of them in particular. At full price, they're not quite as good value.
NOTE: Please drink responsibly and always know the % you're drinking.