Over the last few years, I've been able to enjoy the supermarket wines that I like for less. This is due to a number of tips and tricks to get wine offers from supermarkets for 25 percent off or more. Easier than making your own wine, Usually, I access these savings via a combination of the 25% off 6 bottles of wine offers and delays in supermarkets updating their till prices and SELs (Shelf Edge Labels). To help show readers how this works I've included a few of the deals from my Facebook deals group from the last few years as examples. I suggest using these as a rough guide to how you can get multiple savings on 25 off wine deals in some supermarkets. You'll also need to know when the expected future supermarket wine sale dates are for stores like Sainsbury's, Tescos, Waitrose and M&S.
How to get 25 % off wine offers using stacking supermarket deals and wine sale dates
Here are some example quotes from my Savvy Dad Facebook Deals page on how the wine discounts can work from similar deals, glitches and price updates over the last few years. The first quote below was from a deal where offers overlapped for one day. In this case it was a previous 3 for 2 supermarket wine offer and a new 25 % off 6 bottles of wine deal coinciding.
"SAVVY "POTENTIAL" WINE GLITCH – An example from a few years back…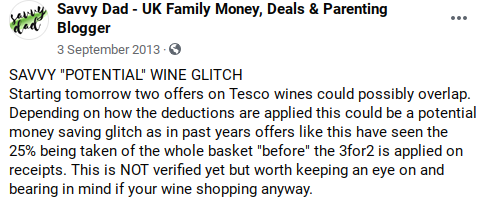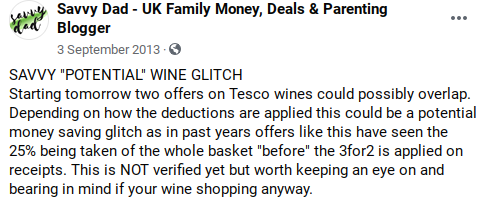 A similar technique worked in another deal a few years later for me on huge 1.5 litre magnums of prosecco. These were 50% off and then the price stacked with the 25% of 6 bottles or more deal for one day when it ended (giving both discounts on the receipt). In my experience, this has worked best at Tesco stores for overlapping deals.
How to get 25 % off wine using supermarket wine sale dates
There are a variety of difference launch dates in 2021 for the popular 25 % off wine deals at supermarkets like Sainsbury's, Tescos, Waitrose and M&S. To help make the most of these and find out when they're updated bookmark and return to this page regularly.
Note that usually the supermarket 20 off 6 bottles of wine deals are designed to work on battles of a minimum price (around £3 or £3.50). However, this price point is usually based on the original SEL (shelf edge label) price "before"  discounts. Therefore you may be able to get bottles that were originally high value for significantly less; like the prosecco deal mentioned earlier.
When are the supermarket wine sale dates in 2021?
I've split the "likely dates for these deals into sections for the relevant supermarkets and chains offering 25% off wine deals. As mentioned previously the supermarket I've had most luck "stacking" offers in is Tesco. If you spot a deal on your favourite wine at the Tesco wine store try buying in store on the day the 25 percent off 6 bottles deal starts and you may get the sale price you've spotted AND the 25% discount for 6 bottles stacking.
25 off wine at M&S wine offers on 6 bottles including 2021 deal dates.
Any M&S 25% off wine deals can stack very nicely with coupons and vouchers such as the conditional spend vouchers handed out at tills. When you visit looking for M&S wine offers, head straight to customer services and the tills and politely ask if they have and promotional coupons leaflets. Often there's a huge pile and whilst these are usually given out when you do a shop, I've found staff will happily hand one out if they'll know you're shopping there anyway. Usually, the vouchers are £5 off £35 and can be used on top of offers like the M&S wine offers in the popular M&S dine-in deals.
Shop for 25 % off M&S wine offer in their Wine Deals.
Next Expected Date of M&S wine offers: Friday 22nd November 2021- Tuesday 3rd December 2021
Asda 25 off wine offers on 6 bottles deal dates.
Next Expected Date: After August Bank 2021, Potentially the last weekend in June 2021 or early July to coincide with the beginning of the summer holiday season. Mid-August 2021 for the Bank Holiday weekend.
Asda 25 off wine Previous Dates: Monday 16th November 2020 – Sunday 22nd December 2020, Monday 25th November – Monday 9th December 2020
Access the Asda Wines deals here. The Asda Extra Special Cremant de Loire fares well in supermarket wine reviews.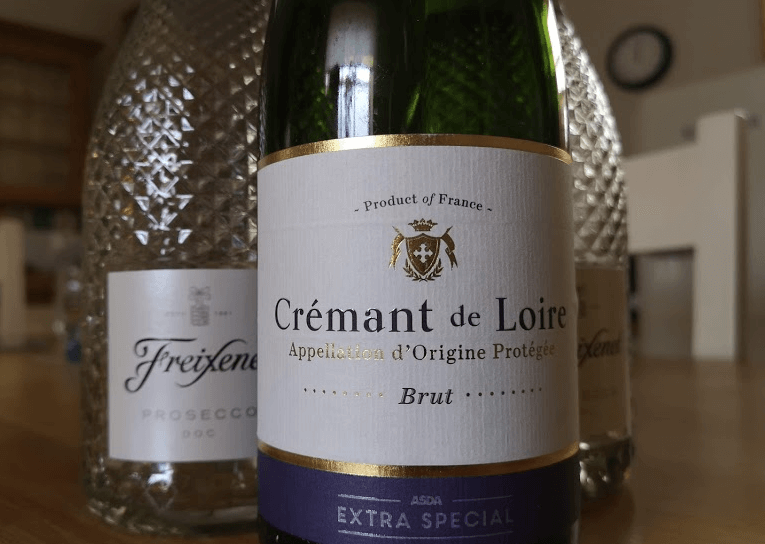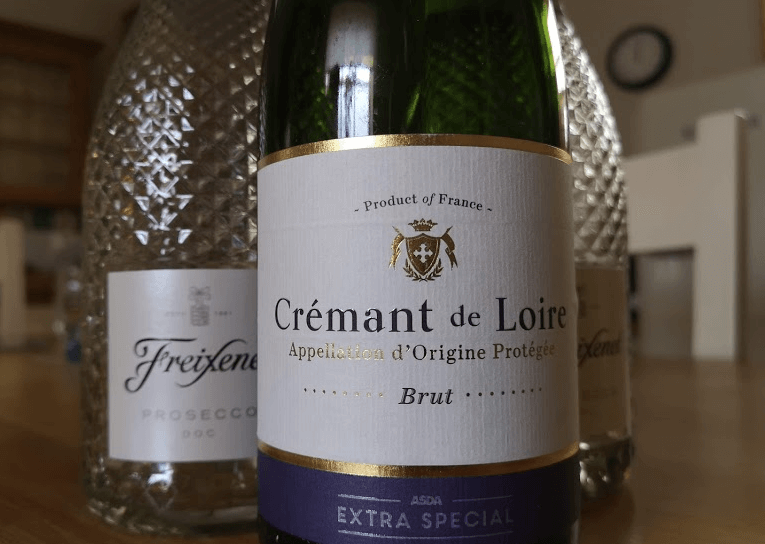 25 % off at Tesco on 6 bottles of wine deal dates.
As mentioned earlier, this is my most regular route to access cheap wine via a 25% off 6 bottles deal. Tesco is reliably doing these promotions and the next expected date is…
Next Expected Date: After April Bank Holiday 2021, most likely 21st May 2021 – 25th May 2021
Previous Date: Tuesday 19th November 2020 – Monday 2nd December 2020
You can look online for current offers and prices in the run-up to the event via the Tesco Wine section.
25% off at Sainsbury's on 6 bottles of wine deal dates.
Sainsbury's is a particularly useful supermarket for stacking offers as you can use the New Nectar "double up" events to cash in on wines (usually from Taste the Difference ranges). Whilst this is mainly of use in the winter near Christmas, it can come into play at other times during the year and stack. Sainsbury's also have an amazing selection of vegan supermarket wines, as do Aldi.
Next Expected Date:  21st August 2021 – Sunday 31st August 2021
Previous Date: Monday 25th November 2020 – Sunday 15th December 2020