Three Lads and a Family Tent – Budget Luxury Camping
I don't know about you but I'm ready to get out into the wider world again. Despite foreign travel looking like it might be a way off for my family right now, we're eager to at least get outside and enjoy some kind of staycation away from the Sky TV. Yes, there's a whole host of hotels, rentals and holiday lets opening back up. But recent I heard a recent report on the radio detailing how many are cashing in on the UK travellers and have actually raised their prices higher than those pre-lockdown. With that in mind, I was eager to go about exploring what budget-savvy equipment was around for camping. I made my list of needs with my boys and settled down in front of my laptop, ready to put together the ultimate family tent shop. Would the amazingly priced Trail Outdoor Leisure site also offer decent quality for the price? Let's find out.
How to plan a Family Tent shop with Trail Outdoor Leisure
First off I wanted to base the experience on the standard "norm" in terms of a family situation. This being two adults and two children. However, I couldn't persuade my lovely partner to join us on this endeavour. She strongly believes in a great saying she once heard from the late, great Terry Wogan…
"Why would anyone holiday in a place of a lesser standard than their own home – Terry Wogan"
I can see her point. Wogan's view backs it up quite vividly, pointing out that camping does give up a dazzling array of home luxuries and conveniences. But does that mean there's no fun to be had sleeping in a field with only a sheet of canvas between yourself and the elements? No, not at all. As long as any budding camper has planned well, there's plenty of fun to be had.
What is the best family tent for my budget?
Right, if planning is essential for a successful expedition into the wilds (or the back garden) then a list of resources is needed. These are the basic provisions and equipment we decided on in order to have a comfortable foray into family camping:
Enough fold out chairs for a family of 4
2 x Child's sleeping bags
2 x adult "mummy" sleeping bags
Folding table
Inflatable camping mattresses
A mode of carrying (trolley of bag)
Simple provisions for campfire cooking.
As you can see, a tent is first on the list. A decent 2 room family tent has to be the most important piece of kit. If it's poorly designed, too awkwardly packed, of the wrong dimensions or built of substandard materials it could spoil the whole trip. The Trail Outdoor Leisure site had a decent looking Hartland 4 Man 2 Room Tent in their shop. Listed at an RRP of £149, it's reduced to just £99 at the time of writing this article.
At 140cm in maximum assembled height, hopefully the tent should give enough internal space for comfort should the weather bad and the need for shelter become apparent.
The tent also needed to have two compartments. If my boys nod off early, it's nice to have an extra space to spread into and not disturb them.
How easy were the items to carry, assemble and use when camping?
We really did fall on our feet with one of the items on our list from the initial family tent shop we ordered. I'm referring to a folding camping and beach trolley. Whilst quite heavy, it was compact enough to fit in the footwell of a car and folded out to contain and carry all of the camping equipment we planned to use.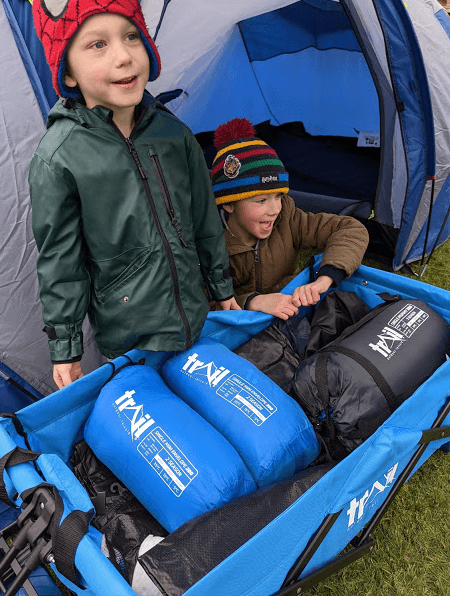 Once we had unpacked the bags from the trolley at our chosen spot the trolley served as an ideal vessel for collecting sticks and firewood. It was easy to move for both myself and my young boys.
I had a reasonably sore back on the day of our camping trip. I'd pulled a few muscles in my back doing a spot of home decorating and wasn't completely looking forward to all the movement involved with putting up a tent. I needn't have worried though. The Hartland 4 man 2 room family tent was a doddle to put up with minimal assistance.
I'd always suggest at least two adults putting up a tent, particularly if there's a stiff breeze around. But the Hartland model was easy to peg out while placing in tent poles and the instructions were simple to follow. It took around 20 minutes to leisurely erect the tent and peg out the securing ropes.
Space and comfort once assembled
Once assembled, the weather started to cool and turn with spots of rain. We opted to set up only one of the internal rooms and leave the other compartment free for our fold out chairs and trolley. All of which fitted neatly inside with space to spare while the rain passed.
The 2 room family tent was ideal for our needs and balanced lightweight materials with sections that joined easily without fuss. Once the self-inflating double mattress was placed in the sleeping compartment and our sleeping bags were rolled out, we were ready for our evening fire before turning in. The kid's sleeping bags were rated down to 5 degrees and the adult mummy-style sleeping bags were rated down to -10 degrees so we opted to stay in one compartment for the evening and there was just the right amount of room for three people. We would certainly have needed to install the other compartment if we had 4+ persons, or adults rather than kids.
Are you sacrificing premium quality when looking for the best value camping shop accessories?
I'm always keen to make sure items offer good value for money. This doesn't mean the items have to have a hefty price tag – far from it. It merely means that the quality and experience has to reflect the price the item is sold at. The family camping goods on offer from Trail Outdoor Leisure seem to be a good, solid, fair priced offering with a number of things to mention, which I've outlined below
Pros of the equipment we used
The folding camping and beach trolley was an amazing luxury that really added to our experience. It was strong, robust and well-made, including a common-sense folding and securing method the the whole family could understand.
The 2 room family tent was easy to assemble quickly, had a good internal capacity and toggles that were easy to attach for the inner compartments.
The high-visibility tent ropes are a great touch, particularly when camping with little ones that sometimes neglect to pay full attention to where they're walking.
All of the equipment was not only easy to fold out and assembly, but also a doddle to pack away. None of the bags were too snug that we couldn't get their contents back inside ready for departure.
The 2 room family tent was surprisingly comfortable in terms of air flow and the compartments were the ideal size for the self-inflating double mattresses we had.
Cons of the items we used
There were very few cons, but one was the high back adult chairs. They were comfortable and easy to use but we felt the high section could have had more support behind the shoulders and neck. As is was the material at the top seemed surplus and not completely thought out.
We had two self-inflating double mattresses. This was lucky as one of them simply didn't want to inflate particularly well. It still gave a little extra comfort, but not the depth intended. I suspect the one we had was slightly faulty as the other inflated fine and was amazingly comfortable.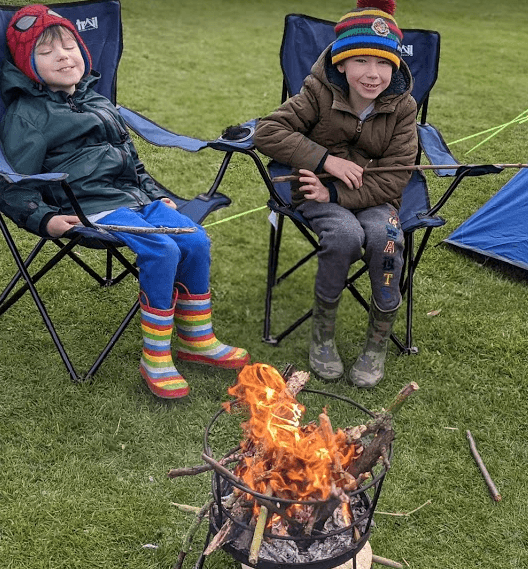 Conclusions on cost and value for money
Overall, if a budding camper was to purchase the items we mentioned above for a family of four, it would amount to around £369. Now, I don't believe that's bad for the amount of kit you get, the overall quality and the fold away trolley to carry it all in. We thoroughly enjoyed using all of our gear and can't wait to get out and explore more campsites soon. The kit gets the Savvy Dad seal of approval, particularly the tent and trolley which is ideal for those looking to engage in camping while transporting sport equipment for activities like hiking, cycling and SUP paddle boarding.
We headed back home full of smiles and ready for a Sunday lunch with homemade yorkshire puddings.
Disclosure: Items from our family tent shop were supplied by Trail Outdoor Leisure but our review, comments and opinions remain our own.