If you're looking to paddle board in Norwich and the surrounding areas on the River Wensum, look no further for providers. I've noticed a recent increase in the paddleboarding and day boat hire venues in and around Norwich and Norfolk and I have to say, taking in a pint at a decent pub and enjoying a paddle sounds a great way to get out without interacting too much with the post-pandemic hordes.
With this in mind, I've selflessly dragged myself around Norwich to check out some of the paddle board and SUP boarding hire venues and what they have to offer in terms of the vicinity (aka, nearby Pubs) and costs.
Where is there to Paddle Board near me in Norfolk?
There is a huge range of venues where you can hire or rent boards in the UK. Norfolk and East Anglia offers great access to paddleboarding on the rovers and Norfolk Broads AONB. In general boarding falls into three categories:
Paddle boarding lessons and group activities.
Inflatable or solid boards hire for the rivers and broads (day hire).
City-based hire, usually situated by facilities such as pubs and eateries.
For the purposes of this article, I'm focusing on the third option, as I believe it offers a great first experience and allows you to see cities like Norwich in a new light.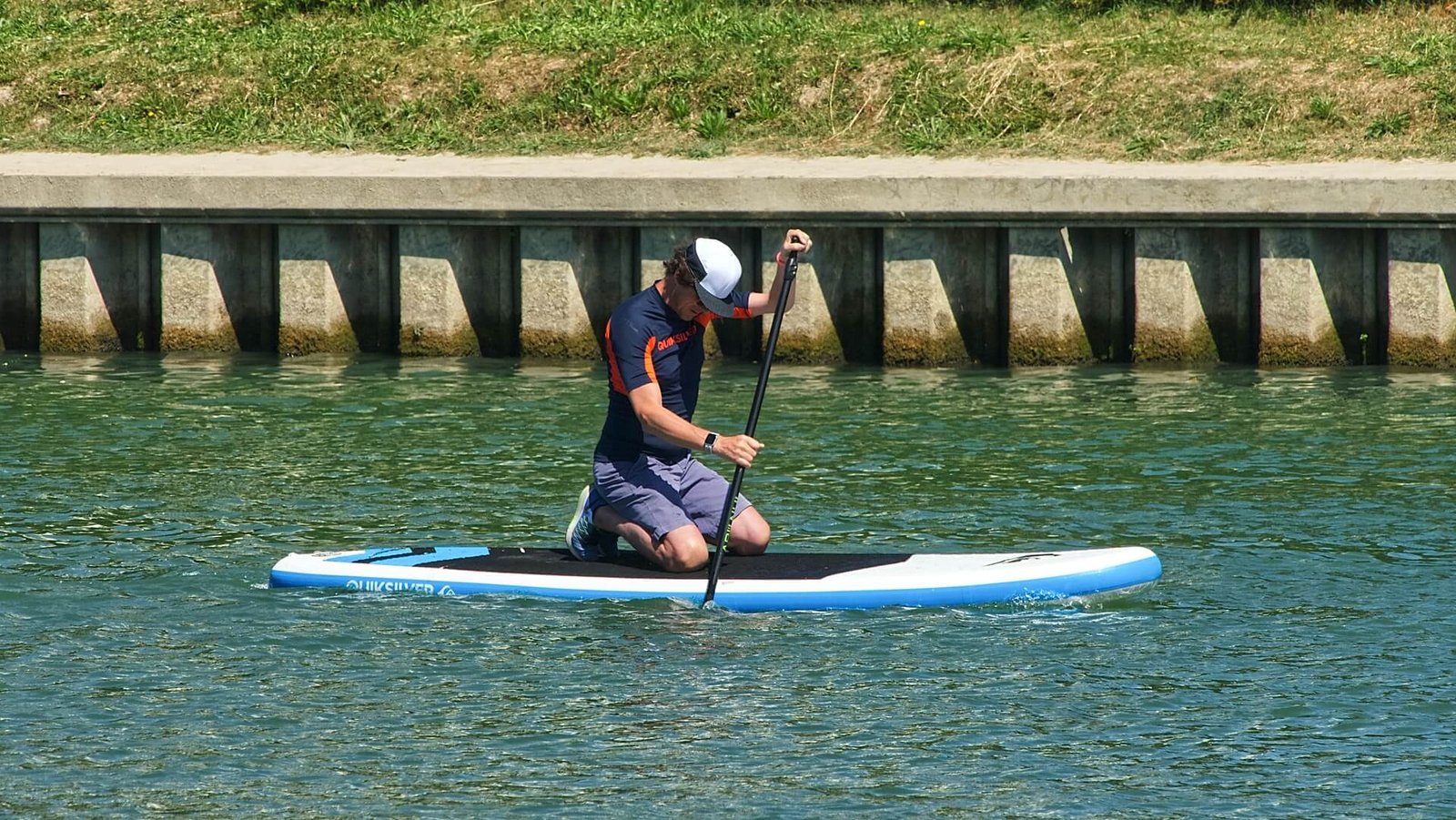 So, what is Paddle boarding or SUP Boarding?
If you're looking to buy an entry inflatable board like the Aldi paddle board or the Tesco paddle board, you may be worried about how much paddle poards cost? Well, the Tesco/Bestway Hydro Force SUP has been as cheap as £150, but is currently around £290 on Amazon as no longer available from Tesco Direct. Most boards in the UK are around £250-£350 to buy which is why some potential boarders choose to introduce themselves to the activity via finding a paddle board rental or hire company as the next best thing.
Believed to hail originally from countries like Hawaii, SUP is an acronym for "stand up Paddleboarding". The activity can involve yoga, racing, group and even boarding with your dog! It can be a great way to access fitness and relaxation in an alternative setting to a gym while giving some of the below advantages:
A full-body workout for fine and gross motor skills
Core strength work, similar to resistance training in a home gym or yoga setup.
Help achieve relaxation and mindfulness
Improve navigation skills and experience environment from a different perspective.
Escape the world with a calming and relaxing activity
Be a great team-building or group activity.
Paddle boards come in both solid resin designs and inflatable versions. Whilst a solid board will be longer and more durable, as long as you have a suitable paddle board pump, inflatables give much more versatility and ease of transport.
One of the most popular brands is the Jobe paddle board. Whilst they are of amazing quality and well-reviewed, they cost upwards of £700 to buy.
Can you Paddle Board near a pub in Norwich?
To sample the best paddle boarding Norwich has to offer, check out some of the venues on offer below. They all vary greatly in terms of their costs and length of hire. Whilst the ultimate experience you get from the paddleboarding in Norwich is down to the time on the river and the company with which you choose to paddle board, a decent pub nearby doesn't hurt. That's why I'm kicking off my list of Norwich paddle board hire near me with Norfolk Paddle Boards, located just next to the amazing Red Lion Bishopgate.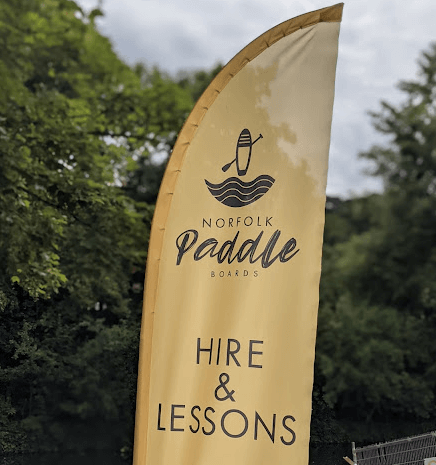 Norfolk Paddle board hire near Red Lion Bishopgate Pub ( RLB ) in Norwich
The regeneration of the area of Norwich around Bishopgate has been in no small part of the new ownership of the RLB. They work in partnership with Norfolk Paddle Boards to offer lessons via Lee and the Norfolk Paddle Board staff who use a slipway located just behind the Red Lion Bishopgate.
Those looking to take in the river around the north of Norwich City centre are best to access paddle boarding from here as the rivers are beautifully tranquil and take in sights like Cow Tower, Pull's Ferry and iconic views of Norwich Cathedral.
SUP and paddle boarding hire for Norfolk Paddle Boards can be accessed directly from the team's website or via the RLB website while you're browsing their amazing new menu!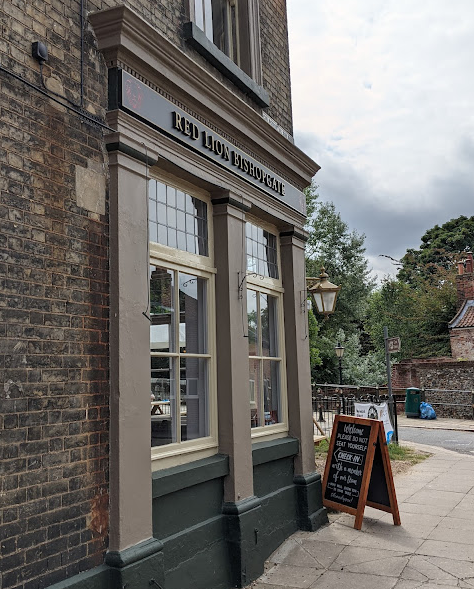 What is the food and service like at RLB?
I've been lucky enough to try out the menu at RLB since the recent reopening and both the staff and menu are relaxed, yet amazing. The staff are courteous and the outdoor terrace is ideal for overlooking the river in the shadow of Cow Tower. We popped in on a quiet Monday and the Eggs Benedict, Ham Hock crumpets were ideal to start the day off with a light, tasty brunch.
If you're looking to paddle board this area, RLB has its own car park for around 20 cars and the Adam & Eve pub has a pay and display also a short distance away near the Jarrold Bridge.
The Red Lion Day Paddle Hire costs around £34.95 at the time of writing this article and you can launch your own inflated SUP here also and take advantage of the RLB's menu at the same time. Hire lasts from 9:30am until 4:30pm.
If you're looking to work your way in the other direction around the River Wensum, check out the company's Rivergarden Day Paddle Hire for access to other areas further out of the city centre of Norfolk and closer to the Norfolk Broads.
RLB, or The Red Lion Bishopgate, is a truly transformed venue under its new ownership. For those sauntering into the amazing heritage city that is Norwich, crossing the bridge at Bishopgate and seeing this sympathetically restored, yet updated public house return to the life of its previous days is really something to behold.
Situated on a natural pedestrian gate to the city, RLB offers a range of food menus from brunch to a full slap-up Sunday lunch with a constantly changing menu to suit all tastes. It has been very popular since reopening so booking is advisable during busy periods.
If you're a fan of independent breweries like the Fat Cat, you'll appreciate that RLB is a Freehouse and as such, you can sample an array of ales and draft beers while resting at the riverside. While mentioning The Fat Cat Brewery, The Fat Cat and Canary is only a short distance from The Rivergarden SUP hire venue mentioned above.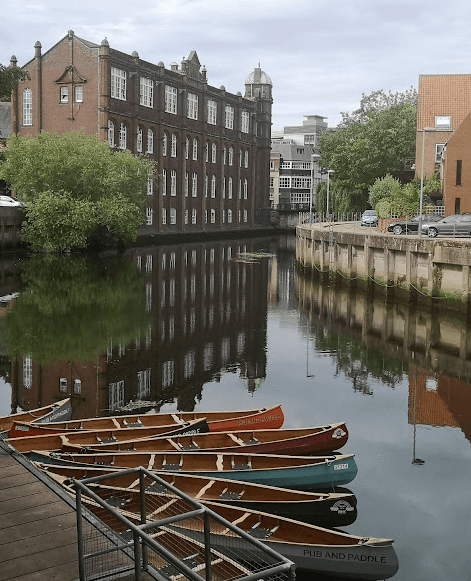 Pub and Paddle with the Ribs of Beef near Elm Hill, Norwich.
Probably the most central of the SUP hire venues in Norwich, The Ribs of Beek offer a variety of craft to take to the water in Norfolk. They offer a series of "trips", with their shortest option taking in the sights of the River Wensum and circling around past the RLB/Cowe Tower section mentioned earlier. It takes a little longer to escape the city than launching from RLB, so the Pup and Paddle options from The Ribs of Beef is probably best for those wishing to saunter around Norwich more than those venturing further out. However, this depends on your competence and aims for the day.
Whitlingham Broad is around 30 minutes paddle out, and whilst the craft from other venues cannot access the board, they can pass by on the River Wensum. Incidentally, Whitlingham Adventure also offers SUP lessons on the broad for £10 per hour.
The Pub and Paddle team offer a variety of packages from £20 per person to £30 per person depending on the distance you're wanting to head out. Along their routes, you can take in great Norwich pubs like The Rushcutters, The Waters Edge and the stunning Coldham Hall in Surlingham.
Surlingham and Bramerton areas are great for those wishing to truly escape the city and witness more nature and wildlife. Keep in mind though that unless you're experienced, the chances of making it back into the city within a day are small. You can leave hired craft in Surlingham after hire, but you'll need to get a taxi or lift back into the city afterwards.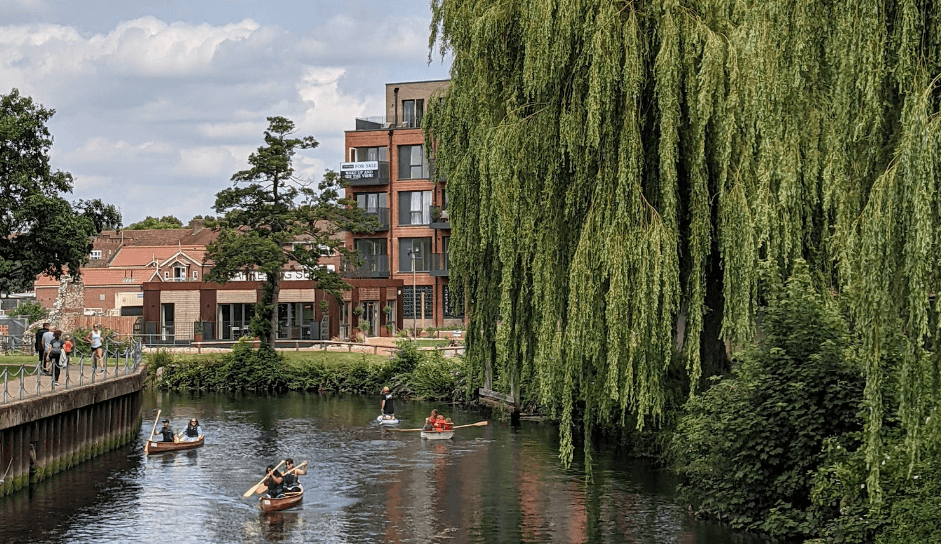 Norwich Paddle board hire near Gibraltar Gardens Pub in Norwich
Another place to sample the best paddle boarding Norwich has to offer is Norwich Paddleboard Hire. They have officially launched a new base at Gibraltar Gardens pub located on Heigham Street. They offer access straight into the River Wensum, plus all the convenience of a decent food and drinks menu within Gibraltar Gardens itself. The venue offer steaks, burgers, and light bites. I must say the King Halloumi Burger sounds amazing at just £9.96.
If you're planning on a spot of walking or cycling, there are also numerous footpaths and Marriott's Way that work their way in and out of the city. This can be ideal if families with to mix up their activities between bike and paddle boarding, meeting up along the way. There's also the amazing Anderson's Meadow – a little oasis of greenery, perfect for a picnic, tucked away in an area that can be otherwise a little underwhelming aesthetically.
Gibraltar Gardens is one of the venues that offers paddle board hire near me and is situated to the west of Norwich city centre. The offering at Gibraltar Gardens for paddleboarding is great for accessing the River Wensum. They offer both single and tandem boards, plus a unique 6 person paddleboarding experience.
As well as the hire options for the River Wensum at Gibraltar gardens mentioned above, they also offer special sunset and SUP yoga sessions for those looking to access these in and around Norwich.
Compared to shelling out the cash for the expensive Jobe paddle board, using the rental and hire venues mentioned above for Norwich and Norfolk really is a no-brainer to try out the sport.