If you're a fan of media streaming and gaming, you know that the options can get expensive quickly. That's why I've previously written about using the powerful (but pricier) NVIDIA Shield TV Pro to access cloud gaming and streaming on the cheap through the use of Steam keys and codes from budget sites and resellers, as well as taking advantage of EPIC free games giveaways. However, the Amazon Firestick and Fire TV Cube are far more common in the UK and offer a more budget-friendly option for accessing a wide range of content on your TV. In this article, we'll be exploring the best apps for getting the most out of your Amazon Firestick or Fire TV Cube, covering streaming, gaming, and productivity. Before we get started, if you're looking to tidy up your cable and home tech, why not read our article about the best extension power leads and adapters?
Netflix:
The shining light of streaming content. This app has everything from critically-acclaimed original series like "Stranger Things" and "The Crown" to classic movies. Perfect for a binge-watch session (or ten). A special treat to look forward to in the next year is the Netflix series based on the hit game, "The Last of Us" and content from other continents is potentially available via a VPN making this a great alternative to Sky TV.
BBC iPlayer:
The Beeb is a British institution and the iPlayer gives you access to a range of shows, both live and on demand. With a diverse lineup of programming, you can always find something to watch and it's one of the best free UK tv streaming sites. For example, in our house, we love a good quizzy Monday with "Only Connect" and "University Challenge". However, missing them is not an issue thanks to the now-updated BBC iPlayer App available on the Amazon Firestick TV.
The once laggy and buggy interface, has now been updated to a sleek and smooth user interface, giving access to dramas like "Line of Duty" and "Doctor Who" and comedies like "Would I Lie to You?" The Beeb offers a little taste of whatever you're family might be after, not to mention the fact that it has a rich history of producing groundbreaking and internationally acclaimed content that spans decades.
Disney+
:
Feeling nostalgic? Dive into the magic of Disney with this app, featuring all your favourite movies and TV shows like "The Mandalorian" and great films like "Prey". The app makes it easy to set up multiple profiles for the whole family, so everyone can have their own personalized viewing experience. It's also the home to animated classics from Pixar, like "Toy Story" and "Up". And for the savvy readers out there, did you know you can often find discounts on Disney+ membership by looking for well-reviewed sellers on eBay for unwanted subscription codes? Again, with a huge catalogue and constantly new material such as the new "Willow" series, Disney+ is a great alternative to Sky TV costs.
ITV Hub / ITVX
:
Love a good soap opera? The ITV Hub, or ITVx as it is now called, is another free UK tv streaming site and has all the drama (and hopefully some romance) you could ever want, with shows like "Coronation Street" and "Emmerdale". And for those who are looking for even more content, the recent update and extra content from ITVx, offers a range of additional shows and live events. It's aimed at providing a wider range of content for the more youthful audiences and will include a variety of entertainment shows, dramas and factual content for Amazon devices.
My5
:
Just like the ITV Hub and ITVx, you can expect to see adverts in the content streamed from My5. Although I confess to not using this app much, Channel 5 has some hidden gems in their lineup. Check out My5 for reality TV like "Celebrity Big Brother" and "The Apprentice UK", as well as some decent documentaries. Content in general on this Fire TV compatible streaming app is US-based.
All 4
:
Looking for a laugh? Channel 4's app for the Amazon Firestick TV gives you all the Little Alex Horne you could need. Great selection of comedies like "Taskmaster" and "8 out of 10 Cats does Countdown", as well as some genuinely interesting documentaries and mini-series. The All4 App works well on the Fire TV Stick and hosts a range of full box sets from the Channel's content history.
NOW
:
Don't have a Sky subscription or still haggling with Sky for a better deal? No problem! NOW lets you stream a range of Sky content on a pay-per-view basis, including shows like "Game of Thrones" and "Chernobyl". The app is free but access to the channels is purchased in bundles. You can read more about how to access now tv deals and bundles on a budget in our other articles. One of the great things about this service though is the ability to shape the package of content and channels around your family needs. For example, sports ns can buy specific bundles for F1, golf and football, while those interested in entertainment or programming for kids, can buy those in a bundle too. You can pick and choose on a monthly basis (nothing to complain about) with discount offer subscription cards available both online and from retailers like PC World or Currys.
Amazon Prime Video
:
Already an Amazon Prime member? If you're still looking to make the most of your Prime membership despite the recent yearly price-hike, this app will help, featuring original series and movies like "The Marvelous Mrs Maisel" and "Tom Clancy's Jack Ryan". The Amazon Prime app also tends to give access to new releases quite quickly to rent, such as "Top Gun Maverick", offering a range of streaming rental prices and platforms – Standard, HD, and UHD. 
If you're not an Amazon Prime member, it's worth reading more about the free trials and offers Amazon have to give access to its services. If you know where to look, it's possible to supplement your Amazon Prime rental costs with free Amazon gift cards and other android mobile apps like Amazon Shopper Panel.
Prime Video is a benefit of the Amazon Prime membership. Readers can get a 30-day trial to enjoy unlimited streaming of thousands of movies and TV shows. Plus, the trial will include the other Amazon Prime benefits, such as unlimited, FREE One-Day Delivery on millions of items, access to over 2 million songs on Amazon Music Prime, unlimited photo storage, Prime Gaming (mentioned later in this article) and Prime Reading.
Hulu
:
American TV fan? Well, to be honest, we've not really used this app much. In theory, you can use one of the VPN services of apps mentioned later in this article to set your desired geolocation and give access to content from other countries, but in our experience, this is getting harder and harder to reliably do. However, if you can sort a VPN to access services like Hulu and Netflix in other countries, this will cut your streaming costs, protect your data and widen your viewing pleasures. Hulu has plenty of content with a range of shows and movies, including original content like "The Handmaid's Tale" and "Love, Victor".
Paramount+
:
Film buffs, this one's for you. The app has been widely advertised lately due to the popularity of Top Gun: Maverick. It can be accessed as it's own app, or as a channel addon within Amazon Prime TV subscriptions. With Paramount+ you can stream a large range of movies and TV shows, including popular titles like "Star Trek: Discovery or Strange New Worlds" and quirky afterlife comedy, "The Good Place".
PLEX
:
For those who like to keep their digital media collection under lock and key, meet PLEX. This app allows you to organise and stream your personal collection of movies, TV shows, and music all in one place, without relying on the mysterious cloud. No more digging through multiple devices to find that one episode of your favourite show. Now, you can just sit back, relax and watch it all from the comfort of your own PLEX server hosted on your Amazon Firestick or Fire TV Cube. Perfect for the control freaks out there who want to keep their media collection close to home, or for people who just want to impress their friends with their impressive, offline media library. 
This app can be customised, skinned, or modded and you can even add personalised artwork. If you've previously used XBMC in your life, you'll likely love this Firestick app. Note, there are some streaming channels via PLEX too, but they're niche and you'll need to hunt around for the type of content you like.
BT Sport:
Sports fan? Look no further than the BT Sport app for the Firestick, where you'll have access to a plethora of live events and other sports-related content. From the biggest footie matches in the Premier League and Champions League to highly-anticipated Rugby, UFC events, and nail-biting Cricket. Whether you're a fan of a particular sport or just love the thrill of the game, this Firestick TV streaming app from BT Sport has something for everyone. 
And for the fans who already have a Sky subscription, you can still access BT Sport with the addition of a package or add-on, making it even more convenient to catch all the action from the comfort of your own living room – unless someone else has the remote control.
Freevee
:
Who says streaming has to cost a fortune? I think that's their tagline. Well, Freevee offers a range of movies and TV shows at no cost making it an ideal free UK tv streaming site for your consideration. You can get it as a standalone app for the Amazon Firestick or Fire TV Cube, or you can access some of Freevee's content via a section dedicated to their content within the Amazon Prime TV app. 
Just note that while Freevee content is free via Amazon Prime due to the advertising and commercials it places in its content, lots of other channels in the Amazon Prime TV app only have free trials for 7 or 30 days. This is worth noting to avoid those free trials expiring and you being charged for content you might not need or want to keep.
Britbox:
Feeling homesick? Britbox has all the best British TV shows, just like the BBC iPlayer app and is great for those who are nostalgic or looking to move abroad as ex-pats (VPNs may be needed). This content is certain to keep UK folk connected to home, wherever they are in the world, with content like "Spitting Image" and more.
PlutoTV:
PlutoTV has got your back if you can't decide what you're in the mood for. With a veritable smorgasbord of live and on-demand channels catering to a wide range of interests. Pluto TV on the Firestick from Amazon has News, Sports, Movies, TV Shows, Music and more. It's like a traditional subscription package without the commitment of a set cost. Plus, the intuitive interface makes it easy to discover new content, and you never know what you might stumble upon, from exclusive live events to classic movies, it's like a surprise box of entertainment delivered right to your TV. 
Roxi:
Are you feeling nostalgic for the good old days of singing karaoke on your gaming console? Well, Roxi is here to bring that experience back, but this time on your TV! With a wide range of live music channels and exclusive content from up-and-coming artists, this app is perfect for anyone looking to have a karaoke party right in their living room. With built-in microphone support, you can join in on the fun and sing along to your favourite songs like you were back in the days of SingStar or Lips karaoke games (Yup, this is where I find out I'm significantly older than most of my readers). 
It's an exciting way to discover new music and enjoy the old classics as well. So, grab your friends and family, or even go solo and take the stage, Roxi is the ultimate karaoke app for those who want to relive the glory days of singing along to your favourite songs on a gaming console. Mics are free, but P&P applies. Plus whilst you get free access to the app, the premium 'non-ads' version has a cost.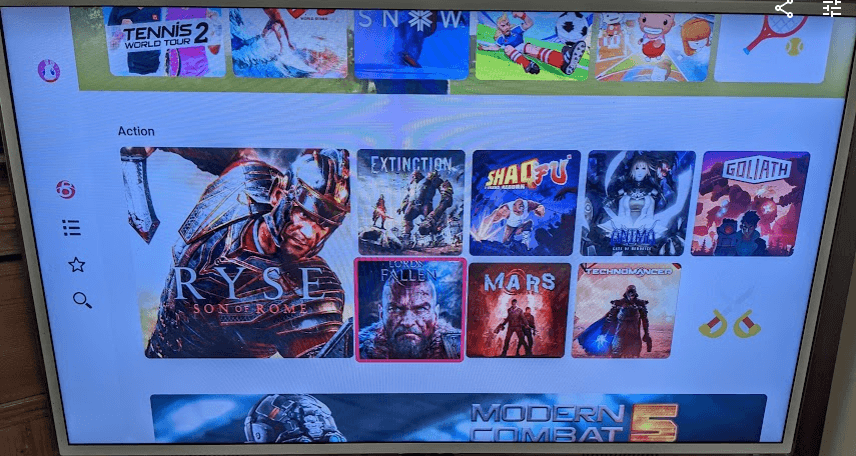 Blacknut Gaming:
For those who love to game but don't have the latest console, Blacknut Gaming is here to save the day. This app lets you stream a range of games on your TV using cloud gaming technology. From the latest AAA titles to retro favorites, you'll find something to love on Blacknut. And for those who are fans of the survival horror genre, the platform also packs some decent options for you to enjoy. But it's not all about the screams and jumpscares, there are also a ton of great kids' games like Asterix available on the platform, which can make it a great option for families looking for a shared gaming experience.
It's like having a personal arcade right in your living room. With Blacknut, you'll never have to worry about missing out on the latest games again, just keep in mind that in order to play games, you might need controllers and Amazon Fire TV controllers can be pricey, but there are ways to save on that cost, such as keeping an eye out for secondhand deals on places like CEX, eBay, Gumtree or Music Magpie where you can find good quality controllers at a lower price. 
This app was our first foray in the Savvy Dad house into cloud gaming on a non-PC, non-console and it showed exactly how the need for a powerful high-end gaming rig in your home is no longer needed.
Savvy side-note: Occasionally when Blacknut is updated, refusing an app update can keep a lapsed membership active – this falls under the "bank error in your favour" category of life's events in our book. Updating the app rectified this glitch in our case.
BBC Sounds:
Are you a podcast devourer? Look no further than BBC Sounds, the ultimate destination for all your audio-listening needs. From the latest episodes of popular shows like "Serial" and "This American Life" to exclusive content from the BBC, there's something for everyone here. 
But it's not just about the everyday podcasts, it's also a great place for the science nerds out there, with access to the brilliant and hilarious "The Infinite Monkey Cage", a witty and informative radio show that explores the wonders of science through a combination of comedy, conversation, and music. The show is hosted by Brian Cox and Robin Ince, and it's a great place for those who enjoy laughing and learning at the same time. BBC Sounds is the place to find your own niche paradise. A Firestick-compatible app where you can have fun, learn new things and enjoy a good laugh all at once.
Amazon Luna:
Amazon's latest entry into the cloud gaming market, Luna offers a range of games that can be played on your Fire TV Stick (2nd Generation and newer), Fire TV Cube (1st Generation and newer) and Fire TV (3rd Generation). It's like having a gaming console without the need for expensive hardware. However, while Luna is a solid effort from Amazon, especially at a time when Google's Stadia is facing some troubles, it's not quite the ultimate solution for those who are looking to fully immerse themselves in cloud gaming. For that, we'd recommend looking into the NVIDIA Shield TV Pro or streaming services like GeForce Now or Boosteroid. These options offer a wider range of games and even better graphics. But, Luna is a good option for those who are looking to dip their toes into cloud gaming on the Firestick and want to explore more of the options available out there.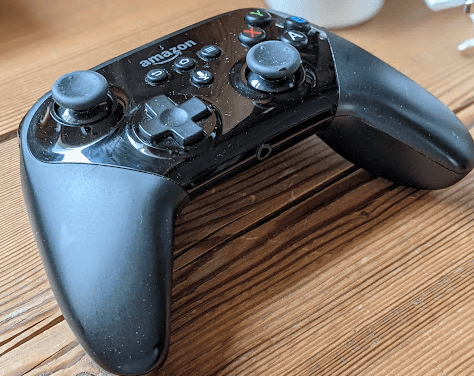 Amazon Prime Gaming:
This is where it gets a little confusing. How can Amazon have two gaming apps? Well, think of Luna as the big daddy of the mix. Amazon Prime gaming is just a channel within the Luna platform meaning those with Prime Membership can run a limited number of Prime-only games and freebies through the Luna platform. This is useful as a way of trialling Amazon's gaming servers and cloud rigs without jumping into more expensive premium purchases first.
Audible:
This Firestick app is for those bookworms who don't always have the time to sit down and read? The Audible app is here to save the day with a wide range of audiobooks to choose from. From the latest best-sellers to classic literature, Audible has something for everyone. And let me tell you, listening to an audiobook can be a great way to see a book from another viewpoint – "if" you get one with a skilled narrator. 
For those who want some recommendations, I recently listened to "The Invincible" by Stanislaw Lem on Audible and it was out of this world (literally) and "Artemis" by Andy Weir is a similar sci-fi blast. In short, The Audible Firestick app is the perfect companion for those who want to keep their minds active while multitasking.
Don't see the app you're looking for on this list? No problem! You can side-load additional apps onto your Firestick by installing trusted APK files. However, it's important to be cautious when doing this, as it can come with risks. In general, I've always used second-hand devices or media streamers from Amazon sourced from their Prime Day Deals. For more information on side-loading and how to do it safely, be sure to check out some of the Reddit threads on unlocking the potential of media streamers like Chromecast, Firestick TV, or Nvidia Shield.
NordVPN / ExpressVPN:
Are you feeling like a digital prisoner, stuck only being able to access content from your own country? Well, it's time to break out with the help of a VPN. In our list, we've got two of the most popular jailbreakers, NordVPN and ExpressVPN. These two apps are like Bonnie and Clyde, one's all about security, and the other's all about speed. NordVPN is the quiet, nerdy type that's all about the encryption and no-log policy, while ExpressVPN is the flashy, outgoing one that's all about the speed and streaming capabilities. 
Both of them work great with the Firestick and Fire TV Cube, so it's just a matter of which one matches your personal style. If you're more of a privacy-conscious user, NordVPN might be your best bet. But, if you're looking to stream and game like a pro, ExpressVPN's got your back.
In addition to the apps, there's a wealth of VPNs that can be set up to run on your router meaning all digital devices in your home are security protected from data gatherers, for most though the Amazon firestick compatible apps are the easiest way to set things up. Just keep in mind that the availability of non-UK content may change at any time depending on streaming platform policies and terms. It's worth checking out sites like TechRadar for the latest VPN reviews if you're looking to go more advanced with your setup to access content abroad.
So there we have it! Our savvy thoughts on the Amazon Firestick and Fire TV Cube's best apps. The devices are great options for anyone looking to elevate their streaming experience at home, offering a wide range of apps to choose from. You'll be able to find something that appeals to your taste, whether it's the latest shows and movies on streaming services like Netflix, BBC iPlayer, and Disney+ or gaming apps like Blacknut Gaming.
With the added benefit of being able to use a VPN app like NordVPN or ExpressVPN, you can even access content from other countries on holiday or as an ex-pat. However, if you are looking for a more powerful and complete gaming experience, you might want to consider the NVIDIA Shield TV Pro to access cloud gaming apps like Boosteroid and Geforce Now more easily (although be wary of paying for the premium subscriptions as whilst internet speeds have improved it's likely most TVs can't handle the specs the premium packages offer anyway).
All in all, these devices, along with their apps, have something to offer to everyone in the family. They are a perfect addition, inexpensive addition to your home entertainment setup and far cheaper than a PS5 or full Sky subscription! 
So, if you're looking to make your downtime even more enjoyable by getting one today, why not check out the specs and prices below?