Using a VPN to access additional Netflix content and reduce Netflix Cost
VPNs, or Virtual Private Networks, are important for not only privacy but increasingly for allowing you to access content restricted by country, government or company. VPNs actively stop sites from directly tracking your IP address and therefore your physical location and identity. It's best practice to use these tools and security services in general, to hide your online movements and identifying information from others, but they also offer perks by making your phone, laptop or Netflix streaming device "appear" somewhere else in the world.
The Netflix "Content Libraries" and how they work.
Netflix acquires licenses for its TV series and films country by country. Therefore, the selection of content available to people residing in any given country can vary. Often shows launching in a country get added to their home country content library first, just like films in the cinema have a slight difference in release date from native country to abroad.
The UK Netflix library has about half the content of the US libraries. Even within North America, the content varies wildly when jumping over the border to Mexico from the US. Using a VPN allows you to not only reduce your Netflix cost monthly but also to effectively let your streaming device border jump to the location you desire to access content from.
All VPNs have a server list that you should be able to switch between. These lists vary in size. The larger the list, the better, in general, the chance you'll have of accessing the 190+ Netflix libraries across the globe. No VPN is the same though, with some having poorly updated server lists that regularly get blocked by Netflix increasing attempts to lock down its content. The best VPNs will have a large selection of quality servers that are regularly updated and changed, a "no logging" policy to protect your identity, and will be speedy and good value. The way to weed out these gems is to access trusted VPN comparison and review articles like the VPN Analysis 5 Best Netflix VPNs article. It's also worth checking out Privecstacy for more info on VPNs.
Saving on your monthly Netflix cost and boosting library access.
Once you've found the VPN right for you it can help you to save on your Netflix cost monthly by allowing you to sign up to the service in cheaper "locations" around the globe and then open up your devices to the vast amount of content available in the global Netflix library.
Bottom line, the bods behind Netflix will not like VPN IP addresses regularly bypassing their systems to access the content. This means they put more effort into tracking VPN provider IP addresses that seem to access content and block them. A high-quality VPN will regularly update blocked IPs and keep the access going, and with the increasing use of VPNs, it will not do Netflix any good long term blocking them as they'll lose customers – after all you're still a paying member. However, it has to do what it can to toe the line with licensing.
A good VPN can actually increase your Netflix experience in other ways too. Whilst jumping geo-located servers will access new library content in most cases, you'll also find speed boosts as the VPNs will most likely bypass any ISP throttling that your providers may use at peak times.
It's worth noting that even the best VPN providers will, at some point, get their IPs blocked by services like Netflix. The great thing about some VPN providers like ExpressVPN and NordVPN is that they expect this so regularly change and update their servers to hopefully continue the access. Access overall may vary week to week. From an entertainment end user, most individuals will not see most of this hidden IP and server magic and will simply be greeted with an unobtrusive "Something went wrong" message when trying to view a film or episode on Netflix.
Often visiting a website like What's My IP? will allow you to check if Netflix, or indeed any service, is seeing you "actual" location or your "preferred" location. For example, by using the VPN Private Internet Access and selecting an Eastern US server my East of England based laptop is magically assigned a US location…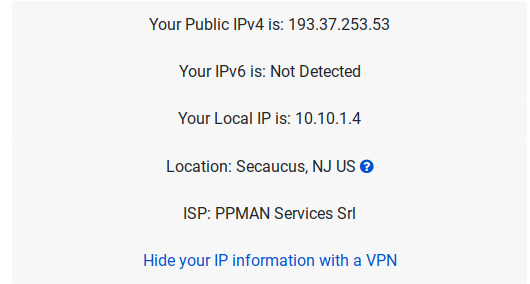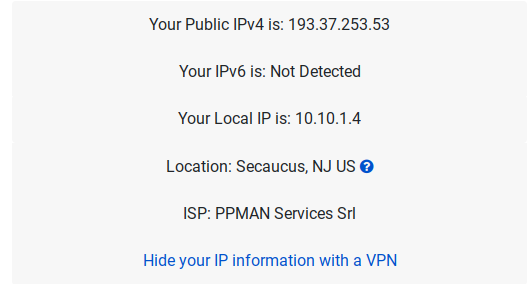 Distributors that Netflix have on their list are obviously realising slowly that their shows are making less, and are pushing Netflix to develop VPN detection services further. With censorship in Asia and now the UK government looking to restrict internet content further, the top VPNs will be well worth watching.
Where can a VPN be used to reduce Netflix cost and library options?
A good VPN should have settings, installer packages, add-ons and apps that allow your full range of home tech to access and stream the services you need. In the UK streaming using VPNs can be done locally via smartphones with apps, Chromebooks via browser plugins, on your router (if you have a decent one) or directly in the connection settings of most laptops. To find a range of the best value tech deals and laptops to try out streaming services like Netflix via VPNs use a deals site to source a reduced cost laptop for a good price. Once your laptop is set up or connected to a router with a VPN installed, you're ready to try accessing content without geographical restrictions. One of the best deals communities to source great value laptop and tech deals are the guys at Latest Deals. Latest Deals is run by Tom, Deepak and Kelsey and as a smaller deals site that is not only run by deal hunters, but avidly added to by deal enthusiasts, you're guaranteed to find a great deal on streaming tech stuff like laptops, mobiles and tablets.
What if Netflix access stops working?
Frankly, at some point, it will. Try clearing cookies, switching servers and ultimately keep checking back on the latest reviews for VPNs to see which ones are actively keeping up with the content tug-of-war.