Today I have a guest post by Lauren, who is the creator of Brit On A Budget . There, she posts about innovative ways to make and save money. You can follow Lauren on Facebook and Twitter.
You might think that it's impossible to get a free lunch these days, well think again! I'm going to tell you about the best fast food reward apps in the UK that will give you entirely free food just for signing up! Here's how:
KFC – Reward App Freebies
KFC run a loyalty scheme called The Colonel Club where you collect chicken stamps via their app. You can save them up and get rewarded with free food and money off. Just by signing up to the app you get 3 free stamps. This is equivalent to a free side (including hot wings, popcorn chicken, chips or an ice cream sundae) or a soft drink. A soft drink which usually costs between 80p to £1.70. You don't need to spend anything else at KFC to claim the freebie.
Spending £3+ at KFC will get you 1 stamp, and a £15+ spend will get you 2 stamps. You can redeem your points for free food or drinks when you hit 3, 7 or 11 chicken stamps.
Available on iPhone and Android.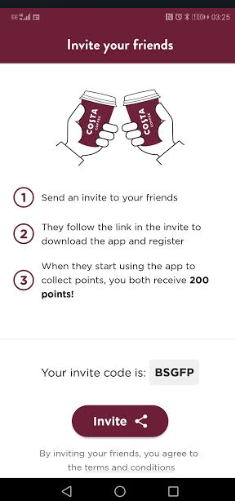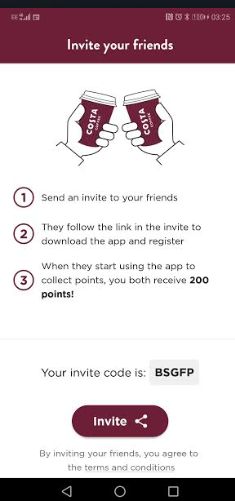 Costa Coffee –
Reward App Freebies
If you download the Costa Coffee app or pick up a free loyalty card when you're next in-store, you get a bonus 100 points when you register your account. To be able to purchase a large latte you will need 265 points.
TIP: Use Savvy Dad's code BSGFP once you install the app from here for iOS or Android and get an extra 200 points when you first use it!
Available on iPhone and Android.
Greggs
On the subject of coffee, if you sign up to the Greggs app you will also receive a totally free drink. A drink from Greggs will normally set you back £2, and you can choose any regular size hot drink including tea, a latte, cappuccino etc.
As well as that, Greggs also offer birthday treats, VIP tasters and if you download the app, you'll even get entered into a prize draw where 5 lucky people selected each month will win £50.
Available on iPhone and Android.
McDonald's
McDonald's put out deals to people who download their app all the time. In the past, we've seen free burgers, veggie wraps and McMuffins, so it is worth downloading and keeping an eye on.
Available on iPhone and Android.
Burger King –
Reward App Freebies
Although there are currently no freebies available on the Burger King app, you can download it to gain access to a wide variety of discounts to save you a ton of money.
These offers are constantly getting updated and refreshed, and in the past, we've also seen deals for free Whopper burgers.
Available on iPhone and Android.
Subway
Again, there are no current offers on the Subway app however in the past it has offered free 6-inch subs on 'World Sandwich Day' in November.
For every transaction you make at Subway you will receive 10 points for every £1. 100 points can be redeemed for a hot drink, 200 points for a snack, 500 points for a 6" sub and 1000 points for a 12" sub.
Available on iPhone and Android.
Gourmet Burger Kitchen
If you refer a friend to the Gourmet Burger Kitchen app, you'll both get a completely free side dish which includes chips, onion rings, corn on the cob or coleslaw (which are normally £2 to £4 each. However, to get your moneys worth you can order the most expensive sides of sweet potato fries or truffle cheese fries which cost £4.25.
You'll also get a free 'Baconnaise' sauce when you sign up to the app which usually costs £1.25.
Available on iPhone and Android.
Krispy Kreme
If you register on the 'Friends of Krispy Kreme' rewards app, you can claim a free doughnut of your choice. If that wasn't enough, you can claim free sweet birthday treats, earn rewards when you purchase in-store and be the first to know about their latest offers. It's great for reward app freebies.
Available on iPhone and Android.
Want more app loveliness? Check out how to get bonus points with the New Nectar rewards app from Sainsbury's. Alternatively, find out how to get free money from cashback apps.