Unshackled – A savvy consumer friendly way to buy mobiles (like the iphone 7) and sims.
Today I'm looking at a service called Unshackled. Why? Well, if I was to look at the method most used to browse my blog, I'd see approx 70% being smartphones, 10% tablets and 20% desktops. This is a good way of emphasizing just how many people have, and use, smartphones and their associated apps. However, getting the right data plans, sim offerings and handsets can often be confusing when looking at value for money. This is hindered by the way most packages either give you a cheap contract but over price the handset, or vice versa. A common practice on flagship phones like the iPhone 7
For most, having a smartphone is essential for email, social media and even banking. Not to mention money saving mobile apps. But how can the new service "Unshackled" help out consumers? Especially those targeting expensive handsets like the iPhone 7? Well, they offer a service that breaks the cycle of your handset being tied in with your sim deal. This is important as often bundled prices can look cheap but over the long term of a contract can really sting your wallet.
Who exactly are Unshackled.com?
Boasting that they can save the UK consumer an average £330 per mobile deal, I thought Unshackled were well worth a peruse to assess their savvy credentials. Most noteworthy is the shedding of the industry norms that Unshackled has utilized. They allow you to spread the cost of a new handset without needing to buy a data or sim bundle as part of the deal. Therefore this means the clarity of the price tag you're paying for a new phone is not hidden behind the clever bundled prices of your sim package. Ultimately, the service offers much needed transparency.
The service works by allowing you to choose your handset, such as an iPhone 7, and then buy via a peer-to-peer credit system. This credit is provided by Zopa, a notably low interest provider of credit, usually in the best buy tables. You may wish to read my article on Peer to Peer lending to understand how Zopa funds these deals. The credit offered varies in repayment length from 12-24 months and the interest charged is 9-30% based on your credit history. If your credit is poor, Zopa via Unshackled, will likely offer you the larger percentage rate of interest.
Obviously saving funds yourself, and then buying outright, would usually be best. But Unshackled offer an option between this and the muddled bundle deals. Keep in mind you'll still need to source a cheap sim deal though; but it gives you freedom to roam, if you'll excuse the mobile pun.
If you're not looking for popular handsets like the iPhone 7, look up the best price on the net for your favoured handset. Add 9-30% to the price and you'll get a rough figure for how much the phone will cost over the term.
The "Other" Unshackled option…
The second option is choosing to take a bundled deal from Unshackled. This is is unique because the sim and phone are separate credits under the bundle. So the price you're paying for each item is still very clear. Now their range isn't great on contract suppliers, but, the value of the contract offerings is.  They offer a few low usage FREE sims, but for good usage they have great deals starting around £4.
As an example, Unshackled.com are offering a FreedomPop 4G plan for £4.99 per month which includes 1.25gb data, 1250 minutes of calls, and 1250 texts.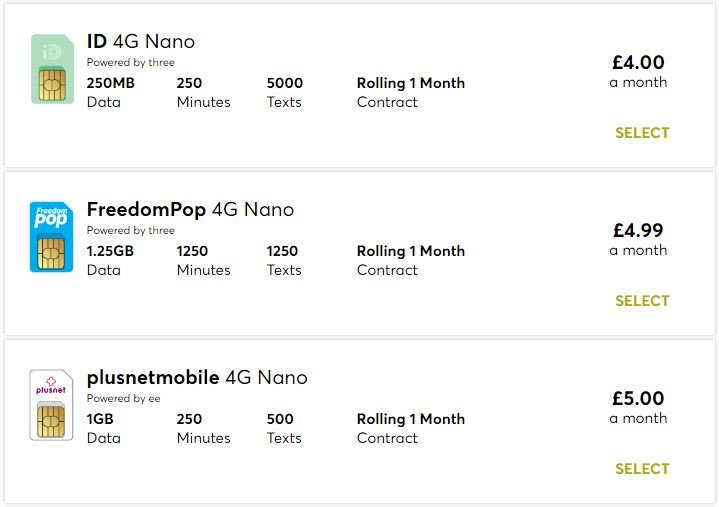 Take the iPhone 7 for example. Upfront it would cost me £599. With Unshackled, over a 24 month term, the same iPhone 7 would cost me £26.57 per month (with £19 up front) or £637.68 after the 9.7% interest. Bundle in the FreedomPop sim above and it'll hop to £31.56 a month. This includes the iPhone 7 and sim, listed separately but priced together.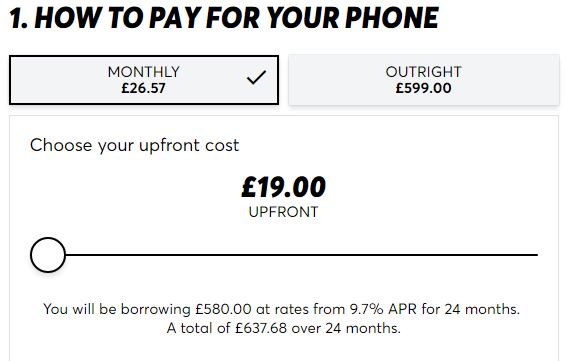 Similar deals at the usual mobile sites for the iPhone 7 were:
£33.49 per month @ e2save.com (but £95 upfront for the iPhone 7 )
£30.99 per month @ mobiles.co.uk (but a whopping £125 upfront for the iPhone 7 )
So you can see, unless you luck onto a special promotional code for mobile site deals, Unshackled gives you a clear way of budgeting your mobile handset needs. All prices can be adjusted too, with you being able to adjust if you wanted to pay some of the handset cost at the beginning to reduce the credit term or amount.
So in summary…
Done hand in hand with a little research, I think Unshackled.com offers a really unique spin on the mobile market offerings. It really puts the consumer first and is transparent with it's pricing and options. It won't always win on prices, so still do your searching around, but it's a great starting point. Also, I'll reiterate that funding anything you're buying yourself is usually better as this does still use a credit based system. But it's ethical and fair, something I really like.
Check out the latest offerings and prices for current release handsets here: at Unshackled
If you've used Unshackled.com, let us know how you found it in the comments below. Or even better, let us know if you've found other services that do an equally stunning job for the consumer.