Apple is known for its sophisticated devices and industry–leading innovations. But Apple is also known for very high prices tagged to its products, and the iPad is no exception.
The iPad is one very handy device that has all manner of uses given that it provides the best of both worlds with features of both a smartphone and a laptop computer. Still, the cost of a new generation iPad can be prohibitive with the latest common models costing upwards of £600 or £1600+ for the all-singing, all-dancing 12.9 iPad Pro! This price tag could make them impractical even for people with cash to spare.
However, there are a lot of ways to save money to to help when buying an iPad that will help not to break the bank. The following are some of the ways to save money getting your iPad device:
Buy Refurbished for an Apple iPad in 2020
Apple's Certified Refurbished section has all manner of Apple devices from Apple TVs, iPad, and Macbooks. While refurbished items often get a bad rap since most people think that they are used products, the truth could not be any more different.
What are Refurbished devices?
These are items that have been taken back to the manufacturers for a variety of reasons. These include:
Open–box – These are items that are returned to retailers by customers without having been used, and once they are inspected and found to be in good working order they can be sold at a steep discount as refurbished devices.
Rented – These are appliances and electronics that are rented out and then sold at a huge discount once the rent period is over.
Repaired – Returned products are taken back to the manufacturer or retailer because of defects. Once they are repaired and found to be in good working order, they are sold as refurbished.
Damaged during shipping – Items that have been dented or scratched may be returned and then sold at a steep discount.
Demos – Items used at trade shows or in demos are usually sold as refurbished and will be good as new.
Apple's products typically undergo a robust repair, test, and inspection process. Once the process is completed and the device certified in good working condition, it is packaged appropriately and can then be sold for up to 30% off, complete with a one-year warranty. As such, you can slash off up to 100 dollars off the sticker price and still get an awesome phone with all the functionality.
Buy Older Generations
of the Apple iPad (ie – 2018 rather than 2020)
Since Apple releases new versions of its devices every year, you can get a great iPad for cheap every year. When the debut of a new device draws near, retailers will begin offering discounts on older generation models so that they can start selling the more recent models.
If you have the patience to wait just a few months until a new generation model is released, you could save from between £46 to £153 on older generation iPads. For instance, the iPhone 8 Plus started at around £613 in 2017 but had dropped to £536 by 2018 when the iPhone XS came out.
If you do not need a lot of apps and do not have a lot of files to store on the device, you can get a model that is several years old and be fine. Such a device will still let you make video calls over Wi-Fi, watch YouTube videos and read books, read and send emails, and browse the web.
Shop Around Apple iPad resellers and merchants.
It is easy to forget that there are many places to source your iPad apart from the major retailers or an Apple Store. Sites like Amazon, HotUkDeals , Currys and Gumtree are great options to get your iPad as they will typically list the device for cheaper. These marketplaces will usually have refurbished or used items at a steep discount as compared to buying directly from Best Buy or the Apple Store.
Sometimes a used iPad will have some great functionality and will work as well as a good one even if it may be used and have a few scratches here and there. If you do not feel like transacting with total strangers on eBay or Gumtree, you can always find an iPad for cheaper from family and friends.
Nonetheless, you should always confirm that the device you are buying comes as advertised so that you do not lose money while trying to save some. However, most people in the informal platforms will just be looking to offload an iPad they no longer use for cheaper even though it is in perfect working condition. As long as you carefully check that the device is in good working condition, you should be good to go.
Trade
–
in Your Old iPad
Apple has a convenient trade-in program where you can turn in your eligible Apple Watch, MacBook, iPad or iPhone for credit or an Apple Gift card that you can then use to make other purchases from apple. Depending on the model of iPad, you can get up to £350 for qualifying tablets.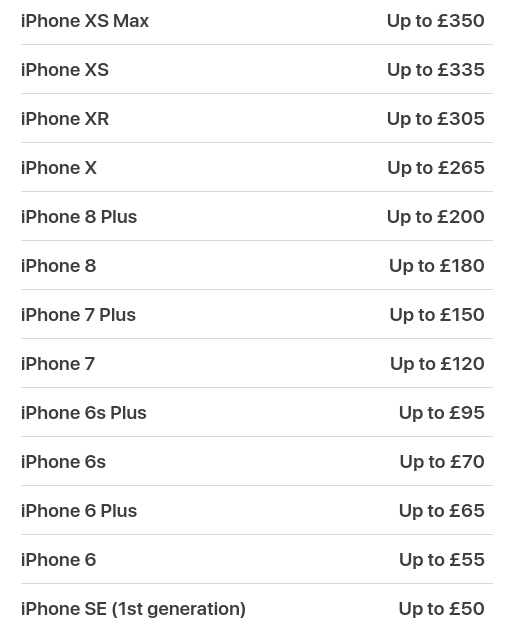 If Apple determines that your old generation tablet does not qualify for a trade–in, they will recycle the device for free. Luckily, it is not only your old iPad you can trade–in for a new one. If you have any other Apple–branded devices and accessories, you can trade them in and get credits for a new tablet.
Aside from Apple, there are quite a lot of companies who are dedicated in helping the environment through recycling old tech and you can trade-in your old gadgets for some good cash as well.
If you do not have Apple–branded merchandise, or you do not believe your old tablet is eligible, you can trade it in at electronics dealers. These will provide credits on iPhone, MacBook, and iPad recycle deals that you can then use to acquire a new device. Many dealers will offer straight–up cash for old electronics such as video game systems, DVDs, CDs, and stereo equipment that you can use for purchasing a new iPad.
Only Buy What You Need
The features of iPads vary from device to device, and hence it is critical to know from the get–go what are the features and functionalities you need before purchase. For instance, camera quality, storage capacities, and graphics will vary depending on the price or model.
It is also important to remember that while the Apple Store is full of upgrades and cool accessories for your shiny new tablet, you may not need all of them. With your specifications in mind, you can cut the fat and get a cheaper device that does everything you need.
Conversely, if you find accessories you need but find them too expensive, you can always find an array of cheaper options online that are not necessarily Apple–branded. As for storage, you can always add external storage especially with the proliferation of cloud storage services such as Google Drive and Dropbox, where you can keep all your files that may not fit on your device.
Wrapping Up
These are just but a few tips to help you save money when buying a new iPad. Be sure to check out all providers and retailers to find the cheapest alternatives. On the other hand, you can combine several of these tips to get the most reasonable choice. For instance, you can trade-in your electronics and buy a refurbished table for rock bottom prices on a fully functioning device.