Five Ways To Make and Save Money in 2018
NUMBER 1: Learn To Haggle
One of the best ways to make and save money is to kick-start your finances by learning to haggle. Why is this important? Well, it's immensely important because everything has a price of value. However, if items don't sell, are less popular, or simply in surplus stock then the value to the retailer decreases. Imagine trying to sell an England football shirt after they've been knocked out of the World Cup, it's not going to be quite as easy for the original price you might have retailed for. This works to the buyer's advantage as you can, by a rule of thumb, take a certain percentage of most face retail prices and have a good chance of success at a line manager approving the deal. Over at fityfiveandcounting.com there's a great guide to what you should know when getting started on proper haggling.
Five Ways To Make and Save Money in 2018
NUMBER 2: Pimp a Deal!
Once you have a great deal at a retailer, both instore or online, why not take it to the next level of frugality by using a service like Zeek? This service allows users to buy unwanted gift cards and e-vouchers at a discounted price. They're particularly good for getting vouchers to use at stores who traditionally have high threshold deals. For example, Build-A-Bear will often have deals, but only as multibuys on full price offers, where you can't use a voucher code. However, you can use e-vouchers and gift cards to boost the savings as these will stack. Utilising cashback boosts this further if using services like Quidco or TopCashBack. For more on how to use Zeek to pimp your deals and discounts, even on newly released products, check out my guide to saving big by stacking deals and offers.
Five Ways To Make and Save Money in 2018
NUMBER 3: Use a marketplace
Whether it's using your local Sunday morning car boot sale or utilizing the one actions, markets can be excellent for deals. eBaying costs a fee but gets you an instant audience to clear your unwanted items and free up funds. An article well worth a read is Emma Drew's guide to saving money on eBay, which outlines most of what you'd need to know about maximizing your savings or profits. Plus, to take it to the next level it's well worth learning to buy via online auction "Sniping"
It's worth noting that you can also save money and max profits by being careful with your postage costs also. At the time of writing, you can register with the Post Office to request postal resources, some of which are free such as "fragile" stickers etc. You can also save by finding your local Collect in store postal options and by checking out the eBay packaging article on makemoneywithoutajob.com
Five Ways To Make and Save Money in 2018
NUMBER 4: The savings planner!
Of course, the simplest, although not always easiest, way to start improving your finances can be saving. Try my very own Peak Saving Money Challenge, which aims to allow you to save more at the easiest times during the year. Savings rates remain poor in the UK right now, but First Direct, along with other banks are still offering their "free cash for switching" offer, so this can help add a good lump sum to the savings pot.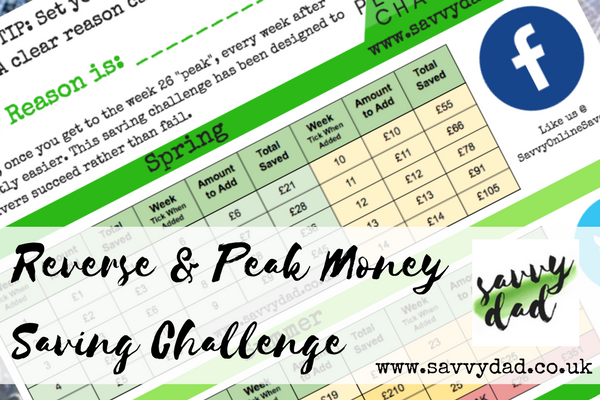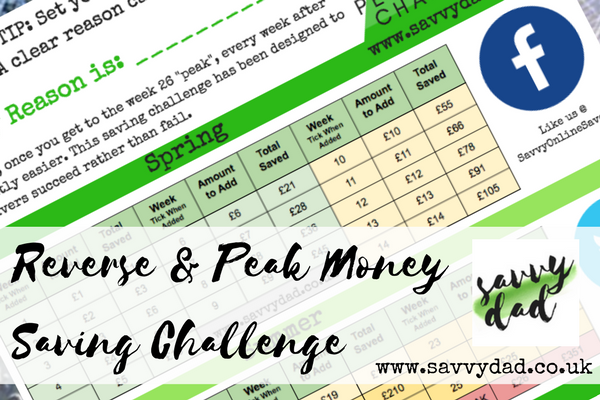 Five Ways To Make and Save Money in 2018
NUMBER 5: Don't be afraid to ask for help.
One thing to keep in mind is the fact that it's not always easy to get started on saving money when your outgoings are spiralling out of control. However, by attempting to use some of the ideas above you might start to work in the right direction. The benefits of getting your finances on track can be huge, as highlighted on the YourMoneySorted website. Please note that I'm suggesting you avoid the bigger saving potentials of switching mortgage rates or energy tariffs, but sometimes a little step helps to work towards bigger wins!
On a final note, particularly following on from Blue Monday, don't be afraid to reach out to friends, family and advice services when you are struggling financially. There's nothing to be ashamed of, and catching issues early really helps to switch your path to head towards a brighter financial and emotional future. If you want more advice check out services like Step Change or the services listed at the end of my article on the Debt Trap. Remember, sometimes the biggest saving you can make is looking after yourself first. If you can't function, you can't help those around you or affect change easily; there's always someone to listen.