Apart from the new Huawei p40 and the iPhone 11 Pro, the Samsung Galaxy S20 is one of the most popular smartphones in 2020. But if you're considering paying out for one of these lovely devices, you'll want to protect it well. Read on to find out more about some of the the best Samsung Galaxy S20 cases in 2020. The prices below are based around the standard S20. However, many of the manufacturers featured will also offer a case for the S20 Ultra and the S20 Plus. If you're yet to decide on a new smartphone, consider finding out more about How to compare the market on mobile phone deals for the best S20 Ultra, S20 Plus and S20 offers.
£29 from Amazon UK – Best Rugged S20 case
This is without doubt the most sturdy option on offer at the case for the Samsung Galaxy S20. It not only looks rugged but is capable of withstanding the biggest of drops even despite its feather-light nature. The  UAG S20 case achieve this lightweight due to its hard outer shell and inbuilt soft-impact resistant core. In the arena of S20 phone cases, this case would be considered a mid-price range case. Even at £29, it sits between the cheapest decent S20 cases coming in and around £9 and the expensive Samsung leather cases at £50.
Due to the UAG S20 case's rugged nature you won't be surprised to find out that it's tactile buttons, located on the side of the case, are sizeable. This, however, doesn't mean that the case is ugly and these work flawlessly with a gentle click-free push. Combined with it's construction using and obstructing materials it is also capable of wireless NFC charging.
£9.99 From Amazon UK – Best Looking Quality Cheap S20 Case
This unique case from Caseology has a design with a 3D pattern on the back. This pattern is not only interesting to look at that means the case is a joy to hold with good levels of grip. It features a unique dust-free material keeping the phone most beautiful and free from debris.
Using a combination of soft TPU materials and a highly protective PC bumper, this case provides a slim and secure option for your Samsung Galaxy S20 phone. It features a simple and stylish design with built-in anti-shock protection to keep your Samsung S20 free of scratches and dents. The case is also made of a material which is suitable to allow compatibility with most wireless pad chargers and the full range of Samsung Galaxy S20 including the Samsung Galaxy S20 Plus.
£8.99 via Samsung S20 Amazon UK – Best Budget S20 Case
Similar to the S20 case above from Caseology, the Spigen Liquid Air case is compatible with the full range of Galaxy S20 devices. It is also compatible with the Spigen power accessories available from various sources including Amazon. It features a unique geometric pattern with ergonomic grip and is slim and flexible. It is also one of the cheapest s20 cases on the market. As mentioned earlier, it will fit the full range of S20 devices including the Galaxy S20, the Galaxy S20 plus and the Galaxy S20 ultra; just choose the case matching your model.
It is a remarkably flexible case meaning it's easy to open and close for numerous purposes. However, wireless charging will not be a reason to remove the case, it should be able to charge most pad devices without removal.
The Spigen S20 Case also sports a raised bevel camera guard, protecting your lens from bumps, scratches and cracks.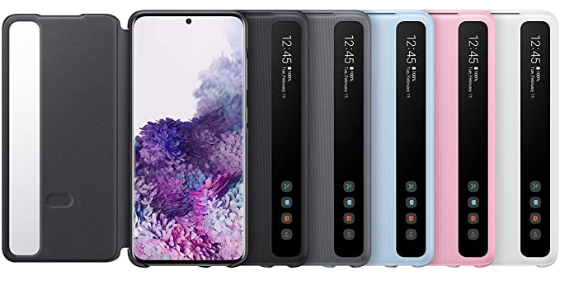 £34 via Amazon UK S20 cases – Sexiest S20 case
As one of the official options from Samsung clear View S20 case provides all round protection for your Samsung Galaxy S20, but at a price. Samsung offer an entry price case which feels awful to handle for around £14, this £34 Clear View case which not only looks sleek but feels much better made, and a premium £50 leather option direct from the Samsung website.
This Samsung S20 Clear View case allows access to phone features directly through the cover. Using this clearview feature you can tap swipe and control your mobile phone without even needing to open the cover. this feature also allows you to answer calls easily and see key information like messages date, time and battery levels.
The folio style slim case also ensures that your phone is well protected and is a joy to hold with a faux-leather feel to it.
Extra reading? Find out about how to compare the best mobile phone and smartphone deals in the UK in 2020.