The small steps to more sustainable living continue to creep in at Savvy Dad HQ as the family and I continue to seek out ways that we can reduce our own carbon footprint and move to a more ecologically-aware mindset. This is no mean feat when it comes to Spring Cleaning season – one quick look in the cleaning aisle of the local supermarket sees a lack of eco friendly kitchen products and some truly grim plastic-ensconced products for sale, with lists of chemical ingredients with unpronounceable names just waiting to pollute the water system as they run down the drains. Yuck.
How to change your kitchen products for a sustainable and eco friendly future
Changes have to be consciously made and so we abandoned the bleaches and attempted to find a more natural alternative. The lovely folks over at Save Money Cut Carbon introduced us to the Ocean Saver brand via their sustainable living sections. Their Anti-Bac Starter Kit (priced on their site at £2.50) made perfect sense – it includes one reusable plastic spray bottle and a nifty EcoDrop pouch of the plant-based antibacterial agent which you dissolve in the bottle in plain old tap water. It's that simple!
Why sustainable kitchen products are great for a spring clean
We've been trying the Ocean Mist option for the past few weeks and can confirm it's a really good all-rounder in the kitchen with a pleasant and non-overwhelming smell. I never thought I'd hear myself say it, but I'm looking forward to it running out to try some of the other EcoDrop options!
I've been using this alongside my Koh sustainable household cleaner and the Ocean Saver is a great competitor, giving Koh a run for its money. The variety of natural scents available in the Ocean Saver range are much more pleasing than my existing Koh cleaner's bouquet. It's less expensive too!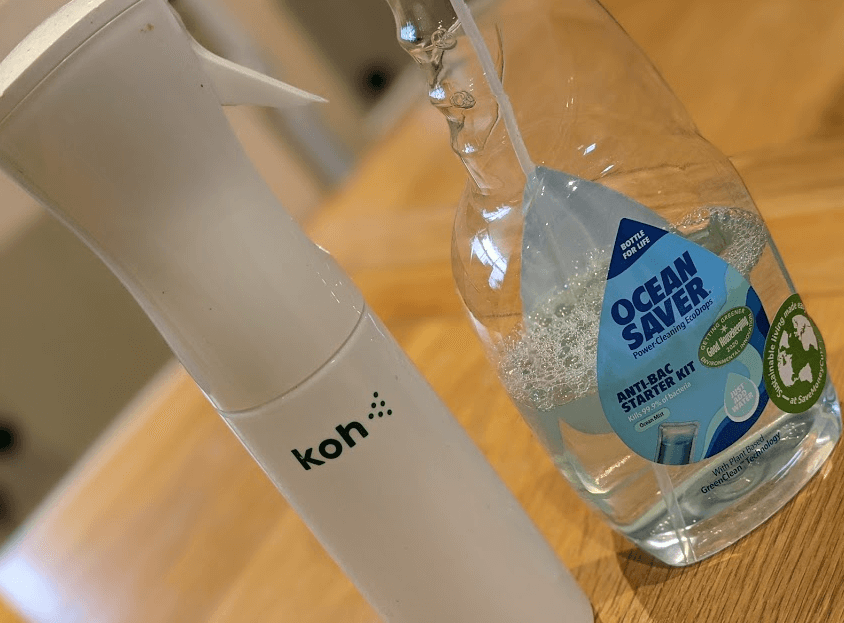 Another hugely wasteful habit of ours is the use of kitchen roll. I've mentioned before that we can go through rolls of the stuff, believing it to be cleaner than using cloths time and time again which is absurd, I know, but it's a hard habit of convenience to break. The sustainable living pages at SaveMoneyCutCarbon again provide loads of eco friendly kitchen products and a really effective half-way house solution with the ecoegg Bamboo Towels priced at £7.05 for a roll of 20.
Before you gasp and clutch your pearls at the price, these bamboo towels replace kitchen roll entirely and are absorbent, durable and best of all – reusable!
How to use the EcoEgg Bamboo towels as eco friendly kitchen products
They can be used as your 'go-to' eco friendly kitchen products for cleaning, wiping, dusting and drying and then slung in the washing machine and cleansed through. Having a clean towel to use each time without the needless waste of paper is such an innovative idea and has really made a difference to our Spring Cleaning habits this year. The bamboo towels have washed up really well so far when using the ecoegg Laundry Egg and we look forward to there being up to 85 uses per towel!
The ecoegg bamboo towels are also great for dusting around fixtures and fittings. I've found them of great use in particular at keeping on top of the dust in the shades around the newly installed dimmable LED bulbs which we also sourced from SaveMoneyCutCarbon.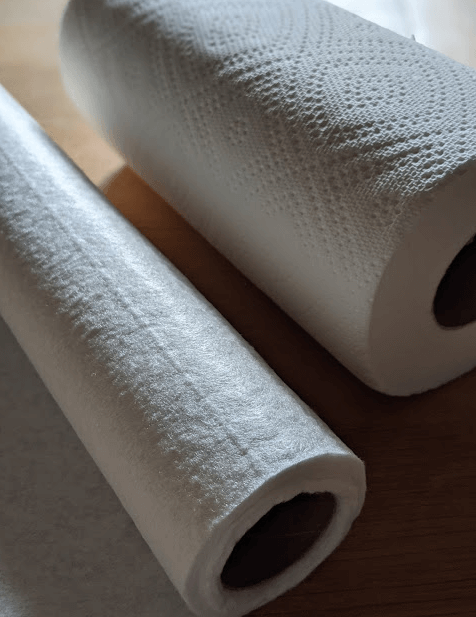 Our favourite eco-friendly kitchen product switch
One final switch we have made this month is to the EcoCoconut range of kitchen cleaning appliances. The scourer and the bottle brush in particular have been great additions to the washing-up routine, with their naturally antibacterial and non-scratch coconut fibre surfaces. The range is incredibly durable, free from all plastics and has been made sustainably and ethically – no more grim yellow and green sponges for us!
We continue in our quest to make our period home as sustainable as possible and are extremely grateful for the fact that SaveMoneyCutCarbon allow us to browse a phenomenal range of eco-friendly solutions for the home, all in one place. It can be overwhelming to know where to start when making these changes and would highly recommend you check out SaveMoneyCutCarbon to start to take practical steps to be more sustainable and reduce your carbon footprint.
Disclosure: This is a sponsored post. The views and comments within remain my own.