Shopmium Referral Code & App Review
If you're the sort of reader who is looking to feed the family cheaply or find places where kids can eat for free nearby? Then this article is for you, I'm going to talk to you today about how to use a Shopmium referral code to get free groceries. But first some context… Over the past few years an increasing array of opportunities to "get cashback" have arisen as ways for retailers to get customers in the door. Whether it's "gift" for £250 back on an arranged mortgage or a percentage back on your latest insurance acquisition, retailers will use them as carrots to dangle in front of you.
As a consumer, it's vital to look past these offers and see any deal for what it's really worth. Amounts up to 1% back on a £100 spend for example is not really a great victory for the consumer. Sites like Quidco and Topcashback are large websites that have more clout to get you better cashback rates. However, to truly get the most out of cashback deals, savvy readers should look to supermarket cashback apps for higher return amounts.
These apps often offer 50% back (ie. half price items) or in some cases 100% freebies. The beauty of these apps is also that you can combine them with conditional spend coupons from supermarkets, comparison systems like the Asda price guarantee, or even manufacturers' coupons. There are a few I'll mention in later reviews like GreeJinn, ClickSnap from Quidco and Boom25. However, for this article, I'm looking at the relatively new UK addition of Shopmium and the Shopmium App.
What is the Shopmium app?
Shopmium gives cashback to their users for using their app. You just need to keep your receipts to claim your cashback.
How do I use a Shopmium referral code?
This cashback app works in a similar way to other referral apps like Bulb referral codes.


Unlike other cashback apps, there's no minimum refund, so if you bought a £1 loaf of bread with 50% off you'll get 50p back quickly.
Where can I use the Shopmium cashback app in-store?
You can use the Shopmium app in all major UK supermarkets.
Tesco
Sainsbury's
ASDA
Morrison's
Waitrose
It's worth checking their link for other stores they add.
How do I cash out Shopmium?
After you have scanned your receipt to the Shopmium app, and it has been approved, the cashback will be added to your app. Then you can withdraw your cashback.
The Shopmium "refer a friend" scheme
Most apps will give you referral credit of some form. The Shopmium App currently credits £4 per friend referred via a Shopmium referral code. The great thing is it can be used to "boost an offer". This credit is used to supplement any cost left on offers. For example…
I see a loaf of bread is listed at £2 with 50% back via the app.
I buy the loaf at £2, scan the receipt and barcode.
50% is refunded automatically (ie. £1)
 As I have £4 "referral" credit, the remaining 50% (or £1) is also refunded as it's supplemented by the credit.
The net result is a FREE grocery item
If you're buying on a large shop and have coupons for the supermarket, say £4 off a £60 spend, you can use those. Also, you can use manufacturer's coupons, but this is a grey area. The reason coupons specific to the item are potentially problematic is because according to the Shopmium terms you shouldn't use coupons directly on a claimed item. In the US coupons are listed on receipts. In the UK, most just say "coupon". So if your using coupons it depends on the receipt wording. Using these sorts of coupons may, if you're not careful, invalidate your cashback claim.
With a good number of referrals, you can mine the app for freebies and subsidized offers continually. Just be careful to check the offer periods and packed sizes for any given item to make sure you get the correct ones to claim back money on.
Savvy Side Note: Remember to keep your eye out for other multi buy offers in supermarkets when using the Shopmium app as they often stuck on top of Shopmium cashback deals giving extra savings. This is particularly good if there's supermarket wine deals, or stacking rewards scheme offers.
Where can I get a Shopmium promo code?
Shopmium offers regular sign up offers for new members. It usually means that if you use a referral code you'll get app access plus full cashback on your first "freebie". At the time of writing this article, Shopmium is offering the deal below. It could expire, change or be replaced at any point with a different product or freebie.
Frequently they'll offer free chocolate at certain times of the year, such as Lindt Reindeer at Christmas and Lindt Bunnies at Easter. This code below offering a Shopmium sign up bonus will work all year long and will give an appropriate freebie that's running at the time of year you sign up.
How do I get the Shopmium referral sign up bonus?
Here's what to do to get the app and get a Shopmium sign up bonus:
1. Download the free Shopmium app on your iPhone or Android smartphone from the Shopmium site
2. Open the app and sign up with this Shopmium promocode: KMYEUFYL
This unicode should give you your Shopmium sign up bonus.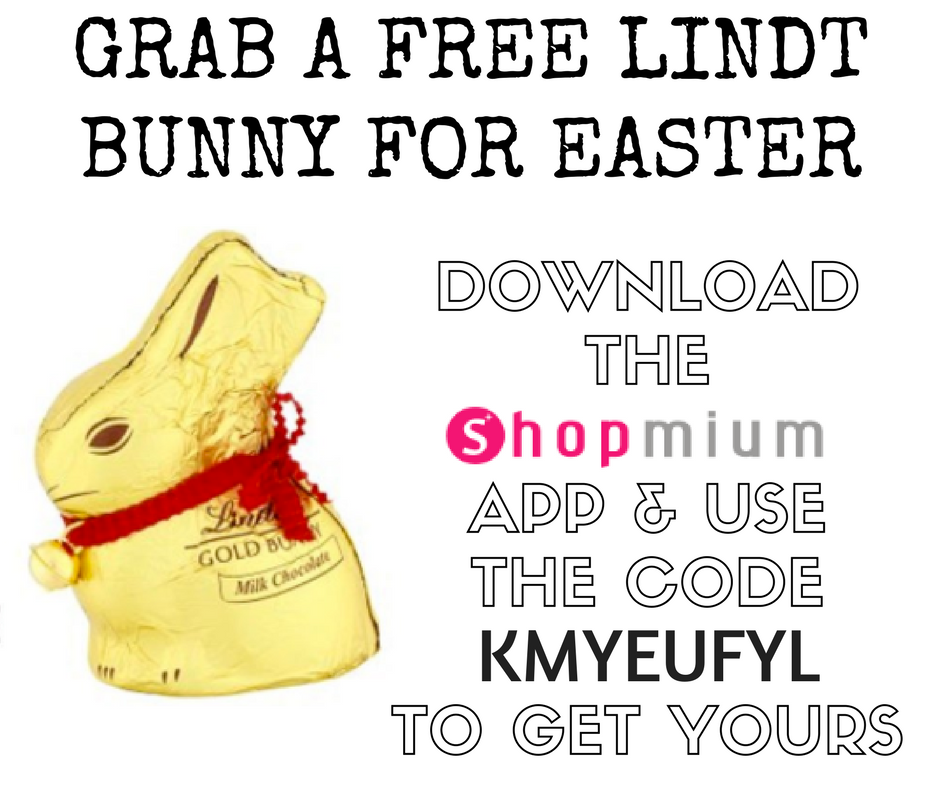 FAQs Shopmium app
Is Shopmium app free?
Yes, Shopmium is completely free to download and use. See my section above about downloading the app and getting your bonus. It's also surprisingly good for sourcing healthy foods to support yoga and fitness at home, such as mineral waters and protein foods new on the market.
History of the Shopmium app
Shopmium, as a platform, has existed in other countries for a while, mainly the US. But in 2016 it pushed into the UK market with more gusto. As an app (and online site) the premise is simple. Look for offers at nearby stores, check the dates they're available and then buy the exact free food or grocery item listed. Once you've bought the item you can upload a photo of a receipt and scan the barcode to get cash refunded within days. Shopmium is also a referral app.
For extra ideas on how to get the most out of cashback apps and sites, look at my cashback article I wrote last year or even consider making free extra money while browsing the net with InboxPounds, Boom25 or make money while window shopping with the Job Spotter app. It's also worth looking at how to get £28 free cashback on TopCashback sign up offers.