After buying a period property at the beginning of the initial lockdown in 2020, I have spent the last year considering how to tastefully update my home to make it both more functional and cost-efficient. I don't mean just updating the wallpaper trends and paint. Instead, I mean a two-step process involving planning and sourcing great value-for-money DIY materials, fixtures and fittings. Then, the next step, involved a master plan to start systematically looking at energy efficiency. This article is all about making my home more efficient via the use of standard, smart and dimmable LED bulbs.
It was inspired, in part, by seeing the great range of sustainable solutions on offer from Save Money Cut Carbon. On the company's amazingly detailed website you can find a whole host of guides, Q&As and tips to not only overhaul your home, but your whole life ethos. They promote sustainable swaps and have unbeatable prices, just as if you were buying directly from the manufacturer.
I was looking to use the Save Money Cut Carbon offerings to assist this stage of my home plan by:
Reducing energy bills to allow me to put that spend towards supporting other ongoing electricity and heating costs.
Reducing monthly costs to give flexibility to my monthly budget, giving breathing space for those unexpected bills (in my case the dentist!) and adding a little help with housing costs.
Reducing my impact and that of my home on the environment without compromising on style, function or need.
So, there's a rationale. Part one involved me finally getting started on overhauling the entire house with a quick win – the great LED swap out challenge!
I've always been meaning to do this, but I've often just sorted one room at a time in past properties. This time, from the outset, I wanted to invest to save. This was not only to cut my expenses but to also reduce my carbon footprint.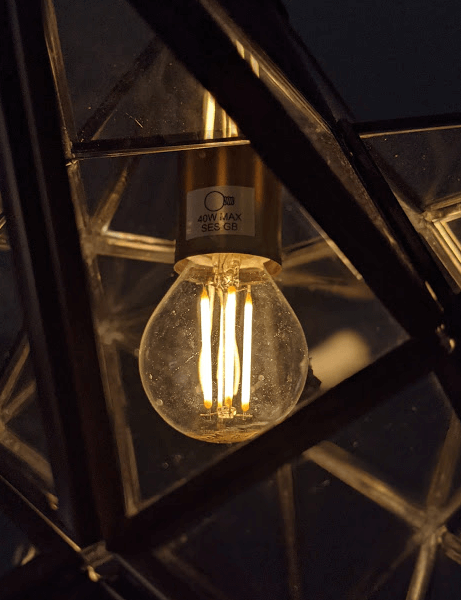 Why should I swap out my standard lighting for dimmable LED bulbs and LED options?
Save Money Cut Carbon offer a great range of smart, standard and dimmable LED bulbs. These are available with a variety of fitting types and in a number of styles. I was able to search the website by room or fitting type. This browsing feature enabled me to easily select the sustainable LED bulb best suited to my room aesthetics, lighting fixture and the fitting type need. These were the rooms I needed to sort and the number of bulbs and bulb types I needed to swap out.
Georgian Sitting Room – Looking for a warm lighting tone to make a previously cold and dated room into a warm, inviting place to curl up with a novel or crossword. This involved swapping out 3 x 50-watt filament bulbs with:
1 x SES dimmable 

LED

, clear filament, warm white, maximum lumen possible for the main light.
1 x SES

LED

for the room desklamp
1 x E27 for the feature floor lamp – Ideally this would be a smart

LED

bulb such as Hue, Alexa and Apple Home Kit enabled. There was a great range of options in Save Money Cut Carbon's Smart LED bulb section.
This room also involved a large amount of removal of old electrical tracking and cabling along with some plasterwork. It did, however, give me the opportunity to go to the tip and clear out a large amount of extra rubbish around the home in one fell swoop. It made it quite obvious that if I was doing a larger renovation or more sustained work, I'd need to locate a reasonably priced skip hire for small skips.
Georgian Traditional Long Hallway – Looking to achieve a balanced and reliable light coverage with a unique heritage styling suitable for elegant glass light fittings which openly show off the bulbs within. This was to be achieved by swapping out 4 x 30-watt Halogen bayonet bulbs with:
4 x B22 clear bulbs for feature glass lights. I was after a heritage look, similar to the Philips Large

LED

Filament Bulb Gold ST64 B22 7W 2000K
Country style kitchen – Kitting out a classic country-style kitchen with limited natural lighting with unobtrusive recessed spotlighting to increase visibility. The set up needed to include dimmable LED bulbs to work circuits switched over from old halogen transformers and new dimmer switches.
6 X 

LED

 spotlights, dimmable for recessed spots.
Rest of the house (bathroom, bedrooms, other rooms etc.) – General swap-outs for halogens and filament bulbs for LEDs totalling 27 more bulbs. Yes, some of these are occasional use bulbs, but again, I wanted to go the whole hog. After the swap, the only bulb that was less efficient was that contained within the hood of our cooker's extractor fan.
You can read (further down) how I expect the costs to pan out for this LED swap based on the numbers I had to hand. Save Money Cut Carbon gave me the most efficient way to do this. They stock leading brands that I felt confident using. Some other retailers are flooded with suspect rebadged and unknown brands where I would worry about lifespan and reliability. Save Money Cut Carbon also test out the items that they stock, making sure they're suitable for the job intended.
A quick browse around their site boasts energy savings of "up to 90% with instant, warm light across every room & application". Finding the information I needed for each fitting I had was a doddle thanks to the really intuitive search function. I could filter by bulb type, room type or even by lighting application. Delivery is direct from UK warehouses too.
Using the Save Money Cut Carbon website also actively encouraged me to learn more about sustainable issues while shopping for efficient lighting options – a great touch! They provided a clearly responsible ethos and I found them a reliable and cost-effective source for the bulbs I needed for this project.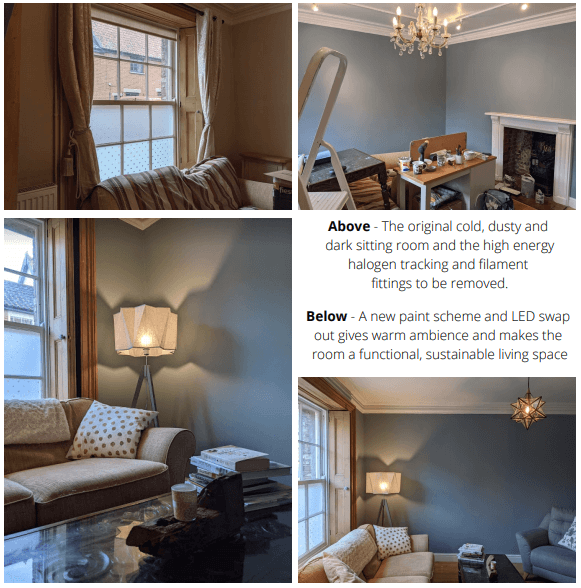 What are the differences in terms of usage and costs for LED bulbs?
I wasn't really sure before starting this little project what the real difference between the energy usage of standard incandescent bulbs and LEDs was. I knew that over the years the standard incandescent bulb was usurped by the compact energy-saving light bulb (you know, those slow to warm up eco-solutions of the late 90's). But more recently, I hadn't been settled enough in a home to honestly look into the energy use differences and consider the savings possible for a whole home LED swap.
LEDs use significantly less energy than filament bulbs because the diode within is more efficient. In general LED bulbs use around 70-80% less energy than an incandescent filament bulb. Some of SaveMoneyCutCabon's offerings save up to 90%! According to Green Energy, the total cost per year, on average, of an LED bulb is around £2.78. This is based on the assumed daily energy use of around 10 hours.
My current home has a total of 40 light fittings and lamps that run standard filament bulbs or halogens. Converting to LED or dimmable LED bulbs would give an annual "assumed cost" of  £88.96. Roughly speaking my usage costs via the previous halogen and filament bulbs was calculated using a crude method below:
25% of comparable average filament = £88.96
Divide both sides by 25 to get 1% 1% of £3.56 (based on an average 75% saving for LED swap)
Multiply by 100 to get 100% (the comparison value): 100%=3.56p ×100=£356
100% of the value of the original cost of the bulbs before the swap.
£356  – 88.96 = £267.04
That £267.04 per year saving is enough to fund my firewood and base heating costs for most of the year!
Yes there's an initial outlay with swapping to LEDs, but Save Money Cut Carbon offer a cost-efficient way in, helping to overcome that barrier. The fact the bulbs are so well priced means the LED bulbs pay for their own installation sooner and help me to achieve those goals mentioned earlier – reduce usage, reduce costs, reduce impact. I'm also looking to switch to a smart meter via my bulb energy login.
Do dimmable LED bulbs need a special dimmer?
You might wonder (like I did) what happens if you put a non-dimmable LED bulb in a dimmer? Well, in theory, the successful operation of dimmable LED bulbs is down to the transformer that is installed in the circuit wiring running the bulbs in that room. If you install non-dimmable LED bulbs in a lighting circuit that has a special dimmer switch, then chances are it will still operate as an on/off switch. What is more unlikely is the successful degrees of dimming. By this, I mean the varying brightness that you usually get as you turn the dimmer switch up and down.
There may be some erratic behaviour in the bulb usage. In my experience, the non-dimmable LED bulb operated fine, with no buzzing. However, once I turned the dimmer switch up to full, there was a 10-15% drop in the brightness at the top end of the range. This meant from turning on the light stated dim, got brighter and then dropped again. Not fully functional, but not a reason to rush to replace with dimmable LED bulbs. For most home setups you should be able to use a non-dimmable LED bulb in a dimmer circuit/switch – this could however cause damage to the bulb and cause a shorter bulb lifespan. Any flickering or buzzing is a sure sign the bulb isn't right for the dimmer switch, with the only exception to this being when a switch itself is faulty.
For my purposes, I needed to replace a full set of halogen recessed spotlights in my kitchen. The transformer circuits were completely wrong for the swap to LED bulbs. Therefore to complete this switch to more eco-friendly lighting I needed to replace the transformers. I used a reliable, inexpensive electrician near me to do this job due to the levels of skill and danger. The kitchen also needed a replacement switch which was already buzzing, so this was done by my local electrician too.
Whilst I am all about getting things done as cost-effectively as possible, a skilled professional is sometimes the only route to long-term financial savviness. besides, for the rest of the house, I was able to swap and replace the light fittings and bulbs myself. They all ran a mixture of standard non-halogen bulb fittings such as GU10, Candle, G9, MR16, E27 and B22 prior to me fitting the dimmable and non-dimmable bulbs available for amazing prices from SaveMoneyCutCarbon.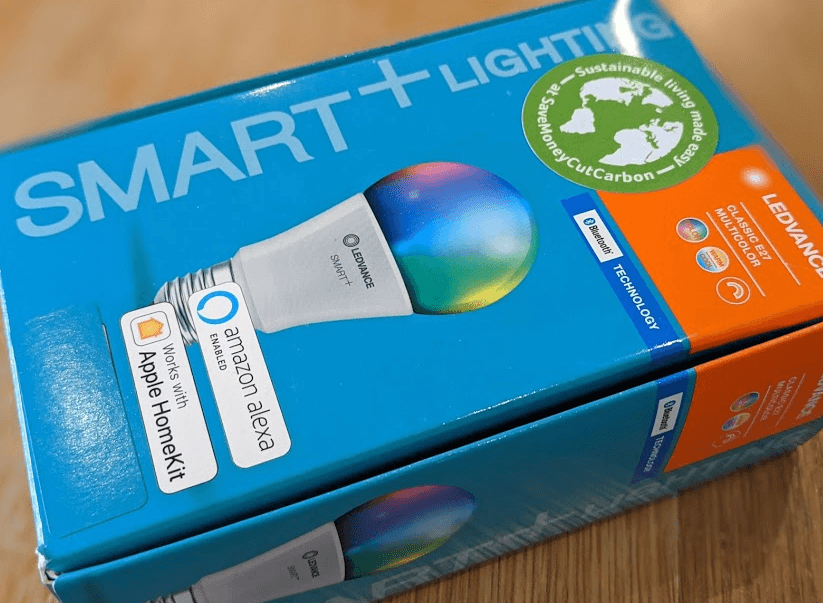 Did the LED & Smart light bulbs work well?
The bulbs I received were well-packed and arrived safely. They give the warmth and brightness I needed and really added to the customisation options for each room and fitting.
They reduced the energy usage massively and were easy to install. The only exception to this was the installation of the LED Advance Smart Bulb I received for the main feature lamp in the sitting room. It took an age to connect to the network in the house only seemed to offer full functionality via the Apple Home app.
We tried following the install guide for Android/Alexa but it struggled. I have to say, this isn't a reason to avoid using Save Money Cut Carbon as I've never met a SMART LED bulb that is straight forward to set up – Even Philips Hue hubs can be iffy. I think this is in part due to so many operating systems, network types and smart hubs trying to link up.
We got it working find via Apple Home and Siri and it really finished off the room with an adaptable, energy-efficient ambience. This LED swap out is part of a wider renovation project which I'll write more about in later articles, but I hope you can see that Save Money Cut Carbon have really supported this low-impact overhaul in a way that's both educational and money-saving. If you get time to do one thing today, check out their sustainable solutions that could reduce your usage and monthly spends. I should now save around £267 per year – what could you save?