We're always looking for additional ideas for sustainable living. Continuing on our quest to transform our period home into a more eco-friendly version of itself, attentions turned this month to improving our awareness of the chemicals we treat our clothing with in the washing process. I've had the audacity to stand in front of my class recently lamenting the use of micro-plastics or 'nurdles' and urging the next generation to be more conscious with their product choices, not actually realising that the potential damage to the environment I am doing by chucking all sorts of brightly colourful pods into my four-loads-a-week. This journey with savemoneycutcarbon.com continues to be an absolute education for my family and I and we were delighted to receive the range of ecoeggs recently to try out as part of a sustainable laundry effort.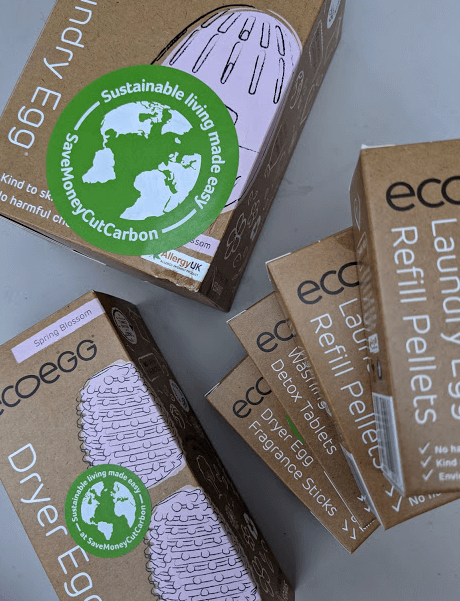 Why is an Ecoegg one of the best ideas for sustainable living?
Ecoegg aim to provide an environmentally safe, sustainable laundry alternative to standard detergent and fabric conditioner with their excellent tagline of 'helping to save the planet, one egg at a time!' This is truly revolutionary stuff and one of the great ideas for  sustainable living I've seen in recent years become fashionable too. One of the ecoegg Laundry Egg's lasts up to 70 washes and comes in a range of delicious scents to delicately fragrance your laundry. True, you don't get that intense hit of fragrance that we have all come to associate with your run-of-the-mill fabric softeners, but you do get the wonderful feeling of your clothes being entirely clean, whilst feeling virtuous about the waste water flowing through your pipes not being environmentally damaging.
The Ecoegg products have no harmful chemicals, are kind to skin and entirely suitable for vegans with their product being recognised as Allergy Friendly by AllergyUK. Even the behemoth that is Good Housekeeping rated it one of their top 'Getting Greener' products in 2020.
Is the Ecoegg better than a normal detergent and conditioner?
The ecoegg Laundry Egg is the complete replacement for detergent and fabric conditioner – it cleans clothes really effectively by utilising two different types of natural mineral pellets in a refillable egg. In fact, after your initial 70 washes with your ecoegg unit, you can opt to buy a range of both fragranced and fragrance-free replacement pellets which give your egg another 50 washes a pop. This cycle repeats and repeats – just one ecoegg Laundry Egg could effectively last you years using these natural pellets!
Additional to the range is the ecoegg Dryer Egg. This product aims to reduce not only the use of single-use dryer sheets, but also to reduce the tumble drying time by up to 28%! The Spring Blossom Dryer Egg we have been trialling is lightly infused with natural oils and leaves a really gentle fragrance on our towels and sheets which is absolutely delicious. Refill sticks are again available for this product, meaning that one can be reused again and again.  A thorough thumbs up from Savvydad HQ!
As someone who constantly looks to earn money on the side and savvy frugally where I can, swapping out my standard everyday wares for new ideas for sustainable living makes sense. Particularly when innovations like the ecoegg mean I'm only paying around 10p per wash once I start to use the refills. I can also include my children in the housework more – knowing there are no nasty chemicals involved in the sustainable laundry process. The ecoeggs and refills are available at amazing prices via the sustainable living and laundry sections of the SaveMoneyCutCarbon website.
Savvy, Sustainable Side-Thought – Why not enhance your sustainability by planning your weekly meals carefully to include fresh produce in a well-thought-out way? Ordering your meat monthly from reliable butchers like Swaledale, allows you to plan ahead and batch cook. It comes fresh, you freeze as you need and then can use it within meals a few times a week if portioned thoughtfully. This is ideal for slow cooker recipes and makes cuts of meat taste even better with the low and slow cooking methods.
Where can I buy sustainable living and laundry products?
SaveMoneyCutCarbon's website is not only a source of great information and eco-friendly tools, it's also one of the best and most cost-effective ways of sourcing sustainable products at affordable prices. Whether it's accessing dimmable LED light bulbs or creating an eco-friendly kitchen, SaveMoneyCutCarbon is the place to go.
What other ideas for sustainable living are there this summer?
If you're a keen gardener like me, you'll appreciate the relaxation and stress-relief that comes with not only growing plants, but also with sitting back and enjoying your handy work. My boys have always been interested in gardening but their concentration spans don't always stretch far enough to the less exciting parts like weeding and maintenance. Enter to the sustainable living area the wonderful innovation that are Seedboms.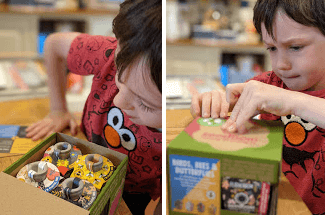 A Seedbom is another of the great ideas for gardening with kids available from the SaveMoneyCutCarbon outdoor gardening section.  They are ideal for "guerrilla gardening" as the packs state, and allow an easy way to encourage your kids to follow a simple set of instructions for preparing a piece of ground and watering in seeds with little waste or mess.  I had a selection of the amazing Seedboms to try out from those available including:
What Seedboms are available?
1 x Seedbom Pollinator Beebom
1 x Seedbom Urban Bloomer
1 x Seedbom Butterflybom
1 x Seedbom Featherbom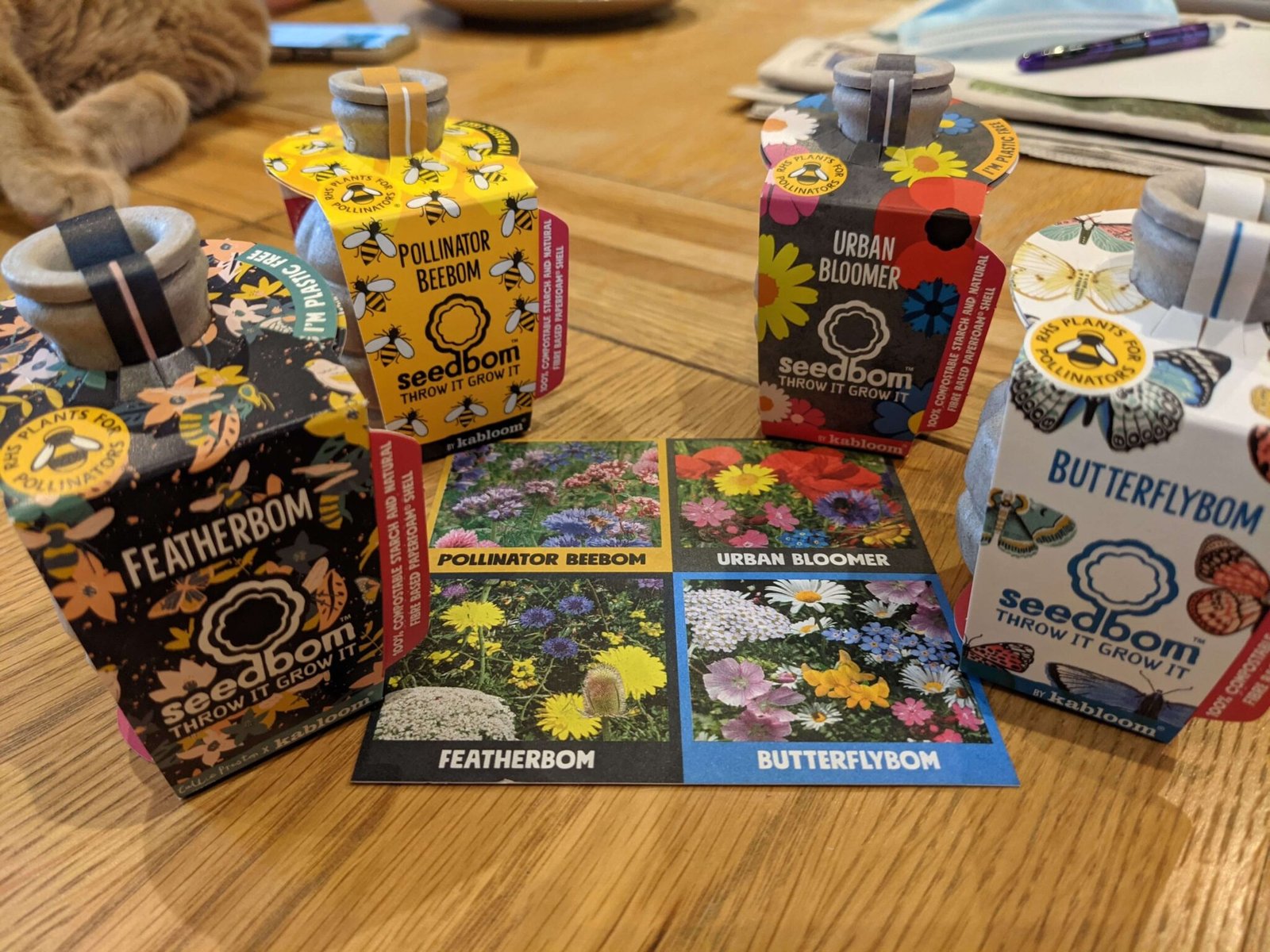 Simply remove the minimal card package which includes your instructions. My boys loved reading which seeds were included within the biodegradable "bomb" and were especially keen to try out the Seedbom Pollinator Beebom. We have a small courtyard area that we've already been planting up with lavender, salvia, penstemon and all manner of insect attracting flowers. There's a small area under our bird feeders where we decided to try out a Seedbom and allow wildflowers to mingle with the self-seeding from the dropped bird food.
The instructions require a small area of bare soil and for each Seedbom to be activated by shaking, pulling out a small tab, and filling or submerging with water for five minutes. Once soaked, it can be dropped on the ground ready for the seeding process as the Seedbom container slowly biodegrades. We had to give ours a little helping hand as a few of the neighbourhood pigeons were eager to fly off with it but in general, the idea is amazing and easy for young children to get involved in the planting process.
They should help to encourage even more pollinators into our courtyard and would be ideal to use in pots, containers or even window boxes. #PlanetPositive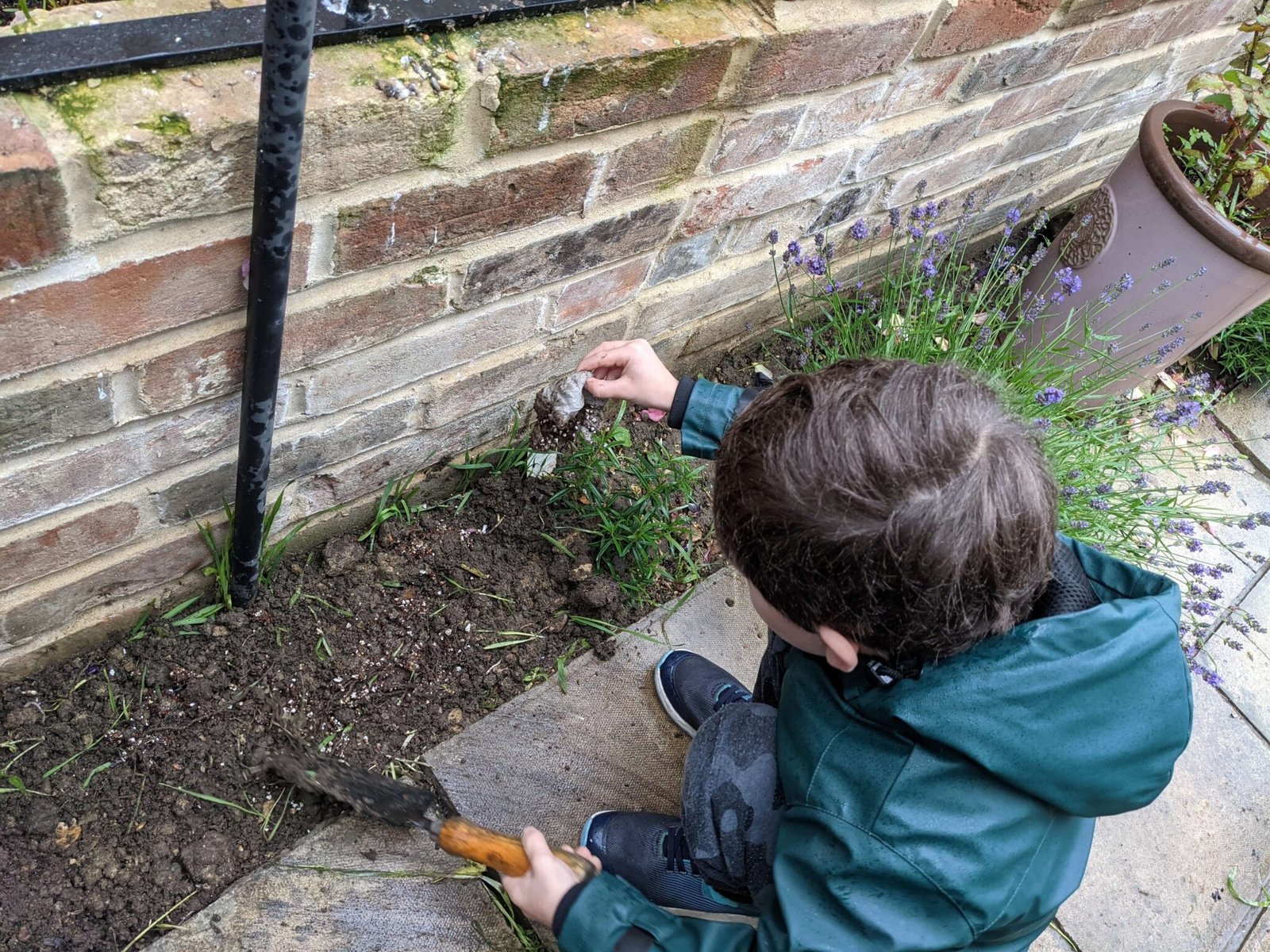 Disclosure: This is a collaborative post. Thoughts and views remain my own.