If you're sat in front of your laptop or surfing your mobile look for ideas on how to support your child's home learning and access free resources to support remote learning, then this article may be of use. I have attempted to put together an article with useful links to free resources to support home learning for Year 1, 2, 3, 4, 5 and 6. Some of the links below are free trials that can be cancelled when no longer needed and others are links to technology that may support your remote learning efforts. Contents of the websites that this article links to including Oak National Academy, Classroom Secrets, Teach Your Monster to Read and more may change and vary over time.
Free Online White Rose Maths Home Learning for Year 1 2 3 4 5 and 6
There are loads of high-quality online home learning resources for Maths, most of which are free and easily accessible. For example, White Rose Maths is a scheme that developed using the mastery approach to maths popular in Singapore. It bases lots of its concepts on the use of concrete physical objects and pictorial representations making it perfect for home learning. At the time of writing this article, White Rose Maths had made available a free home learning section based around its sequence of teaching. This section includes numerous videos showing parents, carers and teaching practitioners alike how to approach mathematic concepts in years 1, 2, 3, 4, 5 and 6.
There are premium resources available on their website that are unfortunately not free. Whilst they're of great quality, usually, the free resources for home learning are sufficient for getting started on a concept. For those families wishing to supplement these free White Rose resources, I highly recommend looking at the Classroom Secrets or Hamilton Trust Maths websites for additional activities, problems and even worksheets if you have access to a printer.
Speaking of printers, I highly recommend the HP Instant Ink Subscription-based printers. Whilst each HP printer will vary in terms of complexity, features and performance, the HP instant ink service provides cheap and reliable ink whenever you need it. Ideal for home-schooling and remote learning.


How to use Twinkl Home Learning and Teaching Wiki resources to support pupils at home FREE.
Twinkl has been around for many years and is the evolved product of the team behind Sparklebox. Whilst most schools are plastered in Twinkl-style illustrations and can get a little tedious in appearance, they do offer some amazing products and dedicated pages on their website dealing with concepts in Maths, English and Reading.
For example, I was looking for explanations on the Maths concept of Bar Modelling and the Part-Whole model the other day in order to use with my son. Twinkl have obviously spent time and money getting content writers to produce informative teaching wiki pages on the Twinkl website in order to answer questions like this. Simply typing in "What is bar modelling?" brings up the Twinkl Teaching Wiki explaining the basics.
The flip-side of the Twinkl offering is that it's hard to always find products that are free without subscribing. That being said, if you're only planning on using the service for a limited time there are trials and subscription offers available.
Using BBC Education Bitesize Home Learning and Sky Educational Channels to Support Remote Learning
The BBC has come into play during the recent school closures due to the Coronavirus pandemic. The necessity for remote home learning has been supplemented amazingly by some high-quality offering for the BBC bitesize, learning and iPlayer teams.  So what is this BBC learning offering and how can it support your child's reading and learning at home?
The BBC's curriculum-based TV programmes are going to run alongside the BBC Bitesize collection of educational resources already online. It will continue to provide online learning at home for pupils in Years 1,2,3,4,5, and 6 in the Primary phase and then on in KS3 to Year 9. There will also be additional resources and learning aids for those studying for GCSEs and Nationals.
On TV, there will be three hours of primary school programming on the CBBC channel, and two hours for secondary pupils on BBC Two. This can be complemented by Sky TV's offerings of educational channels such as Nat Geo and Discovery+ which falls under the Disney franchise now. This could mean that now is an ideal time to try getting Sky deals as new or existing customers as they may be more flexible at offering discounts to support their customers in home learning. It's certainly worth a phone call to Sky to ask if they'll add the channels for you children at a discount to support you.
Tim Davies, The BBC's Director-General, said:
Education is absolutely vital – the BBC is here to play its part and I'm delighted that we have been able to bring this to audiences so swiftly.
How to support reading at home with FREE remote learning resources and books
There's a whole host of additional ways you can support reading at home. If you can't get to a library or physical books aren't an option right now, then try to make use of some of the options below and see if you're able to use virtual reading tech and resources to bolster reading options at home:
Oxford Owl Virtual: Oxford Owl is produced by the OUP, the company responsible for the Kipper, Chip and Biff books in schools and the popular Read Write Inc program that assists teachers and parents in learning to read via its synthetic phonics scheme. This website resource includes virtual books throughout the Primary range as free ebooks and they can be accessed via a number of different devices. It's worth noting that for most freebies, you will need to sign up for an OUP account as a parent or teacher to support remote learning.
Kindle Unlimited – A great way of accessing mammoth amounts of reading options for all ages is the Kindle Unlimited Free trial Offer. Unlimited Free reading at home for 30 days (or 90 days, depending on the offer above you choose) gives free access via the amazingly discounted Amazon Fire tablets and Kindle. In fact, any device with the Kindle App installed (including Android and iOS mobiles and tablets) should work, giving you dead cheap access to huge amounts of texts and books for remote and home learning. Click on the banner above to check out the options available.
Note, the links above are affiliate links – these are links that, should you join or buy products, may earn this site revenue. Even free trials help generate this, so any readers who are kind enough to take up the Kindle Unlimited free trials are helping this site grow – and that's much appreciated. You should note that parents/carers will need to remember to cancel before the end of their trial period to avoid any charges.
If you're looking for the most cost-effective tablets to access Kindle Unlimited on to support reading home learning, I'd suggest the options below. They're usually available at their cheapest prices over the November/December time due to Christmas sales, but they're still great value most of the year.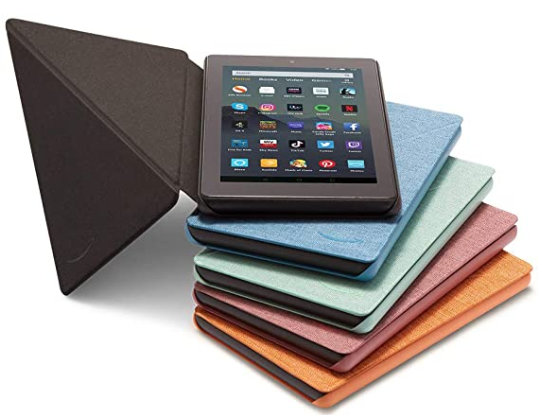 Use reading programs like Teach Your Monster To Read to support early readers and phonics when home learning in 2021
Need to support phonics via home learning? Free to all on computers, Teach Your Monster To Read is a free home learning resource. There is also an app available on Google Play and iOS App Store for TeachYourMontsterToRead but this occasionally has a charge to download, so keep an eye out for when it's free to download. The system slowly guides home learners through the single phoneme, digraphs and trigraph GPCs associated with the synthetic phonics that most EYFS, Year 1 and Year 2 children will cover in school.
KS2: Love of Reading Guides – These guides can be used alongside many classic texts as a way of exploring the books you may have in your homes or available via apps and remote learning offers like the Kindle Unlimited free trials that I mentioned earlier. You can access the Love of home reading guide here.
Over the years I've had an array of tablets and readers capable of reading ebook, epub files, PDF files and Kindle books. Every tablet device will have pros and cons, but overall I'd opt for something inexpensive, simple and with a large enough screen to be comfortable for remote reading and home learning. It's also worth adjusting the brightness and font sizes accordingly to avoid eye strain and maintain comfort. Using devices, like those listed below, may allow you to access a variety of magazines, books and textbooks via Kindle Unlimited or even Project Gutenberg.
Use Project Gutenberg to access a range of home and remote learning texts – Project Gutenberg is of potential use to older children or those with a good level of reading maturity. It is an archive of over 60,000 free e-books available for instant download and includes many of the classics covered in GCSE and A-level modules.
Use Audible Audiobook Free Trials to support English, Maths, reading and remote revision at home – Audible, another service from Amazon, again offers free audiobooks to support home learning with tons of new and old releases covering fiction, non-fiction and an array of subject matters that may link to the topics covered in your child's remote education. You can use the banner below to access the free trial. Again, be aware of cancelling before the end of the trial to avoid being charged.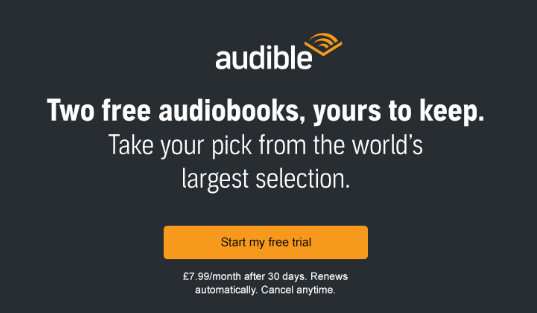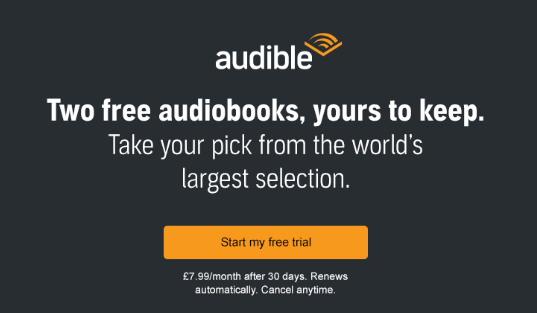 More resources to help teach your child from home – I'll keep adding to this list where I can, but for now, have an explore and see what's useful. Alongside all this home learning that will likely be more data usage at home. The government and mobile phone companies are trying to work together to roll out more free data to those needing it to support remote and home learning. It may well be worth checking in with your local council, academy chain, or school in regards to what tech they may have to support you at home. For example, every school in England has a 'small' allocation of laptops and Chromebooks for loan vai their access to technology initiative. These are for those children who may need support and are in receipt of certain benefits.
Check out Oak Academy Home Learning lessons – The Oak National Academy is the online classroom made by teachers, for teachers. They have a free database of high-quality video lessons and resources are available throughout 2020/21 to support reading, maths, literacy and topic themes at home. Some schools are using these video lessons in order to support the children learning at home while teaching staff juggle supporting and teaching Keyworker and Critical Care bubbles in schools, just as they have done throughout the whole pandemic.
I highly recommend using these video lessons to support your child's home learning remotely where, for whatever reason, access to your school's planning is an issue.