If lockdown has affected your wardrobe like mine, you way need a wardrobe update. My clothes have shrunk due to numerous washes, there's holes in the knees of my jeans (not in the trendy way) and generally my wardrobe needs a bit of an upgrade. With non-essential stores we opening on April the 12th there's more choices on offer for clothing, However I'll be going to Sainsbury's for the next TU 25 % off sale that's running in 2021.
Why shop for your clothing at the TU 25 Off sale?
The reason I'm promoting the 25 off TU clothing sale is I've noticed, in my local area, that the large Next clothing store has almost identical clothing to TU at vastly more expensive prices. TU clothing on offer in the sales is remarkably similar, with the only difference being the price. So making the most of a 25% off two clothing sale in 2021 is, in my opinion, the best use of my hard earned cash.
With this in mind, read on to find out when the next TU 25% off clothing sale is running in 2021. Making the most of these deals as part of the sale can net you a huge discount on women's clothing, menswear, kids clothing and even school uniforms and school shoes. Let's face it, most kids have had the wrong size uniforms over the last few years due to lockdowns. This TU 25 off salle gives shoppers the chance to stock up on budget before the beginning of the school term.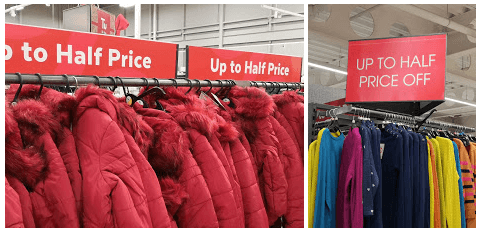 When is their next 25% off to clothing at Sainsburys?
Sainsbury's runs a number of TU clothing sales throughout the course of the year. These sales are based both online and in store. In my local store, I know when a
Sainsbury's half price toy sale
or a
TU clothing sale
is upcoming because the display banners and boards will start to change a couple of days beforehand
As part of these sales, not only there discounts on normal clothing, there's also discounts on a large range of footwear and accessories. These sales can be really useful for the changes in the seasonal clothing needs of families.  They're also timed well to support special events like World Book Day costumes, Christmas and Easter where costumes can be bought at a fraction of the price of those online at
retailers like Amazon
.
What about the Argos TU clothing sale?
Because Sainsbury's and Argos are now part of the same overall parent company, there's the option to buy your clothes from the TU range at Argos. Now, Argos isn't ideal if you want to see the clothes on the rack, however if you've seen them before they offer a free click and collect service. Whereas you need to spend around 15 pounds with Sainsbury's to get this same service from them. I'm also a stickler for
collecting as many nectar points as I can
when shopping in my local store. I use Nectar points for
money off supermarket wine deals that stack
and also for Christmas meats.
One problem with Nectar points though, is you cannot spend them online for clothing with Sainsbury's. But you can spend them online for clothing via the TU range at Argos. With this in mind, if I'd been saving up Nectar points for a while. I'd be finding out
how much the Nectar points are worth
and seeing if I can cash them in when buying clothing from the TU 25% off sales.

When is the next Sainsburys TU clothing 25 off sale?
As mentioned earlier, a good sign that these sales are upcoming is the changing of banners. Particularly those banners outside on the railings near adjoining petrol stations. I say this, because usually they're not advertised in advance. That being said I lurk around a few newsgroups and forums online where there are insiders offering up suggested dates and these are the next predicted TU clothing sale dates for 2021
Predicted TU clothing sale dates for 2021
Tuesday the 18th of May 2021 until Monday the 24th of May 2021
This should be the first sale in store with normal general opening since the end of the pandemic has previous TU sales have been cancelled such as the one in February.
Previous sale dates for Sainsbury's TU
Wednesday 25th of November until Tuesday the 1st of December 2020
Tuesday the 11th of August 2020 until Monday the 17th of August 2020 
Tuesday the 11th of February 2020 until Monday the 17th of February 2020
Is the TU this is clothing sale available online before or after the sale instore?
As is common with most sales, shoppers can purchase items online before the stores have opened. Simply go to the Sainsbury's TU clothing website shop for 25% off TU clothing. It's also worth reacting to sales of TU clothing in a similar way as you would with the
VIP tips for clothing sales at next.
By this I mean shoppers adding things to their basket as quickly as possible so they are automatically ready for sale day.
If shoppers have already added the stuff they fancy to their basket, when they visit the website on sale day, they should be able to see if those items have been reduced down. If they have, shoppers will be in prime position and ready to check out straight away to avoid the risk of missing out on that bargain.
Can
I
return
to
sale
items
to
store?
Any
of
the
TU
clothing
bought
through
Sainsbury's
offers
a
30
day
money
back
guarantee.
You
can
simply
return
or
exchange
these
items
for
free
at
any
participating
store
in
your
local
area. I
t
can
be
a
Sainsbury's store
or
an
Argos
store.
Whilst you can also return items in the post, there is a £3.50 fee for this. It's deducted from the refunded amount. It's worth noting, however, that this refund fee will not be charged if the item is faulty or damaged in some way that is not your fault.