I have a somewhat fragile relationship with printers. At times they are modern miracles, making admin tasks easy when some random company suddenly decides to ask you to print and send a form. At other times, however, they can make we want to smash them into a thousand pieces due to dried out ink, blocked nozzles or unsupported drivers. But there is hope for a less taught future due to services like HP Instant Ink.
Over the last few years instant ink services via the post, an ink subscription if you will, have been growing in popularity and reliability. They've also been falling in price to make them a realistic option for some. I wanted to find out if the currently available services would work for me so I teamed up with HP to test out their HP Deskjet 3734 All-in-one Wireless printer which is compatible with the HP Instant Ink service.
HP Instant Ink Test Run with the HP Deskjet 3735 All-in-one Wireless Printer
HP Instant Ink is essentially a subscription scheme that has different level plans of ink supplies for your printing needs. Most recent HP printers will have compatibility with the HP printer ink service. Now, a service is only as good as the hardware it supports, so if the printer is naff, all the cheap ink in the world isn't going to make things better.
So with a tense feeling coursing through my temples, I opened the Deskjet 3735 box and unpacked its contents ready to battle with printer setup. In the box were the printer, a USB cable (for those without wifi), 2 inks, driver CD and assorted documents. The HP Deskjet 3732 is billed as the world's smallest all in one printer and scanner so I placed it on my work-space and powered it up. Now, I should say I've owned around 7 or 8 printers in my life and none of them have been simple to set up, so I was expecting some battling, even despite the simple plug and play approach suggested on the picture-based setup guide. All was going well… I'd powered on, inserted the two HP ink cartridges, and the wifi light was flashing ready to be connected to my network.
Sadly, it was then 45 minutes more before I actually made my first proper print. The first issue was compatibility with the devices in my house. Being a frugal soul most of my day to day browsing and productivity is done via a HP 11 Chromebook or Honor 4X Smartphone running Android, but sadly Chrome OS wasn't supported by the HP printers. This meant I needed to try the HP Smart App next as a way to connect the printer to my wifi. The app installed fine, but this time it couldn't find the wireless printer and the app didn't have the Deskjet 3735 listed as a model to add manually. 20 minutes had now passed and still no joy, even after booting up our main Apple Mac and old windows laptop that was gathering dust. Eventually after much searching on FAQ's online I found a tip to press two particular buttons simultaneously and hey presto the printer was suddenly visible on the Mac, Laptop and Smartphone. If only this information was in the manuals sent it would have been so much simpler. Despite all this, I really did expect setup stress for the printer, so I wasn't overly concerned as long as it worked well once up and running. So, it was finally ready to test out and we were ready to complete the HP Instant Ink setup.
Colour and Black/White costs via Instant Ink versus regular ink cartridges.
The final setup step for the HP Deskjet 3735 was to opt in, or out, of the HP Instant Ink subscription service. As most HP printers now come bundled with 3 months free, there's really no reason not to try it out. Whatever plan you choose to opt for you'll get up to 300 pages of printing each month for the first 3 months and then your chosen plan level will kick in. What you're effectively paying for is a reliable constant ink supply for set number of pages, not a "per ink cartridge" type plan. HP will monitor your printer so that whenever they sense they're getting low, or drying out a new set will be dispatched.
So what are the plans and prices? Well, even with the 3 month free trials you still need to choose a subscription level:
FREE for up to 15 pages a month (not on all printers)
£1.99 a month for 50 pages
£3.49 a month for 100 pages
£7.99 a month for 300 pages
Pages printed over your limit are charged at £1 for each set of 15, 20 or 25 pages (depending on the plan level chosen)
Unused pages roll over up to the maximum of your monthly limit, but never beyond 50 pages in total.
It was easy to complete the plan options process. Simply choose your preferred plan, enter billing details and address for your ink and you're away. You can monitor your prints used/remaining online via your HP instant print account. Now, keeping in mind that HP only knows how many pages you've used if your printer is connected to their servers, it's worth being careful not to print too much if the internet is down for any reason. This is because potentially your print count might suddenly update when the printer reconnects.
The ink is obviously top-notch original HP ink, except the cartridges are filled more than store bought ones to last longer. I tried printing from my Honor X smartphone and there were no issues. In fact, the app printed seamlessly from synced accounts like Facebook, Instagram, Google Drive and more. The only additional extra you'll obviously need if the printer paper of choice.
Printing via the HP Instant Ink service is easy and the costs seem to speak for themselves…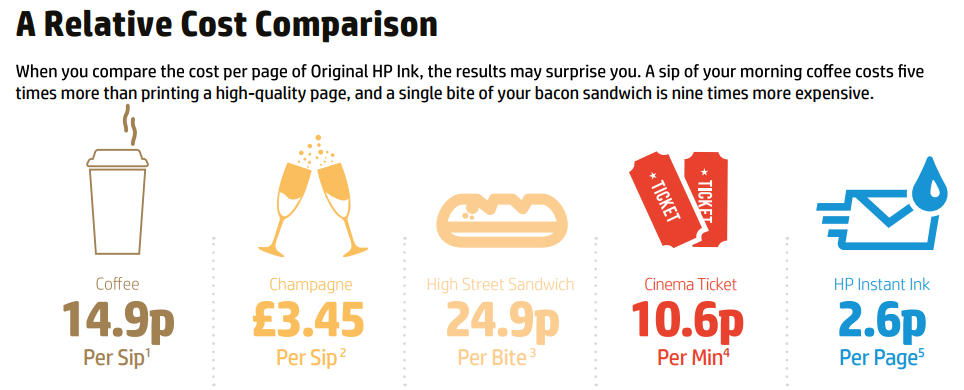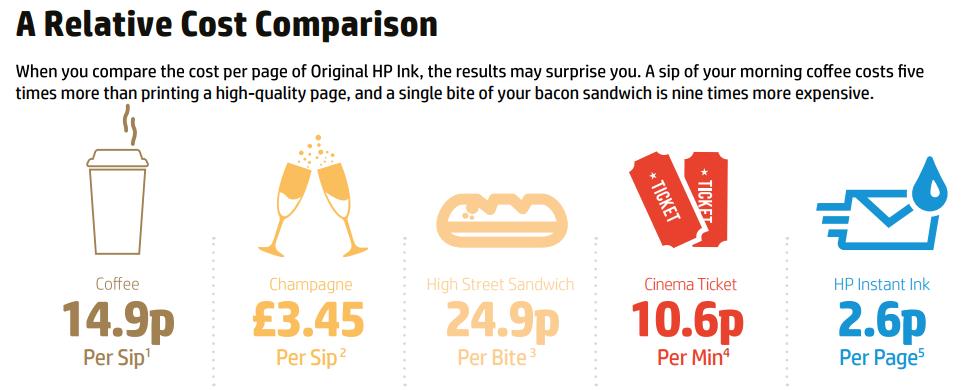 Postage and recycling costs are all covered by the plan and there's even a handy refer-a-friend style scheme which nets you a month extra free for any friends who join up. Whilst not a major issue the HP information states that cartridges can take up to 10 days to arrive so avoiding gaps in printing ability will depend on how low HP lets existing cartridges get before sending out new ones; particularly during peak postal periods.
The other major consideration you'll need to think about is what type of print user you are? I tend to print media flyers, full-page photos and other ink intensive jobs making it great value compared to buying all that coloured ink myself. However, if I printed mainly office labels, letters and black and white text, it would be hit and miss whether I'd save compared to the old-fashioned ink-buying method. The big savings really are in the area of full-page ink prints in colour. A few people mentioned concerns over HP monitoring what you are printing but as far as I can tell they just access data on file "type" printed and a small amount of registration data.
Overall, the HP Deskjet 3735 is a fab piece of printing kit, at around £40-£60 it's not going to break the bank and the instant ink is great for a professional full office print option using premium inks. Fancy winning one of your own to try out? Visit our competition page to be in with a chance to net one and try out 3 months of the HP Instant Ink service yourself.
>> Enter Here To Win a HP DeskJet 3735 All-in-one Printer with 3 Months Instant Ink <<


This is a collaborative post. Whilst services were provided for the purposes of review, all views are my own unbiased opinion.